Donald Trump continues to go "oh for" in the federal courts with his discriminatory Muslim travel bans.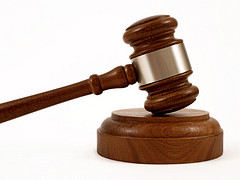 Today a three judge panel of the Ninth Circuit Court of Appeals rejected Trump's revised Muslim travel ban, joining the en banc Fourth Circuit Court of Appeals in rejecting the revised Muslim travel ban because of unconstitutional discrimination. Read the ruling HERE (.pdf).
The San Franciso Chronicle reports, Federal appeals court in SF deals Trump another travel ban defeat:
President Trump's second attempt to ban U.S. entry by anyone from a group of nations with overwhelmingly Muslim populations was rejected Monday by a San Francisco-based federal appeals court, which said Trump had exceeded his authority and violated a ban on discrimination based on national origin.
The 3-0 ruling by the Ninth U.S. Circuit Court of Appeals in San Francisco follows a May 24 decision by [the Fourth Circuit] appeals court in Richmond, Va., that reached the same conclusion. The Trump administration has appealed that ruling to the U.S. Supreme Court.
Note: "The justices have asked the challengers to file responses to the petition for review and the requests for stays of the lower courts' rulings. Those responses are due on or before 3 p.m. on Monday, June 12." This is likely why the Ninth Circuit issued its ruling today.  Stay tuned.
Trump's March 6 executive order would impose a 90-day ban on U.S. admission of residents of six nations — Iran, Libya, Somalia, Sudan, Syria and Yemen — whose Muslim populations range from 90 to 99 percent. It would also halt for 120 days all U.S. admission of refugees fleeing violence and hardship in their homelands.
Unlike Trump's first executive order, the revised version would exempt anyone holding a U.S. visa and would allow consular officers to issue individual exemptions in hardship cases. U.S. consulates revoked between 60,000 and 100,000 visas of would-be entrants under Trump's first order, which was issued Jan. 27 and blocked by a federal judge a week later.
The Justice Department contends the ban was based on terrorism, not religion, and would give the administration time to devise tougher screening standards for entrants from zones of conflict. They noted that federal law gives the president broad authority over immigration and national security, and allows the chief executive to bar entry by any "class of aliens" that would endanger the national interest.
But opponents argued, and federal judges in Maryland and Hawaii agreed, that Trump's words and actions as both candidate and president showed that his intent was to exclude Muslims, a violation of the constitutional prohibition on giving preference to any religion.
Trump called for a ban on all U.S. immigration by Muslims in December 2015, a statement that remained on his campaign website until this month, when it was taken down shortly before the Fourth Circuit court hearing. He declared later in the presidential campaign that "Islam hates us."
When Trump signed his first version on the travel ban a week after taking office, an order titled "Protecting the Nation from Foreign Terrorist Entry into the United States," he looked up and said, "We all know what that means."
A day later, former New York Mayor Rudy Giuliani, a Trump adviser, said the president had asked him to form a commission to find a legal way to enact a "Muslim ban." On the same day, Trump told a Christian Broadcasting Network interviewer that he would give priority to Christian refugees from Muslim countries.
Justice Department lawyers argued that Trump's campaign statements were irrelevant and that his statements and actions as president were consistent with his focus on Islamic terrorist organizations. Acting U.S. Solicitor General Jeffrey Wall, the government's lead attorney in the appeals court, urged the judges to focus on the text of the executive order rather than "psychoanalyzing" campaign remarks to look for an illicit purpose.
But lawyers for refugees and relatives of immigrants who would be excluded by Trump's order said his discriminatory intent was unmistakable.
Even after Trump issued his second executive order, and Justice Department lawyers said it had been revised to satisfy courts' objections, opponents noted, the president told rally-goers in Tennessee that the new version was merely a "watered-down" version and that he preferred the first order.
And after the terrorist attack in London around the same time, Demagogue Trump goes completely bonkers over his Muslim 'travel ban' on Twitter and his public statements.
Trump completely undermined the Justice Department's argument to the Ninth Circuit because these were statements of the president on policy (after oral argument), and not merely "campaign rhetoric" from a candidate.
The Justice Department also has not done anything to review and revise immigration rules during the more than 90 day period that Trump wanted back in January, so clearly there is no urgency on the part of the Trump administration as our Twitter-troll-in-chief likes to claim on Twitter.
What this is really all about is Trump's ego: he keeps losing in court, and "The Donald" hates to lose. It happens so often, you'd think he'd be used to it by now. But he is going to waste your tax dollars on his ego trip.