Back in July, a three judge panel of the 9th Circuit Court of Appeals struck down Governor Jan Brewer's executive order denying driver's licences to DACA eligible DREAMers.
The executive order by President Barack Obama, for which he has broad and sweeping powers of prosecutorial discretion under the federal immigration laws, see Office of Legal Counsel to the President  The Department of Homeland Security's Authority to Prioritize Removal of Certain Aliens Unlawfully Present in the United States and to Defer Removal of Others (.pdf), trumps the executive order of a Neo-Confederate governor squawking "states rights!" like some deranged parrot, trying to stick her boney finger in the eye of that Black man in the White House again. Ninth Circuit rules for the DREAMers: 'animus toward DACA recipients … is not a legitimate state interest':
Our lawless Tea-Publican state legislature and governor just keep racking up losses in court, pissing away your tax dollars on attorneys fees and costs trying to defend their unconstitutional and unlawful acts motivated by their extremist ideology.
[T]he Ninth Circuit Court of Appeals smacked down Governor Jan Brewer for her executive order denying drivers licenses to Deferred Action for Childhood Arrivals (DACA) aka DREAMers because her executive order as motivated out of "animus toward DACA recipients themselves, in part because of the federal government's policy toward them" . . . "Such animus, however, is not a legitimate state interest." Read the unanimous opinion of the three judge panel of the Ninth Circuit Here (.pdf).
George Wallace in a dress then appealed to the full 9th Circuit Court of Appeals seeking en banc review. Such review is rarely granted.
On Monday, the full 9th Circuit Court of Appeals rejected our Neo-Confederate governor's request. Order denying Petition for Rehearing and for Rehearing En Banc (.pdf).
The Arizona Capitol Times (subscription required) reports, Brewer loses bid to get immigrant drivers' licenses ruling reconsidered: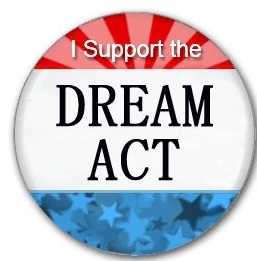 Thousands of Arizona "dreamers" could be driving here legally within days.
The full 9th U.S. Circuit Court of Appeals refused Monday to overturn – or even reconsider – a ruling by a three-judge panel that Arizona has illegally denied licenses to those in the federal Deferred Acton for Childhood Arrivals program. The judges gave no reason for their ruling.
Karen Tumlin, attorney for the National Immigration Law Center, said Monday's ruling means there is no reason for U.S. District Court Judge David Campbell to hold off any longer in issuing an order directing the state Department of Transportation to issue the licenses to those otherwise qualified. Campbell had refused to act while Gov. Jan Brewer had sought review by the full appellate court.
There is one possible hitch.
Gubernatorial spokesman Andrew Wilder said her legal team is debating whether to take the unusual step of asking the Supreme Court to intercede. And Daniel Scarpinato, press aide to Doug Ducey, who becomes governor on Jan. 5, had no immediate response to what his boss will do.
I would suggest this Confederacy of Dunces go back and reread Justice Kennedy's majority opinion in Arizona v. United States (June 25, 2012) in which the U.S. Supreme Court struck down most of Arizona's SB 1070, Brewer's hate-filled ticket to the governor's office in 2010.
The majority opinion plainly states that the federal government has preempted the field of immigration law and has exclusive jurisdiction under the Constitution. Here is the summary from the headnotes of the case:
Held:
1. The Federal Government's broad, undoubted power over immigration and alien status rests, in part, on its constitutional power to "establish an uniform Rule of Naturalization," Art. I, § 8, cl. 4, and on its inherent sovereign power to control and conduct foreign relations, see Toll v. Moreno, 458 U. S. 1, 10[*2495] . Federal governance is extensive and complex. Among other things, federal law specifies categories of aliens who are ineligible to be admitted to the United States, 8 U. S. C. § 1182; requires aliens to register with the Federal Government and to carry proof of status, §§ 1304(e), 1306(a); imposes sanctions on employers who hire unauthorized workers, § 1324a; and specifies which aliens may be removed and the procedures for doing so, see § 1227. Removal is a civil matter, and one of its principal features is the broad discretion exercised by immigration officials, who must decide whether to pursue removal at all. Immigration and Customs Enforcement (ICE), an agency within the Department of Homeland Security, is responsible for identifying, apprehending, and removing illegal aliens. It also operates the Law Enforcement Support Center, which provides immigration status information to federal, state, and local officials around the clock. Pp. 2-7.
2. The Supremacy Clause gives Congress the power to preempt state law. A statute may contain an express preemption provision, see, e.g., Chamber of Commerce of United States of America v. Whiting, 563 U. S. ___, ___, but state law must also give way to federal law in at least two other circumstances. First, States are precluded from regulating conduct in a field that Congress has determined must be regulated by its exclusive governance. See Gade v. National Solid Wastes Management Assn., 505 U. S. 88, 115. Intent can be inferred from a framework of regulation "so pervasive . . . that Congress left no room for the States to supplement it" or where [***2] a "federal interest is so dominant that the federal system will be assumed to preclude enforcement of state laws on the same subject." Rice v. Santa Fe Elevator Corp., 331 U. S. 218, 230. Second, [**363] state laws are preempted when they conflict with federal law, including when they stand "as an obstacle to the accomplishment and execution of the full purposes and objectives of Congress." Hines v. Davidowitz, 312 U. S. 52, 67. Pp. 7-8.
3. Sections 3, 5(C), and 6 of S. B. 1070 are preempted by federal law. Pp. 8-19.
Our lawless Tea-Publican state legislature and governor have routinely pissed away your tax dollars on such frivolous lawsuits in pursuit of their ideological extremism that only serves to enrich the GOP lawyers who handle the litigation.
Arizona faces a budget deficit this year and for the foreseeable future. It would be unethical for governor-elect Doug Ducey and his team of GOP lawyers to continue pissing away your tax dollars on this frivolous lawsuit when the state of Arizona cannot pay its bills.
Remember when Dicey Doug Ducey said he would go through the budget line-by-line to eliminate unnecessary and wasteful spending? Yeah, this is Exhibit "A".
At the heart of the legal battle is Brewer's contention that those in the DACA program — or any other policy not approved by Congress — do not meet the requirements of a 1996 Arizona law which grants licenses only to those who are "authorized" to be in this country.
She contends the decision by the Obama administration to let some people stay and work does not rise to the level of legally authorizing them to be here. So she issued an executive order directing ADOT to deny licenses to those accepted into DACA.
Campbell, who heard the initial lawsuit, sided with the governor and rejected a request for injunction.
The three judge panel, however, ruled earlier this year that the evidence so far shows that Brewer's action is likely illegal.
Potentially more significant, the judges said the dreamers are being harmed right now by the delay. That includes making it difficult for them to get jobs or go to school, both of which were privileges extended to DACA recipients.
Even at that point, Campbell refused to issue the directive to ADOT, noting that Brewer had sought review by the full 9th Circuit.
Now, however, the full court has upheld the panel. And absent Supreme Court intervention, Campbell no longer has any legal excuse for delay.
In its ruling in July, the three-judge panel said the problem with Arizona denying licenses to DACA recipients goes beyond the state's inconsistent policy about which deferred action recipients qualify and which do not. Judge Harry Pregerson, writing for the court, said there was evidence the policy was motivated at least in part by animosity.
"Defendants' policy appears intended to express animus toward DACA recipients themselves, in part because of the federal government's policy toward them," he wrote. "Such animus, however, is not a legitimate state interest."
Brewer has made no secret she does not like the policy — or, in fact, the way the Obama administration has handled any aspect of immigration.
There has never actually been a full-blown trial on the legality of the Arizona policy. Instead, the court fights so far have been over whether the dreamers should be allowed to drive while the case proceeds.
Pregerson said the court sided with the challengers because the policy can cause "irreparable harm" to those affected. He said inability to legally drive also makes it more difficult, if not impossible, for them to hold jobs — a specific right they get being in the DACA program.
Dulce Matuz, president of the Arizona Dream Act Coalition, said she hopes this is the end of the fight.
"Gov. Brewer has wasted countless taxpayer dollars defending a misguided and harmful policy that has been rejected time and time again by the court," she said.
Marielena Hincapie, executive director of the National Immigration Law Center, said the ruling "should serve as a wakeup call for the new governor" to allow the dreamers to get licenses "so they can drive to school and work and participate fully in their communities."
Dicey Doug Ducey needs to do the right thing and to let the DACA eligible drive. Then dismiss this frivolous lawsuit to quit pissing away our taxpayer dollars that only serves to enrich GOP lawyers.