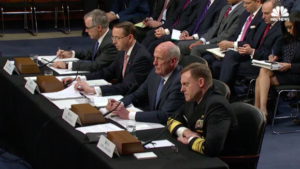 The Senate Intelligence Committee held an open hearing to discuss Foreign Intelligence Surveillance Act (FISA) legislation with top intelligence officials this morning, with Adm. Michael Rogers, the director of the National Security Agency,  Daniel Coats, the director of national intelligence, Deputy Attorney General Rod Rosenstein, and Acting FBI Director Andrew McCabe.
All four men refused to discuss their conversations with President Trump as described in the media, asserting that it was not appropriate to discuss "classified" matters in an open hearing.
All four men were asked and answered that Special Investigator Robert Mueller had not notified them of any limitations on their public testimony before the committee.
All four men were asked and answered that they had checked with White House counsel as to whether the president was going to assert executive privilege to prevent their testimony, and they testified that White House counsel had not gotten back to them prior to the hearing.
All four men said they would answer questions in the classified closed session hearing this afternoon — assuming White House counsel does not notify them of an assertion of executive privilege.
None offered any legal basis for their refusal to answer questions.
Rosenstein and McCabe simply asserted their departments' usual line that they do not discuss ongoing investigations in open hearings (even though FBI Director James Comey did so recently, proving that there are exceptions to the rule).
"Is that the rule for the President of the United States as well?" Sen. Mark Warner responded. "Because that is what the questions are being asked about, reports that nobody has laid to rest here that the President intervened directly in an ongoing FBI investigation. And we've gotten no answer from any of you."
The witnesses' refusal to answer questions led to this heated exchange between Senator Angus King (I-ME) and witnesses, which largely sums up how the open hearing went this morning. 'What you feel isn't relevant': Sen. Angus King grills intel leaders on whether Trump tried to influence them:
KING: What you feel isn't relevant, admiral. What you feel is not the answer. The answer is, why are you not answering the questions? Is it an invocation of executive privilege. If there is, let's hear about it. If there isn't, answer the questions.
ROGERS: I stand by the comments I've made. I'm not interested in repeating myself, sir, and I don't mean that in a contentious way.
KING: Well I do mean it in a contentious way, I don't understand why you're not answering our questions. You can't — when you were confirmed, before the armed services committee you took an oath: "do you solemnly swear to give the committee the truth, the whole truth, and nothing but the truth, so help you, God." You answered yes to that.
ROGERS: And I've also answered that those conversations are classified and it is not appropriate in an open forum, to discuss those classified conversations.
KING: What is classified about a conversation involving whether or not you should intervene in the FBI investigation?
ROGERS: Sir, I stand by my previous comments.
KING: You swore that oath to tell us the truth, the whole truth, and nothing but the truth, and today you are refusing to do so. What is the legal basis for your refusal to testify to this committee?
COATS: I'm not sure I have a legal basis, but I'm more than willing to sit before this committee … during its investigative process in a closed session and answer your questions.
KING: Well we're going to be having a closed session in a few hours. Do you commit to me that you're going to answer these questions in a direct and unencumbered way?
COATS: I plan to do that but I do have to work through the legal counsel at the White House relative to whether or not they're going to exercise executive [privilege].
Nowhere in their testimony did Coats or Rogers deny the president asked them to intervene in the FBI investigation.  They simply refused to answer questions about their conversations in an open session.
Unless there are leaks to the media from the closed session of the Senate Intelligence Committee this afternoon, the public will not know what these men have had to say about their conversations with president Trump.
The Senate Intelligence Committee chairs should declassify this portion of their testimony this afternoon and release a transcript of their testimony because there is no legal justification for their refusal to answer questions in open session this morning.
Shortly after the open session concluded this morning, former FBI Director James Comey's prepared remarks for the Senate Intelligence Committee for his testimony tomorrow were released to the media. This typically would not occur until a witness actually testifies. Comey reportedly asked for it to be released early. You can bet this will be part of the questioning in the closed session of the Senate Intelligence Committee this afternoon.
The New York Times reports, Comey to Testify Trump Pressured Him to Say He Wasn't Under Investigation:
Former F.B.I. director James B. Comey plans to tell senators on Thursday in highly anticipated testimony about a wide-ranging effort by President Trump to influence the F.B.I.'s investigation into Russia's meddling in the election, including repeatedly asking Mr. Comey to announce that the president was not personally under investigation.
In seven pages of written testimony made public on Wednesday afternoon by the Senate Intelligence Committee, Mr. Comey outlined how Mr. Trump sought a pledge of loyalty and an end to the investigation into his national security adviser, and how the president questioned whether Mr. Comey, four years into a 10-year term, wanted to remain in his job. Mr. Comey wrote that he told Mr. Trump on at least one occasion in early January that he was not under investigation at that time.
Mr. Trump also asked Mr. Comey, in a previously undisclosed phone call on March 30, what could be done to "lift the cloud" over him from the investigation, because it was hurting his ability to govern, according to the remarks. But Mr. Comey will say that he was reluctant to make that announcement "for a number of reasons, most importantly because it would create a duty to correct, should that change."
Mr. Comey's dramatic recounting echoed memos he has written about his interactions with the president, some of which have been described to The New York Times, but it was the first detailed account directly from him about his service in the Trump administration until he was abruptly fired last month. Representatives for Mr. Comey asked the committee to release the testimony on Wednesday shortly before it was made public, according to people familiar with the sequence of events.
In the written testimony, Mr. Comey also disclosed that Mr. Trump's former national security adviser, Michael T. Flynn, is the subject of an investigation into whether he made false statements to the F.B.I. about his contacts with Russian officials. Mr. Flynn was interviewed by the F.B.I. at the White House in January about those interactions, shortly before he was removed by Mr. Trump.
Mr. Comey will tell senators that he wrote the first memo shortly after he initially met Mr. Trump, on Jan. 6, during the presidential transition.
In that meeting, Mr. Comey told the president-elect he was not under investigation; Mr. Trump did not ask but Mr. Comey "offered that assurance," he said. He also briefed Mr. Trump on the contents of a dossier of salacious, unsubstantiated allegations that a former British spy believed the Russian government had collected on Mr. Trump.
"To ensure accuracy, I began to type it on a laptop in an F.B.I. vehicle outside Trump Tower the moment I walked out of the meeting," Mr. Comey said. "Creating written records immediately after one-on-one conversations with Mr. Trump was my practice from that point forward."
Weeks later, once Mr. Trump was in office, the president asked Mr. Comey about the dossier over dinner at the White House and "expressed his disgust for the allegations and strongly denied them," Mr. Comey wrote.
The president told Mr. Comey he was considering asking him to investigate the material in the dossier, which included unproven allegations of videotaped encounters with prostitutes in Moscow, and prove that the described events did not happen. Mr. Comey said he advised the president to give the request "careful thought because it might create a narrative that we were investigating him personally, which we weren't, and because it was very difficult to prove a negative."
In the March phone call, Mr. Trump said he had nothing to do with Russia and had not been involved with prostitutes in Russia "and had always assumed he was being recorded when in Russia."
Mr. Comey said the last time he had spoken with Mr. Trump was on April 11. Mr. Trump called to ask again when Mr. Comey planned to put out word that Mr. Trump was not under investigation.
Mr. Comey responded that he had passed the request on to his bosses at the Justice Department but had not heard back.
"He replied that 'the cloud' was getting in the way of his ability to do his job," Mr. Comey wrote in his written testimony.
The president emphasized that he had been loyal to Mr. Comey.
"Because I have been very loyal to you, very loyal; we had that thing, you know," Mr. Trump said, according to Mr. Comey, who wrote that he had not replied or asked Mr. Trump what he meant by "that thing."
That "thing" would be Trump's public display of affection for Comey (video) on January 22, 2017. This is the same "thing" that Comey described made him feel uncomfortable and he tried to blend into the drapes so that Trump would not notice him. Where's the love, bro?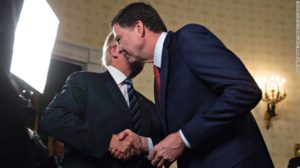 Norman Eisen, a former White House ethics czar and ambassador to the Czech Republic during the Obama administration said Wednesday that former FBI Director James Comey's testimony is "the equivalent of the Nixon tapes." Ex-WH ethics czar: 'This is the equivalent of the Nixon tapes':
Eisen compared the news revealed in Comey's testimony to former President Richard Nixon's secret recording of his phone calls in meetings at the White House when he was in office, which eventually played a role in his resignation.
"This moves us into the same realm as Nixon's obstruction, maybe worse," he continued. "This is the equivalent of the Nixon tapes. We are headed into very, very choppy waters."
"I think it's remarkable," Norman Eisen told CNN's Brooke Baldwin on CNN's "Newsroom." "Clearly Director Comey is looking ahead to the day beyond the hearing tomorrow when he may have to testify about this. Whether it's in an obstruction proceeding, or an impeachment proceeding, or something else."
UPDATE: CNN legal analyst Jeffrey Toobin says that the prepared remarks from former FBI Director James Comey establish obstruction of justice by President Donald Trump.
Live television coverage begins at 6:00 a.m. Arizona time, with Comey's testimony scheduled to begin at 7:00 a.m. Arizona time. Take a sick day and stay home for some must see TV.
There are media reports that Trump plans to live tweet during Comey's testimony, which only gives the senators on the panel an opportunity to fact check his statements with Comey for rebuttal testimony in real time (and Comey has copious contemporaneous notes to refresh his recollection). This is an amazingly stupid move by Trump. Anyone advising him to do this is a fool.
I can't imagine that any attorney wants to represent a client who engages in this kind of behavior. Trump is his own worst enemy and he will be his own undoing.
UPDATE: Former U.S. director of national intelligence James Clapper says events in Washington now are more serious than the Watergate scandal of the 1970s, and that it is imperative investigators get to the bottom of the Trump administration's links with the Putin regime. James Clapper says Watergate 'pales' in comparison with Trump Russia scandal:
The former intelligence director was asked how current events compared to Watergate and he said the behaviour under scrutiny now was more serious. "I think you compare the two, that Watergate pales, really, in my view, compared to what we're confronting now."
* * *
Clapper told the National Press Club in Canberra it was "absolutely crucial for the United States, and for that matter for the world, for this presidency, for the Republicans, for the Democrats and for our nation at large, that we get to the bottom of this".
"Is there a smoking gun with all the smoke? I don't know the answer to that. I think it's vital, though, we find that out."