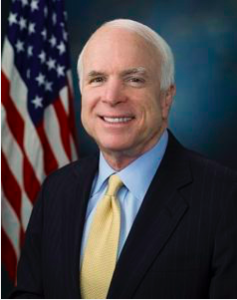 Our egomaniacal narcissist Twitter-troll-in-chief offered condolences on Twitter to Sen. John McCain's family, but this small and petty man rejected plans for a White House statement praising McCain: President Trump nixed issuing a statement that praised the heroism and life of Sen. John McCain, telling senior aides he preferred to issue a tweet before posting one Saturday night that did not include any kind words for the late Arizona Republican.
U.S. flags at the White House returned to full staff on Monday morning as the nation continued to mourn the death of Sen. John McCain (R-Ariz.). Flags at White House return to full staff after brief tribute to McCain.
The malignant cancer of "Trumpism" is self-evident in the GOP primary here in Arizona. In most of the country, McCain is being lauded as a hero. On Arizona's GOP campaign trail, he's a pariah.
The Arizona Republican Party that nurtured McCain and his retiring Senate colleague Jeff Flake, whose seat those candidates are seeking, has been overrun by the party of Donald Trump. For Republican candidates now, the imperative is to embrace the president lest they lose his voters — and many of those voters share Trump's antipathy to McCain.
Some analysts expect McCain's death will only hasten the state's political transformation.
[T]here will be another opportunity to demonstrate the GOP shift.
Arizona Gov. Doug Ducey will appoint a replacement to fill McCain's seat until 2020, when a special election will determine the occupant until 2022, when McCain's term would have ended.
The New York Times reports, Arizona Governor Faces a Tough Choice: A Senator Made From McCain's Mold or Trump's:
Senator John McCain's death this weekend laid bare the long-simmering Republican tensions over who will be appointed to fill his Arizona seat, pitting the pragmatic wing of the party that Mr. McCain represented against the ascendant, hard-line forces loyal to President Trump — and hostile to the late senator.
On Sunday, a day after the senator and former prisoner of war succumbed to brain cancer, Gov. Doug Ducey of Arizona issued a statement through an aide indicating he will not appoint a successor to Mr. McCain until after what is expected to be nearly a weeklong series of services in his honor — in Arizona, Washington and Annapolis, Md.
"Out of respect for the life and legacy of Senator John McCain and his family, Governor Ducey will not be making any announcements about an appointment until after the senator is laid to rest," said Daniel Ruiz II, an adviser to Mr. Ducey.
Gov. Ducey's choice carries enormous implications in Washington.
And it is coming at a moment, in Arizona and beyond, when the Republican Party has rallied to the sort of nationalist and at-times nativist politics that Mr. Trump embodies and Mr. McCain scorned.
The governor's appointee will represent the state through most of 2020, when there will be a special election to fill the rest of Mr. McCain's term, and Republicans close to Mr. Ducey indicated he is likely to pick a replacement who intends to run again rather than a caretaker to temporarily fill the seat.
ABSOLUTELY NOT! Governor Ducey should appoint a caretaker who will promise not run in 2020, to allow Arizona's voters to decide for themselves from among an array of candidates who will run to fill an open seat in 2020. Anyone appointed as caretaker to Senator McCain's seat should exhibit the same "maverick" independence from party orthodoxy as did Sen. McCain.
Most of the names currently under speculation for appointment to Sen. McCain's seat do not fit this mold. They are has-been ideologue partisan hacks who have a history of voting the GOP party-line:
Former senator John Kyl
Former congressman John Shadegg
Former congressman Matt Salmon
Gov. Ducey's top aide and former Speaker of the House, Kirk Adams
Other possibilities include:
Former Arizona Board of Regents President and recently appointed State Treasurer Eileen Klein
Current Arizona Board of Regents member Karrin Taylor Robson
Business executive and former United States ambassador to Finland Barbara Barrett
The obvious choice for a caretaker in Sen. McCain's "maverick" mold is his widow, Cindy McCain.
Mr. McCain's admirers made clear their wishes that Mr. Ducey tap somebody as independent and willing to criticize the president as the departed senator, whose last high-profile moment in public life was to excoriate Mr. Trump's July meeting with President Vladimir V. Putin of Russia as "one of the most disgraceful performances by an American president."
"I like senators whose minds weren't captured," said Senator Jeff Flake, the state's other senator, repurposing Mr. Trump's caustic attack on Mr. McCain's Vietnam service and appealing to his party to "get away from this personality cult."
Some of Arizona's pro-Trump conservatives say that Mr. Ducey's top priority should be to appoint somebody who is unwaveringly loyal to "Dear Leader."
"I think it should be a conservative, someone who supports President Trump — I think that should be the main issue," said Joe Arpaio, the former county sheriff whom Mr. Trump pardoned last year and who is currently running for the seat now held by Mr. Flake, who is not seeking re-election. "I want somebody in there who will protect the back of our president and somebody that will not pursue impeachment if there is impeachment."
Arizona's primaries are Tuesday, and the race to replace Mr. Flake there has evolved into a contest over who can claim the mantle of the president — not that of the iconic war hero [John McCain] who frequently defied his own party over 35 years in Congress.
The Republican establishment's favorite, Representative Martha McSally, has linked herself to the president as she tries to fend off far-right challenges from Mr. Arpaio and Kelli Ward, a onetime state senator who won nearly 40 percent of the vote in a 2016 primary against Mr. McCain. To do that, Ms. McSally has avoided any connection to Mr. McCain, a gambit that has infuriated the late senator's family. (For her part, Ms. Ward suggested in a Friday Facebook post that the McCain family had timed their announcement about the senator stopping his treatment to undermine her campaign.)
A business-aligned conservative who was once an executive at the ice cream company Cold Stone Creamery, Mr. Ducey has jokingly said he's "a former ice cream salesman." He has sought to bridge the divide between the devotees of Mr. Trump who dominate Republican primaries in the state and a broader electorate more favorably inclined to Mr. McCain's center-right politics. The governor faces a nominal primary challenge from the right on Tuesday, but is peering ahead to a far more competitive general election in November, in part because an acrimonious dispute earlier in the year with striking teachers dented his approval ratings.
Since Mr. McCain's diagnosis last year, Mr. Ducey has handled questions about succession with the utmost caution, chiding those Republicans who talked openly about the matter while the senator was still alive.
But Arizona Republicans familiar with the governor's thinking suggest he would like to appoint an individual who, in addition to running again in 2020, would be acceptable both to the conservative grass-roots of the party he will need in November, and to Mr. McCain's friends and family.
That search for a safe consensus pick has already left Mr. McCain's allies deflated.
"Like with everything else in politics, these days we'll end up with mediocrity," said Grant Woods, Mr. McCain's first congressional chief of staff and a former Arizona attorney general.
The McCains did not offer any guidance, let alone make suggestions about a successor, to Mr. Ducey in the days leading up to the senator's death.
Arizona Republicans are skeptical Mr. Ducey would pick Mr. McCain's widow, in part because of questions about whether she would want to seek the nomination in 2020 — precisely why she should be appointed caretaker — but also because it could anger the pro-Trump voters that the governor will need to win in November. To those voters, Ms. McCain would almost certainly be viewed as too politically moderate.
Officials close to Mr. Ducey said that, as of Sunday, the White House had not weighed in on the appointment; the only guidance they have received from the Senate majority leader, Mitch McConnell, was to pick somebody with whom the leadership can work.
In other words, an ideologue who will vote the GOP party-line as the Turtle Man determines.
This close to the election, the governor may be inclined to err on the side of caution and pick the most inoffensive appointee. Some of Mr. McCain's oldest friends are already resigned to that, but in a state that has produced the likes of Mr. McCain, Mr. Goldwater and the former House minority leader John Rhodes, whom Mr. McCain replaced in the House, the specter of elevating a run-of-the-mill political mortal is hard to swallow.
Mr. Woods recalled that when Mr. McCain entered the House in 1983, Mr. Goldwater represented Arizona in the Senate, the legendary Democrat Morris Udall was in the House, future Democratic presidential hopeful Bruce Babbitt was governor and a former Arizona state senator named Sandra Day O'Connor had two years earlier taken her seat on the Supreme Court.
"Now it's really hard to attract the best and the brightest into this mess," he said. "There's not another John McCain out there. But I'd hope that whoever goes in there would have same dedication to country over party that John McCain always had."
Not going to happen. I would ask Governor Ducey to do the right thing and appoint a caretaker, but when has he ever done the right thing? Arizona appears destined for mediocrity and a true believer in the personality cult of Trump for the next two years.
We will know next Monday.
---
Support volunteer citizen journalism at the Blog for Arizona with a donation today. Your secure contribution keeps the Blog online and sustains a free press in Arizona.
---