At the Rose Garden "covid-19 superspreader event" the White House hosted to introduce President Trump's nominee for the Supreme Court, Judge Amy Coney Barrett, she praised the late Justice Ruth Bader Ginsburg for shattering glass ceilings in legal jurisprudence for women.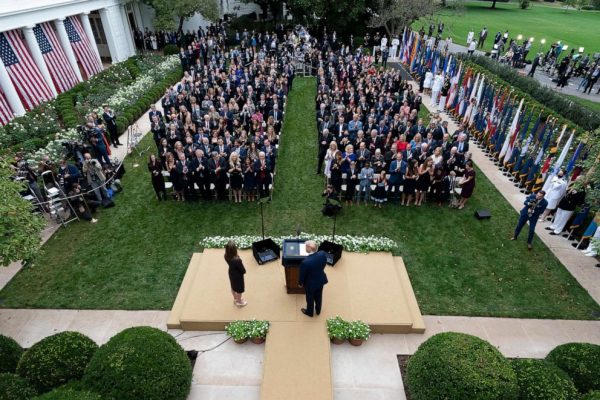 But Judge Amy Coney Barrett is the polar opposite of Justice Ruth Bader Ginsburg in her career trajectory, judicial philosophy, and judicial temperament. This is like replacing day with night.
This was a critical factor to Judge Amy Coney Barrett when her mentor and role model, Justice Antonin Scalia for whom she clerked, died and President Obama nominated Judge Merrick Garland to fill his seat. What Amy Coney Barrett said in 2016 about confirming justices in an election year:
In the 2016 interview, Barrett noted the differences between the confirmation of Anthony Kennedy in 1988 — the last nominee to be confirmed by a Senate controlled by the opposing party during an election year — and the dynamics surrounding Scalia's replacement.
"Justice Kennedy, you know, the arguments will be that that situation was distinguishable," Barrett said. "The vacancy did not arise in the presidential election year. It arose the year before, in June, when Justice Powell retired. And Justice Kennedy was nominated in November of the prior year. Moreover, he was nominated after Bork's nomination failed and [Judge Douglas] Ginsburg withdrew his nomination."
Barrett also pointed to the drastic shift in the court's ideological makeup that would result if a Democratic president replaced Scalia with a more liberal justice, noting that Kennedy replaced a justice of the same ideological bent.
"Moreover, Kennedy is a moderate Republican and he replaced a moderate Republican, Powell. We're talking about Justice Scalia, you know, the staunchest conservative on the court, and we're talking about him being replaced by someone who could dramatically flip the balance of power on the court," she said. "It's not a lateral move."
A Judge Barrett for Justice Ginsburg is decidedly "not a lateral move." She would neither preserve nor honor the life's work of Justice Ruth Bader Ginsburg. Her ideological bent is to reverse Justice Ginsburg's life's work.
Judge Barrett has only been on the 7th U.S. Circuit Court of Appeals since 2017. Her short tenure as a judge has led to a few noteworthy or controversial opinions. A look at Judge Amy Coney Barrett's notable opinions, votes:
Here are summaries of some of her notable opinions:
___
ABORTION
Barrett has twice joined dissenting opinions asking for decisions blocking laws enacted by abortion opponents to be thrown out and reheard by the full appeals court.
Last year, after a three-judge panel blocked an Indiana law that would make it harder for a minor to have an abortion without her parents being notified, Barrett voted to have the case reheard by the full court.
In July, the Supreme Court threw out the panel's ruling and ordered a new look at the case.
In 2018, a three-judge panel ruled that Indiana laws requiring that funerals be held for fetal remains after an abortion or miscarriage and banning abortions because of the sex, race or developmental disability of a fetus were unconstitutional.
Barrett was among four judges who wanted the full court to weigh in and suggested that the laws, signed by then-Gov. Mike Pence, might be constitutional.
Supreme Court abortion decisions "hold that, until a fetus is viable, a woman is entitled to decide whether to bear a child. But there is a difference between 'I don't want a child' and 'I want a child, but only a male' or 'I want only children whose genes predict success in life,'" Judge Frank Easterbrook wrote for the dissenting judges.
Barrett also joined the part of the opinion on the fetal remains law. "Many states have laws that prescribe how animals' remains must be handled," Judge Frank Easterbrook wrote for the dissenters. "The panel has held invalid a statute that would be sustained had it concerned the remains of cats or gerbils."
Last year, the Supreme Court reinstated the fetal remains law, but not the ban on abortions for race, sex and developmental disabilities.
___
GUNS
In a dissent in the 2019 gun-rights case of Kanter v. Barr, Barrett argued that a conviction for a nonviolent felony — in this case, mail fraud — shouldn't automatically disqualify someone from owning a gun.
The two judges in the majority agreed with Trump administration arguments that the defendant, Rickey Kanter, could not own a gun under federal or Wisconsin law because of his criminal conviction.
Barrett used most of her 37-page dissent to lay out the history of gun rules for convicted criminals in the 18th and 19th centuries, consistent with her embrace of interpreting laws and the Constitution according to the meaning they had when they were adopted.
Barrett wrote that "while both Wisconsin and the United States have an unquestionably strong interest in protecting the public from gun violence, they have failed to show, by either logic or data that disarming Kanter substantially advances that interest."
She said that her colleagues were treating the Second Amendment as a "second-class right, subject to an entirely different body of rules than the other Bill of Rights guarantees." Barrett quoted from a 2010 opinion by Justice Samuel Alito that extended gun rights, but the phrase also has been used more recently by Justice Clarence Thomas and other conservatives to complain that the Supreme Court has shied away from recognizing gun rights.
CAMPUS SEXUAL ASSAULT
Barrett wrote a unanimous three-judge panel decision in 2019 making it easier for men alleged to have committed sexual assaults on campus to challenge the proceedings against them.
The case involved allegations by a female student at Purdue University that her boyfriend had sexually assaulted her. The students were identified in court documents as John and Jane Doe.
John Doe sued in federal court claiming sex discrimination after Purdue suspended him for a year and took away his Navy ROTC scholarship. Barrett concluded Purdue's process was unfair and allowed his lawsuit to continue.
"The case against him boiled down to a 'he said/she said' — Purdue had to decide whether to believe John or Jane," Barrett wrote.
The judge criticized the university official who ended up siding with the female student. "Her basis for believing Jane is perplexing, given that she never talked to Jane. Indeed, Jane did not even submit a statement in her own words," Barrett wrote.
___
IMMIGRATION
Barrett was in dissent in June when her two colleagues on a 7th circuit panel put on hold, just in Chicago, the Trump administration policy that could jeopardize permanent resident status for immigrants who use food stamps, Medicaid and housing vouchers.
Under the new policy, immigration officials can deny green cards to legal immigrants over their use of public benefits.
She wrote that existing immigration law and Clinton-era welfare reform had already limited public assistance to noncitizens. The administration was just using leeway those laws had given it, Barrett wrote. The objections of immigrants and their advocates "reflect disagreement with this policy choice and even the statutory exclusion itself. Litigation is not the vehicle for resolving policy disputes," she wrote.
___
ACCESS TO A LAWYER
Barrett dissented in the case of a Wisconsin man who admitted that he fatally shot his wife seven times but argued that he had been provoked, making his crime second-degree homicide instead of first-degree homicide, which carries a higher penalty.
A federal judge reviewed the provoking claim in a pretrial hearing without prosecutors present and without allowing the lawyer of defendant Scott Schmidt to speak. The judge rejected Schmidt's claim of provocation, and he was convicted of first-degree homicide and sentenced to life in prison. However, a 7th Circuit panel overturned that decision, saying that Schmidt had been denied his Sixth Amendment right to counsel.
Barrett, in her dissent, disagreed that the pretrial hearing where the judge questioned Schmidt about his provocation claim was a situation that required Schmidt's lawyer and said the Supreme Court has never extended the right to counsel outside an adversarial proceeding.
The Supreme Court's "'critical stage' precedent deals exclusively with adversarial confrontations between the defendant and an agent of the state," she said.
She added: "Perhaps the right to counsel should extend to a hearing like the one the judge conducted in Schmidt's case. But (federal law) precludes us from disturbing a state court's judgment on the ground that a state court decided an open question differently than we would — or, for that matter, differently than we think the (Supreme) Court would."
Justice Ruth Bader Ginsburg was a champion of women's rights and women's reproductive choice. While it is true that Ruth Bader Ginsburg Wasn't All That Fond of Roe v. Wade, it was because she didn't like how the opinion was structured: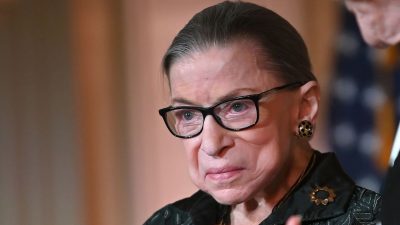 The way Justice Ginsburg saw it, Roe v. Wade was focused on the wrong argument — that restricting access to abortion violated a woman's privacy. What she hoped for instead was a protection of the right to abortion on the basis that restricting it impeded gender equality … [she] "believed it would have been better to approach it under the equal protection clause" [of the 14th Amendment] because that would have made Roe v. Wade less vulnerable to attacks in the years after it was decided[.]"
Justice Ginsburg was committed to women's reproductive choice. Judge Barrett decidedly is not.
During last week's train wreck of a presidential debate, "mad dog" Donald Trump badgered Joe Biden about his statement that abortion rights are on the ballot. Trump insisted that there is nothing going on at the court, "how do you know that?" (there are 17 abortion-related cases just one step away from the Supreme Court, and three could be taken up by the court this term).
Donald Trump's litmus test for his Supreme Court nominees is that they will vote to overturn Roe v. Wade, despite the fact that abortion rights in the U.S. are as popular now as they've ever been. Reminder: The Majority of Americans Support Abortion Access:
Last year, nearly every major poll on abortion rights found support for Roe v. Wade at record highs. A June CBS poll found that nearly two-thirds of Americans want to keep Roe v. Wade's protections in place, while less than one-third want to overturn them. It wasn't just Democrats: A strong majority of independents and a plurality of Republicans said they wanted to keep Roe v. Wade around, too. As NBC News has tracked views on abortion over the past decade, support for legal abortion has risen among most measurable demographics: Women, men, Democrats, and Republicans have all grown more supportive of abortion rights, a unified trend in opinion rarely seen on such a purportedly controversial topic.
At the same time, according to an ABC/Washington Post poll, the proportion of Americans who want to make abortion illegal "in all or most cases" has fallen nearly 10 points in the past decade. Voters are clear on where they stand: In 2019, the Pew Research Center found that, by a margin of 10 points, Americans prefer the Democratic Party's stance on abortion to the GOP's. Independents support Democrats over Republicans on abortion by a similar margin, according to a PBS NewsHour/NPR/Marist poll. And far more Americans are worried about states making it harder to get an abortion than are worried about states making it easier.
Judge Barrett met Trump's litmus test. Barrett signed ad in 2006 decrying 'barbaric legacy' of Roe v. Wade, advocating overturning the law:
Amy Coney Barrett, President Trump's nominee to the Supreme Court, added her name to a local newspaper advertisement in 2006 that decried the "barbaric legacy" of Roe v. Wade and advocated overturning the landmark decision that guarantees a woman's right to an abortion.
Barrett was a law professor at the University of Notre Dame in South Bend, Ind., when she attached her name to the ad placed by the St. Joseph County Right to Life group, of which Barrett and her husband, both Catholic, were members.
"We, the following citizens of Michiana, oppose abortion on demand and defend the right to life from fertilization to the end of natural life," read the ad in the South Bend Tribune. "Please continue to pray to end abortion."
The two-page ad ran on the anniversary of the 1973 Supreme Court decision that legalized abortion.
"It's time to put an end to the barbaric legacy of Roe v. Wade and restore laws that protect the lives of unborn children," the ad said.
Barrett did not disclose that she had signed the ad to the Senate Judiciary Committee, which asks nominees to list any "published material you have written or edited, including material published only on the Internet, regardless of whether it was published in your name, another name or anonymously."
The existence of the ad was first reported by The Guardian.
The beliefs of the St. Joseph County Right to Life members go further than some antiabortion groups. In their view, discarding unused embryos from in vitro fertilization was akin to abortion.
Jackie Appleman, the executive director of St Joseph County Right to Life, told the Guardian that the group not only supports the criminalization of doctors who perform abortions, but also making it illegal to throw away frozen embryos.
While it's unclear if Barrett holds these same views, her opposition to abortion is well documented in her writings and speeches in academia. As a Notre Dame professor, she was a member of Faculty for Life, which promotes writings that "respect the value of human life from conception to natural death."
Since becoming a judge on the U.S. Court of Appeals for the 7th Circuit, she has joined some opinions that took the antiabortion position, including one in which she supported the rehearing of a case that overturned an Indiana law requiring anyone under 18 to notify their parents before getting an abortion.
Abortion rights advocates also point to writings by Barrett in which she suggests an openness to overturning precedent like Roe.
"If anything, the public response to controversial cases like Roe reflects public rejection of the proposition that stare decisis can declare a permanent victor in a divisive constitutional struggle rather than desire that precedent remain forever unchanging," Barrett wrote, referring to the legal doctrine that courts follow historical precedent.
Garret Epps, the Legal Affairs Editor of the Washington Monthly and a professor of law emeritus at the University of Baltimore, discusses at length Amy Coney Barrett's Stare Decisis Problem—And Ours. Epps concludes with an example which would be the first controversial case on which a Justice Barrett would rule if confirmed to the court, the Republican attempt to strike down the Affordable Care Act in its entirety:
As the Affordable Care Act comes yet again before the Court, Barrett has made it clear that she rejects — indeed ridicules – the Court's decisions upholding the health program against constitutional and statutory challenges. As for issues that may arise in the next four decades, there's every reason to expect that, armed with her conservative social and economic views and her supple view of "precedent," she will find marvelous arguments against any progressive policy. Her ascent bids fair to cement Trump's new Court — which is the role played by the Court through too much of American history — as the place where the progressive movement goes to die.
Epps concludes, "she has no more business being a judge than I do being Surgeon General of the United States."