The right-wing propaganda mill is apoplectic (aren't they always?) over House Speaker Nancy Pelosi telling CNN's Jake Tapper on "State of the Union" on Sunday:
"We should be taking every precaution. What the President, his denial at the beginning was deadly," Pelosi said.
"I don't know what the scientists said to him, when did this President know about this, and what did he know? What did he know and when did he know it? That's for an after-action review. But as the President fiddles, people are dying. And we just have to take every precaution."
Asked by Tapper if she believes Trump's downplaying of the crisis has cost American lives, Pelosi responded, "Yes, I am. I'm saying that."
The right-wing propaganda mill is is really going to lose its load over this Boston Globe editorial opinion which comes right out and just says it: "The president has blood on his hands." A president unfit for a pandemic:
"Things fall apart; the center cannot hold," wrote W.B. Yeats in 1919. A century later, it's clear: The epicenter cannot hold. Catastrophic decisions in the White House have doomed the world's richest country to a season of untold suffering.
The United States, long a beacon of scientific progress and medical innovation with its world-class research institutions and hospitals, is now the hub of a global pandemic that has infected at least 745,000 people and already claimed more than 35,000 lives worldwide. Now that the number of confirmed COVID-19 cases in the United States — more than 140,000 — has surpassed that of any other nation, Americans are consigned for the coming weeks to watching the illness fell family members and friends, and to fearing for their own fate as they watch death tolls rise.
While the spread of the novel coronavirus has been aggressive around the world, much of the profound impact it will have here in the United States was preventable. As the American public braces itself for the worst of this crisis, it's worth remembering that the reach of the virus here is not attributable to an act of God or a foreign invasion, but a colossal failure of leadership.
The outbreak that began in China demanded a White House that could act swiftly and competently to protect public health, informed by science and guided by compassion and public service. It required an administration that could quickly deploy reliable tests around the nation to isolate cases and trace and contain the virus's spread, as South Korea effectively did, as well as to manufacture and distribute scarce medical supplies around the country. It begged for a president of the United States to deliver clear, consistent, scientifically sound messages on the state of the epidemic and its solutions, to reassure the public amid their fear, and to provide steady guidance to cities and states. And it demanded a leader who would put the country's well-being first, above near-term stock market returns and his own reelection prospects, and who would work with other nations to stem the tide of COVID-19 cases around the world.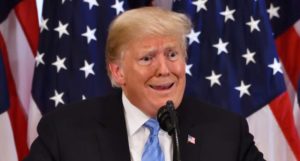 What we have instead is a president epically outmatched by a global pandemic. A president who in late January, when the first confirmed coronavirus case was announced in the United States, downplayed the risk and insisted all was under control. A president who, rather than aggressively test all those exposed to the virus, said he'd prefer not to bring ashore passengers on a contaminated cruise ship so as to keep national case numbers (artificially) low. A president who, consistent with his mistrust and undermining of scientific fact, has misled the public about unproven cures for COVID-19, and who baited-and-switched last week about whether the country ought to end social distancing to open up by Easter, and then, on Saturday, about whether he'd impose a quarantine on New York, New Jersey, and Connecticut. A president who has pledged to oversee the doling out of the $500 billion in corporate bailout money in the latest stimulus package, some of which will go to the travel industry in which his family is invested. A president who spent a good chunk of a recent press conference complaining about how hard it is for a rich man to serve in the White House even as Americans had already begun to lose their jobs, their health care, and their lives. A president who has reinforced racial stigma by calling the contagion a "Chinese virus" and failed to collaborate adequately with other countries to contain their outbreaks and study the disease. A president who evades responsibility and refuses to acknowledge, let alone own, the bitter truth of National Institutes of Health scientist Dr. Anthony Fauci's testimony: that the country's testing rollout was "a failing."
Timing is everything in pandemic response: It can make the difference between a contained local outbreak that endures a few weeks and an uncontrollable contagion that afflicts millions. The Trump administration has made critical errors over the past two months, choosing early on to develop its own diagnostic test, which failed, instead of adopting the World Health Organization's test — a move that kneecapped the US coronavirus response and, by most public health experts' estimation, will cost thousands if not hundreds of thousands of American lives. Rather than making the expected federal effort to mobilize rapidly to distribute needed gowns, masks, and ventilators to ill-equipped hospitals and to the doctors and nurses around the country who are left unprotected treating a burgeoning number of patients, the administration has instead been caught outbidding individual states (including Massachusetts) trying to purchase medical supplies. It has dragged its heels on invoking the Defense Production Act to get scarce, sorely needed ventilators and masks into production so that they can be distributed to hospitals nationwide as they hit their peaks in the cycle of the epidemic. It has left governors and mayors in the lurch, begging for help. The months the administration wasted with prevarication about the threat and its subsequent missteps will amount to exponentially more COVID-19 cases than were necessary. In other words, the president has blood on his hands.
It's not too much for Americans to ask of their leaders that they be competent and informed when responding to a crisis of historic proportions. Instead, they have a White House marred by corruption and incompetence, whose mixed messages roil the markets and rock their sense of security. Instead of compassion and clarity, the president, in his near-daily addresses to the nation, embodies callousness, self-concern, and a lack of compass. Dangling unverified cures and possible quarantines in front of the public like reality TV cliffhangers, he unsettles rather than reassures. The pandemic reveals that the worst features of this presidency are not merely late-night comedy fodder; they come at the cost of lives, livelihoods, and our collective psyche.
Many pivotal decision points in this crisis are past us, but more are still to come. For our own sake, every American should be hoping for a miraculous turnaround — and that the too-little, too-late strategy of the White House task force will henceforth at least prevent contagion and economic ruin of the grandest scale. But come November, there must be a reckoning for the lives lost, and for the vast, avoidable suffering about to ensue under the president's watch.
Michah Zenko similarly concludes at Foreign Policy, The Coronavirus Is the Worst Intelligence Failure in U.S. History (excerpt):
[M]ost leaders lack the discipline to do routine risk-based horizon scanning, and fewer still develop the requisite contingency plans. Even rarer is the leader who has the foresight to correctly identify the top threat far enough in advance to develop and implement those plans.
Suffice it to say, the Trump administration has cumulatively failed, both in taking seriously the specific, repeated intelligence community warnings about a coronavirus outbreak and in vigorously pursuing the nationwide response initiatives commensurate with the predicted threat. The federal government alone has the resources and authorities to lead the relevant public and private stakeholders to confront the foreseeable harms posed by the virus. Unfortunately, Trump officials made a series of judgments (minimizing the hazards of COVID-19) and decisions (refusing to act with the urgency required) that have needlessly made Americans far less safe.
In short, the Trump administration forced a catastrophic strategic surprise onto the American people. But unlike past strategic surprises—Pearl Harbor, the Iranian revolution of 1979, or especially 9/11—the current one was brought about by unprecedented indifference, even willful negligence. Whereas, for example, the 9/11 Commission Report assigned blame for the al Qaeda attacks on the administrations of presidents Ronald Reagan through George W. Bush, the unfolding coronavirus crisis is overwhelmingly the sole responsibility of the current White House.
* * *
Last week, the Washington Post reported on the steady drumbeat of coronavirus warnings that the intelligence community presented to the White House in January and February. These alerts made little impact upon senior administration officials, who were undoubtedly influenced by President Donald Trump's constant derision of the virus, which he began on Jan. 22: "We have it totally under control. It's one person coming in from China, and we have it under control. It's going to be just fine."
By now, there are three painfully obvious observations about Trump's leadership style that explain the worsening coronavirus pandemic that Americans now face. First, there is the fact that once he believes absolutely anything—no matter how poorly thought-out, ill-informed, or inaccurate—he remains completely anchored to that initial impression or judgment. Leaders are unusually hubristic and overconfident; for many, the fact that they have risen to elevated levels of power is evidence of their inherent wisdom. But truly wise leaders authentically solicit feedback and criticism, are actively open thinkers, and are capable of changing their minds. By all accounts, Trump lacks these enabling competencies.
Second, Trump's judgments are highly transmissible, infecting the thinking and behavior of nearly every official or advisor who comes in contact with the initial carrier. Unsurprisingly, the president surrounds himself with people who look, think, and act like he does. Yet, his inaccurate or disreputable comments also have the remarkable ability to become recycled by formerly honorable military, intelligence, and business leaders. And if somebody does not consistently parrot the president's proclamations with adequate intensity, they are fired, or it is leaked that their firing could be imminent at any time—most notably the recent reportof the president's impatience with the indispensable Anthony Fauci, the director of the National Institute of Allergy and Infectious Diseases.
And, third, the poor judgments soon contaminate all the policymaking arms of the federal government with almost no resistance or even reasonable questioning. Usually, federal agencies are led by those officials whom the White House believes are best able to implement policy. These officials have usually enjoyed some degree of autonomy; not under Trump. Even historically nonpartisan national security or intelligence leadership positions have been filled by people who are ideologically aligned with the White House, rather than endowed with the experience or expertise needed to push back or account for the concerns raised by career nonpolitical employees.
Thus, an initial incorrect assumption or statement by Trump cascades into day-to-day policy implementation.
The same Post report featured the following stunning passage from an anonymous U.S. official: "Donald Trump may not have been expecting this, but a lot of other people in the government were—they just couldn't get him to do anything about it. The system was blinking red." That latter passage is an obvious reference to that aforementioned central finding of the 9/11 Commission Report.
Given that Trump concluded early on that the coronavirus simply could not present a threat to the United States, perhaps there is nothing that the intelligence community, medical experts employing epidemiological models, or public health officials could have told the White House that would have made any difference. Former National Security Advisor Henry Kissinger is reputed to have said after an intelligence community warning went unrecognized, "You warned me, but you didn't convince me." Yet, a presidential brain trust wholly closed off to contrarian, though accurate, viewpoints is incapable of being convinced.
The White House detachment and nonchalance during the early stages of the coronavirus outbreak will be among the most costly decisions of any modern presidency. These officials were presented with a clear progression of warnings and crucial decision points far enough in advance that the country could have been far better prepared. But the way that they squandered the gifts of foresight and time should never be forgotten, nor should the reason they were squandered: Trump was initially wrong, so his inner circle promoted that wrongness rhetorically and with inadequate policies for far too long, and even today. Americans will now pay the price for decades.
As the Boston Globe says, "Come November, there must be a reckoning for the lives lost, and for the vast, avoidable suffering" of Americans under this president's watch. Hold him accountable.