According to a January poll from the Pew Research Center, the politics of Generation Z is more liberal. The next generation of voters is more liberal, more inclusive and believes in government: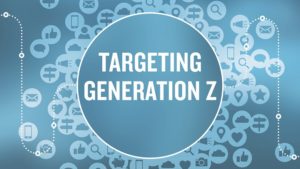 Generation Z, defined as those born after 1996, is on the cusp of adulthood. The oldest are graduating college. By 2020, almost half will be eligible to vote in the presidential election, which means their values and opinions could soon help shape national politics.
According to the survey, Gen Z teens and young adults have overwhelmingly adopted left-leaning beliefs similar to those of the millennials before them. They overwhelmingly disapprove of President Trump, believe the government should do more and reject American exceptionalism.
It's not uncommon for young people to hold liberal views that moderate as they age. But Gen Zers grew up in a very different world than previous generations. The oldest among them was 11 when the first black president was elected. They became teenagers as same-sex marriage was legalized around the country. They also, according to Pew, will be the most racially diverse and well-educated generation.
This younger generation is much more likely to see climate change as a result of human behavior and to believe black Americans are treated unfairly.
These differences are particularly pronounced among Gen Zers who self-identify as Republican. While older Republicans overwhelmingly support Trump, his job approval drops off significantly with the younger generations. Eighty-five percent of baby-boomer Republicans believe Trump is doing a good job. Fifty-nine percent of Gen Zers share that view.
Historically, younger people are less civically engaged and vote in fewer numbers than older generations. In 2018, 31 percent of eligible millennials voted in the midterms. If millennials and Gen Zers increased their participation in elections, they could have the power to decide the outcome.
The New York Times follows up today, Young Voters Keep Moving to the Left on Social Issues, Republicans Included:
As a self-described political conservative, Reagan Larson might seem to be a natural fit for the Republican Party. The 19-year-old college student from South Dakota grew up in a Catholic household that objected to same-sex marriage, and she remains firmly opposed to abortion.
But in many ways, that is where the ideological similarities end. Ms. Larson, a dual major in biology and Spanish at Gustavus Adolphus College in St. Peter, Minn., does not oppose the legalization of marriage equality. She views climate change as undeniable, believes "immigrants make our country richer," and disagrees with her parents on the need for a border wall.
Ms. Larson is part of Generation Z, one of the most ethnically diverse and progressive age groups in American history. People born after 1996 tend to espouse similar views to the age cohort just ahead of them, the Millennials, but they are far more open to social change than older generations have been, according to the findings of a new report by the Pew Research Center. The findings mark a shift that could substantially reshape the nation's political and economic landscape.
According to the study — which was based on online surveys of 920 youths aged 13 to 17 and nearly 11,000 adults 18 or older — only 30 percent of Generation Z respondents said they approved of President Trump's performance; more than half believed humans were fueling climate change; and 70 percent said they wanted the government to do more to solve the nation's problems. Those views roughly mirror attitudes held by Millennials, and together, the two age groups may add up to a powerful voting bloc at odds with Republican orthodoxy, political scientists say.
"This should be an alert to the Republican Party as they think about generational replacement," said Elizabeth Bennion, a professor of political science at Indiana University South Bend.
Each succeeding generation of Americans tends to be more progressive than those that came before, Ms. Bennion noted, a trend that potentially poses a long-term threat to the Republican Party's power.
"If there isn't a will to change within the party," she said, "it could become permanently in the minority moving forward."
Democrats of all ages tend to align fairly closely on major social and political issues, but the report highlights a sharp generational divide among Republicans. For example, more than half of the youngest Republicans surveyed said that racial and ethnic diversity was good for American society, a view shared by fewer than 40 percent of their Millennial counterparts, 34 percent of Generation Xers and just three in 10 baby boomers.
Young Republicans are also more likely to approve of same-sex marriage and accept transgender people.
Michael Schaefer, 18, a politically conservative college freshman from Youngstown, Ohio, said he was in the sixth grade when some classmates came out as gay, and had a number of transgender students as friends in high school.
"For over half my life, I've been shown the other side of sexuality and gender," he said. "I don't care about their sex or gender, I just care about the individual."
More than one-third of Generation Z respondents said they knew someone who preferred to be addressed using gender-neutral pronouns, the Pew study found, compared with 12 percent of baby boomers.
More than 68 million Americans belong to Generation Z, representing about 22 percent of the nation's population, according to 2017 survey data from the United States Census Bureau — a share larger than the Millennials' and second only to the baby boomers'.
Contrary to conventional wisdom, Americans' political and social views do not tend to drift to the right as they age, according to Kim Parker, who oversees research into social demographic trends at the Pew Research Center.
"The differences we see across age groups have more to do with the unique historical circumstances in which they come of age," she said, noting that demographers have not seen a generational pattern of growing more conservative or more Republican over time.
Paulina Aceves, 18, a high school senior in Scottsdale, Ariz, embodies the complexities of her generation. The daughter of Mexican immigrants, she proudly identifies as a Christian and a Republican. But she does not support a border wall, nor does she believe the government should be less involved in American society.
"The right solution is definitely for the government to take a more active role," she said.
The Republican Party has lost younger Americans like Travis Gaither, though, as it has moved farther to the right on issues like immigration, gun control and climate change.
Mr. Gaither, who grew up in Tennessee, described his parents as "typical southern white Republicans" who belong to two country clubs and are active in the Chamber of Commerce.
But Mr. Gaither, 20, was chairman of the High School Democrats of Tennessee during his senior year, a political transformation fueled by his liberal social views and cemented by his outrage over Mr. Trump's hard-line policies.
The Pew study found that two-thirds of Mr. Gaither's generation believe, as he does, that black people are treated less fairly than whites in the United States. He said his feelings on the subject were shaped by an early brush with racism in high school, where a black girl he knew was menaced by a white football player who threatened to lynch her. And then his views were solidified last summer, he said, after a police officer in Nashville killed an unarmed black man.
"I feel like I've moved toward the left, as the Republican Party has shifted toward the right," he said.
This generational realignment is even more pronounced among Democratic voters. The new era in Democratic politics, in one graph:
In Gallup surveys conducted over the course of 1994, about half of Democrats identified themselves as moderates — while as many identified as conservative as did liberal. This was the year in which Republicans retook the House in dramatic fashion; well over half of the party told Gallup that they, too, were conservatives.
Since then, though, there's been a steady shift on the left. In every single year save one, Gallup's polling has found the percentage of Democrats who identify as liberal has either increased or stayed the same. In its most recent poll, a new benchmark was set: More than half of Democrats now identify as liberals. By comparison, only about 1 in 8 identify as conservative.
Why is that shift among Democrats particularly significant in this moment? Because it reflects a real change in the party that nominated Clinton in 1992 and which will next year probably nominate someone who will be very different politically from Clinton. We saw this emerge in dramatic fashion in 2016, when Hillary Clinton faced a harder-than-expected primary challenge from Sen. Bernie Sanders (I-Vt.). Sanders was much more representative of a more-liberal Democratic Party, from which he obviously benefited.
In 2017, the Pew Research Center found a widening gulf between Democrats and Republicans on a number of political issues over the same period — a widening gulf that revealed partisanship is the biggest indicator of political differences.
Why? In some cases because of sharper movement by Democrats. For example, Pew's researchers write:
For the first time, a majority of Republicans (54%) favor acceptance of homosexuality; just 38% did so in 1994. Yet over this period, the increase in the share of Democrats saying homosexuality should be accepted has been much larger (from 54% to 83%). As a result, partisan differences have gotten larger.
On a number of issues included in Pew's research, the movement among Democrats was more significant than that among Republicans.
Included in Gallup's most recent analysis is a breakdown of ideological identifiers by demographic. Besides Republicans, the group that most lopsidedly identifies as conservative is those 65 and older; among the most heavily liberal are those under 30.
Since Gallup has been conducting this research over a long time, we can compare those specific demographic responses from the 2018 polls to analysis conducted 10 years ago, in 2009.
Here is the shift in ideological identity from 2009 to 2018 by gender and age.
To some extent, as with those independents, the shifts are a function in the density of conservative identity as Obama took office. But the changes are still remarkable.
For example: Those 65 and older were 32 points more heavily conservative than liberal in 2009 but only 21 points more conservative last year, a change of 11 points. The shift among those ages 30 to 49 was 21 points on net, from those identifying as conservative being a plurality to the smallest minority. Women saw a 14-point swing on net.
Part of the change among age groups is a function of people aging; 2018′s 30- to 49-year-old is 2009′s 21- to 40-year-old. But the shifts favored liberal identity across the board to some extent. Even among those under 30, where the density of self-identified liberals declined, self-identified conservatives declined more.
I am reminded of the opening lyrics to "The Greatest Love of All":
I believe the children are our are future
Teach them well and let them lead the way
Show them all the beauty they possess inside
Give them a sense of pride to make it easier
Let the children's laughter remind us how we used to be
To paraphrase Isaiah 11:6, "And the children shall lead them."
---
Support volunteer citizen journalism at the Blog for Arizona with a donation today. Your secure contribution keeps the Blog online and sustains a free press in Arizona.
---