When states imposed stay-at-home orders and locked down businesses in the initial stages of the response to the coronavirus pandemic, retail sales fell 8.3 percent in March, and 14.7 percent in April (revised data).
Then there was a rush by state's to reopen in May, followed by Mother's Day, Memorial Day, and Father's Day weekends. June saw a record 17.7 percent surge in retail sales as homebound shoppers spent big on clothing, furniture and sports equipment. July 4th weekend may have been the peak of this activity.
But as the Washington Post reports, Retail sales jump 7.5 percent in June even as new covid outbreaks stall reopenings, this rush to reopen also led to a massive spike in the spread of the coronavirus nationwide, which has now forced several states to roll back reopening and several states to consider reimposing lockdown orders in July. (California, the fifth largest economy in the world, alone is going to cause economic contraction. California shuts bars, indoor dining and most gyms, churches.)
I'm going to nominate this guy for the "Obviousman Award" (can you believe he gets paid for this?)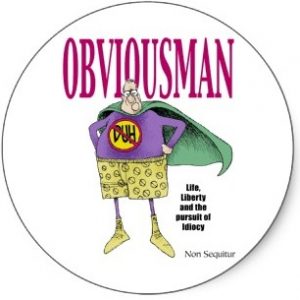 "We are cautiously optimistic that this trend will continue, but recent surges in coronavirus infections in hotspots across the country and the expiration of government stimulus programs could put a damper on the recovery in the overall retail sector in the coming months," Moody's Vice President Mickey Chadha said in comments emailed to The Post.
Ya think?! Duh!
The June retail sales stood in sharp contrast to weekly jobless claims data, which showed that 1.3 million Americans filed for unemployment benefits last week, the 17th week in a row in which claims exceeded 1 million. Although some Americans have gotten back to work as states have reopened, nearly 15 million Americans who lost their jobs in March and April haven't been rehired, which is as many people out of work as during the worst of the Great Recession.
Job data for states rolling back reopening or returning to lockdown orders in July will not not be fully reflected in the data until September (the July unemployment numbers, which come out the first Friday in August, are collected through mid-July, when the new layoffs are just being announced). Many who returned to their job have again been laid off.
The economic data come as Congress debates whether to extend additional federal jobless benefits, currently $600 a week, that have helped many struggling workers stay afloat. That program is set to expire at the end of July.
"Retail purchases are up at the shops and malls across America but consumer spending can't keep climbing for long when it is held back by the heavy weight of 32 million jobless workers," Chris Rupkey, chief financial economist with MUFG Union Bank, wrote in comments emailed to The Post.
It looks like Moody's Vice President Mickey Chadha has some competition for the "Obviousman Award." Duh! Rupkey.
If Congress does not extend enhanced unemployment benefits and the moratorium on evictions before the end of July, the U.S. economy is going to go off the cliff. Period.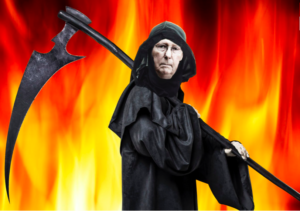 House Democrats approved a $3 trillion COVID-19 aid package, the Heroes Act, back in May. But the "Grim Reaper" of the Senate graveyard where legislation goes to die, "Moscow Mitch" McConnell, sneered his evil sneer and said the bill was DOA in the Senate. Republicans would "pause" and wait to see what happens with the pandemic and reopening the economy.
Republicans will "pause" right up to the very last day that the CARES Act stimulus funds are set to expire to use it as leverage, claiming that this is an "emergency" and the House must now pass the Senate Republicans version of the bill, after Republicans have frittered away the past two months on wishful thinking.
"Moscow Mitch" McConnell is not sounding so cavalier now. The Associated Press reports, Congress eyes new virus aid as school, health crisis deepens:
Senate Majority Leader Mitch McConnell, who is expected to roll out the GOP bill as soon as next week, said Wednesday that he conferred with Treasury Secretary Steven Mnuchin as the White House's point man on the talks prepares to negotiate with Democrats.
[After] having hit "pause" in May, as McConnell put it, Republicans now face a potentially more dire situation. They had hoped the pandemic would ease and the economic fallout would reverse. Instead, coronavirus cases are spiking, states are resuming shutdowns and parents are wondering if it's safe to send children back to school.
"Regretfully, this is not over," McConnell said during a visit to a hospital in Kentucky.
"There were some that hoped this would go away sooner than it has," he said, urging residents to wear masks and social distance.
"The straight talk here that everyone needs to understand: This is not going away," McConnell said.
No, really Mitch, ya think?! Maybe Hollywood should cast you in a remake of Clueless.
Just to be clear, hopes and wishes that it will all just "go away" is not government policy. All of this was predicted by the experts. We knew exactly what to expect. As Steve Benen observes, "The Republican Party has abandoned its traditional role as a governing party and become what I call a post-policy party — one that no longer cares about the substance of policymaking." Trump and Republicans have become a post-policy party. Coronavirus proves it. We have a governing crisis that is exacerbating a pandemic crisis and an economic crisis.
This would be the fifth virus rescue bill since spring, all told an unprecedented federal intervention to counter the times. Unlike any health crisis since the 1918 Spanish flu and an economic upheaval on par with the Great Depression, Congress is trying to engineer a comprehensive national strategy to bring the pandemic under control.
Check that: the Democratic House is trying to engineer a comprehensive national strategy to bring the pandemic under control. President Trump has declared victory over COVID-19 and has moved on even as the coronavirus pandemic continues to spread unchecked across the land. The Trump death cult: America has given up fighting the coronavirus pandemic. Trump's Republican enablers in Congress have followed his lead.
Polling shows Americans are increasingly uneasy over President Donald Trump's handling of the virus outbreak, and lawmakers are racing to ease the health and economic crises before they, too, face voters in November.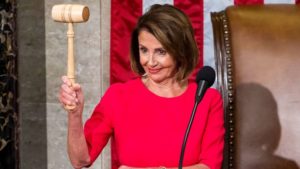 House Speaker Nancy Pelosi's sweeping $3 trillion coronavirus aid bill, once dismissed by McConnell and others as a liberal wish list, now seems not as far-fetched.
"How many times have we said, 'We're at a critical moment'?" Pelosi said Wednesday at the Capitol. "We really are at a critical moment now."
Both the House and Senate have similar funding priorities — to help schools reopen, provide unemployment benefits for jobless Americans and ramp up health care testing, treatments and a vaccine — but they differ broadly in size and scope.
House Democrats provide $100 billion for school reopenings in an education stabilization fund that Senate Democrats say could swell to $430 billion to include more money for child care, colleges and other educational needs. Senate Republicans are floating some $50 billion to $75 billion in education funds, but talks are still ongoing.
A reminder: The single greatest criticism of the government's response to the economic crisis of the Great Recession in 2008 is that the government did not fully appreciate the size and scope of the problem, and did not go big enough to address the problem. The government tried to apply band-aids where a tourniquet to stop the bleeding was required. Republican obstruction, led by "Moscow Mitch" McConnell, to President Obama's economic recovery agenda is why it took us a decade to fully recover from the Great Recession. And here we go again, with the same asshole leading obstructionist Republicans against an economic recovery plan.
The White House this week assured more education dollars would flow as Trump pushes to reopen schools.
"We want schools to be open, and they will be open," Trump told reporters Wednesday at the White House, before departing for an event in Georgia.
You will notice that Trump never says "safely reopen." Safety is not a concern. He wants to hold federal funding to education hostage to extort schools into reopening and pretending that everything is back to normal. Republicans are never going to provide the funding that it would take to "safely reopen" schools.
Trump's advisers are split, with some pushing an even more robust education expenditure, even if it riles Republicans intent on keeping record-setting deficits down. Some conservatives want the education dollars tied to school reopenings or even sent directly to parents, like a school voucher [the Voucher Vultures never quit.]
The two sides are also divided over how much aid to send to cash-strapped states and cities pleading for money and out-of-work Americans at a time of record-setting unemployment.
Republicans want to discontinue the $600 weekly unemployment boost that expires at the end of the month. They say it's a disincentive to returning to work and want to reduce it to a few hundred dollars a month.
Return to what work? States are ordering businesses to close because the government has failed to control the coronavirus pandemic.
In its place, Republicans are eyeing a return-to-work stipend [i.e., a "death benefit"] as well as tax breaks for employers who upgrade workplaces with safety measures to prevent the spread of the virus.
And "Moscow Mitch" McConnell is demanding that businesses and employers be immune from liability claims if they fail to provide for the safety of workers and customers. In a nasty push, Republicans want immunity for companies that negligently spread COVID-19.
Democrats want to keep the $600 jobless benefit boost, and Pelosi's bill would send nearly $1 trillion to states and cities to shore up budgets and avoid layoffs of municipal workers.
Congress is also considering redirecting some already-approved funds. For example, the popular Paycheck Protection Program of small business loans has leftover funding that could be used for a revamped business loan program from GOP Sen. Marco Rubio of Florida.
In addition to the widespread fraud in the Paycheck Protection Program which benefitted the well to do and well connected, the Paycheck Protection Program didn't save enough small business jobs, economists say.
One uncertainty is how to improve the nation's poor performance on virus testing.
Both Republicans and Democrats complain that $25 billion in testing funds that were approved in April remain unspent even as certain parts of the country have testing shortages and widespread delays in testing results.
Pelosi's bill provides $75 billion more for virus testing and contact tracing, with directives to the federal government to set up a national testing program. She said Wednesday that it's time for Trump to invoke the Defense Production Act to provide equipment and supplies needed for a testing protocol. Senate Democrats have chronicled the Trump administration's "chaotic" approach and proposed a 26-point testing plan.
Republicans have remained largely silent on how much testing funding will be made available in the new bill. McConnell assured Kentuckians on Wednesday, "We are pursuing testing, treatment and vaccines like the country pursued the Manhattan Project in World War II."
McConnell is referring to the vaccine research, not testing. There is no disputing that the U.S. has failed miserably in COVID-19 testing, and forget about tracing, even after all these months and funding to get up to speed.
And five months into the pandemic, the U.S. still hasn't solved the PPE problem. Grave Shortages of Protective Gear Flare Again as Covid Cases Surge:
Unlike the crisis that caught a handful of big city hospitals off guard in March and April, the soaring demand for protective gear is now affecting a broad range of medical facilities across the country, a problem public health experts and major medical associations say could have been avoided if the federal government had embraced a more aggressive approach toward procuring and distributing critical supplies in the early days of the pandemic.
The inability to find personal protective equipment, known as P.P.E., is starting to impede other critical areas of medicine too. Neurologists, cardiologists and cancer specialists around the country have been unable to reopen their offices in recent weeks, leaving many patients without care, according to the American Medical Association and other doctor groups.
This is directly the fault of President Trump's failure to invoke the Defense Production Act, and this idiot in charge of the Coronavirus Task Force:
In a coronavirus briefing on Wednesday, Vice President Mike Pence downplayed the shortages, but said the government was preparing to issue new guidance on the preservation and reuse of protective gear. "P.P.E., we hear, remains very strong," he said.
With the National Strategic Stockpile depleted, states have been left to fend for themselves:
The crisis has reinvigorated calls for President Trump to invoke the Defense Production Act and order American manufacturers to step in and help. The presumptive Democratic presidential nominee, former Vice President Joseph R. Biden Jr., said this week that he would use that law to boost domestic protection of medical gear if elected.
In recent weeks, congressional Democrats along with a growing number of governors and medical associations have been urging the White House to play a more muscular role in the production, procurement and distribution of crucial supplies. They are also urging the administration to tackle the flagrant price gouging that has frozen many long-term care facilities, low-income health clinics and small hospitals out of the market.
"There are tools at President Trump's disposal and he has failed us," said Deborah Burger, co-president of National Nurses United. "These deaths are entirely preventable."
The Republicans in Congress are proposing to go way too small to address the size and scope of the pandemic and economic crisis. They are again proposing band-aids when a tourniquet is required to stop the bleeding. If we follow the Republican plan, we are headed into economic depression.