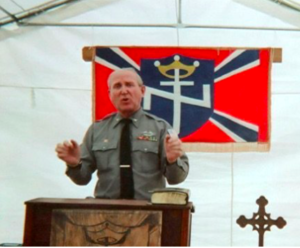 Illinois Republicans selected Arthur Jones, a Holocaust denier and actual Nazi to appear on the November ballot as the GOP candidate against Democratic Rep. Dan Lipinski in Illinois' 3rd Congressional District (one of the most conservative Democrats in Congress, who narrowly won his primary over a progressive candidate, Marie Newman, who had the backing of progressive groups as well as Sen. Bernie Sanders).
Arthur Jones has become campaign fodder for Democrats as they seek to defeat Gov. Bruce Rauner. And some Republicans even fear the taint from Jones' extremist views poses a threat to the party up and down the ticket. 'I snookered them': Illinois Nazi candidate creates GOP dumpster fire:
Jones, who told POLITICO he's running to counter a "two-party, Jew-party, queer-party system," laughed when he was informed the GOP was unable to put up a candidate against him.
"They didn't put up a third-party candidate?" Jones asked when reached by phone Thursday. "That's great! That's fantastic!
"I snookered them," he said of state Republicans. "I played by the rules, what can I say?"
Illinois Republican Party spokesman Aaron DeGroot said the party instead plans to recruit and support a write-in candidate for the general election.
J.B. Pritzker, the Democratic nominee for governor who was instrumental in building the Holocaust Museum in Skokie, has called on Rauner to urge Jones to drop out. Rauner has condemned Jones and said there's no room for him in American politics. But Pritzker said Rauner, who is the largest contributor to the Illinois GOP, hasn't done enough.
"Bruce Rauner has cowered to the worst elements of our politics on more than one occasion, but I sincerely hope he would agree that a self-proclaimed Nazi and Holocaust denier has no place as a candidate for any office in Illinois," Pritzker told POLITICO in a statement. "I urge Bruce Rauner to join me in calling on Arthur Jones to drop out."
Republicans have indeed roundly rejected Jones, saying he had no place in their party, denounced his candidacy, ran robocalls against him at one point and even encouraged primary voters in the district to leave ballots blank rather than vote for Jones.
Yet the GOP never managed to offer those voters any alternative candidate to Jones.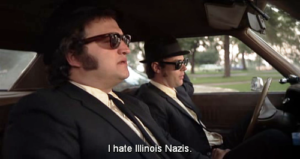 "It's not enough to denounce Jones … do something about it. They didn't run a candidate against him in the primary. They're not running against him in the general. And they're not endorsing Lipinski. Then what are they doing?" asked Steve Sheffey, a pro-Israel activist who authors a Jewish newsletter in Chicago. "From now on, at every forum, at every endorsement session, Illinois Republicans should be asked point blank: 'if you live in the 3rd Congressional District, who would you vote for: Dan Lipinski or Arthur Jones?"
Sounds like a job for the Blues Brothers. Life imitates art.
Texas Senator Ted Cruz on Friday urged residents of Illinois' 3rd Congressional District to vote for the Democrat if they must, to avoid giving even one vote to an avowed Nazi who won the GOP nomination. Ted Cruz: 'Vote for the Democrat' over the GOP Nazi:
"This is horrific. An avowed Nazi running for Congress," tweeted Cruz. "To the good people of Illinois, you have two reasonable choices: write in another candidate, or vote for the Democrat. This bigoted fool should receive ZERO votes."
Illinois Gov. Bruce Rauner refused to follow Texas GOP Sen. Ted Cruz's lead and call on voters of a Chicago-area congressional district to back a Democrat over a declared Nazi candidate in November. Illinois governor breaks with Cruz over Nazi candidate.
Instead, Rauner on Tuesday called for Holocaust denier Arthur Jones to drop out of the race.
[But] Rauner, who nearly single-handedly bankrolls the Illinois GOP, failed on four occasions to purge Jones from the ballot or put forward a challenger.
Jones is not going to drop out. You own him, Rauner.
Rauner, among the most endangered incumbent governors in the country, faces billionaire Democrat J.B. Pritzker in November in a race in which spending has already topped $200 million.
Just to keep things real, there is another Unite the Right rally planned on the National Mall in Washington, D.C., on August 11. White power rally planned in DC on anniversary of deadly Charlottesville march. Mark your calendar.
What if our racist-in-chief "Dear Leader" once again refers to them as "good people," as he did after the Unite the Right rally in Charlottesville? Or, God forbid, he meets with the leaders of Unite the Right or addresses their rally. What then? Will any Republican say "he has no place in their party" and denounce him, or will they once again cower and make excuses for Trump's overt racism?