On Wednesday, a new report (.pdf) by Joanne M. Chiedi, Acting Inspector General, Department of Health and Human Services, shed more light into how the Trump administration's controversial "zero tolerance policy" last year affected thousands of children who were separated from their families at the Mexico border and placed in the custody of the Office of Refugee Resettlement at the Department of Health and Human Services. Government watchdog details how Trump's family separations traumatized migrant kids:
Migrants kids taken from their parents under the Trump administration's "zero tolerance policy" experienced intense trauma as they were crowded into centers insufficiently equipped to care for them psychologically.
The report from HHS's inspector general says the massive influx of children and longer stays at federal facilities posed a particular challenge in addressing children's mental health needs. The report is based on visits to 45 facilities in August and September 2018, a couple months after the administration allegedly ended the child separation policy.
ACLU: Administration Is Still Separating Migrant Families Despite Court Order To Stop (July 30, 2019):
The Trump administration continues to separate hundreds of migrant children from their parents despite a federal court ruling that ordered an end to the practice, according to court documents filed in California by the American Civil Liberties Union.
The ACLU said that more than 900 parents and children, including babies, have been separated by U.S. border authorities since U.S. District Judge Dana M. Sabraw, a George W. Bush appointee in San Diego, ordered the government to reunite more than 2,700 children with their parents more than a year ago.
"According to program directors and mental health clinicians, separated children exhibited more fear, feelings of abandonment, and post-traumatic stress than did children who were not separated," the report says.
"Separated children experienced heightened feelings of anxiety and loss as a result of their unexpected separation from their parents after their arrival in the United States. For example, some separated children expressed acute grief that caused them to cry inconsolably," it continues.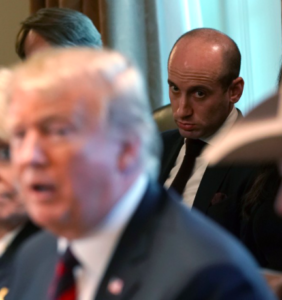 The health and well-being of children has been front and center in the political battles over how to handle an influx of migrants at the border. [T]he administration now wants to let children be kept in jail-like settings for longer periods, recently proposing a rule allowing families to stay together in detention centers longer than the current 20-day maximum [under the Flores settlement agreement].
In other words, "internment camps," or given the cruel psychological abuse being inflicted upon these children, call them concentration camps. See, Jonathan Katz in the LA Times: Call immigrant detention centers what they really are: concentration camps; and David Seidenberg, The case for calling them 'concentration camps'.
Caught in the middle are kids who arrive at the border alone or who were brought by their parents, often fleeing violence and poverty in central American countries.
The family separation policy didn't originate with HHS Secretary Alex Azar. But it was up to his agency to deal with much of the fallout from it – and the new report details just how many challenges HHS was up against. A few more of its details:
— There was a sudden and large spike in the number of children – especially young ones – turned over to ORR while the "zero tolerance" policy was in place. The share of kids under age 12 increased from 14 percent in April 2018 to 24 percent the following month. Caring for such young children posed an especially troubling challenge for the facilities.
— While there's a requirement of staffing one psychiatrist or psychologist for every 12 children, some clinicians said they managed caseloads of 25 children. Only four of the 45 facilities visited had a mental health specialist on staff; most of the rest contracted with outside providers.
"Children experienced treatment delays when they could not access external specialists," the report says. "Mental health clinicians and program directors reported long waits for mental health evaluations and treatment from external specialists and other providers. Staff described making appointments with psychiatrists and psychologists for dates that were 2 or 3 months away."
— Mental health clinicians had difficulty gaining the trust of children they tried to help.
"Every single separated kid has been terrified. We're [seen as] the enemy," a program director told the investigators. The director said children couldn't differentiate facility staff from agents who separated them from their families. The report also found mental distress was worse for kids who did not realize why they had been separated from their parents.
Adolfo Flores adds at Buzzfeed, When The Trump Administration Separated Kids From Their Parents It Increased Their Trauma And PTSD (excerpt):
The report offered additional details on the effects the Trump administration's systematic family separations had on immigrant children and how the trauma was made worse by federal agencies' lack of preparedness and poor record-keeping.
One 7- or 8-year-old boy who was separated from his father believed his dad had been killed and that he would also be killed. The child ended up in emergency psychiatric care.
One medical director said separated children felt physical manifestations of their psychological pain and made statements like "every heartbeat hurts" or "I can't feel my heart."
The increased mental health issues were made worse by the difficulty in finding the parents of separated children and being able to set up phone calls with the kids ­— due to the government's lack of record-keeping for separated children.
During the height of family separations at the border, statements from federal authorities revealed the Trump administration had little to no planning for how the children and parents would eventually be reunited.
The administration was, and still is, kidnapping children as a form of punishment in a cruel and inhumane effort to dissuade Central Americans from migrating to the U.S. ad seeking asylum under international and U.S. law.
At a court hearing in 2018 before a judge who ordered the Trump administration to reunite separated children, Justice Department attorneys acknowledged that the government is uncertain it knows the whereabouts of all the parents of 101 children under the age of 5. Around the same time, Health and Human Services Secretary Alex Azar told reporters that the agency was scrambling to be sure it knew the location of all the children who'd been separated from their parents.
Program directors at facilities holding separated children said the process for reuniting children covered by the judge's order changed frequently and with little notice, adding to the stress and mental health needs of these kids.
Some reunifications were scheduled with little notice, were suddenly canceled, or were delayed. In one case, a girl was moved from a facility in Florida to a facility in Texas to be reunited with her father, but after making several trips to the detention center, she was sent back to Florida "in shambles" without ever seeing her dad.
Another HHS OIG report, the result of 45 visits to facilities and a review of some employee files last year, found that some facilities holding unaccompanied immigrant children didn't have proof of employees' FBI fingerprint or Child Protective Services background checks.
Half of the facilities allowed employees to start working with children before getting the results of either the FBI fingerprint check or the CPS check, or both, the report said. Ten employees worked with children for a year or more with no prior FBI criminal background check.
Amy Frontz, assistant inspector general for audit services, said that for the employees that they were able to eventually get background information, no disqualifying factors were found. And an OIG spokesperson said, "We don't have information at this time that the lack of background checks resulted in any specific abuse or assault cases."
"However, some employees when we completed our work did not have have an FBI background check or CPS check," Frontz said.
Frontz noted that in 2018, HHS OIG released a memo that staff at the "tent city" in Tornillo, Texas, that was holding hundreds of immigration children, were not undergoing FBI fingerprint checks. After more than 1,500 employees had their background checks conducted following the memo, 26 people were terminated because of their results, Frontz said.
Trump is trying to normalize behavior that Americans have always found abhorrent and unacceptable. He is breaking down the mores and morals for which Americans have stood in defense of human rights and civil liberties in an attempt to dehumanize Central Americans and to make cruel and inhumane treatment of migrants, including innocent children, acceptable to his personality cult followers. We have seen this before, and cannot allow this evil to occur here in the United States in the 21st Century. Trumpism, the new America fascism, must be resisted and defeated.
And how is this not in itself sufficient grounds for impeachment?