The Arizona Secretary of State emailed me a missive entitled "Preparing For The Future of Voter Registration" in which she says: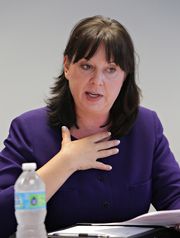 Arizona is using an aging, cumbersome voter registration system that could potentially expose the identities and voting behavior of millions of citizens. County election personnel are bogged down engaging in manual processes in order to perform the most fundamental requirements of their job. It's time to be proactive and take steps to improve efficiency and better ensure our data is secure.
Over the past several months our office has undertaken a complete top-to-bottom review of the more-than decade old registration system. While election officials around the state are well aware of its technological limitations, we've come to better understand the unique challenges that will face future election officials as well. As the number of voters continues to grow, the time has come to prepare for the future.
Once we finalize our assessment, we'll begin working with our county partners to develop a plan for the future. That future must include 21st century cybersecurity protections and a registration system that makes it easier for elections staff to process basic information efficiently.
Election officials around the state have begun the process to transform the way we do business internally, as well as how we will deliver services to voters in the future. I'm looking forward to help spearhead the process and partner with our local officials to usher in this new era.
You will note that the Secretary's focus is entirely on "a registration system that makes it easier for elections staff to process basic information efficiently," not on a registration system that makes it easier for citizens to register and to vote.
I have long advocated for a package of election reforms in Arizona. This has to be done by the citizens initiative process because our Tea-Publican controlled Arizona legislature is hostile to any reforms that make it easier for Arizonans to register and to vote.
UNIVERSAL (AUTOMATIC) VOTER REGISTRATION
Arizona is among 33 states with online voter registration. This a good thing, but it is not good enough.
Arizona must now take the next step and enact universal (automatic) voter registration, joining the states of California, Connecticut, Oregon, Vermont and West Virginia. If Arizona is going to modernize its elections computer systems as Secretary Reagan proposes, then let's build a state-of-the-art secure computer system to fully accommodate an automatic voter registration system. Don't settle for half-measures as our legislature all too frequently does.
Automatic voter registration is the gold standard of modernized registration, and it builds on other reforms to bring voter registration to the 21st Century — which are increasingly commonplace across the country. Automatic Voter Registration and Modernization in the States.
The New York Times recently reported, Automatic Voter Registration a 'Success' in Oregon:
Under a first-in-the-nation law that went into effect at the start of the year, Oregon automatically registered more than 225,000 residents based on interactions with the state's department of motor vehicles, such as obtaining or renewing a driver's license. Of those, nearly 100,000 voted last month, a turnout rate of 43 percent, more than half the 80 percent rate among all registered voters in the state.
"For Oregon to get that just among the people who are automatically registered is quite a feat," said Barry Burden, a professor of political science at the University of Wisconsin-Madison and director of that school's Elections Research Center.
The Oregon law — the first "automatic voter registration" policy to be tested in an election — is notable for a subtle innovation: It is opt-out, not opt-in. Rather than ask eligible residents to take an action like checking a box to register to vote, residents are automatically registered when they apply for, renew or replace a drivers' license, ID card or permit at the state Driver and Motor Vehicle Services Division.
As I recently pointed out in Voter Participation in Arizona, Arizona hs an estimated voting age population of 4,710, 448, but only 3,588,466 registered voters. There are potentially 1,121,982 eligible voters who are not registered to vote in Arizona.
Elvia Diaz writes at the Arizona Republic, Arizona needs automatic voter registration (like it or not). Diaz makes many of the same arguments I have made.
PORTABILITY OF VOTER REGISTRATION
Arizona has a problem with voters casting provisional ballots, often due to the fault of the voter in not updating his or her voter registration when they move. Eight states — Colorado, Delaware, Florida, Hawaii, Maryland, Ohio, Oregon and Utah plus the District of Columbia have systems of portable registration that allow registered voters who move to cast valid ballots even if they do not update their registrations before Election Day. This would greatly reduce the number of provisional ballots and allow the votes of citizens who took the time to vote to be counted.
ELECTION DAY CORRECTION (SAME DAY VOTER REGISTRATION)
It is possible to eliminate provisional ballots entirely with same day voter registration, allowing eligible citizens to register or to update their records on Election Day at the polls. Fifteen states currently offer, or have enacted laws which provide for same day voter registration: California, Colorado, Connecticut, Hawaii, Idaho, Illinois, Iowa, Maine, Maryland, Minnesota, Montana, New Hampshire, Vermont, Wisconsin, and Wyoming — plus the District of Columbia.
The objection that I hear from election integrity advocates is that this system requires online connectivity and that the system could possibly be hacked. But I have seen no credible evidence that any of the states currently employing same day voter registration have suffered such a security breach. And I did recommend a state-of-the-art secure computer system above to allay these concerns.
ALL-MAIL ELECTION (VOTE-BY-MAIL)
At least 22 states have provisions allowing certain elections to be conducted entirely by mail. In Arizona, most municipal elections and special district elections are vote-by-mail.
Secretary Reagan reports that the 2016 general election saw 73% of the electorate vote by early ballot, up from 54% in 2012. Arizona is fast approaching the point that it only makes economic sense to go to all-mail elections — with voting centers available on Election Day for those who prefer the tradition of voting on Election Day.
Oregon (2000), Washington (2011) and Colorado (2013)—hold all elections entirely by mail. Voting Centers, rather than precincts, are available for those who prefer to maintain the tradition of voting on Election Day.
Arizonans did consider the "Your Right to Vote by Mail Act" citizens initiative, Prop. 205 in 2006, and soundly rejected it. But this was a decade ago, before vote-by-mail became the preference of voters in Arizona. A similar ballot measure today would likely pass.
The objection that I hear from election integrity advocates is that vote-by-mail is where voter fraud can occur, typically double voting by the dual residency resident who votes in one state and votes by mail in Arizona. These cases are rare. Investigation finds little evidence of voter fraud in key voter ID states:
In Arizona, 13 cases were prosecuted for double voting [between 2012 and 2016]. One of those was Mesa resident Regina Beaupre, who was convicted in 2015 after voting in Michigan and Arizona. She was 71 years old. Carol Hannah was similarly caught for voting in Arizona and Colorado. She argued in court that both cases involved local races and didn't constitute double voting, because no candidates appeared on both ballots. An appeals court agreed and threw out the 2015 conviction. Neither of these cases would have been prevented with voter ID.
The beauty of all these election reforms is that model laws are already enacted in a number of states. The language need only be modified to amend Arizona law.
There are other election reforms for which I have advocated, for example: (1) an amendment to the Arizona  constitution  that declares the franchise to vote is a fundamental constitutional right, and that election laws are subject to the strict scrutiny standard of  review in court; (2) enacting California's model law on regulating dark money through the state Fair Political Practices Commission; and (3) moving Arizona's statewide elections to presidential years, when voter turnout is much higher than in midterm elections. But these are substantive reforms, not procedural reforms.
A citizens initiative could be filed today for the 2018 ballot if voting rights advocates have their measure drafted and are ready to file. Use the maximum amount of time available to you to manage collecting valid signatures to qualify for the 2018 ballot.
Too many initiatives fail because proponents wait until the last minute to file and then must rely on the petition circulation companies who do little quality control in collecting valid signatures (the bad signature rate typically exceeds 40%). This also puts proponents under financial strain. This is why the "dark money" initiatives failed this year.
Do not repeat this mistake again.