To those blog trolls who took exception to my stating that you would never receive the $400 supplemental unemployment benefit President Trump promised you, repeat after me: "You were right, I was wrong."
Governor Doug Ducey announced Friday what you may actually get, eventually, if you're lucky. Arizonans will get $300 a week unemployment supplement:
Arizonans who are out of work will get $300 of the weekly supplement to their benefits President Donald Trump ordered last week, but they won't get the additional $100 a week the president intended states to contribute.
The boost means approximately 400,000 people who remain unemployed in Arizona will see as much as $540 a week in benefits.
They had been getting as much as $840 a week thanks to a $600 weekly supplement Congress passed to address job losses from the pandemic. But that expired July 25.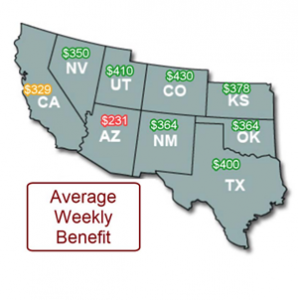 People out of work since then have been left with no more than $240 a week in benefits, Arizona's maximum, which is second lowest in the nation. (Screenshot via Grand Canyon Institute).
Gov. Doug Ducey announced Friday that the state already has applied for the funding Trump offered through the Federal Emergency Management Agency, and that the state would not be contributing $100 a week as the president proposed.
Just as I said he would. Arizona Republicans will not increase Arizona's miserly unemployment benefits. You need to elect a Democratic controlled state legislature to do that.
Paying the $100 per week state supplement to people currently out of work in the state for five weeks would have cost Arizona about $325 million, according to an analysis by the centrist Grand Canyon Institute, Research Director Dave Wells said Tuesday.
The new $300 weekly supplement will be retroactive to the expiration of the last supplement [July 25], so applicants can get back pay if they have been unemployed the past three weeks.
But here's the kicker: "The $44 billion Trump allocated will only last an estimated five weeks with current unemployment levels across the nation, so Congress still may have a say on the matter once this plan expires."
This means after Labor Day, you are SOL. Congress right now does not plan to return to the Capitol until September 14.
Ducey's announcement said the state expects approval "quickly." Ducey spokesman Patrick Ptak said if the application is approved, Arizona is prepared to distribute the funds as early as next week.
Well maybe, for those of you who have not already been experiencing problems getting your unemployment benefits. Arizona is four months into the COVID-19 pandemic, and some residents are still struggling to get their basic unemployment benefits from the state.
The Phoenix New Times reports, Arizona's Unemployment Benefits System Is Still Riddled With Issues:
Those in the metro Phoenix area and across the state continue to experience a slew of problems with the state unemployment benefits system, which is operated by the Arizona Department of Economic Security (DES).
Many are still owed backpay dating back months. Others haven't received any weekly benefits despite having filed successfully. Many say that it's nearly impossible to get staff from the agency on the phone to help them, and that they're frequently waiting for hours in clogged phone queues.
And it's all compounded by the fact that Arizona's unemployment system offers some of the lowest benefit payments in the nation — maxing out at $240 per week.
* * *
Local Facebook groups and threads on Reddit are filled with dozens of similar [horror] stories: people who haven't received backpay owed to them or ongoing weekly benefits, and who are frustrated with not being able to get through to DES staff by phone.
As of the time of this article's publication, DES staff had not provided responses to New Times' questions. Brett Bezio, a spokesperson for DES, wrote in an email that the agency was working on responses.
Dave Wells, research director at the Grand Canyon Institute, an Arizona-based non-partisan policy think tank that has published research on Arizona's unemployment benefits system, said it's clear that DES is having difficulty processing PUA claims. He pointed to data published by DES showing that, as of the week of July 25, around 783,000 people were receiving benefits through PUA claims — despite the fact that there are over 2.5 million claims still in the system.
"They're still processing people, and they're still having to pay back weeks, and they're still waiting," he said. "It's tragic, because for people trying to get through this, it's really hard. Some bills you can put off. You won't be evicted. But that doesn't mean other bad things won't happen to you."
He added that DES is likely overwhelmed with the volume of unemployment claims it is receiving and having to process, especially considering that the state's unemployment benefits system has traditionally not been very robust.
"They had to massively ramp up the staffing on it, and then on top of it they had to begin to administer programs that didn't exist on the state level," Wells said. "That's all stuff they've had to work on the fly with."
Compounding the issue is the fact that Arizona's unemployment benefits system is notoriously restrictive in who qualifies for benefits. Arizona's weekly benefits max out at $240, and you can't earn more than your weekly benefit payment before you are considered ineligible for benefits entirely.
These factors led to many Arizonians being considered ineligible under the traditional unemployment benefits system when the pandemic first hit, which subsequently caused them not to receive the $600 weekly payments from the federal government. Additionally, DES didn't establish the PUA system to cover those who weren't accepted to the state's traditional unemployment system until mid-May, meaning that people who didn't previously didn't qualify for unemployment benefits were on their own for two months.
Arizona's economy lost between $1 billion and $1.9 billion in stimulus funding because the state's unemployment system kept people from accessing the weekly $600 payments, according to a new report from the Grand Canyon Institute.
Beatrice Topete, organizing director with Unite Here 11, a labor union that has been calling on Governor Doug Ducey to raise the state's $240 unemployment benefit cap, told New Times that many of their members who work in the tourism industry (which was hit particularly hard) and at seasonal jobs at Arizona State University never saw any unemployment benefits.
"We have about 3,000 members in our union, and only about 40 percent of those that had been laid off had received the unemployment," she said. "If they were denied unemployment, they wouldn't get the $600."
"Those folks that didn't even qualify for unemployment were just really without anything for two months, and it was really difficult to survive," Topete added. "It has been devastating."
The Senate and the White House needs to agree to the HEROES Act from the House and get the funding into the existing unemployment system now. Americans don't have time to wait for a new separate system to be set up to deliver Trump's short-term temporary gimmick.