Democratic Sen. Jeff Merkley (D-OR) tried to visit an immigration detention facility in Brownsville, Texas on Sunday, but was denied access into the building. Sen. Jeff Merkley denied entry into one migrant detention facility, claims he saw kids caged in another:
This prompted a letter and 19 questions from Sen. Merkley to the Office of Refugee Resettlement about what's going on behind closed doors at some of the country's detention facilities amid concerns about the separation of children from their parents who have attempted to cross the border illegally.See the letter and all 19 questions. The senator requested a response by June 15.
Merkley live-streamed his arrival at a detention facility run by the Office of Refugee Resettlement in Brownsville, Texas on Sunday, which he said was housing children who had been separated from their families at the border. During Merkley's live stream, the senator introduced himself to guards outside the building, identifying himself as a member of Congress and asking for permission to enter. The windows at the facility appeared to be blacked out.
"I was barred entry," Merkley said. "Asked repeatedly to speak to a supervisor — he finally came out and said he can't tell us anything. Police were called on us," he added in a tweet.
"I wanted to be able to visit the facility where apparently upwards of 1,000 children are being held in that massive building, a former Walmart, and the federal government, President Trump and team, Attorney General Sessions, Homeland Security, they do not want members of Congress or the public to know what's going on," Merkley later told CNN in a phone interview on Monday.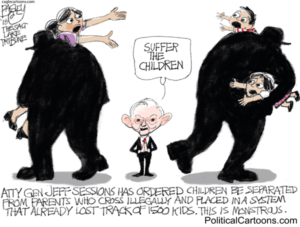 Remarking on the administration's "zero-tolerance" policy that allows border security agents to separate undocumented children from their parents when they're detained crossing the border, Merkley added, "This is not zero tolerance. This is zero humanity. It's damaging children, putting them through a horrific experience in a land where they know no one, and they don't know where they're being sent and they don't understand why they're being sent."
* * *
And amid uproar over the treatment of children who make it into the U.S. after being forced to part ways with their families, Merkley claimed in his interview with CNN that he witnessed kids in cages at a separate facility in McAllen, Texas.
"When I was at the center at McAllen Border Station, this is the processing center, earlier and I was admitted there and I did see the people, hundreds of children locked up in cages there at that facility," said Merkley, claiming that the federal government was "whitewashing" the challenges of the entrance system.
He added, "They have big cages made out of fencing and then wire and nets stretched across the top of them so people can't climb out of them."
As we have come to expect from our white nationalist racist president, The White House responds to Jeff Merkley: He's to blame for immigrant crimes:
On Monday afternoon, the White House released a statement disparaging Merkley's trip.
"Senator Merkley is irresponsibly spreading blatant lies about routine immigration enforcement while smearing hard-working, dedicated law enforcement officials at ICE and CBP," the statement from deputy press secretary Hogan Gidley read. "No one is taking a public safety lecture from Sen. Merkley," it added, "whose own policies endanger children, empower human smugglers and drug cartels, and allow violent criminal aliens to flood into American communities."
Following that statement was a section identified as being "on background," meaning that it was not intended to be attributed to the White House. Despite that, it was included in a report by CNS News. In that addendum, the White House tied Merkley to two violent crimes committed by immigrants.
* * *
"As is their custom, the White House is trying to change the subject by smearing Senator Merkley," Merkley's communications director, Ray Zaccaro, said in a statement. "It's no surprise because there is no defense for their abhorrent policy of snatching children from their parents." He added that the senator and his staff "saw children in cages yesterday at the DHS processing center. We still have no idea what's happening in the detention center where reportedly up to a thousand children are being held, since they refused the senator's request to go inside."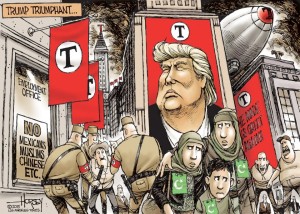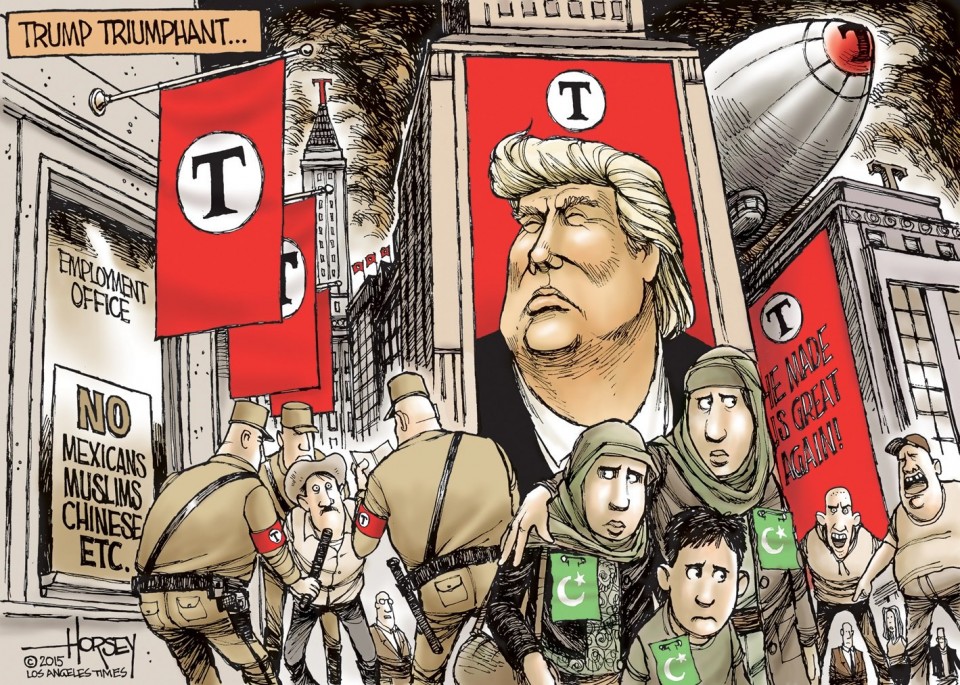 President Trump has embraced the MS-13 gang as a political foil, and he has begun to use crimes committed by immigrants as a political tool against his political opponents. He clearly is attempting to ascribe their specific crimes to the general population of immigrants as a whole who cross into the United States from the Mexican border.
This is the game Trump is playing. Anything short of an iron fist in dealing with immigration and, it seems, you're at least partly responsible for any criminal act committed by any immigrant. If you suggest that dehumanizing language is a worrisome rhetorical move, you're identified as sympathetic to criminals who carve up young women with knives. If you question the administration's policy of taking children as young as 18 months away from parents as families flee violence in Central America, you're going to be held to account for two other people who broke the law.
This is the hallmark of a racist demagogue.
It's important to note research indicating that immigrants commit crimes at lower rates than native-born Americans, that the violent-crime rate has fallen even as the number of immigrants has risen and that there's no link between illegal immigration and violent crime.
Today U.S. District Judge Dana Sabraw rejected the federal government's request to dismiss a lawsuit launched by the American Civil Liberties Union (ACLU) on behalf of separated families, Calling Trump's family separation policy 'brutal, offensive':
Sabraw said the ACLU's claims are particularly troubling because the plaintiffs in the case had allegedly come to the U.S. seeking asylum out of fear for their well-being in their home countries. The suit applies to migrants who formally present themselves at ports of entry as political refugees as well as those who seek asylum after they are apprehended during illegal border crossings.
Individuals who present themselves at U.S. ports of entry to petition for asylum are following U.S. law, and because the Trump administration can't change this without Congress, is using kidnapping as a way to scare off other families fleeing violence and political persecution. According to Bloomberg, "the ACLU's request for an order halting the practice while the case proceeds is pending. The group also wants families reunited pending the outcome of the case":
The ACLU alleges that its two lead plaintiffs, women identified as "Ms. L" from the Democratic Republic of the Congo and "Ms. C" from Brazil, along with hundreds of other migrants, have suffered "wrenching separations" from their children for no legitimate purpose.
"Ms. C," who later stepped forward as Jocelyn following her release, hasn't seen her 16-year-old son since August of last year. The boy, according to his mom, is now taking medication to deal with this trauma. "These allegations sufficiently describe government conduct that arbitrarily tears at the sacred bond between parent and child," Judge Sabraw wrote. The administration's action "is brutal, offensive, and fails to comport with traditional notions of fair play and decency."
Let's be clear: there is no federal immigration law which requires separation of children from their parents, nor is there an existing immigration policy which requires it. This is a new policy announced by Attorney General Jefferson Beauregard Sessions III on April 6, 2018. Attorney General Announces Zero-Tolerance Policy for Criminal Illegal Entry.
These are immigrants seeking asylum. There are a long-standing U.S. laws and immigration policies to process individuals seeking asylum. The Trump administration is treating asylum seekers as criminals for deportation, and seizing their children from them as a punishment for having attempted to immigrate to the U.S., to dissuade others from seeking asylum.  This is cruel and inhumane. This is not who we are as Americans.