Last month I told you about how the federal Election Assistance Commission (EAC) capitulated to the GOP's voter suppression specialist, Kansas Secretary of State Kris Kobach, on requiring proof of citizenship for the federal voter registration form. EAC capitulates to Kansas on federal voter registration form. This action was taken by EAC executive director Brian Newby, who used to work for Kobach in Kansas, who acted unilaterally without the agreement of the three EAC commissioners.
The League of Women Voters and several voting rights groups, including the Lawyers' Committee for Civil Rights Under Law, has sued the EAC over Newby's action. Voting rights groups sue election official over voter registration.
The ACLU has now filed suit to challenge the Kansas law requiring proof of citizenship for the federal voter registration form. A.C.L.U. Challenges Kansas Voter Law Requiring Proof of Citizenship: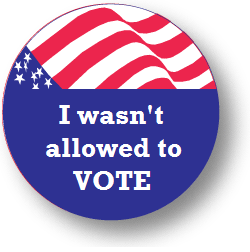 In a test of Kansas' wide-ranging voter registration law, a federal lawsuit filed on Thursday challenged a provision that required residents to provide proof of citizenship when they register to vote.
The lawsuit, filed by the American Civil Liberties Union, takes aim at a measure that was pushed through the Republican-led Legislature five years ago by Secretary of State Kris W. Kobach, who has lobbied heavily for measures that he said were needed to prevent noncitizens from voting.
[A.C.L.U. Press release.]
The A.C.L.U., saying that fraud claims were unfounded, brought the class-action suit on behalf of six Kansas residents who said they were left off the voter rolls after registering at the state's Department of Motor Vehicles.
The plaintiffs argue that the Kansas law violated the National Voter Registration Act of 1993, in particular a provision that requires states to allow people to register to vote when they get a driver's license. That section says that registrants need only to attest that they are citizens, under the threat of perjury if they lie.
Mr. Kobach said the A.C.L.U. was misinterpreting federal law, which requires only that states accept voter registration applications at the Department of Motor Vehicles — not that those applications have to be confirmed at that time.
"The state has every right to verify that the person is eligible to vote before completing the person's registration," said Mr. Kobach, who is a national leader in the push for stricter immigration laws. He was one of the authors of a controversial law [S.B.1070] passed in Arizona in 2010 that allowed law enforcement officers to question the immigration status of people they believe to be in the country illegally.
Registrations cannot be confirmed during the driver's license process, he said, because some of the information cannot be immediately verified by motor vehicle officials. For example, he said, they cannot tell if applicants have felony records, or if they were already registered in another county.
Most of the controversy over voter identification laws around the country has focused on those that require voters to present identification when they arrive to vote. Kansas, however, is one of four states requiring proof of citizenship when residents register.
Two of the states, Georgia and Alabama, have yet to implement their laws, said Dale Ho, the director of the A.C.L.U.'s Voting Rights Project. The A.C.L.U. has not seen the same registration issues in the other state, Arizona, as it has in Kansas.
The Supreme Court struck down Arizona's law in 2013, in a 7-2 ruling in which Justice Antonin Scalia wrote the majority opinion. At the time, Mr. Kobach, a Republican, argued that Kansas' law was different from Arizona's because Arizona was rejecting voter registrations that were not accompanied by proof of citizenship. Kansas, on the other hand, would still accept such applications, Mr. Kobach said, but placed them "in suspense" until the proof of citizenship was provided.
Later in 2013, [Kansas and Arizona] sued the federal government to allow them to set up what was essentially a two-tiered voting system in which their residents could vote in federal elections if they did not have proof of citizenship documents, but not in state races. The states initially won the case when a federal judge in Wichita sided with them, but that decision was later overturned by an appellate court.
The A.C.L.U. also sued Kansas in state court over the two-tiered voting system. Last month, a state judge sided with the A.C.L.U., but Mr. Kobach is appealing the decision.
Since the Kansas law took effect in 2013, more than 35,000 registrations have been in suspense, according to the lawsuit, about 14 percent of registrations filed during that period. More than 44 percent of the people whose application were put in suspense were ages of 18 to 29 and nearly 54 percent were unaffiliated with a party. Mr. Kobach said that there are now fewer than 11,000 applications in suspense. Some of those applications had been approved after further documentation was provided, he said, and others had been thrown out because they had been on file for more than 90 days.
The A.C.L.U. is also challenging Mr. Kobach's decision to start throwing out registrations that have been in suspense for at least 90 days. About 12,000 have been purged, according to the lawsuit, though Mr. Kobach challenged the accuracy of that figure, saying his office has not calculated that number. Paul Davis, a Democrat and the former State House minority leader who ran an unsuccessful campaign for governor in 2014, filed his own federal lawsuit last year, challenging the purging of the voter rolls. That case is pending.
The lawsuit also says that Kansas' administration of the law was a bureaucratic mess. Some people who had shown proof of citizenship while registering were placed on the suspense list, including three of the plaintiffs, the lawsuit said.
Josh Gerstein reports that Judge Leon has set a hearing on Monday at 2:30 p.m. for a temporary restraining order to lift the proof of citizenship requirement for voter registration in Kansas, Alabama and Georgia.
Sari Horwitz at the Washington Post adds, Want to vote in this state? You have to have a passport or dig up a birth certificate:
National attention on voting rights has mostly focused on whether new voter-identification laws in states such as North Carolina and Texas will disenfranchise minority voters. But there is a battle unfolding in Kansas over who can register to vote in the first place. Election-law experts say what happens here could have ramifications for voting throughout the country during a pivotal presidential election year.
On Thursday, the American Civil Liberties Union sued Kansas, saying that thousands of Kansas residents such as Ortiz are "trapped in limbo" because of the requirement that Kansas residents who register to vote have to show documents, such as a birth certificate or a passport, proving they are citizens.
"What's happening in Kansas is outrageous," said Dale Ho, director of the ACLU's Voting Rights Project. "Thousands of Kansans, including military veterans who have valiantly served our country, are blocked from voting by unnecessary bureaucratic roadblocks imposed by state officials. These shameful actions have made Kansas an epicenter of voter suppression."
At the center of the controversy is Kris W. Kobach, the state's powerful secretary of state. Educated at Harvard College, Oxford and Yale Law, the 49-year-old Kobach is a lightning rod for his work in the past several years on new voting requirements in Kansas and other states.
"Kobach has been a leader nationally in making irresponsible claims that voter fraud is a major problem in this country," said Richard L. Hasen, an election-law expert at the University of California at Irvine.
* * *
In Kansas, Kobach spearheaded a law that, beginning in 2013, required Kansas residents who registered to vote using the state voter form to provide proof-of-citizenship documents, such as a birth certificate or a passport. Those with incomplete voter registration applications are removed from the rolls after 90 days and have to try to re-register.
* * *
On his wall, Kobach has a framed copy of the 2011 "Secure and Fair Elections Act" with the proof-of-citizenship requirement he helped craft. Next to his desk is an 1892 copper ballot box with a secure lock, loaned to him from former attorney general John D. Ashcroft, his boss when he was a White House fellow.
A former chairman of the Kansas Republican Party, Kobach first came into the national spotlight with his efforts to strengthen immigration laws. During the 2012 presidential campaign, Kobach advised Mitt Romney on "self-deportation" immigration policy. He was the architect of Arizona's strict "show your papers" immigration law [SB 1070], and he has helped lead the fight against President Obama's immigration executive actions.
* * *
There are several ways to register [to vote], including at the DMV. Residents can also fill out state or federal voting registration forms, in person at other locations, or online. Under federal law, states are required to accept the federal voting form. The federal form has required residents to swear they are U.S. citizens, but they do not need to submit citizenship documents such as the ones that Kansas requires. That difference has led to a stream of litigation in recent years.
The Supreme Court in June 2013 struck down an Arizona "proof of citizenship" law that required residents to submit documents proving citizenship when they registered to vote at the federal level. The late justice Antonin Scalia, who wrote the majority opinion, said states could not impose a documentary proof-of-citizenship requirement for those who register to vote using the federal form. Under the 1993 National Voter Registration Act, Scalia said the states had to accept the federal voting form.
But Kobach continued to challenge the authority of the federal government to require Kansas to accept the federal form for state elections, and he argued that states had the final say. Anyone who registered to vote in Kansas using the federal form would only be registered to vote in federal elections and could not vote in state elections, Kobach said.
In September 2013, the ACLU of Kansas filed a lawsuit, Belenky v. Kobach, challenging Kansas's two-tiered voter registration and saying that eligible voters were being divided into "separate and unequal classes." The ACLU argued that the new Kansas voting process was confusing and inconvenient for students, elderly residents and low-income voters, who may not have the required citizenship documents.
In January, a Kansas state court ruled in favor of the ACLU and two Kansas voters who registered to vote in Kansas using the federal form but who had been denied the right to vote in state elections by Kobach. The court said Kobach could not operate a two-tiered voting system and only count the votes in federal — not state and local — races for residents who registered with the federal form.
* * *
In an unusual move last month, the new executive director of the federal Election Assistance Commission (EAC) — established in 2002 to help states run elections and to promulgate the federal online voting form — unilaterally changed the instructions for the form in three Republican-led states: Kansas, Georgia and Alabama. (Kobach said he helped Alabama officials write their proof-of-citizenship law.)
The director, Brian Newby, is a former Kansas county election administrator whom Kobach had reappointed in 2014, calling him "an extraordinary election commissioner." In late January, Newby sent letters to officials in Kansas, Alabama and Georgia, adding "proof of citizenship" requirements to federal forms used in those states. Newby was not appointed by President Obama but was chosen by the agency's commissioners.
An EAC spokesman would not comment. A request to interview Newby was declined. Kobach says he had nothing to do with Newby's appointment and was disappointed to lose him as a commissioner in Kansas.
Before Newby arrived, the EAC had already turned down one request from Kobach to add the proof-of-citizenship requirement for voters in Kansas to the federal form. Kobach asked again a few months ago.
Newby took the action without consulting the three commissioners on the board, which led the one Democratic commissioner, Vice Chairman Thomas Hicks, to release a statement calling for Newby's action to be withdrawn. Hicks said the change "contradicts policy and precedent previously established by this commission."
Newby's action could help other Republican secretaries of state make proof of citizenship a requirement to vote in their states, according to Ho of the ACLU.
"He did so without legal authority, without public notice, and in direct opposition to the Election Assistance Commission's repeated rejection of such changes," Ho said. "His abuse of power is unacceptable and illegal."
On Feb. 12, the League of Women Voters and several civil rights groups, including the Lawyers' Committee for Civil Rights Under Law, sued the EAC over Newby's action.
"Voters should not have to face an obstacle course in order to participate in our democracy," said Elisabeth MacNamara, the league's national president.
* * *
The ACLU says that what happened to Ortiz is a violation of the National Voter Registration Act, also known as the Motor Voter Act, the federal law designed to make it easier for Americans to register to vote. Under that law, states have to give residents the opportunity to vote when they apply for or renew their driver's licenses at the DMV. But according to Ho, Kansans are being told at the DMV that they must present additional citizenship paperwork to become registered — or, like Ortiz, they are not being informed at all, only to find out later that they have been suspended from voting.
About 37,000 Kansans trying to register to vote were on a "suspense list" and unable to vote as of September, and nearly 90 percent of them were there because of the documentary proof-of-citizenship requirement, the ACLU said.
"I hope it wasn't because of my Hispanic background," Ortiz said. "But it's hard for me to say. I was told it wasn't all Hispanics on the suspense list. But I don't know. I have voted in the past in other states, and I've never had to go through this."
NB: Arizona is also still employing the dual election system, unnecessarily costing counties an excessive amount of money to print separate ballots for those who registered to vote using the federal voter registration form.