Not content to make gathering petition signatures for citizen initiatives more difficult, the Chamber of Commerce organizations and their lickspittle Tea-Publican servants in the Arizona legislature are now moving to impose "strict compliance" procedural requirements on citizens who want to propose their own laws.
A strike everything amendment to HB 2244 is set for debate today at 2:00 p.m. in the Senate Appropriations Committee. Call your state senator to oppose this attempt to undermine your constitutional right to propose laws, and sign up to testify today. kill this bill!
Howard Fischer reports on More hurdles for initiatives: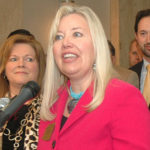 HB 2244 being pushed by Sen. Debbie Lesko, R-Peoria, would allow a court to keep an initiative off the ballot if backers are not in "strict compliance" with all election laws. That would overturn a series of existing court rulings which have erred on the side of giving voters their say and measures to remain on the ballot if there is "substantial compliance" with the law.
Lesko said she is particularly miffed that Arizonans were allowed to vote in 2012 on a proposal which would have made permanent the state's one-cent sales tax surcharge.
It is undisputed that a copy of the initiative filed electronically with the secretary of state's office differed from the one filed on paper and was actually circulated. But courts concluded the circulators had been in "substantial compliance" and allowed the vote to go forward.
That annoyed Lesko.
"What's the point of having laws," she said.
And what's the point of having a constitutional right to citizen initiatives if  our legislators can simply make it damn near impossible to ever exercise  that right to put a citizen initiative on the ballot?
[T]he wording of HB 2244, set for debate today in the Senate Appropriations Committee, is far more sweeping than the kind of situation that occurred in 2012. It even would disqualify an initiative because of the use of the wrong type size or incorrect margins.
Lesko is unapologetic.
"I think that if the law says there has to be certain things, the law should be followed," she told Capitol Media Services.
She conceded the change does not apply to candidates.
"But I measure and make sure that it definitely follows the law," Lesko said of her own petitions. "And if people follow the law there shouldn't be other people not follow the law."
* * *
Lesko's move comes less than a week after Gov. Doug Ducey signed legislation making it illegal to pay petition circulators on a per-signature basis. Foes of that measure said that bar, by itself, will make it far more difficult, if not impossible, to gather the hundreds of thousands of signatures needed to propose new laws and constitutional amendments.
That did not go unnoticed by Sen. Steve Farley, D-Tucson.
"This is yet another in a series of measures by the majority to try to quash the voice of of the people of Arizona," he told Capitol Media Services. "If you're trying to make it harder to get an initiative through, then you're making it harder for people to have their voice heard."
Farley said he's concerned that otherwise valid and popular measures will be thwarted for technical reasons.
Arizona law requires petitions to be printed in at least eight-point type. There are 72 points to an inch.
They also must be printed in black ink on white or recycled paper, 14 inches wide and 8 1/2 inches in length "with a margin of at least one-half inch at the top and one-fourth inch at the bottom of each page."
"If you are able to throw out something because a margin is an eighth of an inch too short on one side, that that is not relevant to the people's will," Farley said. "That's relevant to your desire to throw the thing off the ballot without allowing people to vote on it."
Lesko said while she believes there is a need for strict compliance with petition drives, she does not see that as necessary for politicians like herself.
"Candidates can be elected out every two years," she said.
"An initiative, once it's in, it's in," Lesko continued. "It's almost virtually impossible to change it."
That's because of the Voter Protection Act, itself an initiative drive in 1998, which forbids lawmakers from repealing what has been enacted at the ballot and sharply restricts changes.
As it turns out, though, the House already has approved a measure to ask voters to repeal that provision, with action awaiting in the Senate. But Lesko said she's not sure that would undermine her reasoning of why strict compliance with initiatives is necessary.
"I haven't thought that through," she said.
Arizona law already requires strict compliance — but only referenda petitions.
The distinction has been interpreted by the court to deal with the fact that a referendum seeks to block enactment of something already approved by lawmakers until voters get a chance to have their say. In that case, a petition drive specifically seeks to thwart the will of the elected legislators.
By contrast, an initiative proposes something entirely new, often because lawmakers refuse to take up the matter. Prior successful efforts range from banning leghold traps and outlawing gestation pens for pigs and cattle to imposing new taxes on tobacco to pay for early childhood education and smoking-cessation programs.
Also ballot measures to fund public education and health care for the poor, something our Tea-Publican legislature also did not take up. This is really aimed at discussions of citizen initiatives to fund public education that they want to keep off the ballot in the future.
UPDATE: "Strict compliance" has the effect of thwarting the will of the voters. This bill would require elections officials to toss out signatures if they don't strictly comply with legal standards.
For example, a voter's signature could be disregarded if the signer includes a middle name but the voter-registration rolls do not show that name. If a voter leaves off his or her street designation — such as dropping "road" or "avenue" from their address — it could be tossed. If a petition sheet didn't meet certain standards for size, typeface or margins, a judge could throw out all the signatures on that sheet even though they are valid.
UPDATE: The Senate Appropriation Committee voted 6-4 Tuesday along party lines to approve the strike everything amendment to HB 2244. Another element of the Chamber of Commerce's slate of bills to restrict your constitutional right to pass laws by citizens initiative is scheduled for hearing on Wednesday. More blocks for initiative organizers:
HB 2244 would require courts to block future initiatives if organizers have not strictly complied with each and every provision of state election laws, whether because of missing words, misfiled documents or even improper page margins. That would overturn at least three prior appellate court rulings which have concluded that courts should determine the intent of the organizers and signers and allow a vote if there is "substantial compliance" with election laws.
Sen. Steve Farley, D-Tucson, chastised colleagues for erecting new hurdles to the constitutional right of people, which has existed since the first days of statehood, to write their own laws when the legislature refuses to act.
"Arizona was founded by a bunch of independent people who wanted to have the authority to call the government on their B.S. when they decided it was necessary," he said.
That measure now goes to the full Senate.
This is an opportunity for the Chamber of Commerce to get rid of virtually any initiative it doesn't like on a technicality, and never mind the hundreds of thousands of Arizonans who wanted it on the ballot. Roberts: Arizona legislators stick it to us … again, that is.
On Wednesday, the House Appropriations Committee will hear another bill, Senate Bill 1236, also sponsored by Sen. Debbie Lesko, which would require all paid petition circulators to register with the Arizona Secretary of State's Office, to submit monthly reports of which individuals are circulating petitions for pay and to group petitions by circulator when submitting them to the secretary of state, among other provisions.
The measure up for debate today would subject initiative organizers to $1,000-an-incident fines for any violations of law committed by anyone they hire — or any workers of firms they hire — to collect signatures. [A "guilt by association" penalty without culpability — something alien to American jurisprudence.]
Legislation signed last week by Gov. Doug Ducey banned paying circulators by the signature.
Backers said that still preserves the right to use circulators who are paid instead by the hour or some other basis. That is important since not a single measure has qualified for the ballot in at least three decades without some use of paid circulators.
But Sandy Bahr of the Sierra Club, which has been involved in several prior initiatives, said the new financial penalties provide yet another deterrent to organizations that need paid circulators from going to the streets with ballot measures. The result, she said, is some will simply choose not to get involved with initiatives.
SB 1236 which will be heard by the House Appropriations Committee also would require that any print advertising for initiatives include a statement that, if enacted, it cannot be repealed or altered by lawmakers but instead must be referred back to the ballot.
The ideas for new restrictions on the initiative process originate with Rep. Vince Leach, R-Tucson.
Leach [does] not dispute that the changes he is pushing will make it more difficult to use paid circulators, both because of the ban on per-signature contracts as well as making initiative organizers financially liable for the acts of the circulators.
But Leach said his proposal does not undermine the right of voters to propose their own laws and constitutional amendments. Leach said there's always the opportunity to use volunteers even though that hasn't occurred in recent history.
Proposing a new state law requires the signatures equal to one out of every 10 people who voted in the last gubernatorial race. That figure is currently 150,642; with the normal rate of signatures being found invalid, circulators really need to turn in closer to 225,000.
A constitutional amendment needs 15 percent of those who voted last time, or at least 225,963 valid signatures.
Leach said those numbers do not deter his desire for new curbs on paid circulators.
"If it was really, really a burning desire, people would be clamoring to sign petitions," he said.
By contrast, Leach, who represents one of 30 legislative districts, needs only about 400 signatures to put his name on the ballot.
He brushed aside arguments that initiatives are necessary because lawmakers refuse to enact things that voters want, like a ban on leghold traps on public lands, legalizing medical marijuana and raising the minimum wage. Leach said voters who think legislators are unresponsive always have "recourse," including electing someone else every two years and, if they're unwilling to wait that long, mounting a recall.
Bahr said what's in the measure up for debate today creates an unnecessary financial risk for initiative organizers.
She said if a petition circulator commits fraud, the answer is to prosecute that individual.
"If they can demonstrate in a court of law that the organization that was hiring these circulators was complicit in that fraud, encouraging it, prosecute that," Bahr said. More significant, she said making organizations automatically liable for the acts of circulators will have a "chilling effect" on the desire of groups that need paid circulators to even try to put something on the ballot in the first place.
"What if you're a tiny organization but you want to be part of something?" she asked.
"You could risk your whole existence," Bahr said. "And you're probably not going to do that."