What Donna Gratehouse refers to as the "Lady Money Is Not Real Money" bill, SB 1318 (.pdf), passed the Senate on Wednesday and has been transmitted to the governor. Affordable Care Act abortion bill goes to the governor: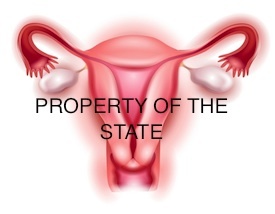 On an 18-11 margin the Arizona Senate on Wednesday gave final approval to legislation barring Arizonans who purchase health insurance through the Affordable Care Act from getting coverage for elective abortions, even if they pay a separate premium out of their own pocket.
Putative Democrats Carlyle Begay ad Catherine Miranda, of course, joined with the Republicans in voting for this punitive bill.
The legislation has exceptions for coverage designed to save a woman's life or in cases of rape and incest.
A woman would have to prove this to the satisfaction of her insurer. Nothing like an inquisition from an insurance adjuster. And given the time constraints imposed by the state of Arizona in obtaining an early abortion, this process could unduly burden a woman's constitutional right of privacy to manage her own health care and to obtain an abortion.
SB1318 also includes a provision which requires doctors to tell women that a medication abortion started with administration of RU-486 can be reversed with high doses of the hormone progesterone.
During testimony of this bill, this "abortion reversal" technique practiced only by pro-life obstetricians was exposed as unsafe and untested, and it has not been approved by the FDA nor any Obstetricians and Gynecologists professional association:
Allan Sawyer, former president of the American Association of Pro-Life Obstetricians and Gynecologists, said he had previously reversed a medication abortion for a woman by providing her with progesterone.
When questioned, Sawyer acknowledged that FDA had not approved using progesterone for such a purpose.
In addition, Sawyer said there were no studies indicating whether administering progesterone for such a purpose could result in birth defects if a woman carries the pregnancy to term.
Ilana Addis, chair of the American College of Obstetricians and Gynecologists' Arizona section, said physicians have an obligation to "practice medicine that is evidence-based" and that "the protocol that has been suggested for reversing a medication abortion has no evidence to support it."
Addis added that progesterone could result in complications and have "side effects" that "are not necessarily minor."
The bill also includes an "admitting privileges" provision which would curtail the number of abortion doctors and limit the locations available for an abortion. A federal judge last Friday struck down a nearly identical Wisconsin provision requiring doctors performing abortions to get hospital admitting privileges in Wisconsin. Judge rules Wisconsin abortion law unconstitutional:
A federal judge on Friday struck down a Wisconsin law requiring doctors performing abortions to get hospital-admitting privileges, concluding that the measure was enacted primarily to provide an obstacle for women seeking abortions.
U.S. District Judge William Conley, who earlier had put the law on hold, ruled that the 2013 law is unconstitutional. He issued a permanent injunction blocking its enforcement.
"The only reasonable conclusion is that the legislation was motivated by an improper purpose, namely to restrict the availability of abortion services in Wisconsin," Conley wrote.
* * *
In the first words of his strongly worded decision, Conley made it clear that he had little regard for the new law. The decision was issued late Friday after a trial in Conley's Madison court.
"For reasons left largely unexplained at the time of its enactment, the Wisconsin Legislature passed and Gov. Walker signed (the bill)," known as Act 37, Conley wrote.
Conley noted the requirement provided only "marginal benefit" to a woman's health while violating her rights to liberty and privacy as guaranteed in the 14th Amendment.
"In particular," Conley wrote "the State has failed to meet its burden of demonstrating…a link between the admitting privileges requirement and a legitimate health interest."
In his ruling, Conley wrote that the health advantage provided by the measure "is substantially outweighed by the burden this requirement will have on women's health outcomes due to restricted access to abortions in Wisconsin."
"While the court agrees with the State that sometimes it is necessary to reduce access to ensure safety, this is decidedly not one of those instances," Conley wrote. "In particular, the State has failed to meet its burden of demonstrating through credible evidence a link between the admitting privileges requirement and a legitimate health interest."
The same reasoning holds true for the nearly identical admitting privileges provision in SB 1318. Your Arizona legislature voted for this bill knowing full well that it is unconstitutional. The "forced birth" zealots in Arizona's lawless legislature do not care, as they have repeatedly demonstrated over the years.
Republicans in the Arizona legislature keep enacting unconstitutional limits on abortion hoping to get in front of a favorable court that will rule in their favor. So far, they have had little or no success. What Republicans are doing is carrying water for Cathi Herrod's Center for Arizona Policy and "subsidizing" — using your state taxpayer dollars — to litigate her cases in court for her. It costs Herrod and the CAP nothing.
Shouldn't Arizonan's who object to pissing away their tax dollars to subsidize litigation for Cathi Herrod's unconstitutional legislation not have to pay for it? Where is our taxpayer objection?
I know that Cathi Herrod was a campaign adviser to Doug Ducey, but he has not taken a position on this bill. It is unconstitutional on its face, and is yet another example of Arizona's lawless legislature pissing away your tax dollars on unconstitutional legislation. This bill is certain to be litigated if the governor signs it. Governor Ducey can save the state money it does not have by vetoing this bill.
Contact Governor Ducey's office today and tell him to veto SB 1318.
TELEPHONE NUMBERS
Phoenix: 602.542.4331
Tucson: 520.628.6580
EMAIL FORM
Send your questions and comments to Governor Ducey
INTERACT on social media