In Arizona, nearly all municipal elections are now conducted by mail-in ballots.
For state and federal elections, in 2018 more than 80 percent of the votes cast in Arizona were by early ballots (which include mail-in ballots dropped off on Election Day).
Arizona should be following the lead of Oregon (2000), Washington (2011) and Colorado (2013) which hold all elections entirely by mail. (In California, some counties are permitted to conduct all-mail elections. After 2020, the option will be available to all counties in the state.) ALL-MAIL ELECTIONS (aka VOTE-BY-MAIL).  Arizonans previously rejected the "Your right to vote by mail act," Prop. 205 in 2006, but given the overwhelming percentage of Arizona voters who are now comfortable voting early by mail-in ballot, it is time to revisit this election reform.
Instead, Arizona's new reigning Queen of Voter Suppression, Rep. Michelle Ugenti-Rita, wants to restrict your right to vote early by mail-in ballot, in particular, to eliminate your right to drop off your early mail-in ballot at a polling location on election day. She wants to make you stand in long lines on election day (a form of voter suppression because it discourages people from voting) to present a photo I.D. and to cast a provisional ballot instead, you slackers!
Ignoring the testimony of county election officials, Republican lawmakers voted to bar Arizona voters who receive their ballot by mail from turning them in by hand. GOP bill would restrict vote-by-mail options:
On party lines, the four GOP senators on the chamber's Judiciary Committee advanced SB 1046 (.pdf), which would restrict how voters who sign up for the Permanent Early Voting List, known as PEVL, can cast a ballot. Current law allows them to return those ballots by mail, or hand-deliver them to election facilities at any time leading up to or on election day.
Some voters like to wait until the last minute – 228,000 mail-in ballots were dropped off at polling sites on the day of the 2018 general election, according to the Secretary of State's Office.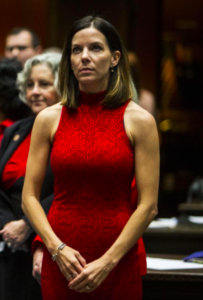 Sen. Michelle Ugenti-Rita said eliminating those so-called "late-early" ballots will help speed up the announcement of election results, and would temper frustrations from the 2018 election, when several races were too close to call for more than a week after election day.
County officials testified that the Scottsdale Republican's logic is flawed.
Whether they're mailed in or not, people like holding onto their ballots as long as possible, said Jennifer Marson, executive director of the Arizona Association of Counties, so ballots mailed at the last possible second would still pile up on election day, too.
"The counties believe voters should have the opportunity to turn in that ballot regardless of when they received that ballot," Marson said.
If more voters use the alternative provided in Ugenti-Rita's proposal by voting in person on election day, in the event they forget to mail their ballots back on time, voters could experience longer lines at the polls and more costly elections, said Rivko Knox of the Arizona League of Women Voters.
That's really all beside the point, Knox said, because the bill is trying to solve a problem that doesn't exist. While Republicans have complained that ballots took too long to count, recorders took roughly the same amount of time to count votes in 2014, 2012, and other elections, Knox said.
"The difference was that several elections were very close," she said, meaning competitive races highlighted the vote-county process. Many of those close races resulted in victories for Democrats to key statewide offices, even after initial vote tallies on election night favored some Republican candidates.
Yavapai County Recorder Leslie Hoffman said there is one scenario in which Ugenti-Rita's bill would speed up the vote-counting process.
"It might save time by reducing turnout," Hoffman said. "We don't want that."
That's when Sen. "Fast Eddie" Farnsworth, a Gilbert Republican and chair of the Judiciary Committee, cut off Hoffman's testimony, calling it "unfounded speculation."
Ugenti-Rita later dismissed the criticisms of the county election officials as beyond their purview.
"This is a policy discussion," and it's well within the Legislature's right to set the rules for how recorders conduct elections, Ugenti-Rita said. "For them to say it's not a good piece of legislation and it's disenfranchising voters, that's really beyond their scope."
There's some serious attitude for you from the Queen of Voter Suppression. The Judiciary Committee calls in the experts who actually conduct elections in Arizona to testify and then rejects their expert testimony. "Silence! Off with their heads!" So this is a fait accompli by authoritarian TeaPublicans. Facts do not matter to them, they have a partisan agenda.
The committee's three Democrats criticized the bill for ignoring the expert advice of officials who conduct the elections. In addition to failing to produce more timely election results, Sen. Martin Quezada cited testimony that the policy change would sow confusion among voters.
"We're taking away an option that's used a lot because we simply don't like it," the Phoenix Democrat said. "We haven't even identified that we're solving the problems the sponsor is trying to solve."
Farnsworth said that Arizona voters will still have ample opportunity to vote.
"We already give both options," Farnsworth said, referring to the state's dual system of mail-in ballots and day-of voting. "We're just suggesting, choose one or the other." (wink, wink)
Republicans also approved another Ugenti-Rita to bill, SB 1072 (.pdf), that requires voters to produce ID to cast ballots at in-person early voting sites. Current law only requires ID to vote on the day of the election – early ballots, whether cast in person or by mail, have historically used a voter's signature as their ID.
Sen. Andrea Dalessandro, D-Tucson, said she feared SB 1072 would disenfranchise older and low-income voters who might not have access to a traditional driver's license for identification.
Having to present a photo ID just to drop off your early ballot will also also result in long lines and delays at polling locations for all voters.
Elvia Diaz of The Republic says Sen. Michelle Ugenti-Rita wants to make it harder for you to vote. Don't let her (excerpts):
[Michelle] Ugenti-Rita has become the new face of the effort that began years ago to pass restrictive laws aimed at disenfranchising voters.
Arizonans won't tolerate inconvenience
At best, Ugenti-Rita is naive in thinking SB 1046 will fix drawn-out vote counts. But it doesn't take a rocket scientist to know that taking away the convenience of dropping off early ballots would result in long lines at the polls or discourage people from casting a ballot altogether.
Arizonans shouldn't put up with this nonsense. It's not lawmakers' job to make it easier for election officials. It's their job to ensure every eligible Arizona votes in the most convenient and efficient way.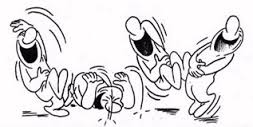 But here's the best part: while TeaPublicans are hoping that these bills disenfranchise Democratic voters, it is their own Republican voters who will be the most impacted by their short-sided partisan bills. Bwahahaha!
Laurie Roberts of The Republic explains, Early ballot ban would hit hard in bill sponsor's district. Oops!
Democrats suspect state Sen. Michele Ugenti-Rita's proposal to ban voters from dropping off their early ballots on Election Day is yet another voter suppression act.
Of course, her bill is yet another voter suppression act.
But I'm guessing even Ugenti-Rita might be surprised at whose votes she's proposing to suppress.
It seems four of the five legislative districts that would be most impacted by Ugenti-Rita's plan are Republican strongholds.
One of those is Ugenti-Rita's own district.
Why, you might ask, would the Scottsdale Republican want to bar 12,093 of her own constituents from voting in the way they find most convenient?
Why would she want to put additional restrictions on 228,052 Arizona voters – or nearly 10 percent of all those who cast ballots in November?
Well, Republicans have been smarting since November when election night results had their candidates winning most statewide offices … only to see several of those jobs go to Democrats a week later, once all the early ballots were counted.
Thus comes Senate Bill 1046, barring voters from dropping off their early ballots at the polls. Voters who don't mail in their ballots in time still could go to the polls, stand in line and cast a provisional ballot.
Or, just as likely, not bother.
Ugenti-Rita recently told the Senate Judiciary Committee that the mail-in requirement would speed up the vote counting process and provide election results more quickly.
Officials say it won't speed vote counting
Never mind that county elections officials say that's just not true.
They recently told the Senate Judiciary Committee that it didn't take any longer to finish tallying votes in November than it did in most other recent elections. But in this case, we noticed because so many of the races were close.
There is, however, one way in which Ugenti-Rita's bill might speed vote counts.
"It might save time by reducing turnout," Yavapai County Recorder Leslie Hoffman told the panel during a Jan. 24 hearing on the bill.
Sen. Eddie Farnsworth called that an "unfounded accusation" and the committee approved the bill on a 4-3 partyline vote.
It now awaits a vote of the full Senate.
Generally, when our leaders set out to "reform" election laws, those reforms have mostly involved making it more difficult for minority voters.
GOP districts would be hit hardest
I wonder if any of our leaders have checked to see who will most be impacted by Ugenti-Rita's bill.
Arizona Mirror's Jeremy Duda did.
Turns out the five districts most affected are four Republican-dominated districts and one competitive district that in recent years has swung to Democrats.
District 12 – Farnsworth's home turf – would be hit hardest. In all, 17,318 Gilbert voters dropped off their early ballots on Election Day in November.
In District 18, a Chandler-Ahwatukee district now represented by Democrats, 13,622 voters brought their early ballots to the polls.
In Mesa's District 25, it was 12,409 voters and in northeast Phoenix's District 15, 12,310 voters.
Then, there are those 12,093 voters in Ugenti-Rita's Scottsdale district who no longer would be able to drop off their early ballots if her bill becomes law.
Will those who elected her still vote?
No longer could they hold onto those ballots, waiting to see if last-minute developments change their minds.
No longer could they drop off those ballots at an early voting center or at the polls, bypassing the lines.
And to be realistic, no longer would some of them bother to vote.
Do you think Ugenti-Rita knows that own constituents will be among those most inconvenienced by her bill — one that county elections officials say won't help?
More importantly, do you think her constituents know it?
This is the Gang That Couldn't Shoot Straight. Contact your state senators and tell them to vote against these GOP voter suppression bills. Then vote these idiots out of office.
---
Support volunteer citizen journalism at the Blog for Arizona with a donation today. Your secure contribution keeps the Blog online and sustains a free press in Arizona.
---