Speaker of the House Paul Ryan, the zombie-eyed granny starver from the state of Wisconsin and Ayn Rand fanboy, had House members vote for 'martial law' waiver on one-day wait rule in hopes of speedy ACA repeal on Tuesday. "We don't need to read no stinkin' bill!"
There is also no Congressional Budget Office (CBO) score for the Zombie "Trumpcare" bill with the MacArthur Amendment and the eleventh-hour Upton Amendment. Congress does not know how this bill will affect health care coverage and cost for Americans, but most stakeholder medical organizations have warned that this bill is worse than "Trumpcare 2.0."
UPDATE: In lieu of a CBO score, an overview of the expected effects of the GOP health-care bill.
To paraphrase the GOP attack line on Nancy Pelosi, "We have to pass the bill so that you can find out what is in it," only this time this criticism is actually true.
House GOP leaders just announced the House to vote Thursday on ObamaCare repeal: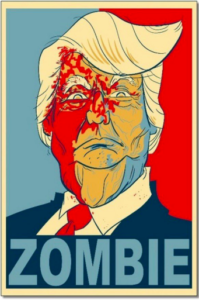 The announcement sets up a high-stakes vote that is expected to come down to the wire.
The move comes after the bill gained new momentum on Wednesday, after GOP Reps. Fred Upton (Mich.) and Billy Long (Mo.) said they would support the bill after a new amendment from Upton.
Still, no lawmakers other than those two have publicly given their support since the announcement of the new amendment.
"We will be voting on the healthcare bill tomorrow. We have enough votes. It will pass. It's a good bill," House Majority Leader Kevin McCarthy (R-Calif.) said after leaving a leadership meeting Wednesday night.
Asked by a reporter about whether the bill would have to be pulled from the floor again for lack of support, McCarthy replied: "Would you have confidence? We're going to pass it. We're going to pass it. Let's be optimistic about life."
The House will vote without waiting for a new Congressional Budget Office (CBO) analysis of Upton's changes or the amendment from Rep. Tom MacArthur (R-N.J.) that won over the House Freedom Caucus. That analysis will eventually provide insight into the bill's effects on coverage and its cost.
The MacArthur amendment set off moderates' concerns, because it allows states to waive ObamaCare protections that prevent people from being charged higher premiums based on their health. If those were repealed, insurers could go back to charging exorbitant premiums to sick people, which could put coverage out of reach for many.
Supporters of the amended bill argue high-risk pools could fill the gap, and note that people with pre-existing conditions would still be protected if they had no gaps in coverage.
Many health policy experts, though, said the additional $8 billion from the Upton amendment is not enough to help sick people get coverage.
The liberal Center for American Progress estimated on Tuesday that the high-risk pools are underfunded by $200 billion over 10 years.
Members of the moderate Tuesday Group discussed the changes at a Wednesday meeting that included House Energy and Commerce Chairman Greg Walden (R-Ore.).
Leaving that meeting, no lawmaker said they had changed their position.
Rep. John Faso (R-N.Y.) said he was still undecided and studying the changes. Rep. Adam Kinzinger (R-Ill.) declined to comment when asked if he was still undecided.
The underlying bill has several provisions some moderates object to, such as deep Medicaid cuts. The CBO estimated an earlier version of the overall legislation would result in 24 million more people becoming uninsured over a decade.
Major health groups like the American Medical Association and the American Hospital Association are strongly opposed to the measure, warning of coverage losses and other problems.
According to The Hill's whip list, there are 20 no votes from the GOP on the latest iteration of the bill. No Democrats are expected to vote for the measure, meaning Republicans can only afford 22 defections.
This tells me that the whip count is on the razor's edge of 216 to pass. That number would give Democrats the opportunity to say that every GOP member who voted for Zombie "Trumpcare" was the decisive vote to take away health insurance from 24 million Americans, and likely disrupting the health insurance markets for everyone. Those ads will air as early as this weekend during the congressional recess.
The only reason House Tea-Publicans are voting for this bill is not because it is good public policy — the opposition from stakeholder medical groups tells you that this is a terrible bill — it is a cynical move for political cover from their GOP crazy base. It is craven cowardice.
The House wants to kick this dog of a bill over to the Senate, where the bill they will vote on Thursday is dead on arrival. The House bill will never become law.
The Senate will substitute its own bill that will differ substantially from Zombie "Trumpcare." It is unlikely that the Senate bill, or a conference committee blended bill, will be able to hold this razor's edge vote in the House later this year.
Call your member of Congress now and tell him or her to vote no on Zombie "Trumpcare," or you will vote them out of office in the next election. And demand that he or she hold a town hall during this congressional recess to face their constituents and explain their vote.