Tucson is scheduled to hold the last Community Forum by AHCCCS for Governor Ducey's so-called Medicaid (AHCCCS) reform proposal to stigmatize the working poor who are on AHCCCS medical care.
WHEN: Wednesday, August 26, 2015 at 10:00 a.m.
WHERE: Casino Del Sol, Ballroom B, 5655 W. Valencia Road, Tucson, AZ.
WHAT: On August 3, 2015, Governor Ducey announced his plan to modernize Arizona's Medicaid program, i.e., AHCCCS CARE.

Arizona's DRAFT Section 1115 Demonstration request with more detailed information on the proposal can be found on the link below:
AZ DRAFT Section 1115 Demonstration Program Template (8/17/2015) [PDF]
AZ DRAFT Section 1115 Demonstration Program Narrative (8/18/2015) [PDF]
Community Forum Presentation [PowerPoint]
Comments and questions will be taken at the meeting but can also be submitted:
By Email: PublicInput@azahcccs.gov
By Mail: AHCCCS, Office of Intergovernmental Relations, 801 E. Jefferson Street, Mail Drop 4200, Phoenix, AZ 85034
Let's just say that the governor's proposal has not been well received by the public and medical providers at the public forums held to date, nor should it. The Arizona Capitol Times (subscription required) reports, 1st public hearings on Medicaid changes find wide opposition: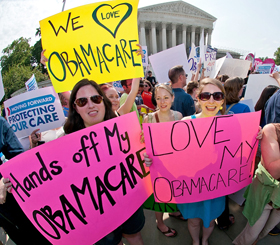 Arizona Gov. Doug Ducey wants able-bodied Arizonans on the state's Medicaid program for the poor to pay into health savings accounts  and be charged co-pays for some services, but those proposals and others he's touting got a tough reception at the first meeting where the public was allowed to weigh in.
Health care providers and patients said the governor's proposals would likely end up costing the state more money by discouraging people from getting treatment until they are far sicker. And their blunt assessment will be passed on to the Centers for Medicare and Medicaid Services, which must approve a waiver to allow them to go into force.
The most concerning proposals to those who attended the first of five planned public hearing were the co-pays and mandatory premiums Ducey wants the able-bodied to pay and a five-year cap on enrollment. [This conflicts with federal law.]
"Our office has tried (co-pays) and they really just don't work. The effect they have is people just don't come," said Dr. Tim Jordan, a Phoenix pediatrician who specializes in developmental disabilities. "The short-term effect is you'll save money because people just won't participate in the program. And it seems like the purpose of this is to get people not to participate." [Exactly Doc!]
Jordan's comments were echoed by several speakers at a meeting organized by the Arizona Health Care Cost Containment System, the state's Medicaid plan.
But Ducey is set on what he calls a modernization of the health care insurance plan for poor Arizonans. In additional to "strategic co-pays" for some services limited to 3 percent of a recipient's income, his plan uses the 2 percent of income premium to fund an account an insured person can use to pay for non-covered services. Patients can tap the account once they meet "wellness" steps and keep unused cash when they move off the program.
This is a back-door attempt  to begin privatizing Medicaid. Health care savings accounts have only benefitted those who are wealthy enough to put money into such tax shelter accounts. The poor do not have income they can afford to put into health care savings accounts. If they did, they would not qualify for Medicaid. Duh! Governor Ducey is trying to squeeze blood out of a turnip because you're poor.
Only about 350,000 people out of 1.7 million now on the plan would be affected. The elderly, disabled and those caring for young children would be exempt.
Note: That would be the same 350,000 that our lawless Tea-Publican legislature are in court trying to kick them off AHCCCS because Gov. Jan Brewer's Medicaid (AHCCCS) expansion plan did not pass with a two-thirds super-majority in each chamber as required by Prop. 108 (1992). The trial court's initial ruling is expected any day.
"These are able-bodied adults and we want to put them in a position so that they can move outside of Medicaid into private insurance," Ducey said earlier this month. "And we want to reward good behavior and wellness behaviors and that's what this program does."
Those incentives include a request to put in place a mandatory work-search program for the unemployed, and a portable savings account to help them with added expenses they'll face in the private market once they move off the program.
"They're going to continue to have Medicaid but the idea is to put them in a position where we think the best social program we can provide for them is a job," Ducey said. "So we want, once they transition from Medicaid into the workforce, (they) will have the right habits and incentives to do that."
Co-pays and premiums, however, have been shown in studies to keep people from getting care and to actually drive up the ultimate cost because of delays in seeking treatment, said Dee Mahan, Medicaid program director for Families USA, a nonpartisan group that pushes for increased access to health care.
"What ends up happening is a lot of times people can't make those payments – when you're very, very low income 2 percent is a lot – and that means people drop coverage or they don't sign up for the program," Mahan said. "And that ends up driving up health care costs because they don't get the care they need.
A single person who earns just below the Medicaid cutoff of 138 percent of the federal poverty level, about $16,000 a year, would pay about $26 a month in premiums into their health savings account.
Other parts of the Republican governor's plan include a request to require people to either be actively looking for work or enrolled in a job training program. [Most already are working, they are the working poor.] A requirement that he requested for a maximum of five years of eligibility is part of legislation he signed into law this year.
This is our Tea-Publican legislature and governor's attempt to stigmatize the poor for being poor. Their assumptions are that AHCCCS patients are unemployed and/or poor because they are "lazy" and "takers" who drain the hard earned tax dollars of working people who do pay those taxes. It breeds condescension and class hatred towards the working poor.
As Joan McCarter at Daily Kos said earlier this year, "Most of these people are already working, assholes. How about instead of trying to embarrass them further for being poor, you work on embarrassing their employers for refusing to provide them health insurance or refusing to pay enough that they can buy it with Obamacare subsidies?" Republican governors see Medicaid expansion as another opportunity to stigmatize working poor.
Many of the governor's proposals — especially the work requirement and the five-year rule, are likely to have a tough time being approved.
"That's contrary to the structure of the Medicaid program and I don't believe CMS has the authority to do that," Mahan said.
No, it doesn't, and even if our Tea-Publican legislature and governor send these proposals to stigmatize the poor on AHCCCS to the Center for Medicaid Services, the Center is unlikely to approve such a waiver, nor should it.