Like an undiagnosed cancer, the organization ALEC secretly writes anti-worker, anti-consumer and voter suppression "model" legislation in state capitols nationwide, including Arizona. It is funded by major corporations that bribe state legislators with luxury vacations, free travel, and gaudy dinners — and then hand them ready-to-file, regressive legislation.
In fact, ALEC — the American Legislative Exchange Council, is hosting hundreds of conservative lawmakers right now at the ritzy Westin Kierland Resort & Spa in Scottsdale, plying them with booze and Cuban cigars as they distribute potential laws to lower wages, increase the prison population, and undermine consumer legal rights.
The Arizona House of Representatives, where Republicans have held the majority for decades, spent $10,000 to send six staffers to ALEC's 2017 conference in Denver. Arizona legislators introduced at least 209 bills copied from ALEC models, 57 of which became law. Only one other state, Mississippi, debated and passed more ALEC models, according to a USA TODAY analysis.
Bad for Arizona
"ALEC activities have been bad for Arizona," said Phil Lopes, a Democratic who was a state representative from 2003-2011.
He spoke at a forum organized by The Arizona Ground Game at Temple Chaverim in Tucson, where 75 people came to listen.
"It's difficult to find out ALEC bills before they are passed," he says. "ALEC members in the state legislature know which bills they are, but they won't tell you. ALEC is so damn secretive."
As an example, he cited a bill just introduced by Republican lawmaker Steve Pierce of Prescott, to impose mandatory prison sentences for dealing fentanyl. The bill surreptitiously aims to boost the prison population to benefit The Corrections Corporation of America, a private prison company that belongs to ALEC.
The best way to neutralize ALEC is to have Democrats take over one branch of goverment — the state Senate or House or Governorship — according to Lopes. This will allow Progressives to expose ALEC ghostwritten bills, nullifying them.
Lopes called for boycotting local offices of ALEC members like ExxonMobil, Pfizer, AT&T, and UPS, and for supporting companies that cut ties with ALEC like Walmart, Procter & Gamble Co., Coca-Cola Co., Kraft Foods, and McDonald's.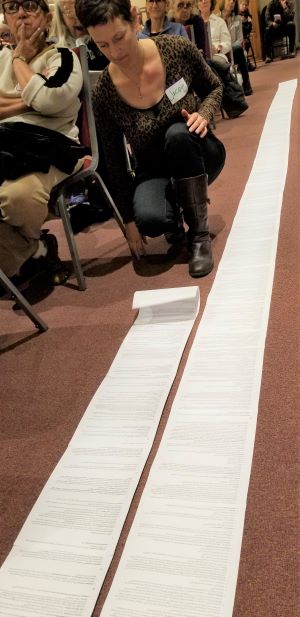 Tamar Rala Kreiswirth, the organizer of The Arizona Ground Game, rolled out 20-foot scrolls of paper listing all the corporations that belong to ALEC, like Koch Industries, Verizon, United Healthcare, State Farm Insurance, Direct TV and CenturyLink. The corporations pay $12,000 to $20,000 a year to belong to the sleazy pressure group.
"According to people who have studied and exposed their inner workings, ALEC is a corporation-driven bill-mill that wines and dines (almost exclusively Republican) legislators in order to promote 'model bills' that further both right-wing and corporate interests and weaken regulations. These copycat bills amount to the largest, unreported special interest campaign, driving agendas in every statehouse and touching nearly every area of public policy," Kreiswirth says.
Spotting ALEC dirty work
State Rep. Domingo DeGrazia (D-LD10) said, "ALEC is made up by corporate players who don't have citizens in mind. Many legislators are non-specialists who rely on outside folks on what to do. That scares the daylights out of me. Legislators will do what they're told, and combine it with a vacation at a luxury resort with Cuban cigars," he says.
DeGrazia was able to spot one suspicious ALEC bill because "something stuck out about it." It exempted companies that do home genetic testing from privacy laws, and would have revealed personal DNA information. "Nobody knew where the bill came from, it just magically appeared. If you're not acute on details, a bad bill can sip through," he says.
In another example, he ferreted out a bill pushed by campaign contributors to the Governor. "It benefited one particular company, which is illegal in Arizona. We were able to stop that bill," he says.
He also called for voters to support a Democratic majority in the statehouse. "In the House, we are 29 Democrats to 31 Republicans. Every vote matters."
Hank Stephenson, the Editor of the Yellow Sheet Report, a political tip sheet, says he spots ALEC bills because they surface in Statehouses nationwide at the same time. With this approach, ALEC enacted stand your ground, right to work, "anti-Sharia," and anti-LGBTQ bathroom laws nationwide.
"Model legislation is not a bad thing, but people deserve to know who's pushing it. ALEC been hugely effective and doing that in the dark," Stephenson says. "There should be some mechanism to find out who exactly is behind it, that's not the case with ALEC legislation. You can follow the money and see who benefits from a bill. If you see a suspect bill, Google the laws in Utah or Florida, you'll know there's a reason that multiple states are focusing on an issue at the same time."
"I've been trying to get House Democrats into the ALEC conferences. It has two big conferences per year. Corporations get a vote on what becomes 'model' legislation," he says. "At the annual conference in Scottsdale, ALEC offers 'scholarships' to legislators, so they'll all be getting drunk in Scottsdale."
He says if he sees a suspicious bill, he will ask the legislator if it's model legislation. "I ask them, 'did you pick this up at one of the conferences this summer?" However, he says tracking ALEC bills in a systematic way is impossible.
For more articles about ALEC, click here.