Republicans are at a retreat today to come up with policies, er, ways to screw the American people over. And together with our Dear Leader Donald Trump, they have come up with a doozy of a plan to pay for Trump's "beautiful wall" with Mexico. Trump wants 20% tax on imports from Mexico to pay for wall: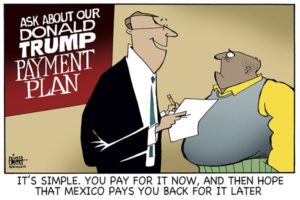 President Donald Trump has decided he will seek to pay for the wall on the US's southern border by imposing a 20% tax on imports from Mexico and as part of a larger comprehensive tax reform plan, the White House said Thursday.
White House press secretary Sean Spicer said the comprehensive tax reform package Trump and Republicans are looking to put together will include taxing imports from other countries, like Mexico.
"By doing it that we can do $10 billion a year and easily pay for the wall just through that mechanism alone. That's really going to provide the funding," Spicer said, referring to a 20% tax. According to the Office of the US Trade Representative, Mexico's exports to the US in 2015 was valued at $316.4 billion. The trade deficit is estimated to be $50 billion.
The USDA reports, Canada and Mexico are the two largest suppliers of U.S. agricultural imports: "Canada and Mexico remain the United States' largest suppliers of agricultural products ($22.2 billion and $19.3 billion in 2013-15 respectively), mostly consumer-oriented goods such as horticultural products, red meats, and snack foods."
This 20% tax on imports from Mexico is going to get passed along to American consumers and increase the cost of your family's monthly grocery bill.
The cost of other consumer goods, such as autos and appliances manufactured in Mexico, will also get passed along to American consumers.
[The GOP plan] appears to be lodged in raising a massive import tax on goods exported from Mexico to the US — a tax that could cause the price of US consumer goods produced in Mexico to skyrocket.
Despite the controversial nature of the proposal, which is likely to be met by stiff opposition from business leaders in the US, Spicer said the proposal is one "we've been in close contact with both houses (of Congress) in moving forward and creating a plan."
Spicer dodged reporters' questions about the impact of the border tax on American consumers, instead stressing the tax's benefits for American workers.
"I'm not going to get into it," he added when pressed about businesses that manufacture goods in Mexico passing along the tax to American consumers.
So the American consumer in the end is going to pay for Trump's "beautiful wall" with Mexico — beautiful!  Thanks Tea-Publicans!