The New York Times summarizes how we got here: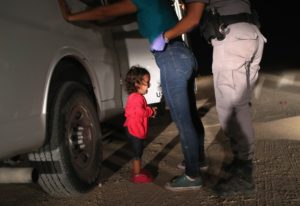 In May, Attorney General Jeff Sessions installed a "zero tolerance" immigration policy, in which the government sought to jail and prosecute every adult who crossed the border illegally.
For months, migrant families were separated as adults were placed in detention, and their children were sent to shelters across the country. Widespread outrage led the Trump administration to end the practice.
In July, the Trump administration lost its bid to persuade a federal court to allow long-term detention of migrant families.
If you can't win in court, get a feckless GOP Congress to change the rules for you — if you can.
Two weeks ago the Trump administration proposed a new regulation to allow the government to sidestep the 1997 consent decree known as the Flores agreement and detain children with their parents while their cases are being considered by immigration courts.
On Tuesday, Trump administration officials told a Senate panel that the decades-old court ruling that limits the length of time migrant children can be detained hampers the government's ability to stem illegal immigration, and needs to be amended by Congress. Trump Officials Urge End of Time Limits on Detaining Migrant Children:
The officials, from the Department of Homeland Security and the Justice Department, said the 1997 Flores agreement had encouraged hundreds of thousands of migrants to illegally cross the southwestern border with their children, knowing that they will not be detained if they are traveling with minors.
Under the court agreement, migrant children cannot be detained for more than 20 days.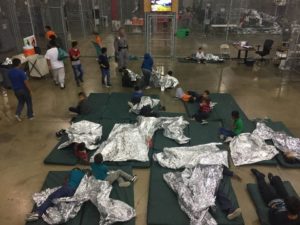 Due to the Trump administration's zero tolerance family separation policy, some children have been unlawfully detained for months, and for some 56 days after Judge Dana Sabraw's migrant family reunification order. As Gabe Ortiz at Daily Kos notes, "This continues to be a humanitarian disaster created by the administration, yet not one official has been jailed for violating the court order, has been fired, or has resigned."
"Meh, so what?" says immigration officials:
"It creates a business model for smugglers," Robert E. Perez, the acting deputy commissioner for Customs and Border Protection, told the Senate Homeland Security Committee.
Joseph Edlow, an acting deputy assistant attorney general, said modifying the court agreement would "cut off one of the pull-factors" for migrants coming to the United States from Central American countries.
The proposed regulation has drawn fire from immigration advocates and Democrats, who said it defied decades of rules governing the treatment of migrant children.
"Why are you here recommending a set of changes that would allow the detention of children?" said Senator Maggie Hassan, Democrat of New Hampshire.
She said she would oppose any changes that would allow children to be detained for long periods of time. "It's absolutely unacceptable to detain children," she said. "This is not who we are."
Other Democrats on the panel expressed similar reservations about allowing the federal government to indefinitely hold children in detention centers.
Several Republicans, however, said they supported amending the court settlement to allow children to be detained with their parents.
"The Flores settlement represents a significant hurdle to the enforcement of immigration law," said Senator Steve Daines, Republican of Montana. He said the agreement needed to be fixed to help Immigration and Customs Enforcement officers do their jobs.
Senator Ron Johnson, Republican of Wisconsin and the chairman of the committee, said he hoped to find a bipartisan solution to address the flow of illegal immigration without holding children in detention for long.
The federal government has long struggled to deal with the increasing number of families who cross the border, seeking asylum.
In 2014, the Obama administration faced a similar dilemma as thousands of unaccompanied children surged across the border with their families. The Obama administration also tried to amend the Flores agreement, but was rebuffed by the courts.
While all this is going on, U.S. Loses Track of Another 1,500 Migrant Children, Investigators Find:
The Trump administration is unable to account for the whereabouts of nearly 1,500 migrant children who illegally entered the United States alone this year and were placed with sponsors after leaving federal shelters, according to congressional findings released on Tuesday.
The revelation echoes an admission in April by the Department of Health and Human Services that the government had similarly lost track of an additional 1,475 migrant children it had moved out of shelters last year.
In findings that lawmakers described as troubling, Senate investigators said the department could not determine with certainty the whereabouts of 1,488 out of 11,254 children the agency had placed with sponsors in 2018, based on follow-up calls from April 1 to June 30.
The inability to track the whereabouts of migrant children after they have been released to sponsors has raised concerns that they could end up with human traffickers or be used as laborers by people posing as relatives.
* * *
The findings were accompanied by legislation introduced on Tuesday by Republican and Democrat senators to clarify the department's responsibility for ensuring the safety of migrant children, even when they were no longer in its custody.
The legislation would require officials at the Department of Health and Human Services to run background checks before placing children with sponsors. It also would compel the department to make sure that sponsors provide proper care for the children in their custody, including making sure they appear at their immigration court hearings.
Additionally, the legislation would require department officials to notify state governments before migrant children are placed with sponsors in those states. And it would increase the number of immigration court judges to help the Justice Department process cases more efficiently.
Senator Rob Portman, Republican of Ohio and the chairman of a Senate Homeland Security subcommittee on investigations, said the bill "will ensure that we keep track of unaccompanied minors in our country, which will both help protect them from trafficking and abuse as well as help ensure they appear for their immigration court proceedings."
Senator Richard Blumenthal Democrat of Connecticut, who also sponsored the legislation, said, "Children who risk their lives to make a dangerous journey in pursuit of asylum shouldn't then have to worry about falling victim to human trafficking or being handed over to abusive or neglectful adults in the United States."
Since October 2014, the Department of Health and Human Services has placed more than 135,000 unaccompanied immigrant children with adult sponsors in the United States as they wait for their cases to be heard by an immigration judge.
UPDATE: ICE is using these illegally detained children as "bait" to arrest their relatives. ICE arrested undocumented immigrants who came forward to take in undocumented children:
Federal officers have arrested dozens of undocumented immigrants who came forward to take care of undocumented immigrant children in government custody, and the Trump administration is pledging to go after more.
The news will serve as confirmation of the worst fears of immigrants and their advocates: that a recent move by President Donald Trump's administration to more fully vet people who come forward to care for undocumented immigrant children who are alone in the US has been a way for the administration to track down and arrest more undocumented immigrants.
On Tuesday, Immigration and Customs Enforcement senior official Matthew Albence testified to Congress that, after Health and Human Services and ICE signed a memorandum of agreement to background-check and fingerprint potential "sponsors" of immigrant children, ICE arrested 41 people who came forward.
The individuals could have been the children's parents or family members, and they also could have merely been fellow members of the homes of adults who applied to care for the children as they fight for a legal right to stay in the US.
"We've arrested 41 individuals thus far that we've identified pursuant to that (memorandum)," Albence testified Tuesday. "Close to 80% of the individuals that are either sponsors or household members of sponsors are here in the country illegally, and a large chunk of those are criminal aliens. So we are continuing to pursue those individuals."
---
Support volunteer citizen journalism at the Blog for Arizona with a donation today. Your secure contribution keeps the Blog online and sustains a free press in Arizona.
---