Tuesday's off-year election was a referendum on Donald Trump one year after his surprise election, and it turned out to be a resounding rejection of "Trumpism without Trump" and a "blue wave" for Democrats. When Democrats actually turn out to vote, Democrats win.
Daily Kos as a good rundown of the election results in the Morning Digest:
Democrats utterly crushed Republicans in just about every major race across the country, but the exclamation point came, without any doubt, in Virginia. There, despite much fretting, Democrat Ralph Northam obliterated Republican Ed Gillespie by a dominant 54-45 margin, far exceeding the polls, which averaged out to just a 3-point Northam lead. Not only was this the biggest Democratic win in a governor's race in the Old Dominion since 1985, it showed just how toxic Donald Trump is to suburban voters—and just how badly Gillespie's openly racist message failed.
But the victories hardly stopped there. Democrats also held Virginia's two other statewide posts, as Justin Fairfax won the open lieutenant governorship and Mark Herring was re-elected as attorney general, both by 53-47 margins.
Downballot, though, was the scene of an even bigger, historic, and downright epic bloodbath, and perhaps the biggest harbinger for 2018. Republicans entered the night with an enormous 66-34 advantage in the Virginia House of Delegates, but Democrats smashed all expectations and had picked up a monster 14 seats by the time we put the Digest to bed—the biggest Democratic year since 1899. That shrunk the GOP's edge to just 51-49, and some late-breaking races could yet go the Democrats' way [Four other races were so close that they qualify for a recount, and results will determine control of the chamber. Democrats need to win two of those four recounts to draw even in the chamber, and three of four would give them a majority. Democrats poised to make significant gains in Virginia legislature], potentially setting the party up to take over the chamber—an outcome no one could have imagined or dared to predict.
Oh, but we're not done yet—not at all. Democrats also picked up New Jersey's governorship, with Democrat Phil Murphy socking it to Republican Kim Guadagno by a hefty 56-42 margin, and held both chambers of the state legislature, even picking up a few seats. That once again gives Democrats complete control of state government, the so-called "trifecta," and the chance to enact progressive policies long thwarted by outgoing Gov. Chris Christie [i.e., Medicaid expansion]. Enjoy the beach!
UPDATE: In Washington state, Manka Dhingra flipped not just a seat but the entire state Senate from red to blue by winning the 45th district. The Pacific coast – California, Oregon and Washington – is now the Democrats' "big blue wall" in the West with Democratic controlled state legislatures, governors, and other statewide offices.
In Maine, progressives successfully expanded Medicaid at the ballot box, which had been vetoed five times by GOP Gov. Paul LePage, winning by a wide 59-41 margin.
On the mayoral front, Democrats did very well, too. In Manchester, the largest city in New Hampshire, Democrat Joyce Craig unseated Republican Ted Gatsas, a longtime incumbent, by a 53-47 spread, giving Democrats the mayoralty for the first time since 2003. Two years ago, Gatsas beat Joyce by 85 votes to win re-election. In St. Petersburg, Florida, meanwhile, Democratic Mayor Rick Kriseman held off Republican Rick Baker, a popular former mayor, winning a second term 52-48. And in Charlotte, North Carolina, Democrat Vi Lyles trounced Republican Kenny Smith 59-41, making her the city's first African-American woman mayor.
Laura Clawson adds Hate lost and diversity won on Election Day in Virginia and around the nation:
Election Day 2017 wasn't just a big day for Democrats. It was a big day for the diversity that makes up the Democratic Party and the United States of America, the diversity that Republicans campaigned so hard against. You have only to look at Virginia, which elected Justin Fairfax as lieutenant governor, just the second African-American statewide elected official in the state's history. Virginia also elected its first two Latina members of the state House—Hala Ayala and Elizabeth Guzman—and its first Asian-American woman in that body—Kathy Tran—along with Danica Roem, a transgender woman who defeated the aggressively homophobic author of the state's (failed) bathroom bill, and, immediately after election, showed what a gracious winner looks like.
Also in Virginia, Donte Tanner and Jennifer Carroll Foy flipped Republican-held seats. Another notable Virginia win, if one by a white man, was Chris Hurst, who ran for office after his girlfriend was shot and killed on the air while working as a television news reporter. Unsurprisingly, gun violence was an important part of Hurst's platform.
But it's not just Virginia.
There's still a lot of work to be done between now and 2018, but take some time to celebrate 2017.
Democrats should now go all in for support of Democrat Doug Jones in his special election senate race against the truly dangerous far-right extremist Roy Moore in Alabama on December 12. If Doug Jones were to pull out an upset win in ruby red Alabama, it would be a shock wave that demoralizes Republicans moving into the 2018 midterms, and portend a Democratic wave election.
The overnight consensus emerging from yesterday's election results is that this was a revolt of college-educated suburban voters (historically a GOP constituency). Harold Meyerson writes, The GOP's Suburban Collapse:
Three years ago, when he ran for the U.S. Senate against incumbent Democrat Mark Warner, Republican politician Ed Gillespie carried the big Washington, D.C., semi-suburban, semi-exurban Loudoun County by a narrow margin. Last night, running for governor against Democrat Ralph Northam, he lost it by 20 percentage points.
The Loudoun result epitomizes the Revolt of the Anti-Trump suburbs, which not only yielded a surprisingly large 9-point victory for Northam but may even have enabled the Democrats to win a majority, or come damned close to it, in the commonwealth's House of Delegates—which required a pick-up of 17 seats in the 100-seat house. No one was expecting that.
To be sure, Gillespie won by Trumpian margins in Virginia's rural southwest, but like most of rural America, this is a region that is losing population even as the suburbs and exurbs continue to grow. It's a white working-class region, where Republicans still thrive, but in Virginia, as in most states, Republicans still have to run well in the more populous suburbs if they're to win statewide. They didn't do that last night: Not only did Northam pile up huge margins in Northern Virginia's suburbs, but that's also where the Democrats made most of their House of Delegates pick-ups. The most prominent of these was the victory of Danica Roem, who will become Virginia's first transgender legislator, having defeated longtime GOP delegate and self-professed homophobe Robert Marshall. But no less unlikely was the victory of Democrat Lee Carter, a member of the Democratic Socialists of America, in the district adjoining Roem's.
After the Third Battle of Bull Run, Manassas will now be represented in Richmond by one transgender delegate and one socialist delegate.
Yesterday's election has got to send shock waves through Republican ranks, and nowhere more deeply than in the GOP's congressional delegation. In last night's vote, Northam carried college-educated white voters—a constituency that suburban Republicans simply can't win without, and particularly in midterm elections, when such voters are the most overrepresented in the electorate. For Republicans such as the four who come from California's Orange County, all of whose districts were carried last year by Hillary Clinton, Virginia's results make for grim reading. Even before the polls closed, the most endangered of those four, Darrell Issa, announced yesterday that he wouldn't vote for the Republican tax reform bill, since its proposed elimination of the state tax deduction and scaling back of the property tax deduction would likely prove very costly to his constituents. I would expect more Republicans who represent suburbs in high-tax states to reject that bill in days to come. If they were on the fence, yesterday's voting may well decide the issue for them.
For all that currently divides Democrats, last night's results, and not just in Virginia, demonstrated that the various wings of the party can come together at the polls. And that just as Republicans were united in their opposition to Barack Obama, Democrats, for all their divisions, are united in their opposition to—and in their utterly justifiable fear and loathing of—Donald Trump. That's a huge advantage going into 2018.
Nate Cohn at the New York Times adds, The Other Virginia Elections, and What They Mean for 2018:
Democrats won big in Virginia, took full control of state government in New Jersey and Washington State, prevailed on an important ballot measure in Maine, and generally posted strong results across the nation.
Together, it was the clearest sign yet that college-educated white voters' unhappiness with President Trump would jeopardize suburban Republicans in next year's midterm elections.
But the biggest difference between Tuesday's Democratic wins and the earlier Republican wins is deceptively simple: This time, election were held on neutral or even Democratic-leaning terrain.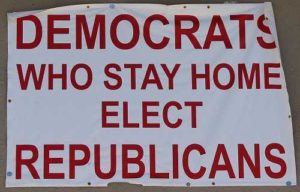 For that reason, it is not obvious that Tuesday's performance represents a significant improvement over the Democrats' showings earlier in the year. In 2018, they won't always get the luxury of competing in such favorable districts. To take the House next November, they might have to do even better than they did on Tuesday.
Make no mistake: The results Tuesday are fully consistent with a so-called wave election, like the ones that brought Democrats to power in the House in 2006 and back out in 2010.
All of the conditions for a 2018 wave are in place. The president's approval rating is stuck in the mid-to-high 30s. The Democrats hold nearly a double-digit lead on the generic congressional ballot. The president's party nearly always struggles in midterm elections.
These conditions have been in place all year. It just hasn't yielded Democratic victories until now because the high-profile races have been fought in reliably Republican areas — districts that voted for either President Trump or Mitt Romney by at least 15 points.
* * *
The big surprise of the night was the huge Democratic surge in Virginia's house of delegates, but that also came in Clinton Country. Of the 16 districts where Democrats currently lead in Virginia, Mrs. Clinton won 15 of them and received 49.7 percent of the vote in the other, according to data from the Virginia Public Access Project and Daily Kos Elections. Twelve of those 15 districts voted for Mrs. Clinton by at least five points.
Just because Tuesday's victories came in states or districts won by Mrs. Clinton doesn't mean they can be dismissed, however. College-educated white voters, paired with nonwhite voters, could profoundly endanger the G.O.P. in traditionally Republican, upscale districts.
* * *
[W]ell-educated voters in Virginia didn't appear to make any distinction between Mr. Trump and their incumbent representatives. Ed Gillespie, who was thought to have run a pretty strong campaign for governor against Ralph Northam, wound up running well behind Mr. Trump in many well-educated suburbs, a possibility that few imagined heading into the contest.
The catch, though, is that the overwhelming Democratic strength in well-educated areas did not cross the political divides of the 2016 election into white working-class areas. In fact, Mr. Northam, a Virginia Military Institute graduate with a strong Southern pedigree, didn't even come close to matching Gov. Terry McAuliffe, Mr. Obama or Senator Tim Kaine in rural western Virginia. Democratic State Assembly candidates didn't run well ahead of Mrs. Clinton, either.
Yes, the political divisions of the 2016 presidential election wound up working pretty well for Democrats in Virginia, a highly educated state. But this might not be the case for Democrats in a lot of the rest of the country. There are only 11 Republican-held congressional districts in the United States where Mrs. Clinton won by five points or more. Even if Democrats swept those 11 districts, it wouldn't get them far toward the 24 seats they need to flip the House.
To my surprise, it's not obvious that a rerun of the Virginia House of Delegates election on a national scale would yield Democratic control of the House. Without greater strength in areas that supported Mr. Trump, it would still be a tossup.
The good news for Democrats is that they did run well ahead of Mrs. Clinton in white working-class areas during this spring's special congressional elections. And on Tuesday, Mr. Northam ran ahead of her in some areas, too, even if he landed short of prior Democratic benchmarks.
The big question in 2018 might prove to be whether Democrats can have it all: Will it be possible to combine a Virginia-like near sweep of Republicans in Clinton districts with a broad Democratic overperformance in white working-class districts? If they can do both, they will be favored to retake the House. One or the other would probably make the fight for House control a tossup. The fact that they've done both at various points this year might be an early clue.
The lesson from Virginia is that no elective office should go uncontested. Give the voters a clear choice and they may surprise you.