The NATO Summit will be held July 11-12, 2018 in Brussels, Belgium. As Summit Nears, NATO Allies Have One Main Worry: Trump:
[T]here is one wild card: President Trump.
Nobody knows which president will show up — the truculent one railing about inadequate military spending by the allies or the boastful one taking credit for recent spending increases.
Either way, NATO members say they fear that all the preparation and the desire to show solidarity in the face of a new Russian threat will be overshadowed, if not undone, by a divisive encounter followed by Mr. Trump's prospective summit meeting with the Russian president, Vladimir V. Putin.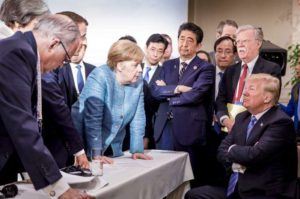 The European allies are deeply worried that they will confront the Trump who was on display at the meeting in June in Canada of the seven major economies, known as the Group of 7, or G-7. Those in the room described him as angry, mocking, wandering and rude, especially to the host, Canada's prime minister, Justin Trudeau, and to Chancellor Angela Merkel of Germany.
There, Mr. Trump focused on two of his fixed ideas: the unfairness of trade with European allies and their inadequate level of military spending.
The Trump administration regards Western European nations as free-riders on an American-funded, postwar peace that enabled them to build lavish social benefit systems because they spent so little on defending themselves. He has also made clear that he thinks the European Union, as a trading bloc, has taken advantage of American generosity.
European and some American officials say they dread the same pattern — a noisy, divisive NATO summit, damaging deterrence, followed by a chummy meeting with a dictator, in this case Mr. Putin, whose long-term goals are to destabilize the European Union, undermine NATO and restore Russian influence over Eastern Europe, the Baltic States and the Balkans.
Whatever the organization has prepared, "the only real deliverable for NATO summits is solidarity and cohesion," said Douglas Lute, a former American general and ambassador to the organization. "But that is at risk because the odds are that Trump will deliver a G-7 performance. And I fear that we will come out of this summit with symbols of division."
The headline for the summit meeting, he said, "should be about NATO's containment of Russia in Eastern Europe, but Trump might blow it all up for Putin." If Mr. Trump "arrives pushing dialogue with Russia with no clear deliverables from Moscow in return, it will make a mess in NATO."
After pissing all over our NATO allies — "ugly American" ingratitude for our NATO allies invoking the collective defense provision of Article 5 for the first time in its history after the 9/11 terrorist attacks on the U.S. — which he has previewed in his recent MAGA rallies and Twitter rants, Trump is on to Great Britain, where he will arrive late on Thursday, July 12th.
Britain's The Mirror reports:
After his arrival on Thursday 12 July, Trump will be guest of honour at a dinner at Blenheim Palace, Winston Churchill's birthplace. He will then spend the night at the US Ambassador's grand residence in Regent's Park.
On Friday 13, he will visit an unnamed military base with Theresa May, before heading to the Prime Minister's country retreat, Chequers, for bilateral talks. After a press conference he will head to Windsor Castle to meet the Queen (who is head of state).
In the evening, Trump will fly to Scotland, for what is being described as a private element of the visit. It is expected he will stay at one of his two golf courses. He will stay there all day Saturday, before flying to Helsinki on Sunday.
The Guardian adds:
Donald Trump will make a "working visit" to the UK. It will not, however, be the full state visit the US president was promised when May visited Washington last year, meaning he will not be honoured with an official banquet at Buckingham Palace or a carriage procession up the Mall.
* * *
May invited Trump for a state visit when she became the first world leader to meet the president in the White House in January last year.
It was downgraded to a "working trip" after huge public opposition to the visit and MPs said Trump should not be given the opportunity to address parliament. He has clashed publicly with London's mayor, Sadiq Khan, who has said the president's visit would result in mass peaceful protests and that Trump's values were the polar opposite of Londoners'.
Trump's visit to Britain faces mass protest — and a big blimp:
Mass anti-Trump marches have been more than a year in the planning, after May first extended an invitation for Trump to visit the U.K. in early 2017.
The largest are planned in London, where organizers of Together Against Trump estimate up to 100,000 people, including labor unions and rights groups, will march through the center of the city to Trafalgar Square.
The people behind last year's successful Women's March are staging a Bring The Noise rally earlier on the same day to end in Parliament Square, opposite the House of Commons. (You can already buy the T-shirt.)
"We're planning a proper British welcome for Trump," said Shola Mos-Shogbamimu, 42, a co-organizer of the march and founder of Women in Leadership.
A quieter but eye-catching protest is planned by Leo Murray, 41, who received permission Thursday to fly a helium-filled blimp of Trump as a baby during the visit.
Guardian video.
"Moral outrage has no affect on Trump because he has no shame, he's immune to it," the climate campaigner said. "But he has a tremendously fragile ego so ridicule is an effective form of protest," he added.
"So we want to make sure he knows that all of Britain is looking down on him and laughing at him."
Permission for the blimp came from London Mayor Sadiq Khan's Greater London Authority. Khan is among a series of high-profile British figures to have publicly clashed with Trump over everything from immigration to health care.
Trump will reportedly spend the night at his Turnberry golf resort in Ayrshire, Scotland before heading to Helsinki, Finland.
But in Scotland there are more planned protests.
Kirsty Haigh of Scotland Unite Against Trump, said, "Trump likes to talk up his Scottish connections, but we are going to show that his politics are not welcome here."
"Besides, Scotland has been protesting Trump long before he was president; he has had business interests here and has shown that he doesn't care about the local environment."
Then it is on to Helsinki, Finland for his annual employee review with his boss, Vladimir Putin. Trump and Putin Will Meet One-on-One in Finland, Officials Say: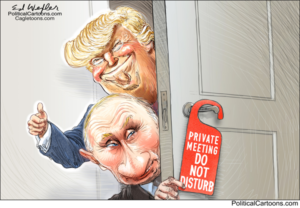 President Trump will speak one-on-one with President Vladimir V. Putin of Russia this month when they meet in Helsinki, Finland, the administration confirmed Thursday, injecting an element of unpredictability and mystery into an encounter that White House advisers describe as a chance to reset a tense relationship.
[T]here is no telling what Mr. Trump — a president who abhors long briefing papers and often disregards or defies the advice of his advisers — will choose to say while he is alone with Mr. Putin, a prospect that puts some of his aides and experienced diplomats inside and outside the government on edge.
"Putin is very clever in giving a distorted and self-serving version of history on some of these substantive issues," said Alexander Vershbow, a former United States ambassador to Russia. "He can charm Trump into changing his position or dropping longstanding U.S. positions if he's alone with him for too long."
The thing is, Trump doesn't care what people think about his relationship with Putin:
President Donald Trump clearly doesn't care what anyone thinks about his baffling, opaque and deferential relationship with Russian President Vladimir Putin.
In a demonstration of his growing willingness to flout diplomatic convention and the concerns of US allies, Trump plans to meet with the Russian leader alone, likely with only translators in the room, at the start of their summit in Helsinki, Finland, on July 16.
* * *
[I]f Trump decides to go ahead with a one-on-one without his delegation behind closed doors, it would represent a thumb in the eye of his critics, given the curiosity and widespread concern in Washington and among US allies over the relationship between the US President and the Russian leader.
After all, Putin is accused of ordering an influence operation to interfere in the 2016 US election that evolved into a bid to help Trump win.
Trump, meanwhile, has recently yet again given credence to Russia's denials of election meddling, in defiance of the conclusions of his own intelligence agencies.
Fueling speculation about his relationship with Putin are Trump's comments last week, in which he left the door open to recognizing Russia's annexation of Crimea. He has taken to blaming former President Barack Obama, not Putin, for Russia's seizure of Crimea from Ukraine. He also has spooked US allies by calling  for Russia's readmission to the G7."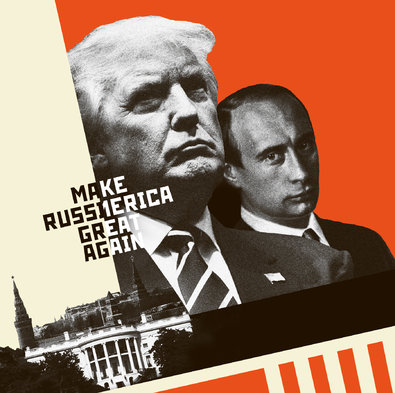 The Europeans are petrified that he is going to sell them out and he is going to recognize the illegal annexation of Crimea," Max Boot, a historian and CNN national security analyst, told CNN's Kate Bolduan on Monday.
Heading into the Helsinki summit, Trump's attacks on US allies — which turned the G7 summit in Canada into a debacle — attempts to widen divides in the European Union and criticism of other institutions of the transatlantic alliance are playing directly into Putin's anti-Western goals.
Then there is the widespread speculation about whether Russian intelligence agencies have any compromising information about Trump or his business dealings that may help to explain his refusal to criticize Putin and willingness to mirror the Russian leader's foreign policy positions.
Given all this, it would not be surprising if Trump sought to avoid any impression that he was under Putin's sway — for instance, a one-on-one meeting with no other officials present.
But Trump's political career suggests he will take the course of action that most infuriates his critics, and he is loath to give in to pressure.
Some officials who have worked to stage past presidential summits fault the President's staff for not shielding him from an in-person encounter with Putin, arguing that he is badly mismatched with the wily Russian leader, who was trained by the KGB.
"It is no secret that the President doesn't do well one-on-one with Vladimir Putin," CNN national security analyst Samantha Vinograd said Monday, recalling how Trump ignored advice not to congratulate the Russian leader on his re-election this year.
"If he is sitting across the table from Vladimir Putin, who is a highly skilled manipulator and negotiator, the chances are things could go off the rails," said Vinograd, who was a senior National Security Council staffer in the Obama administration.
* * *
Trump's critics worry that established US policy positions and the advice of top officials may not mean much when the President gets in a room with Putin.
When Trump emerged from his meeting with North Korean Supreme Leader Kim Jong-un, for instance, he stunned America's Asian allies and his own staff by announcing a halt to US-South Korea military maneuvers that have long infuriated Pyongyang.
Followed by this: Satellite photos suggest North Korea is upgrading a major nuclear plant after Kim Jong Un promised Trump 'complete denuclearization', and this N. Korea calls U.S. attitude toward talks 'gangster-like' and 'cancerous,' rejecting Pompeo's takeaway. So much for Trump's "personal touch."
Such concessions are why a one-on-one encounter between Trump and Putin is a wild card.
At an off-the-rails campaign rally on Thursday in Great Falls, Mont., Trump dismissed the concerns about his upcoming meeting, mocking skeptics for noting that Mr. Putin is a former chief of Russia's feared intelligence service.
"'You know, President Putin is K.G.B.,' and this and that," Mr. Trump said, affecting a serious voice. "You know what? Putin's fine. He's fine. We're all fine. We're people. Will I be prepared? Totally prepared. I've been preparing for this stuff my whole life."
God save America from this incompetent egomaniacal fool.