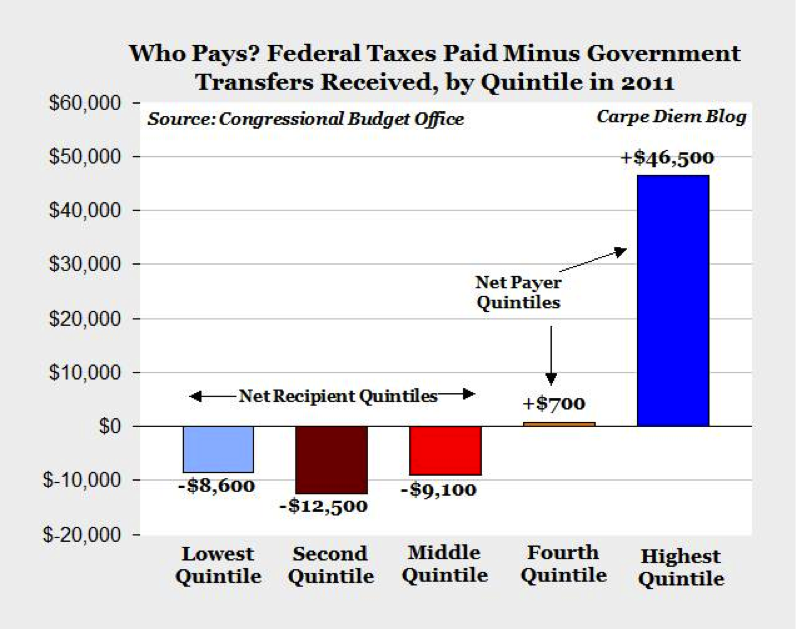 In the annals of deceitful economic analysis, New CBO study shows that 'the rich' don't just pay their 'fair share,' they pay almost everybody's share, written by Mark Perry at the American Enterprise Institute (AEI), deserves a special place.
I recently was asked to comment on the AEI analysis for this week's issue of Too Much, the weekly online magazine about the excesses of the super rich. I was happy to do so, but there's no way to capture the absurdity of the AEI analysis in a few short quotes. I'll try to go into a bit more detail here, although even this piece just skims the surface.
Based on Perry's analysis, AEI makes the claim that the rich are really the only people paying tax. What Perry really shows is how unequal the distribution of income in America truly is. Then, for an encore, AEI tries to show that America's income tax system is the most progressive in the developed world. What the AEI analysis really shows is, well, nothing.
The essence of the AEI analysis lies in these two charts: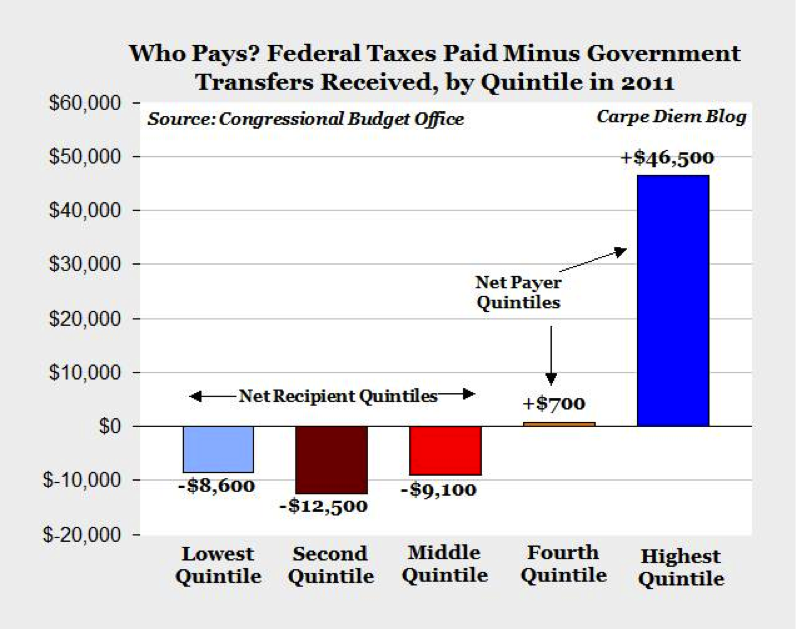 Focus on line 5 of the first chart. The first 4 lines in the analysis are taken directly from a Congressional Budget Office (CBO) Report. Line 5 is simply line 4 (taxes) divided by line 3 (total before tax income) and represents CBO's determination of the tax rate paid in each quintile on its income from all sources. Perry uses this percentage because he wants to base his analysis on income figures that include governmental benefits as income.
Line 6 is the heart of the AEI analysis. Perry derives this number by subtracting the average tax burden for each quintile by the average amount of government benefits received. This number is used to create Perry's second chart.
But what does this number signify? Think about it. In each of these quintiles, there is a group of people whose income is all or mostly from market sources (compensation, interest, dividends, etc.). There is a second group of people, mostly retired or unemployed, whose income consists mainly of governmental benefits, such as social security or payments by Medicare to providers of health care. Perry is subtracting the benefits received by the second group from the taxes paid by the first group and ordaining the result of this computation to be the major determinant of whether the entire quintile has paid its "share" of taxes.
This methodology is flat-out ludicrous. There's no logical basis for the implicit determination that the members of each economic strata who work and pay taxes have the responsibility to cover the governmental benefits of non-working members in the same strata. They're not a family. They don't even know each other. It's hard to fathom why Perry thought it appropriate to net the tax payments made by a McDonalds worker in Brooklyn and the Social Security benefits paid to a retiree in Fresno, but that's essentially what he's done.
Think that's ridiculous? Don't worry, it gets worse. Perry's methodology compounds a quirk in the CBO  analysis upon which it is based. The CBO analysis  is based on total income, including governmental benefits. Households receiving benefits tend to have less total income than those that don't. Thus, the CBO  analysis loads the lower quintiles with a disproportionate share of households whose income is heavy in government benefits and whose effective rate of tax is lower and loads the higher quintiles with a disproportionate share of households whose income is mostly market income and whose effective tax rate is higher.
After CBO counts governmental  benefits as income, thereby reducing the effective tax rate of each quintile, Perry then factors those same benefits in a second time, treating them as negative tax revenues. This is a radical departure from the CBO analysis. Whereas the CBO effectively treats governmental benefits as income that is subject to a zero tax rate, Perry treats governmental benefits as income that is subject to a tax rate of negative 100 percent.
Consider these two households under Perry's analysis: Household 1 has $9,000 of market income, pays $900 in tax and receives $400 in governmental benefits. Household 2 has $8,500 in market income, pays $1,500 in tax and receives $1,000 in governmental benefits. Under Perry's, Household 2 has a lower "net tax ratio" than Household 1.
But none of this really matters. Why? Because under their methodology the case Perry and AEI make is driven not by tax rates but by inequality. The more unequal things are, the better they are able to make their case. And income distribution in America is very unequal.
This is best illustrated by re-doing the AEI analysis using a flat tax rate of 17.4%, the effective tax rate for the entire population on total income according to AEI's analysis. Shown below is the first AEI chart in this flat tax scenario. An additional line is added to show the effective rate that would have to be applied to the income of each quintile that actually is subject to tax in order to achieve the flat tax rate on total income.
Here are line numbers, starting with line 4, for Chart 1:
| | | | | | |
| --- | --- | --- | --- | --- | --- |
| 4 | $4,280 | $7,880 | $,11,540 | $16,950 | $42,750 |
|  5 | 17.4% | 17.4% | 17.4% | 17.4% | 17.4% |
|  6 | ($4,820) | ($7,820) | ($4,960) | $2,840 | $31,750 |
|  7 | -19.6% | -17.3% | -7.5% | 2.9% | 12.9% |
|  8 | $2.13 | $1.99 | $1.43 | $.83 | $.35 |
| 9* | 27.6% | 26.6% | 23.2% | 20.3% | 18.2% |
 * Tax rate on market income needed to result in 17.4% rate on total income.
Even with no progressivity in tax rates on total income, line 6, in bold itialics, shows that Perry nonetheless could claim that "the Rich don't just pay their share, they pay everyone else's share as well."
Note that in order to achieve a flat rate across the quintiles on total income, the actual rates on market income would have to be absurdly regressive. As Line 9 of the revised first chart shows, in order to achieve a flat rate on total income, the effective rate we must apply to income that actually is taxed is absurdly regressive, with the poorest quintile's effective rate 50% higher than the richest quintile's. Yet even under such a horribly regressive tax rate structure, Perry still could make his case that the Rich are "paying their share."
The bottom line is that using the AEI methodology, if things are as unequal as they are in America today, it's baked into the cake that the rich will appear to be paying their share. Some methodology, huh?
And just think of what Perry's charts would look like if America's income distribution were even more unequal than it is today. AEI would be in an uproar over how unfairly the rich were being taxed. The worse inequality became, the louder Perry and his friends at AEI would scream about how unfairly the rich were being taxed. It's a script only Orwell could have written.
On to Perry's "update," where he tries to show that America has the most progressive tax code in the developed world. How does Perry get there? He computes the ratio of the share of the total federal tax burden borne by the top ten percent in America to their share of total income, then compares it to the same ratio for other countries. For America, that ratio, according to Parry, is 45.1% to 33.5%, or 1.35, which is higher than the average of 1.11 for all developed countries.
Sound logical? Well, no. Consider how Perry's ratio of tax share to income share changes as the income share of the top 10% increases. In a completely equal society, the tax share and the income share of the top 10% each would be 10%, so Perry's ratio would be 1.00, no matter how progressive the tax rates were. In a completely unequal society, where 100% of the income flowed to the top 10%, the tax share of the top 10% also would be 100%, so Perry's ratio would again be 1.00.
If a country's tax structure is progressive, there is some level of inequality where Perry's ratio will be at its maximum. If inequality worsens from there, the ratio will decrease. If inequality lessens, the ratio also will decrease.
It is altogether possible, under Perry's ratio analysis, to have three countries with identical tax rate structures and have the country with the middling inequality level score the highest in Perry's ratio test. That country would by definition not have a more progressive rate structure, nor would it have either the highest or the lowest level of inequality.
Moreover, the shape of a country's income distribution will impact Perry's ratio. For example, if the top 1% have a large share of the income of the top 10%, Perry's ratio will be different from how it would if the income of the entire 10% were shared more evenly.
The bottom line: Perry's tax share to income share ratio is arbitrary. It measures nothing.
Why Perry looked to this ratio as a measure of tax progressivity is mystifying. Each developed country's rate structure is available for all to see. Wouldn't it be easier just to compare those rate structures? Or did that not get Perry the result he wanted?
I've seen a fair number of deceitful economic analyses over the years, but this one by the American Enterprise Institute ranks right up there near the top.
Update: Mr. Perry emailed me and demanded a correction to the first paragraph following his second chart. He was upset because I had said that he computed line 5 of first chart, when he actually had taken the numbers from the CBO study. Either way, it was a mechanical calculation, so I'm not sure where his complaint goes. Nonetheless, the correction was made.