Voters in the red state of Utah last November voted to expand Medicaid coverage to 150,000 uninsured people in the state, with 53 percent in favor. But the Republican state legislators they also elected to office in November had other ideas. "We will decide, and you will obey!" Utah Voters Approved Medicaid Expansion, But State Lawmakers Are Balking.
Authoritarian Republicans rejected the clear will of the voters, and greatly curtailed the Medicaid expansion plan that voters believed they had approved in November. Utah Governor Signs Plan To Minimize Voter-Approved Medicaid Expansion, Offering Road Map To Other Red States. "This is a dark day for democracy in Utah," said Andrew Roberts, a spokesman for the group Utah Decides.
Something similar is happening here in Arizona. Arizona voters voted overwhelmingly in favor of the referendum rejecting the "vouchers on steroids" bill passed by the GOP-controlled state legislature in 2017 (Prop. 305). The Voter Protection Act should protect the will of the voters expressed in this ballot measure.
But authoritarian Republicans in the Arizona Legislature reject the will of the voters — and piss on the Voter Protection Act — by pursuing yet another expansion of school vouchers to privatize public education. "We will decide, and you will obey!" Senate panel OKs new school voucher bill, despite recent rejection by Arizona voters:
Rejecting claims it was ignoring the will of voters, a Senate panel voted Wednesday to advance SB 1395 (.pdf) to alter the rules governing the use of vouchers of state dollars by parents to send their children to private and parochial schools.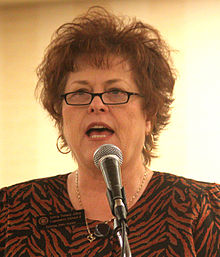 Sen. Sylvia "The earth is 6000 years old" Allen, R-Snowflake, acknowledged many of the provisions in her SB 1395 were sent to voters last year as part of Proposition 305, which was rejected by voters by a 2-1 margin.
But Allen told members of the Senate Finance Committee she is not trying to override that vote (oh yes, she is). Allen said what's in her bill wasn't the focus of voters — or the cause of defeat for changes in the program formally known as empowerment scholarship accounts.
"What they were focused on and heard over and over again was this was expanding the program to all families, that rich people were going to benefit from these ESAs, and that this money was going to religious schools," she said. All were part of Proposition 305.
Allen, however, insisted the legislation does not expand who is eligible for a voucher but simply clarifies who can and cannot get one, issues she said that have nothing to do with the expansion voters rejected. But Matt Beienburg of the (pro-vouchers) Goldwater Institute acknowledged the bill, approved on a 6-4 party-line vote, would allow some children who are not now eligible for a voucher to get one.
At the heart of the debate is the use of public dollars for private education.
The original program approved in 2011 was designed to provide vouchers to students with special needs that could not be met in public schools. But voucher supporters have slowly widened the door to where it now includes foster children, children from reservations and children who attend schools rated D and F.
In 2017, lawmakers voted to remove all those restrictions, saying any student could get a voucher. (The "vouchers on steroids" blll).
To get the votes, however, supporters had to agree to a cap of 30,000 vouchers by 2023 out of more than 1.1 million children attending public schools. But foes of expansion note that cap can be removed by a future Legislature.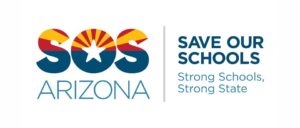 Members of Save Our Schools Arizona argued that diverts tax dollars that otherwise would go to underfunded public schools. So they gathered the signatures to give voters the final say.
Voters sided with Save Our Schools last year and quashed the expansion. Now they see SB 1395 as an end-run around that.
For example, the current law spells out that a student has to attend a school rated D or F to become eligible for a voucher. SB 1395 would say simply living in the attendance area of a D or F-rated school is sufficient, even if the child goes to public school somewhere else.
There also are provisions that expand the age window for children to get vouchers for kindergarten programs as well as language entitling students to get vouchers until age 22.
And Dawn Penich-Thacker, leader of Save Our Schools, said the legislation also expands what parents who educate their children at home can purchase with their voucher dollars.
Right now the law says public dollars can be spent only on materials directly related to curricula, what has been interpreted as books. Beienburg said that bars parents from using their dollars for things like flash cards and globes.
But Penich-Thacker said the new language to allow purchase of "supplemental materials" is flawed.
Wednesday's hearing also produced broader anger by some foes of SB 1395 to the whole premise of public dollars being used to send children to private schools — and especially religious schools.
"The financial burden lies on the individual and the faith community" to provide a religious education, said the Rev. Anne Ellsworth, an Episcopal priest, rather than using tax dollars that she said would be better spent on providing more dollars to public schools.
But Sen. J.D. Mesnard, R-Chandler, said vouchers allow parents to decide what education is best for their children.
"If a parent wants their child to have a religious education, for whatever reason … there's obviously no way to do that within a public school," he told Ellsworth. And he said parents need that option, as there is no way for parents to get that option in public schools, no matter how much they get in state funds.
Kathy Hoffman, the newly elected state superintendent of public instruction, also urged lawmakers to defeat the measure.
Aside from her assessment that voters rejected Proposition 305, Hoffman said complex questions of how best to deal with issues with vouchers should be left to a special task force she put together that features both supporters and foes.
The Senate Finance Committee also considered SB 1320 (.pdf), introduced by Sen. David Livingston, R-Peoria, would transfer some of the program's oversight to the state treasurer's office.
The Arizona Republic adds:
This bill also passed the committee on a 6-4 party-line vote with Republican lawmakers supporting it and Democratic lawmakers opposing it after dozens testified in support and opposition of the bill. To become law, they still need votes of the full Senate and House.
* * *
SB 1320 would change who oversees some aspects of the program. It would transfer oversight power to Republican State Treasurer Kimberly Yee's office, from the Arizona Department of Education, now controlled by Democratic Superintendent of Public Instruction Kathy Hoffman.
Superintendent Hoffman spoke in opposition to both bills. She said her agency has the resources to administer the program. On Tuesday, she announced a new ESA task force, including representatives from the Governor's Office, to improve the program's management.
"Similar proposals were rejected overwhelmingly by voters in November, and I believe their voices should guide our work regarding ESA work," Hoffman said.
Rep. Mark Finchem, R-Oro Valley, proposed a similar bill on ESA oversight in the House. It has not been referred to any House committee.
* * *
The two bills considered Wednesday aren't the only legislation related to the voucher-style program floating around.
Other bills include:
House Bill 2474, introduced by Rep. Shawnna Bolick, R-Phoenix, would expand the program to students who have been harassed, intimidated or are the victim of an attack. It has not been referred to a committee.
SB 1396, introduced by Allen, would also allow for more students to be included in the program, such as a child whose family's income doesn't exceed 185 percent of the limit for the federal government's reduced-price lunch program. It has been referred to the Senate Finance Committee, but not scheduled for a public hearing.
Laurie Roberts of The Republic points out that authoritarin Republicans in the Arizona Legislature are also ignoring the will of the voters on the Fair Wages and Healthy Families Act, Prop. 206 (2016). Lower minimum wage for students? Arizona's legislators slap voters in the face (again):
I've come to the conclusion that Arizona's leaders just don't much respect Arizona's voters.
Ya think? What took you so long!
For years, the Republican-run Legislature and Gov. Doug Ducey have enacted various "election reforms" aimed more at impeding your ability to exercise your constitutional rights.
Now this year, there are at least four bills that represent a direct slap in the face to voters.
Senate Bill 1046 would bar early voters from dropping off their ballots on Election Day. This, after nearly a quarter of a million voters dropped off their ballots at the polls in November.
Senate Bill 1395 would once again expand the state's  Empowerment Scholarship Account program. This, despite the fact that a whopping 65 percent of voters just vetoed our leaders' voucher expansion plans just three months ago.
Senate Bill 1320, that would strip the power to administer the state's voucher program away from the superintendent of public instruction and put in into the hands of the state treasurer. This, after voters elected Democrat Kathy Hoffman as state superintendent in November.
Then there is House Bill 2523, exempting businesses from having to pay some of their employees the state's minimum wage. The one voters approved in 2016.
* * *
While I appreciate the creativity of his excuse for attempting yet another end-run around voters, may I respectfully suggest that perhaps advocating for jobs that pay only the federal minimum $7.25 an hour is not the best use of our leaders' time?
Supporters of the bill – the Goldwater Institute, the National Federal of Independent Businesses and various chambers of commerce – contend it doesn't violate the Voter Protection Act. It simply creates a new classification of workers for whom the voter-imposed law doesn't apply.
They are wrong, of course, but they will force the state to use your tax dollars to defend the lawless acts of our GOP-controlled legislature in the courts, only to lose eventually.
Again, points for creativity.
But that doesn't remove the sting from the slap in the face.
What all of this demonstrates is that if voters want to use the initiative and referendum process, a power that the state constitution gives to them, they also have to be smart enough not to vote for anti-democratic authoritarian Republicans who will disregard the will of the voters and do whatever the hell they want, because "We will decide, and you will obey!" These anti-democratic authoritarians need to be driven out of office in order to restore our democracy. Enough is enough!
UPDATE: Republican lawmakers and their corporate masters are moving once again to put new hurdles in the path of citizen groups that want to propose their own laws. Republican bill makes citizen initiative process more difficult:
SB 1451 (.pdf), approved Thursday by the Senate Judiciary Committee, would impose new requirements on paid circulators and the organizations that hire them to collect signatures. These range from a mandate to provide a phone number and email address to insisting that when petitions are turned in they are grouped by circulator.
Sen. Martin Quezada, D-Glendale, said the new requirements appear to be a way to provide those who oppose what voters are proposing additional opportunities to keep them off the ballot.
"What this does is it gives more ammo for those who wish to challenge and deal with these issues in court rather than at the election box," Quezada said. More to the point, he said it could result in the disqualification of otherwise legitimate signatures asking to put an issue to voters solely because the person who circulated the petition failed to provide an email address.
Sen. Vince Leach, R-Tucson, who is sponsoring the measure backed by business interests, did not dispute that the new mandates would provide additional opportunities for court challenges to initiatives by those who want to keep a proposal off the ballot.
Nor was he apologetic for the idea that his legislation would allow otherwise-valid signatures to be thrown out because of the failure of circulators to follow all the rules.
"That may well be," he said. But Leach said there is a constitutional mandate on lawmakers to protect the integrity of the elections process.
"Protect the integrity of the elections process" by negating citizens' constitutional right to initiative and referendum, and failing that, to overturn the will of the voters and disregard the VoterProtection Act through legislative legerdemain.
We are the banana republic of Arizona, an anti-democratic authoritarian corporatocracy "of corporations, for corporations, and by corporations" enabled by their bought and paid for Republican lickspittle lackeys in the legislature.
This is what the founding fathers of Arizona's Progressive Era constitution sought to prevent with Article IV, Section 1:
Section 1. (1) Senate; house of representatives; reservation of power to people. The legislative authority of the state shall be vested in the legislature, consisting of a senate and a house of representatives, but the people reserve the power to propose laws and amendments to the constitution and to enact or reject such laws and amendments at the polls, independently of the legislature; and they also reserve, for use at their own option, the power to approve or reject at the polls any act, or item, section, or part of any act, of the legislature.
This now being rendered a nullity by Republicans and their corporate masters.