A couple of recent reports deserve wider public attention.
First, Politico reports on DHS draft documents: White supremacists are greatest terror threat:
White supremacists present the gravest terror threat to the United States, according to a draft report from the Department of Homeland Security.
Two later draft versions of the same document — all of which were reviewed by POLITICO — describe the threat from white supremacists in slightly different language. But all three drafts describe the threat from white supremacists as the deadliest domestic terror threat facing the U.S., listed above the immediate danger from foreign terrorist groups.
* * *
Former acting DHS Sec. Kevin McAleenan last year directed the department to start producing annual homeland threat assessments. POLITICO reviewed three drafts of this year's report — titled DHS's State of the Homeland Threat Assessment 2020 — all of which were produced in August. Ben Wittes, the editor in chief of the national security site Lawfare, obtained the documents and shared them with POLITICO. The first such assessment has not been released publicly, and a DHS spokesperson declined to comment on "allegedly leaked documents," and on when the document will be made public.
None of the drafts POLITICO reviewed referred to a threat from Antifa, the loose cohort of militant left-leaning agitators who senior Trump administration officials have described as domestic terrorists. Two of the drafts refer to extremists trying to exploit the "social grievances" driving lawful protests.
John Cohen, who oversaw DHS's counterterrorism portfolio from 2011 to 2014, said the drafts' conclusion isn't surprising.
"This draft document seems to be consistent with earlier intelligence reports from DHS, the FBI, and other law enforcement sources: that the most significant terror-related threat facing the US today comes from violent extremists who are motivated by white supremacy and other far-right ideological causes," he said.
This DHS report dovetails with an in-depth report from the Brennan Center for Justice published recently, Hidden in Plain Sight: Racism, White Supremacy, and Far-Right Militancy in Law Enforcement (excerpt, footnotes deleted):
Protest Policing Reveals Law Enforcement Bias
The police response to nationwide protests that followed the murder of George Floyd in May 2020 includes a number of officers across the country flaunting their affiliation with far-right militant groups. A veteran sheriff's deputy monitoring a Black Lives Matter protest in Orange County, California, was photographed wearing patches with logos of the Three Percenters and the Oath Keepers — far-right militant groups that often challenge the federal government's authority — affixed to his bulletproof vest. After an activist group publicized the photograph, the sheriff said it was "unacceptable" for the deputy to wear the patches and placed him on administrative leave pending an investigation.
A 13-year veteran of the Chicago Police Department is under investigation after photographs surfaced that showed him wearing a face covering with a Three Percenters' logo while on duty at a protest, though a supervisor was pictured with him at the scene and apparently did not complain. The officer had reportedly been the subject of several previous misconduct lawsuits, including an excessive use of force suit following a nonfatal shooting. The city of Chicago paid $400,000 to settle those suits.
In Salem, Oregon, a police officer was recorded on video asking heavily armed white men dressed like militia to step inside a building or sit in their cars while the police arrested protesters for failing to comply with curfew orders, "so we don't look like we're playing favorites." After a public outcry, the Salem police chief apologized for the appearance of favoritism, but determined the officer was only trying to gain the militants' compliance with the curfew.
A police officer in Olympia, Washington, was placed under investigation for posing in a photograph with a heavily armed militia group called Three Percent of Washington. One of the militia members posted the photograph on social media, claiming that the officer and her partner had come over to thank them as they guarded a local shopping center.
In Philadelphia, police officers stood by and failed to intervene when mostly white mobs armed with bats, clubs, and long guns attacked journalists and protesters. The district attorney has vowed to investigate the matter. The following month, however, Philadelphia police officers openly socialized with several men wearing Proud Boys regalia and carrying a Proud Boys flag at a "Back the Blue" party at the Fraternal Order of Police Lodge.
The affinity some police officers have shown for armed far-right militia groups at protests is confounding given that many states, including California, Illinois, Oregon, Pennsylvania, and Washington, have laws barring unregulated paramilitary activities. And it is most troubling because far-right militants have often killed police officers. The overlap between militia members and the Boogaloo movement — whose adherents have been arrested for manufacturing Molotov cocktails in preparation for an attack at a Black Lives Matter protest in Nevada, inciting a riot in South Carolina, and shooting, bombing, and killing police officers in California — highlights the threat that police engagement with these groups poses to their law enforcement partners.
If you do not know what the Oath Keepers and Three Percenters are, the Anti-Defamation League has an excellent explainer, The Oath Keepers (excerpt):
The Oath Keepers are a large but loosely organized collection of anti-government extremists who are part of the broader anti-government "Patriot" movement, which includes militia and "three percenter" groups, sovereign citizens, and tax protesters, among others. What differentiates the Oath Keepers from other anti-government extremist groups is that the Oath Keepers explicitly focus on recruiting current and former military members, police officers and firefighters (although they accept anyone as members).
The ideology of the Oath Keepers most closely resembles that of the militia movement, whose adherents believe that the United States is collaborating with a one-world tyrannical conspiracy called the New World Order to strip Americans of their rights—starting with their right to keep and bear arms. Once Americans are rendered defenseless, the theory goes, they too will be enslaved by the New World Order.
The Oath Keepers aim much of their propaganda at military and police, reminding them that they swore an oath to defend the Constitution "from all enemies, foreign and domestic" and asking them to pledge to disobey unconstitutional orders they might get from superiors—orders that explicitly or implicitly refer to various militia-related conspiracy theories, such as mass gun confiscation or rounding up Americans to put them in concentration camps. Each theory relates to the notion that the United States government is falling under global governance and will at some point use police and military members to enforce the New World Order's dominance. The Oath Keepers urge military and law enforcement personnel to step up to stop the conspirators.
Founded in 2009 by Stewart Rhodes, a Montana attorney and Army veteran who acts as the group's main mouthpiece, the Oath Keepers are essentially a current and more successful version of a similar 1990s group, Police Against the New World Order, started by retired police officer Jack McLamb, who died in 2014. McLamb warned of post-cold war chaos perpetrated by an elitist-controlled New World Order, while Rhodes warns of an insidious global oligarchy bent on destroying America's constitutional republic.
The number of active duty police and military personnel who have admitted to being Oath Keepers is quite small; the number of closeted members may be larger but is still probably relatively small. The Oath Keepers have had more success in recruiting former military personnel, a much larger manpower pool to draw upon. They have also recruited people already involved in the anti-government extremist movement. Many Oath Keepers do not have any current or former ties with military, police, or first responders. Many more people identify with or support the Oath Keepers without ever officially joining (which requires paying dues).
The Oath Keepers claim to have tens of thousands of members. It seems clear that they do not have anywhere near that number of members, but they do have at least a couple thousand, which makes them one of the largest anti-government extremist groups in the U.S., larger than any militia group. Though there is a formal national leadership, on the local level many Oath Keepers are essentially self-organized, forming official, semi-official or informal groupings of Oath Keepers in specific, sometimes even overlapping, geographic areas.
There is a lot of overlap between people who belong to or support the Oath Keepers and people who support the very similar but even more loosely organized "three percenter" movement, an anti-government movement whose adherents think of themselves as standing up to the federal government as American revolutionaries once stood up to the British government. There is also overlap between some individual Oath Keepers and various militia groups.
The Oath Keepers can claim at least two Republican members running for the Arizona legislature (there are likely more, so research your legislative candidates). Anti-government extremist militia types running for a seat in government should set off alarm bells.
The Phoenix New Times reported last year, From Charlottesville to Oath Keepers, Rep. Mark Finchem Is a Fringe Lawmaker: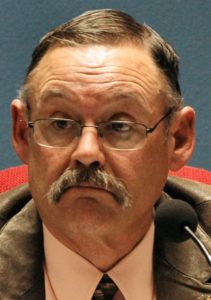 Arizona Representative Mark Finchem called the white supremacist rally in Charlottesville a [QAnon] "Deep State" operation facilitated by the media and Democrats in a 2017 blog post on his campaign website.
And although his article was riddled with misleading and false information, for Finchem, the blog post is not out of character. The Republican legislator frequently traffics in ideas common on the far-right political fringe. He has described himself as a member of the Oath Keepers, an antigovernment militia movement, and sponsored legislation that would allow Arizona to ignore U.S. Supreme Court rulings.
In the August 15, 2017, blog post, Finchem denied that members of the American far-right were behind the violent "Unite the Right" rally, where one person was murdered and dozens injured by a neo-Nazi who rammed his car into a group of counterprotesters.
* * *
To support his argument, Finchem pointed to a story on a conservative news website, which stated that "Unite the Right" rally organizer Jason Kessler supported Obama and the Occupy Wall Street movement.
Finchem's blog post echoes a common conspiracy theory circulated in fringe conservative media outlets after the rally turned deadly, framing Kessler as a government operative or Democratic plant who orchestrated the Charlottesville rally.
Although Kessler voted for Obama in 2008 and attended a 2011 Occupy protest in Charlottesville, his evolving political views on race and "white identity" during Obama's second term brought him into the circle of the alt-right by the time Donald Trump won the presidency in 2016, according to the conspiracy-debunking website Snopes.
In his blog post, Finchem twice referred to Charlottesville as a PSYOP, a military term for "psychological operations" commonly used by conspiracy theorists.
"This is clearly a PSYOP to impugn those of us who stand for the rule of law and civil rights," Finchem wrote. "Kessler's fictitious association is more like a parasite barnacle on the side of a ship, useless and unwanted."
"[This] has Deep State PSYOP written all over it," Finchem wrote in another instance.
* * *
Finchem is a former police officer and firefighter paramedic from Kalamazoo, Michigan, who now works as a realtor. A conservative Republican from Oro Valley, Finchem was first elected to represent District 11 at the Legislature in 2014.
His 2017 blog post on Charlottesville is not the first time Finchem has waded into feverish theories. Another article on his campaign website describes Obama as "taking every opportunity to install his ideological, totalitarian dictatorship."
* * *
During his first campaign for the House of Representatives in 2014, Finchem told a local news outlet in a candidate Q&A that he is "an Oath Keeper committed to the exercise of limited, constitutional governance."
On his Facebook page in September 2014, Finchem promoted an upcoming Tucson Oath Keepers event at a restaurant, where attendees would discuss the formation of teams in the Oath Keepers' so-called Community Preparedness or Civilization Preservation Teams (CPT), with the goal of organizing militias for civil defense and survival during a disaster situation.
Finchem wrote, "This meeting will be to discuss how we will implement the CPT program in the Tucson, Green Valley and Nogales area and to find and identify Oath Keepers OR PROSPECTIVE Oath Keepers who have the requisite skills to help people get their communities better prepared for a time of crisis."
These people would have skills useful in a disaster or "grid down scenario," Finchem wrote, including medical personnel, carpenters, and people skilled in communications or search-and-rescue.
Three months later, Finchem published another Facebook post sharing a blog post from the Oath Keepers website, "The Ferguson Conundrum Solved by Community Security."
"Are you active duty or retired military or law-enforcement?" Finchem wrote. "Your community needs you."
The bio of his campaign Twitter account, which has been inactive since 2016, includes the line, "Protect State Sovereignty, Join Oath Keepers!"
Finchem did not answer detailed questions about his 2017 blog post on Charlottesville and his Oath Keeper membership.
This guy is nuttier than a jar of Planters mixed nuts. Yet if District 11 foolishly reelects him to the Arizona legislature, Finchem plans to challenge Rusty Bowers for House Speaker. Oh, HELL No! Then he is not just District 11's problem, he is all of Arizona's problem.
Finchem's campaign web page says that he is endorsed by the Arizona State Troopers Association.
Then there is the perennial Republican candidate still trying to win a race, Wendy Rogers, running for the LD 6 Senate seat. American Ledger reports, Arizona GOP State Senate Candidate Wendy Rogers Member of Extremist Oath Keepers Militia: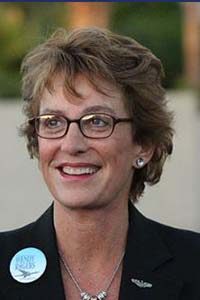 Wendy Rogers promoted her Oath Keepers membership in a campaign advertisement during her failed 2018 congressional campaign. Facebook removed the ad because it violated their policies.
The Oath Keepers recently criticized the arrest of the gunman who shot and killed two protestors in Kenosha, Wisconsin, but their history of inflammatory remarks and dangerous views goes back years. The group's founder once said that Senator John McCain was a traitor who should be "hung by the neck until dead" and the group urged its members to arm themselves in order to investigate an unhinged child trafficking conspiracy theory.
One of the Oath Keepers' organizing beliefs is the fantasy that America will be taken over by a New World Order socialist regime and that all patriots must remain vigilant. The group claims their membership includes tens of thousands of current and former law enforcement officials and military veterans, making their militia-posturing and calls for vigilantism more dangerous.
As she seeks to represent everyday Arizonans in the state Senate, Rogers has failed to disavow her affiliation with this extreme, anti-government militia.
Rogers's campaign web page says that she is endorsed by the Arizona Fraternal Order of Police (AZFOP).
The police unions really need to be more discriminate and judicious with their endorsements.