The journal ProPublica has revealed that the Navajo Nation, along with other tribal communities, has received, at inflated prices, one million respirator masks that did not meet Food and Drug Administration guidelines.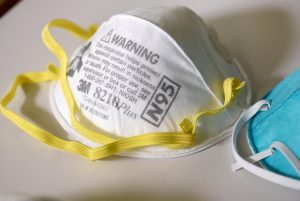 The transaction is increasingly questionable because the company that sold the inferior respirator masks is owned by Zach Fuentes, a former Deputy Chief of Staff who secured the contract in a "limited bidding" process eleven days after he formed the vending organization.
Words that immediately spring to mind are cronyism, nepotism, corruption, war profiteer, scum, criminal enterprise, and other colorful metaphors or adjectives that can not be printed.
The reason Fuentes was able to sell the masks at an inflated $3.24 a mask to the Navajo Nation and other tribal communities is they were desperate for the medical supplies and he appears to have taken advantage of their need
There should be a special place in hell or jail for people like Mr. Fuentes.
Tribal nations like the Navajo Community have been among the hardest hit by COVID 19.
It is criminal that they, or any community, have been taken advantage of this way.
Az Central reporter Ronald Hansen has reported that Arizona Democratic Representatives Ruben Gallego, Raul Grijalva, and Tom O'Halleran have requested an investigation into Fuentes and what happened.
They, along with Arizona Senator Kyrsten Sinema and members of the New Mexico Congressional Delegation sent a letter to the Director of Indian Health Services, asking for more detailed information, including how Mr. Fuente's bid was considered and approved.
Please click here to view the letter.
Congressman Gallego commented on the matter to AZ Central, stating:
"It's symptomatic of two big problems with this administration. No. 1, their treatment of our Native American communities. Since this administration got here, they have been the most anti-Native American administration in modern times. But two, the corruption that exists within the Trump administration. For somebody who has zero experience with (personal protective equipment) and has zero experience with government contracting, … shows you a bigger problem."
Congressman Grijalva offered in the same AZ Central article:
"Instead of giving the Navajo Nation the assistance they need, this Administration continues to neglect tribes in dire need of masks in a healthcare system whose resources were already stretched thin. We cannot accept cronyism as a legitimate way to determine who gets an essential government contract—especially in a pandemic. That's why I've joined my colleagues to call for an investigation into this matter."
Representative O'Halleran offered his insights as well, relaying:
"It was obvious from this incident that the quality issue was a problem. That's why we should be having inspections on this stuff. "I clearly don't understand how you put together a business in 11 days and get a $3 million contract when you're first starting up your business and not to have had some insight. We have a contract process that needs to be followed."
Captain Mark Kelly, the Democratic Candidate for the United States Senate issued a statement on the inferior masks. He wrote:
"Today, ProPublica reported that Indian Health Service hospitals on the Navajo Nation were sent hundreds of thousands of potentially faulty personal protective masks. The masks were procured from China by a brand new company run by a former White House aide with no federal contracting experience after limited competitive bidding, according to ProPublica."
"The Navajo Nation is facing the worst coronavirus outbreak in the country, Navajo leaders are doing everything in their power to take care of their community, and the federal government continues to fail them," Mark Kelly. "This failure needs to be investigated, and effective personal protective gear needs to be routed to the Indian Health Service and the Navajo Nation now to safely treat COVID-19 patients and slow the spread of the virus."
Colonel Felicia French, a candidate for the State Senate in Arizona Legislative District Six who is spending time helping the people on the Navajo Nation combat the Coronavirus, wrote:
"One of my roles as a military commander in the Arizona Army National Guard was to procure medical equipment and supplies. I had to follow strict protocols and policies whenever we awarded contracts to private companies. Rules were created to prevent special treatment from being given to family, friends and personal associates during the procurement process and I had to maintain the highest standards to avoid possible conflicts of interest."
"To see a company, that was cherry-picked for its political connections, provide defective Personal Protection Equipment (PPE)—not only increasing the risk of illness and death for frontline healthcare workers, but also targeting a community already devastated by the pandemic—violates the most basic standards for accountability and amounts to criminal negligence."
"While I served as an Army commander procuring medical supplies, any private firm fulfilling a government contract had to prove the quality of their products. In addition, whenever possible, we gave priority to U.S.-based manufacturers, in order to "Buy American" (the substandard respirator masks provided by Zach Fuentes' company were produced in China)."
"Moreover, I would have never even considered awarding a contract to a company less than two weeks old, and without any track record for the quality and efficacy of its medical supplies."
What kind of government would sell defective supplies to its citizens?
One that does not deserve to be in charge anymore.
Please remember:
Primary Election Day is on August 4, 2020, and General Election Day is on November 3. 2020. Please see the below graphic for all-important voting dates. 
Please check your voter registration at myarizona.vote.
Register/sign up for the Permanent Early Voting List (PEVL) in Arizona or any state that allows early or absentee balloting and mail. Arizona residents can sign up at myarizona.vote. 
Arizona residents, mail your General Election ballot by October 28, 2020, for the November 3, 2020 election.
Check-in with the Secretary of State's office where you live to verify your mail-in ballot was received, processed, verified, and counted.
Know the voter ID requirements in your state.
If you can, support Clean Election Candidates with a small contribution.
Also, please remember to stay informed on all the candidates and vote for all the offices on the ballot.
Also, remember to research all the ballot initiatives, sign to get them on the ballot if you support the measure, and vote on them as well.