You may recall that in May 2018, A federal judge in New York ruled that President Trump may not block users from following his Twitter account because the social media platform is a "public forum" protected by the First Amendment. Donald Trump cannot block critical Twitter users, court rules:
"Blocking of the individual plaintiffs as a result of the political views they have expressed is impermissible under the First Amendment," Judge Naomi Reice Buchwald wrote in the decision.
"While we must recognize, and are sensitive to, the president's personal First Amendment rights, he cannot exercise those rights in a way that infringes the corresponding First Amendment rights of those who have criticized him," she wrote.
The Justice Department filed an appeal to the 2nd U.S. Circuit Court of Appeals in Manhattan. The Justice Department at oral argument in March 2019 argued that Trump acts as private citizen when blocking Twitter followers. But a panel of Manhattan federal appeals judges reacted with skepticism to Justice Department arguments that President Donald Trump should be free to block followers from his Twitter feed because it's a personal account, not a public forum. Appeals court hears arguments on Trump's Twitter blocks. The judges didn't say when they will rule.
In January 2019, the 4th U.S. Circuit Court of Appeals in a 3-0 decision ruled that a Virginia politician violated the Constitution by temporarily blocking a critic from her Facebook page, a decision that could affect President Donald Trump's appeal from a similar ruling in New York. Politicians cannot block social media foes: U.S. appeals court:
[T]he 4th U.S. Circuit Court of Appeals said Phyllis Randall, chair of the Loudoun County Board of Supervisors, violated the First Amendment free speech rights of Brian Davison by banning him for 12 hours from her "Chair Phyllis J. Randall" page.
The ban came after Davison had attended a 2016 town hall meeting, and then under his Facebook profile "Virginia SGP" accused school board members and their relatives of corruption and conflicts of interest. Randall had also removed her original post and all comments, including Davison's.
Circuit Judge James Wynn rejected Randall's argument that her Facebook page was a private website, saying the "interactive component" was a public forum and that she engaged in illegal viewpoint discrimination.
Davison's speech "occupies the core of the protection afforded by the First Amendment," Wynn wrote.
The decision by the Richmond, Virginia-based appeals court upheld a 2017 ruling by U.S. District Judge James Cacheris in Alexandria.
Davison's case was the first of its kind at the federal appellate level, and other courts could cite it as precedent.
Blog for Arizona has been contacted by a reader, Trevor Nelson, who informs us that "Many of my Twitter friends have been blocked by Arizona State Representatives and State Senators, which is a violation of the First Amendment."
I am in no position to independently verify his claim. Perhaps some of you have had a similar experience with elected state legislators on Twitter? If so, please share your experience in the comments, or you can email the blog with your experience if you do not wish to post in comments. Please direct your email to Michael Bryan. If this is happening, the public has a right to know.
Disclaimer: The following is a reader submitted commentary by Trevor Nelson, at the request of our Fearless Leader here at the blog, Michael Bryan.
****
Politicians in the Digital Public Square
By Trevor Nelson (A non-lawyer)
Twitter – @skidadesert
"Congress shall make no law respecting an establishment of religion, or prohibiting the free exercise thereof; or abridging the freedom of speech, or of the press; or the right of the people peaceably to assemble, and to petition the Government for a redress of grievances." – First Amendment to the Constitution of the United States of America.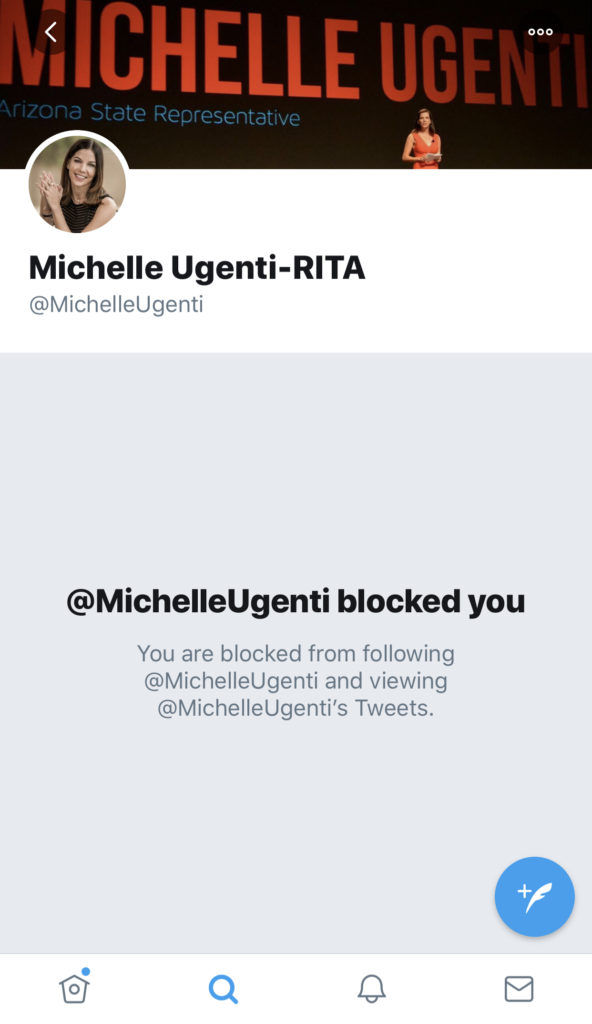 Social media has taken the public square online, and the First Amendment has followed. There are rules and norms to follow in a real public square, and they apply in the digital realm, as well. Government officials increasingly use their social media accounts for political purposes. What rights do citizens have against government officials who ban or block them in social media?
First, government officials do NOT lose their First Amendment rights when taking office, but they do face duties toward the public when the act on behalf of government. The elected official retains their freedom of expression, but their social media channel also provides a means for the public "to petition the Government for a redress of grievances."
Vera Eidelman, Staff Attorney at the ACLU, gives us 3 tests that federal courts have indicated need to be passed as part of digital social media decorum. Can a Government Official Block You on Twitter?
When an elected official opens a social media channel for public discourse, she cannot stop (block) people from joining merely because they express a different view, or challenge what has been shared.

 

If the government official allows individuals to ask for help with government services through the social media channel, then she cannot block the public from doing so, too.

 

You cannot be blocked from seeing a social media post because of your viewpoint on a social media channel used to share government information.
If you have been" blocked" by a public official, especially if they are elected to represent you in the government, here are some simple steps to take: 
Look up the phone number, contact information, and address of the branch of government for the government official for use in later steps.
Write a letter to the government office address stating you would like the elected official to unblock you on the specific social media platform.
Make a Phone Call and call their government office phone number listed on their official website. Tell them you would like to speak to the official regarding your freedoms to free speech and petition the government. Request whomever answers to write down your detailed message and hand deliver the note to the official. Request a call back from the office and allow for them to state the date and time you should expect a reply. If they do not volunteer one, mention you will be calling back in a few days to follow-up, and do it. If they give you an option to also leave a voicemail, leave a detailed one. 
Set a meeting. Call to set up a meeting at their office. Some offices have open office hours, some require an appointment. Tell them this meeting is in regard to violations of your First Amendment rights. On the day of the appointment, dress up for the meeting to show how serious you are, as this is a serious matter. Bring a copy of your letter as guidance to help you stay on your talking points and leave a signed copy with them. Keep the dialogue civil and respectful, or you may give them reason to block you.
Do NOT openly threaten a lawsuit or threaten to bring this up to the media. Threats will not get you anywhere in the conversation and can actually limit any future chances of a lawsuit. In the event they still want to block you, there are additional steps to take, including contacting the ACLU, a higher up government official including the Attorney General, the chairman of their political party, the local district or county chairman of their political party, or the person seeking to run against them in the next election. 
If you do successfully get unblocked by a government official, continue to be respectful as you post your opinions. "Obviously, you can't go and harass or threaten your local agency, but you do have free rein otherwise to make your point," says Alan Greenblatt (Governing.com), Sorry Politicians, You Can't Block Critics on Twitter.
As our democracy increasingly moves online, remember the U.S. Constitution applies with no less force than in the real world. 
If you want to get more involved and fight for the First Amendment rights of everyone consider joining up the fight. ProPublica has some excellent instructions on how to leverage the Freedom of Information Act to bring this issue to light. Here's How to Find Out If Your Elected Officials Are Blocking Constituents on Facebook and Twitter.
Born and raised in Anchorage, Alaska, Trevor Nelson volunteered on many political campaigns at a young age and was a high school summer intern for Senator Ted Steven before moving to Prescott, Arizona to attend university. Trevor graduated from Northern Arizona University in 2005 with a Bachelor Degree in Elementary Education with a focus on Middle School Science. Teaching Middle School Science for 8 years in Phoenix and Surprise, Arizona, Trevor left the classroom to eventually find a career in Marketing. Trevor is a direct descendant of Thomas Nelson Jr., signer of the Declaration of Independence. As an active member of the Republican Party for 18 years, Trevor has been without a party since November 2016 and is registered "No Party Affiliation". 
****