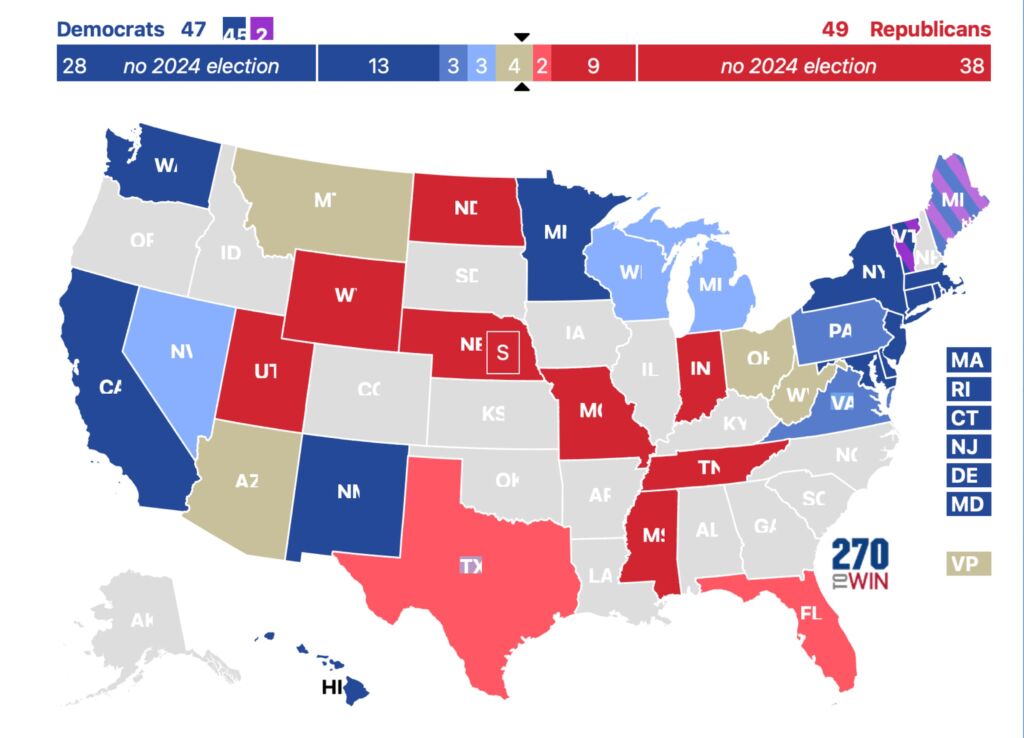 The path to Democrats keeping our majority in the U.S. Senate in 2024 runs right through Arizona. Democrats are defending 22 seats, while the GOP is only defending 11, so this cycle will be a tough one for us. However, only 7 states are really in play for Democrats: 4 battlegrounds – Arizona, Montana, Ohio, and West Virginia – and three swing states – Nevada, Wisconsin, and Michigan. Democrats must succeed in at least 6 of these 7 states (assuming we keep the Vice Presidency) in order to hold a majority, or all 7 to keep our current margin, or compensate for a loss of our VP tie-breaker vote (God forbid!).
Right off the bat, I'll admit we are VERY early with over 20 months to go before voting, so we can't be too definite about ANYTHING at this point. But, from what we do know thus far, I feel confident in our chances to defend our incumbent seats in Nevada and Wisconsin. I'm less confident about Michigan, where we have a retiring incumbent, but a strong candidate with good fundamentals in the state. I'm less confident in the four battleground states, Arizona among them.
Let's break it down by state, starting with Arizona
Arizona will be one of the most hard-fought and most interesting Senate races in the nation. Effectively, we really do not have an incumbent, since Senator Sinema left the Democratic Party, from which she was elected as our nominee. She has some of the powers of incumbency – she has an established fundraising network to whatever extent that is not tied to the Democratic Party, and she has superior access to unpaid media due to her office – but she does not have a major party backing her, and the presumed good-will of roughly half the electorate that confers.
Early polling of the race with some theoretical matchups show that Sinema has no realistic path to re-election. Sinema trails in third place behind Gallego as the Democratic nominee and all the potential GOP candidates. Of course, the poll has a 3-point MoE and a high degree of undecideds this far out, so one could speculate that a great plurality of undecides will settle on Sinema and thereby convince oneself Sinema still has a shot.
And to be fair, while Gallego is leading in every case, he certainly is far from sealing the deal with a 50%+ win number, but the position he is in this far out is certainly enviable and promising for Democratic hopes. Gallego is also has a net favorability score. Maybe Ducey retains a net favorable score, but he's not listed in the crosstabs (Excel download), so it's unknown – but I suspect Ducey's underwater with both Dems and Repubs, so I judge it unlikely.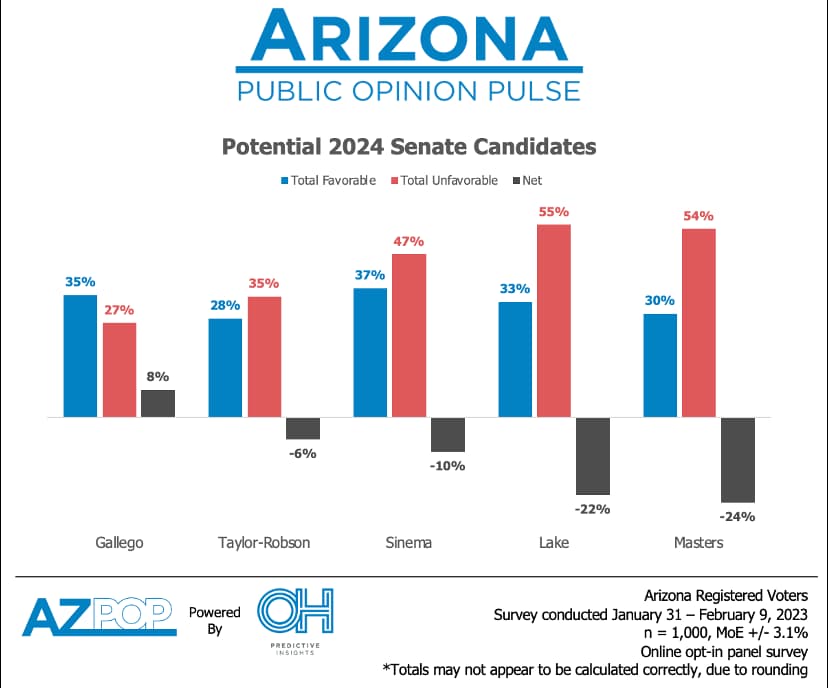 Sinema and the GOP candidates have degraded their brands: Sinema by completely alienating her own party, and the Republicans with their overt election-denying nonsense that has destroyed their credibility with… well, everyone but the deluded MAGA base.
Sinema seems to have engineered her own political suicide through wholly unforced errors. A combination of arrogance, extreme self-regard, and belief in her own bullshit seems to have led her to to believe that she really could forge an independent political identity that could surmount challenges from both the left and the right. Arizona may love a maverick, but we don't care much for traitors. Sinema seems destined to be a cautionary tale of American politics, not a model for a third-way politician to succeed.
In summary, Democrats have a tough race ahead, but Sinema appears to be a political zombie, and anyone in the AZGOP field who might have a chance of competing in the General Election couldn't get nominated, and everyone who might get nominated would get creamed in the General. In the end, I would bet on Democrats to keep (…retake?) this seat.
Montana
Senator Tester is undoubtedly the strongest possible Dem candidate for Montana, being an incumbent and very well-suited personally to his state. Tester will likely face a strong challenger from the GOP. If he is facing Governor Gianforte or Secretary Zinke he has the best possible chance, since both men are tainted by past scandals and personality issues. Congressman Matt Rosendale was the GOP candidate last cycle and might be the strongest possible GOP candidate this cycle, along with Attorney General Knudsen. Both men are very conservative, with Rosendale being a member of the Freedom Caucus and the Republican Study Group, but neither man has the personal ethical issues (and let's just call it assholery?) that would dog Gianforte or Zinke. It will be a very tight race due to the state's poor fundamentals for Dems, but the selection of the GOP nominee could well make the few points of difference that swings the election. If the GOP primary electorate is in the mood for a firebrand MAGA nominee with baggage like Gianforte or Zinke, it could make all the difference.
Ohio
Similar to Montana, Democratic incumbent Senator Sherrod Brown is certainly the strongest Dem candidate possible. While the state has poor fundamentals for a Democrat, as demonstrated by Tim Ryan's 2022 loss to JD Vance (despite Ryan having run a brilliant campaign and Vance being an utter fraud and turd), Brown has run tough campaigns in the past and has a strong sense of what it takes to appeal to his Ohio electorate. Luckily, the GOP lacks a very strong candidate thus far: 2012 nominee Josh Mandel has thus far declined to run, and the possible others, including Congressman Davidson, Secretary of State LaRose, and state Senator Matt Dolan are midtier competition for an established and popular incumbent like Brown.
West Virginia
West Virginia may be the most challenging state for Democrats to hold other than AZ among the battlefield states. Senator Joe Manchin is a weak incumbent who has done a lot to alienate his party, demonstrated a penchant for self-dealing behavior in office, and held up major priorities of the Biden Administration. His base is weak and the state's fundamentals for a Democrat are terrible. As a result, Manchin may pull a very strong challenger like Governor Justice, or Attorney General Morrisey and be in serious jeopardy of losing his seat. I judge Manchin's reelect to be the toughest lift of the cycle.
Nevada and Wisconsin
I can dispose of these swing states together because both have popular incumbents in Jacky Rosen and Tammy Balwin, both with strong incumbency advantages, an activated Democratic base, decent state fundamentals for Democrats, and second-string GOP challengers. Both states are very likely to remain in Democratic hands at this point, in my opinion.
Michigan
Among the three swing states, Michigan will be the biggest challenge for Democrats. With an incumbent like Senator Stabenow retiring, the incumbent party is always challenged to keep the seat. Luckily, we have a strong early favorite in Rep. Elise Slotkin, and an interesting possible Democratic nomination challenge with definite star power in the form of Hill Harper of 'CSI:NY' and 'The Good Doctor'. The potential GOP candidates are all decidedly 3rd rate and don't appear to offer a compelling alternative. If Michigan remains in the Democratic column for President, I don't think Democrats will have much trouble retaining this Senate seat, too.