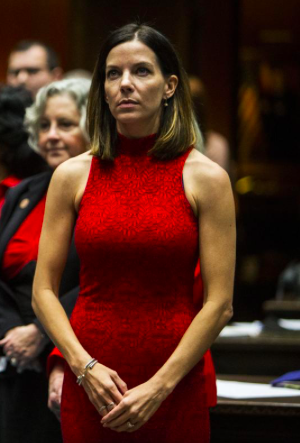 Arizona's new reigning Queen of Voter Suppression, Sen. Michelle Ugenti-Rita, has run into a bit of trouble in her latest voter suppression effort.
SB1046 would require voters who request a ballot by mail to return it by mail. If not, they'd be required to go to a polling place and vote in person, rather than have the option to drop off the mail-in ballot at election sites across the state.
The bill was the subject of fierce debate in the Senate on Wednesday before senators took a voice vote to advance the bill one step further in the legislative process (COW vote), but the Arizona Capitol Times reports the Early voting change is short on votes:
While the Arizona Senate took another step towards banning voters from dropping off their mail-in ballots at polls, the measure is effectively dead due to opposition from two Republicans.
Sens. Heather Carter and Kate Brophy McGee are opposed to SB1046, which require voters who request a ballot by mail to return it by mail. If not, they'd be required to go to a polling place and vote in person, rather than have the option to drop off the mail-in ballot at election sites across the state.
Some 228,000 mail-ballots were dropped off at polling sites on the day of the 2018 general election, and both Carter and Brophy McGee said they object to barring that long standing practice in Arizona elections. Carter, a Cave Creek Republican, acknowledged that she's one of those voters who delivers her mail in ballot by hand.
"The analogy someone used with me is toothpaste back in the tube," Brophy McGee, R-Phoenix, told the Arizona Capitol Times. "People are used to doing it that way, they want to do it that way. I'd love to find a way to be mree efficient, but this isn't the way to get there."
Brophy McGee also cited testimony from county recorders, the officials responsible for running elections, that contradicted the core rationale offered by Sen. Ugenti-Rita to sponsor SB1046 – that requiring ballots to be mailed back would expedite the process of counting ballots.
"My understanding is that it will not save time," Brophy McGee said.
Combined with the unanimous opposition from the Senate's 13 Democrats, that leaves Ugenti-Rita, R-Scottsdale, one vote shy of the 16-vote majority needed for a bill to be approved in the Senate.
Of course, it would only take one of these GOP senators to change her mind to vote in favor. Stay tuned.
The Queen of Voter Suppression was successful in advancing SB1188, her bill to make the Permanent Early Voting List (PEVL) not so permanent by purging infrequent voters. As with her early ballot bill, the Senate Judiciary Committee also approved her purge bill by a 4-3 party-line vote. The Arizona Capitol Times reports Committee moves bill to purge permanent early voting list:
Signing up to receive a ballot by mail in Arizona, a system known as the Permanent Early Voting List, may no longer be as permanent as the name suggests.
Voters who don't participate in at least one of the primary or general elections in two consecutive election cycles would be purged from that list under a proposal by Sen. Michelle Ugenti-Rita, R-Scottsdale.
They'd still be eligible to vote, but would either have to cast a ballot in person or re-register for PEVL to again receive a ballot by mail.
This is completely ass backwards. Arizona should be joining the fifteen states and the District of Columbia which have approved Automatic Voter Registration.
In addition, sixteen states plus the District of Columbia allowed Election Day voter registration with proper identification in 2018. Maryland became the 17th state last November when voters approved a ballot measure by 67 percent. Election Day Voter Registration Goes Into Effect In Maryland.
Once an eligible citizen is on a state's voter rolls, a voter should remain registered to vote and his or her records should move with the voter (portability) so long as he or she continues to reside in that state. 20 states currently or will soon have systems of portable voter registration that allow registered voters who move to cast valid ballots even if they do not update their registrations before Election Day.
Arizona, however, is moving in the opposite direction, intent on becoming a backwater of voter suppression where Republicans are continuously looking for new ways to limit the number of voters and to discourage citizens from voting. Arizona is already among the worst states for citizen participation in elections. Arizona elections have horrendous voter turnout.
The inconvenience of being purged from the early-voting list versus the convenience of alternative voting methods was the subject of fierce debate, primarily between citizens who testified against the bill and Sen. Eddie Farnsworth, the chair of the Judiciary Committee. The Mesa Republican repeatedly told those who testified that their arguments that voting options would be limited were inaccurate given the other options they'd still have to cast a ballot.
Sen. Farnsworth said he was dumbfounded by opposition from Secretary of State's Office, the Arizona Association of Counties and county recorders who told lawmakers the bill was unnecessary, and accused those who were opposed to the bill of "making excuses for voters by claiming they're being inconvenienced."
* * *
Farnsworth described his own ease of voting in person at early voting sites as an example of an alternative voting method if someone is purged from PEVL.
But several voters who testified before the committee described how their own personal voting experiences differ from what Farnsworth described as his own.
Elizabeth Thorley said it's difficult for her to vote, be it by mail or in person, due to a disability and sensitivity to light that can make it unhealthy to simply go outside. Rebecca McHood, who described herself as a civic-minded Mormon mother, noted that when her children are sent on missions, they are likely to be purged from PEVL while serving for 24 months outside the state or in another country.
Farnsworth, who's also Mormon, said they could easily re-register for PEVL once they return to Arizona.
"You don't think that's inconvenient for anyone," McHood said, to which Farnsworth replied "no."
"Wow, good for you, neat," McHood said.
Attorney Don Johnsen echoed the concerns of the League of Women Voters, which cited statistics that roughly 80 percent of the 3.7 million registered voters in Arizona get their ballot by mail. It's unknown how many would be impacted because they don't participate in elections as frequently as SB1188 requires, and Johnsen added that it's unknown what their personal experiences with voting are.
"People may not see as many convenient ways to vote as the chairman does," Johnsen told the committee.
Though the bill advanced Republicans promised some changes.
While Ugenti-Rita's said it's her intent that participation in any one of four elections over a two year period would ensure a voter remains on PEVL, as written, the threshold for voting is far stricter – the bill states that voters must participate in both a primary and general election, not either, an issue acknowledged by the sponsor. Ugenti-Rita told the committee she'd offer an amendment on the Senate floor to clarify the language.
County recorders were also concerned that there's no requirement that voters be notified before their names are purged from the early-voting list. But Ugenti-Rita said she didn't address the issue in her bill in order to leave it to local elections officials to decide if and how they would try and contact voters.
I would suggest you amend the bill to add this requirement, senator.
Finally, there is this bit of nuttiness for the "voter fraud" fraud conspiracy theorists so prevalent in the Arizona GOP, especially since this past November. Bill gives recounts to anyone who can pay:
If you can afford it, then you can get a recount.
At least that's what could happen in the 2020 election cycle if lawmakers approve SB1484, a bill sponsored by Sen. J.D. Mesnard that would allow anyone to call for a recount of any election in Arizona, so long as they can pony up the cash to pay elections officials to conduct it.
There's no restriction on who can demand a recount, and no limit on which elections would be subject to a recount.
Mesnard, R-Chandler, said "widespread angst" and "irritation" about election results in 2018 prompted his proposal, particularly Republican discontent with election results that favored GOP candidates on election night, but turned in favor of Democrats as ballots were counted post-election day.
"I'm not making any accusations," Mesnard said. "But I did hear from a lot of people who had their questions or doubts, and that troubles me."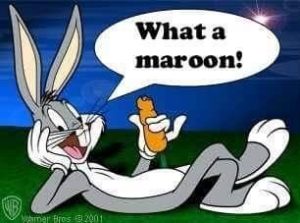 So Mesnard wants to empower fringe conspiracy theorists to further delay election results with a frivolous recount? What a maroon!
Recounts are a scarcity in Arizona, thanks to state law that only triggers an automatic recount if the margin goes as low as one-tenth of 1 percent of the total votes cast for the top two candidates, or 200 votes, whichever number is lower. If fewer than 25,000 votes are cast in a race, that threshold drops to 50 votes.
The same 200 vote threshold also applies to ballot measures and constitutional amendments.
For legislators, the threshold is 50 votes. At the municipal level, the threshold is a mere 10 votes.
SB1484 would allow individuals to questions the results of the election "for their own piece of mind, if they're willing to put up the resources," Mesnard said.
* * *
[The] cost could be prohibitively expensive and limit demands for a recount to wealthy individuals or organizations. [There is no shortage of wealthy right-wing conspiracy theorists in Arizona.] The last statewide recount, triggered in 2010, cost between $150,000 and $200,000.
Mesnard said it's not his intent for recounts to be a tool used exclusively by the wealthy, but he doesn't favor the alternative: Increasing the threshold at which automatic recounts are triggered.
Going from one-tenth of one percent to one-half of one percent to trigger a recount — as many other states do — would be reasonable, but no, not for this Maroon. As Laurie Roberts of The Republic mocks, Sore losers, unite! Recounts on demand:
Seems to me it might be easier to simply nominate candidates who can appeal to the moderate middle in what is becoming an increasingly purple state.
But hey, go for it. A recount might not change the results. But maybe it'll  quiet the concerns of the fringe element that lays awake at night, wondering what manner of villainous plot is afoot.
Or probably not.