By now everyone has heard about Arizona's botched attempt to execute a prisoner, Joseph Rudolph Wood, by lethal injection with a cocktail of drugs that may or may not have been obtained legally by the state (Arizona was caught buying illegal black market drugs for executions in the past).  Execution of Arizona murderer takes nearly 2 hours.
This is not Arizona's first botched execution of a prisoner. Back in the day, Arizona still executed prisoners by hanging. And it was a botched execution by hanging that led Arizona to switch to the gas chamber at that time. Meet Eva Dugan, the last woman hanged in Arizona: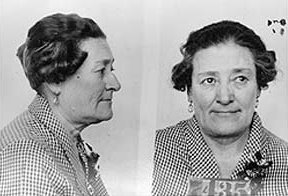 Eva Dugan was described as a free-spirited woman who, according to Time magazine, had worked as a cabaret singer and prostitute in Alaska during the Klondike gold rush. After living that frontier lifestyle for years, she turned her attention south to the state of Arizona.
In 1927, Eva Dugan was in her early 50s and worked as a housekeeper for a wealthy reclusive rancher named Andrew Mathis. He was demanding, cranky and cheap. Eva had only worked two months for Mathis when neighbors reported him missing and became suspicious of Dugan, who had disappeared.
According to a book put out by the Pima County Sheriff's department, she was discovered living in White Plains, New York, and brought back to Arizona. It was almost a year after Mathis went missing that his body was found in a shallow grave near his ranch. Once prosecutors had the body, Eva was brought to trial for the murder of Mathis. She was convicted of first-degree murder and sentenced to death. Two doctors testified that since Eva had been syphilitic for 30 years, her mental state had been compromised.
Despite the medical testimony, jurors determined that Dugan was indeed sane, and plans for her execution continued. She defiantly told the jury "At least I'll die with my boots on."
With no desire to be buried in the prison cemetery, Dugan made and sold embroidered items so that she would have enough money to pay for a proper burial. She remained stoic, and even flippant, as she walked to the gallows. She sang the popular tune of the time, "I don't know where I'm going, but I'm on my way."  Due to a miscalculation on the executioner's part, when she fell through the trap and the rope snapped — she was decapitated!
Eva's head rolled within a few feet of the 60 witnesses — all of whom fled in terror.
On Feb. 21, 1930, Eva Dugan was the first — and last — woman to be legally hanged in the state of Arizona. Three years after the horror of her botched execution, Arizona switched from the rope to the gas chamber.
The Arizona Republic editorialized today that A moratorium on the death penalty is needed. Given the history of questionable practices by the Arizona Department of Corrections, I would have to agree that it is warranted and reasonable. Thoroughly investigate this matter, and decide the next steps based upon the facts.