Update to Democrats' Plan To Deal With Baby Formula Shortage; Republicans Only Want To Starve Immigrant Babies In U.S. Custody.
The Hill reports, House passes bills to address baby formula shortage:
The House on Wednesday passed two bills aimed at addressing a nationwide shortage of infant formula.
The main piece of legislation, sponsored by Rep. Rosa DeLauro (D-Conn.), would provide $28 million in emergency funding to the Food and Drug Administration (FDA) to beef up inspections of formula made at foreign plants and to guard against any future shortages by ensuring the agency is prepared for supply chain disruptions.
DeLauro's bill [the Infant Formula Supplemental Appropriations Act, 2022]  passed 231-192 in a mainly party-line vote, with only 12 Republicans going against the recommendation of party leadership and supporting the legislation.  [Four Republicans and one Democrat did not vote.]
The twelve Republicans who bucked House GOP leadership and voted for the legislation: Reps. Don Bacon (Neb.), Brian Fitzpatrick (Pa.), Anthony Gonzalez (Ohio), Trey Hollingsworth (Ind.), John Katko (N.Y.), Adam Kinzinger (Ill.), David McKinley (W.Va.), Tom Rice (S.C.), Chris Smith (N.J.), Michael Turner (Ohio), Fred Upton (Mich.) and Ann Wagner (Mo.).
On the SAME day, Republicans both held a press conference blaming Biden for the baby formula shortage *AND* voted against a bill that would ensure access to baby formula amid a shortage.

— Brian Tyler Cohen (@briantylercohen) May 19, 2022
House Minority Whip Steve Scalise (R-La.) sent out a memo on Wednesday whipping his members to vote "no" on the bill.
But even as Democrats praised the vote, it was unclear how quickly the bills would help families and increase the available supply.
Senate Republicans also seemed wary of spending new money, so the ultimate fate of the Democrats' biggest legislative effort to fix the formula shortage was uncertain.
Rep. Andy Harris (R-Md.) on the House floor characterized the legislation as "reckless spending."
"I rise in opposition tonight to H.R. 7790, the Infant Formula Supplemental Appropriations Act, a bill that just continues the majority's reckless spending spree without actually fixing the infant formula crisis this administration caused," he said.
So the Republican response is, "If this is going to cost money, perhaps we should let babies die and decrease the surplus population." How much is your baby's life worth to you? It's not worth anything to the GQP. The Democrats are doing everything they can to get your baby formula.
The legislation also includes funding for supply chain monitoring and money to prevent fraudulent products from reaching U.S. stores.
Democrats argued the FDA does not have enough resources to adequately inspect foreign manufacturers and make sure they meet agency safety standards. The $28 million in emergency funding would make sure the agency can handle those inspections quickly.
"The FDA plays a critical role in ensuring formula provides the full nutritional needs of infants and that it is manufactured in the safest way possible. We must ensure that a lack of funding is not a barrier to getting safe formula to parents and babies. The bill before us does just that," DeLauro said during debate on the House floor.
She said "an immediate need" exists to deliver infant formula to parents and families.
"In the wealthiest nation in the world, babies should not be at risk of going hungry. Parents should not have to play a guessing game and wonder if the food that they are giving their babies is safe," DeLauro later added.
The other piece of legislation [the Access to Baby Formula Act] would permanently loosen the restrictions on the types of formula that can be purchased by people in the federal low-income assistance program for women, children and infants. That bill passed with bipartisan support in a 414-9 vote, with all nays coming from the GOP. [Five Republicans and one Democrat did not vote.]
BREAKING: The House votes 414-9 in favor of a bill ensuring access to baby formula with low-income women, infants, and children (WIC) benefits during this shortage.

All 9 NO votes were Republicans, including Boebert, Gaetz, Gohmert, Gosar, Massie, and Marjorie Taylor Greene.

— Brian Tyler Cohen (@briantylercohen) May 19, 2022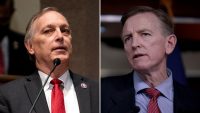 The only opposition to the legislation came from the GQP House Freedom (sic) Caucus, more accurately described as the GQP House Fascist Caucus: the no votes were Reps. Andy Biggs (Ariz.), Lauren Boebert (Colo.), Matt Gaetz (Fla.), Louie Gohmert (Texas), Paul Gosar (Ariz.), Marjorie Taylor Greene (Ga.), Clay Higgins (La.), Thomas Massie (Ky.) and Chip Roy (Texas). The GQP House Fascist Caucus votes against every Democratic bill with the desire to sabotage the Biden administation. And if your baby dies in the process, meh, that's just the breaks, baby.
GQP Reps. Debbie Lesko and David Schweikert somehow did vote for this bill.
About half of all formula in the U.S. is purchased by people in the WIC program, which relies on exclusive contracts with formula manufacturers. Abbott Nutrition products serve 89 percent of all infants participating in WIC. The legislation would let states substitute other brands or types of formula in the event of a recall or other type of disruption.
The formula shortages have been months in the making but only recently caught the attention of many members of Congress. Now facing pressure from frustrated families, lawmakers are finding no easy answers.
At least two House committees are investigating manufacturers and the FDA.
The scarcity is partly due to the closure of a manufacturing plant operated by Abbott Nutrition. The plant has been shut down since February, after four infants who consumed formula made there were hospitalized with a rare bacterial infection.
Abbott is one of the largest formula manufacturers in the country.
In other delopments, Biden invokes Defense Production Act to address infant formula shortage:
President Biden on Wednesday invoked the Defense Production Act to address the infant formula shortage in the United States.
The White House announced in a Fact Sheet that Biden would use the Cold War-era law to require suppliers to "direct needed resources to infant formula manufacturers before any other customer who may have ordered that good."
"Directing firms to prioritize and allocate the production of key infant formula inputs will help increase production and speed up in supply chains," the fact sheet said.
Additionally, the White House said Biden is launching "Operation Fly Formula" that will involve the federal government using Defense Department commercial aircraft to pick up baby formula from overseas that meets U.S. standards to get it quickly to American shelves.
In a letter to Health and Human Services Secretary Xavier Becerra and Agriculture Secretary Tom Vilsack, Biden said the action was needed to boost the supply of formula while domestic production ramps up. He ordered their departments to work with the Pentagon "over the next week" to use contracted aircraft to quicken imports of baby formula from overseas.
"Imports of baby formula will serve as a bridge to this ramped up production, therefore, I am requesting you take all appropriate measures available to get additional safe formula into the country immediately," Biden wrote.
The announcement followed calls from some Democrats like Sen. Kirsten Gillibrand (D-N.Y.) for Biden to invoke the Defense Production Act to address the critical shortage. A bipartisan group led by Rep. Josh Gottheimer (D-N.J.) introduced a resolution earlier Wednesday calling on Biden to invoke the law to increase domestic production of baby formula.
The law allows the president through executive order to direct private companies to prioritize the production of critical supplies in an emergency. Biden and former President Trump used the authority in the response to the COVID-19 pandemic.
The formula shortage occurred after an Abbott Nutrition was shuttered back in February over reports of babies falling ill after ingesting formula from the facility. The Food and Drug Administration (FDA), which has been investigating the plant, on Monday reached an agreement with Abbott on a path forward to reopening the plant in Sturgis, Mich.
The closure of the factory coupled with supply chain woes has spawned a nationwide shortage of baby formula that has left parents scrambling.
Officials have announced a series of actions, including new FDA guidance aimed at boosting imports of formula from abroad not typically sold in the U.S.
So hang in there babies, help is on the way, thanks to Democrats.