In our last episode, Let The Games Begin On The Arizona Independent Redistricting Commission, House Speaker Rusty Bowers in a power play before election day selected the first member of the Arizona Independent Redistricting Commission, David Mehl, a southern Arizona developer, as the first of two Republican commissioners.
Democratic attempts to delay the process until after election day, if not the seating of the new legislature in January – the customary practice in the two previous redistricting commissions – was rebuffed by the court.  The Arizona Capitol Times reported, Fernandez, rebuffed by judge, picks Shereen Lerner for IRC:
House Minority Leader Charlene Fernandez this afternoon picked Democrat Shereen Lerner to serve on the Arizona Independent Redistricting Commission, a decision that came only a few hours after a Maricopa County Superior Court judge denied a request from Democratic legislative leadership for a temporary restraining order to halt the nomination process.
Lerner, a professor of anthropology at Mesa Community College and historic preservationist who's active in Tempe civic life, wrote in her application that she had studied election systems from an anthropological perspective and was interested in applying that knowledge at the IRC.
"Shereen Lerner was far and away the most qualified candidate we interviewed, and I'm proud to select her for this vital role in our state's history," Fernandez said today in a written statement.
"Redistricting is an intense and highly challenging process that requires a combination of intelligence, communication skills and strength of character to succeed. That is exactly what Dr. Lerner will bring to the Commission."
"Creating fair and competitive legislative and Congressional districts that reflect Arizona's diverse population and communities of interest is an incredible responsibility, and I will carry out those duties to the best of my abilities at all times," Lerner said in a written statement.
This selection triggered Senate President Karen Fann's selection of the next Republican member of the Commission. The Arizona Capitol Times reported, Fann selects Republican Douglas York for IRC:
Senate President Karen Fann has selected Douglas York, a Republican from Maricopa County, to serve on the Arizona Independent Redistricting Commission, the Senate GOP announced today.
In a statement, Fann said that York, the president of an irrigation business, understands "the challenges Arizona faces in the next decade" and the growth patterns of the state.
In his application for the IRC, York wrote that he was motivated to seek the job in part because of his dissatisfaction with the outcome of redistricting in 2010.
"I am interested in beginning a new process that is fair for the state of Arizona," he wrote.
This is a red flag that this guy bought into the bullshit pushed by Republicans a decade ago that the process was somehow unfair to Republicans, a claim rebuffed by the courts in numerous lawsuits for lack of evidence. Douglas York apparently will play the sometimes divisive role of Richard Stertz during the 2010 Commission (for those of you who were there and recall the antics).
Fann chose to accelerate an already sped-up timeline — House Speaker Rusty Bowers began the process last week, earlier than at any point in the IRC's history, prompting an ongoing lawsuit from Fernandez and Bradley that stalled when a judge decided not to slow down the selection process.
And finally … retiring Senate Minority Leader David Bradley, D-Tucson, picked Derrick Watchman, a Democrat from Apache County. Senate Dem leader selects last partisan IRC member: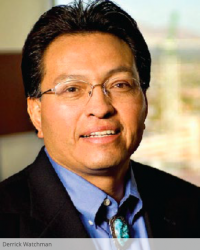 Senate Minority Leader David Bradley, D-Tucson, picked Democrat Derrick Watchman, from Apache County. Watchman is the first person from Apache County to ever be on the IRC, and the first member of the Navajo Nation.
Watchman was well-liked by the Commission on Appellate Court Appointments, and one of the top vote-getters after his interview last month. He now joins Pima County Republican David Mehl, a real estate developer; Maricopa County Republican Douglas York, a landscape CEO; and Maricopa County Democrat Shereen Lerner, an anthropology professor.
"We believe his experience as a leader in the business community gives him the consensus building skills that will make him successful in this very important role," Bradley said in a press release.
Having someone from the Navajo Nation, as well as representing a county outside Maricopa and Pima counties, was important not just for the Democrats, but for representation in Arizona since members on Indian reservations have been historically overlooked on decision-making in the state.
"Indigenous perspectives and values have never been adequately represented," Bradley said. "Every voter must have fair representation in our state and the ability to elect candidates that truly reflect and uphold their values."
In our next episode …
Mehl, York, Lerner and Watchman will now choose a nonpartisan chair, who will act as a tiebreaker for any deadlocked votes for the drawing of legislative and congressional districts next year. The five candidates they will select from are: Megan Carollo, a flower shop owner in Maricopa County; Thomas Loquvam, an attorney for EPCOR Utilities in Maricopa County; Erika Neuberg, a former psychologist in Maricopa County with political ties to both Republicans and Democrats; Gregory Teesdale, a businessman in Pima County; and, Robert Wilson, a gun store owner in Coconino County.
There is a pending lawsuit in court that House and Senate Democrats filed to have Loquvam and Wilson removed for being registered as a paid lobbyist and not a true independent, respectively.
The choice of the independent chair of the Arizona Independent Redistricting Commission will be critical to competitive district maps which recognize that Arizona is becoming a purple state in the coming decade.
The new commission website and the schedule of public hearings will not be available until next year.