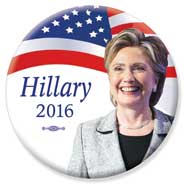 You would never know it based on some of the comments you have seen posted at this blog and our Facebook page, but now that the voters of Arizona have actually voted, it turns out that Arizona is "Clinton Country."
Hillary Clinton won the Democratic Presidential Preference Election over Senator Bernie Sanders by a decisive 5 8% to 40%, carrying 14 out of 15 counties, losing only Coconino County. Delegates will be apportioned: 44 to Clinton, and 30 to Sanders. Ten Superdelegates may choose whom they support, and most of them have already declared for Clinton.
Bernie Sanders countered with yuuuge wins in the the Utah Caucus, 79.3% to 20.3%, and the Idaho Caucus, 78% to 21.2%. I can't wait to hear political scientists explain how an avowed socialist secular Jew won so big in the Mormon Corridor. That's a real mind bender. Sanders won 26 delegates to 6 delegates for Clinton in Utah, and 17 delegates to 5 delegates for Clinton in Idaho.
Sanders won more delegates on Tuesday, but he barely put a dent in Clinton's substantial delegate lead. He would need to continue big wins like Utah and Idaho in the remaining state contests to overtake Clinton. This is highly improbable.
Here is the AP delegate count for the Democrats.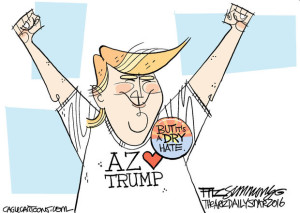 On the Republican side, Donald Trump also had a yuuuge win in the Republican Party winner-take-all primary in Arizona, by a double digit margin over his closest rival Ted "Calgary" Cruz, 47% to 25%. Trump carried 14 out of 15 counties, losing only Graham County to Cruz. Trump is awarded all 58 Arizona delegates.
So the GOP embraces 'Trumpism,' the new American fascism in Arizona. Here is your litmus test for November: any Tea-Publican who does not publicly disavow Donald Trump as the GOP nominee is unfit for public office and must be defeated. Period. It's time to start asking the question "Do you support Donald Trump?" and to demand an answer from every Tea-Publican, from the U.S. Senate down to your local school board race.
Ted "Calgary" Cruz countered with his own big win in the Utah primary, 69.2% to John Kasich's 16.8%. "The Donald" finished third with 14%. By winning over 50% of the vote, "Calgary" Cruz is awarded all 40 delegates from Utah under that state's party rules. Cruz has now been endorsed by J.E.B.! Bush (oooh, that's gotta hurt), and rumors are that Wisconsin Governor Scott Walker may endorse Cruz ahead of the Wisconsin primary.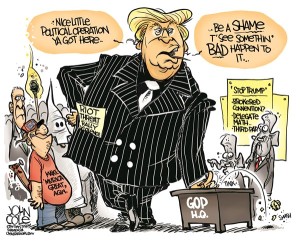 Apparently The 'Stop Trump' movement is falling apart, so the only alternative for the GOP establishment is to grovel at the feet of the most hated man in the U.S. Senate, who hates the GOP establishment — "right back actcha!" — even more. The GOP establishment doesn't want "Calgary" Cruz as their nominee mind you, they just want to deny Donald Trump enough delegates to force a brokered convention. And then we will see if "The Donald" makes good on his threats of riots at the convention.
In the American Samoa GOP Caucus, all nine delegates will reportedly go unpledged to the RNC National Convention in Cleveland. In the unlikely event of a brokered convention, who knows? They could be a kingmaker.
Here is the AP delegate count for the Republicans.