On Sunday, The Arizona Republic ran a profile puff piece on Maricopa County Attorney Bill Montgomery. Bill Montgomery: The son of a smuggler becomes Maricopa County's controversial prosecutor.
I found the timing of this puff piece curious: why is the mouthpiece of the Arizona Republican Party suddenly promoting Bill Montgomery? I had heard a rumor circulating that Montgomery was under consideration for appointment to John McCain's Senate seat after Jon Kyl resigns in the coming weeks to return to his more lucrative lobbyist career, but no one could confirm this rumor for me.
Well, that changed on Tuesday. The muckraking Phoenix New Times reported Arizona Supreme Court Justice Urged Governor to Tap Bill Montgomery for Senate: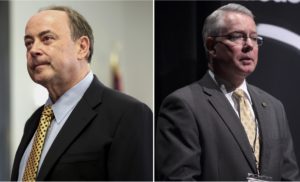 Arizona Supreme Court Associate Justice Clint Bolick urged Governor Doug Ducey to appoint Maricopa County Attorney Bill Montgomery to the U.S. Senate two days after the death of John McCain.
In text messages obtained by Phoenix New Times under state public records law, Bolick wrote to Ducey on August 27, asking him to tap the polarizing Republican prosecutor for McCain's Senate seat.
"I hope you will consider Bill Montgomery, one of the few who could fill Sen. McCain's shoes," Bolick wrote. "He is respected by everyone, supported by all parts of the GOP, yet unfailingly conservative. Wicked smart, principled, West Point, very modest beginnings, young enough to be there for a long time. Can work across the aisle."
"Bill has not asked me to do this; to the contrary it would require an appeal to his sense of duty," Bolick added.
Bolick described Montgomery as "conservative to my libertarian yet there are few I respect more, very much in the mold of [former U.S. Senator] Jon Kyl."
He went on to wish Ducey good luck during the governor's re-election campaign and referred to his own then-upcoming judicial retention election.
"It will be an honor to appear on the ballot with you this fall – good luck, we need you," Bolick wrote.
In return, Ducey thanked Bolick and indicated that he, too, appreciates Montgomery.
"Always value your advice and recommendations. I share your admiration of Bill. He is one of our finest," Ducey wrote.
The governor ultimately appointed former Senator Jon Kyl to fill McCain's seat.
Kyl has indicated that he may not serve beyond the end of this Congressional session, leaving the door open for Ducey to potentially appoint another individual.
When asked about his comments, Bolick explained in an email that he was expressing his beliefs for the Senate appointment – as well as his political support for Ducey – in his capacity as a private citizen.
Arizona's judicial ethics rules allow judges to privately express support and make political contributions, Bolick said.
"I conveyed privately to the governor that I thought Bill Montgomery would make an excellent appointee as senator," Bolick wrote to New Times. "I thought my knowledge of Bill, especially as someone with whom I have some differences of opinion, might be helpful to the governor. Bill had no knowledge that I was doing so and I acted in my capacity as a private citizen."
"Similarly, I privately expressed my support to the governor," Bolick wrote. "It would have been permissible to contribute to him, and many judges make contributions to candidates. I did not, however, as such public support could lead to a conflict in my view."
He declined to comment further.
* * *
Other text messages between Ducey and Bolick obtained by New Times reveal text correspondence that is warm and friendly, if somewhat sporadic.
On January 22, Bolick texted Ducey to recommend Republican Chris DeRose for the position of Maricopa County Superior Court clerk. Sure enough, in March, Ducey appointed DeRose for the interim position of clerk after his predecessor retired. (DeRose lost in the Republican primary in August to Jeff Fine.)
A few days later, on January 26, Bolick asked Ducey if he had seen a New York Times interview with California Governor Jerry Brown in which Brown received a call from Ducey and at first didn't recognize the Arizona governor's name. "You could use that anecdote to update your references to him ('I was just calling to thank him for everything he does to improve the economy – Arizona's economy,'" Bolick suggested.
"Good idea!" Ducey wrote back.
This strikes me as something more than privately expressly support for a candidate. This smacks of serving as an advisor to Governor Doug Ducey, the ice cream man hired by Koch industries to run their Southwest subsidiary formerly known as the state of Arizona. And Clint Bolick previously served as the vice president for litigation at the "Kochtopus" Death Star, the Goldwater Institute. There is a seamless web.
Justice Clint Bolick has an "Abe Fortas problem" with his judicial ethics. The Cautionary Tale of Abe Fortas:
Justice Fortas was known for his close relationship with LBJ, but it wasn't until his confirmation hearings to be elevated to Chief Justice did the closeness of the relationship become fully examined in a public forum. As the U.S. Senate still notes the second Fortas nomination hearing revealed "[a]s a sitting justice, he regularly attended White House staff meetings; he briefed the president on secret Court deliberations; and, on behalf of the president, he pressured senators who opposed the war in Vietnam."
Now, Justice Bolick may not be going to the lengths that Abe Fortas did with President Johnson — we don't know — but there is now good reason to be suspicious that he may have been the leaker of the InvestInEd vote of the Arizona Supreme Court to the governor's office before a decision was announced by the court earlier this year, as the New Times reports:
The relationship between Ducey's office and members of the Arizona Supreme Court has been under close scrutiny in recent months, also because of the ill-fated Invest in Ed initiative.
After the Supreme Court kicked the measure off of the ballot in a brief order on August 29, the vote count in the controversial decision apparently leaked to one of Ducey's campaign operatives, Daniel Scarpinato, ahead of the court releasing a full-length opinion.
Scarpinato denied that someone at the Supreme Court tipped him off to the 5-2 vote count. What appeared to be a strategic leak designed to deflect blame from Ducey and his three Supreme Court appointees was mere gossip, Scarpinato claimed.
In the aftermath, Chief Justice of the Arizona Supreme Court Scott Bales launched an inquiry, which produced little evidence of a clear-cut leak.
In emails obtained by New Times, Bolick told Bales at the time that the only people who learned the vote breakdown from him were his clerks and a judicial assistant.
Somebody leaked the vote to the governor's office, despite all the denials. This much is true.
Arizona Supreme Court Justice Ann Timmer's sister, The Republic's Laurie Roberts, is similarly suspicious and believes that Justice Bolick has a judicial ethics problem. Supreme Court Justice Clint Bolick quietly lobbied Ducey to name Bill Montgomery to Senate:
One of the great unexplained stories of 2018 is how a key aide to Gov. Doug Ducey came to know confidential details of a secret Supreme Court vote to knock Invest in Ed off the ballot.
While the rest of us knew only that a majority of the court killed the Invest in Education Act ballot initiativeon Aug. 29, Ducey campaign aide (now incoming chief of staff) Daniel Scarpinato within 24 hours was whispering to reporters not only what the vote was but who voted how.
Scarpinato told me at the time that he was just passing along a rumor, that certainly the Governor's Office had no back-channel pipeline into the Arizona Supreme Court.
The one that supposedly operates independently from political considerations.
The one that had just killed a proposed income tax hike that Ducey abhorred.
Bolick lobbied 2 days after McCain died
So imagine my surprise to read Phoenix New Times reporter Joseph Flaherty's account Tuesday of Supreme Court Justice Clint Bolick's ongoing backdoor conversations with the governor who put him on the high court.
It seems Bolick in August quietly lobbied Ducey to appoint Maricopa County Attorney Bill Montgomery to the Senate just two days after Sen. John McCain died.
* * *
Bolick's Aug. 27 text exchanges with the governor came just two days before the Supreme Court announced it was kicking InvestinEd off the ballot.
The exchange detailed by Flaherty doesn't prove that Bolick was the leak. It does, however, demonstrate that there is, behind the scenes, a cozy relationship between the governor and at least one of the three justices he has appointed to the court he expanded from five to seven in 2016.
In other words, Justice Bolick has an "Abe Fortas problem" with his judicial ethics.
Bolick says he broke no ethical rules
(Hint: Bolick is Wrong)
Bolick also wished Ducey good luck in his re-election campaign, adding "It will be an honor to appear on the ballot with you this fall – good luck, we need you."
Bolick told Flaherty that he broke no ethical rules.
Not the one that says, "A judge shall uphold and promote the independence, integrity and impartiality of the judiciary and shall avoid impropriety and the appearance of impropriety."
Not the one that says, "A judge shall conduct the judge's extrajudicial activities so as to minimize the risk of conflict with the obligations of judicial office."
Or even the one that says, "A judge or judicial candidate shall not … publicly endorse or oppose another candidate for any public office."
Bolick told Flaherty he was operating "in my capacity as a private citizen."
Ducey ignored his advice then, but now?
Can you imagine U.S. Supreme Court Chief Justice John Roberts writing a text suggesting a political appointment, or any text or even email, to a sitting president?
Can you imagine Arizona Chief Justice Scott Bales writing a text suggesting a political appointment, or any text or even email, to a governor or an attorney general or to any state official whose policies and/or activities may come before his court?
Likely not, because it would call into question whether that justice was making judgments based upon the rule of law or upon the wishes of a pal who put him on the court.
Ducey ultimately ignored Bolick's advice and appointed Jon Kyl to replace McCain. We'll see what happens next, as Kyl is expected to resign by year's end.
Meanwhile, Bales asked every Supreme Court justice if he (or she) was the leak on the Invest in Ed ruling. Every one of them answered an emphatic no. Case closed, apparently.
Yet one of them is either lying or they've got a sieve on the staff because that whisper by Scarpinto – not even 24 hours after the ruling but two months before it became public – was dead on.
What happened to independence?
Here, ultimately, is the good news about that Invest in Ed ruling.
Because it was 5-2, we know that Ducey's decision to pack the court didn't invalidate the wishes of 270,000 Arizonans who signed petitions to put Invest in Ed on the ballot. Ducey's three appointees were joined by two others to kill InvestinEd.
Had it still been a five-member court, the ruling would have been 3-2, with Bolick, Justice John Pelander and Justice Robert Brutinel voting to kill the initiative.
But the fact that a key Ducey aide knew all about the inner workings of a court built on the fundamental premise of being independent of political consideration?
The fact that we now learn that the governor has occasional back-door conversations about political considerations with a member of that supposedly independent court?
It's a black mark on the court that has the last word on what will stand in Arizona – and as importantly, what will not.
There are two scandals here, one yet speculative, and one very much current: (1) Is the fix in to appoint Maricopa County Attorney Bill Montgomery to John McCain's Senate seat when Jon Kyl resigns in the coming weeks? And (2) Justice Clint Bolick has an "Abe Fortas problem" with judicial ethics. How is this judicial scandal going to be addressed?
---
Support volunteer citizen journalism at the Blog for Arizona with a donation today. Your secure contribution keeps the Blog online and sustains a free press in Arizona.
---