Above: Lake Powell.
The Arizona legislature really only had two priorities to deal with in this legislative session: (1) the school funding cliff that they created last session, and (2) the looming water crisis Arizona faces from a prolonged megadrought due to climate change.
The legislature made a band-aid deal to fix the school funding cliff – this fiscal year – but they got the Ducey-packed Arizona Supreme Court to kill not only the Invest In Ed citizens initiative (Prop 208) that Arizona voters approved, but also the citizens referendum on the GQP Flat Tax law which gives a tax cut to Arzona's wealthiest citizens (and contained a limitation on the Prop. 208 tax on the wealthy, which is no more).
The legislature has a $5.3 billion surplus which it refuses to allocate to public education, after shortchanging public schools and teachers for decades. A $5.3 Billion Surplus, And The Arizona Legislature Is Stiffing Public Education For Yet Another Unwarranted Tax Cut. Republican Senator Paul Boyer insists that the legislature fund public education as Arizona citizens voted for, so in the evenly divided Senate, the GQP does not have the votes to pass a budget. We are at a budget impasse.
They've reached that point where they can't go home for the year because there's no budget, but they don't have much else to do https://t.co/iU0qQY2ZsL

— Jeremy Duda (@jeremyduda) April 28, 2022
"Don't have much else to do?" Seriously?
What about that second priority, dealing with the looming water crisis Arizona faces from a prolonged megadrought due to climate change? U.S. megadrought worst in at least 1,200 years, researchers say. There has been no serious action by the legislature, and the month of May and our long summer heat season is upon us.
Just this week, California declares historic water emergency measures amid drought:
The historically severe drought in Southern California has compelled one of its water suppliers to implement "emergency" conservation measures for the first time that will affect about 6 million people.
The Metropolitan Water District of Southern California (MWD) declared the water shortage emergency Tuesday and ordered limits to "reduce nonessential water use" to parts of Los Angeles, Ventura and San Bernardino counties. The move includes the unprecedented measure of restricting outdoor watering to one day a week for about a third of their region.
The water district attributed the emergency declaration to its "reliance" on "severely limited" water supplies in Northern California, which is also enduring extreme drought. It comes as the state has experienced a lack of precipitation and abnormally high temperatures in recent years.
"The past three years are projected to be the driest in our state's history, leading to drought conditions unlike anything we've experienced before," it tweeted.
The water restrictions take effect June 1, when cities and smaller suppliers connected to the water district will be required to reduce outdoor water use or meet certain monthly allocation limits. Those that do not meet the requirements will be fined $2,000 per acre-foot for any water the agency supplied that exceeds limits. Officials said some areas will have to make greater cuts, but everyone across Southern California is urged to immediately reduce their water use by 20 to 30 percent.
The agency obtains water from the State Water Project and the Colorado River, and serves 19 million people across six counties. While it has worked to improve its water-distribution network for decades, its Board of Directors stated it "cannot meet normal demands" because of the depth and duration of the drought, which is now entering its third year.
In August, low water levels in Lake Mead, a reservoir on the Colorado River, triggered the federal government to declare a water shortage there for the first time. As of Wednesday, water levels at Lake Mead were at about a third of its capacity.
[R]ight now, 95 percent of California — including Los Angeles, Ventura and San Bernardino counties — is experiencing severe to extreme drought.
Scientists have determined that the extremely dry conditions over the past three years are part of a longer megadrought, which has persisted since 2000. Research published in February showed that this 22-year period is the driest in 1,200 years and is linked to human-caused climate change.
"Without climate change, this would not be even close to as bad," climate scientist Park Williams told The Washington Post.
Forecasters call for the current drought to persist through the summer as California enters its dry season and typically sees very little rain or snow.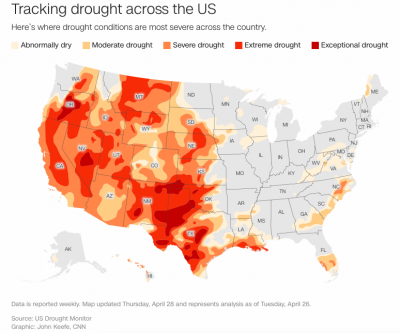 Yesterday, CNN reports, Lake Mead plummets to unprecedented low, exposing original 1971 water intake valve:
The West is in the grips of a climate change-fueled megadrought, and Lake Mead — the largest manmade reservoir in the country and a source of water for millions of people — has fallen to an unprecedented low.
The lake's plummeting water level has exposed one of the reservoir's original water intake valves for the first time, officials say.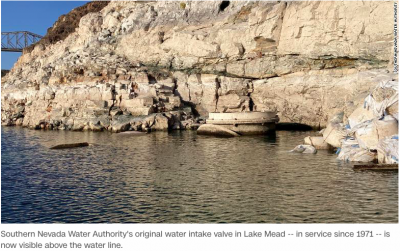 The valve had been in service since 1971 but can no longer draw water, according to the Southern Nevada Water Authority, which is responsible for managing water resources for 2.2 million people in Southern Nevada, including Las Vegas.
Across the West, extreme drought is already taking a toll this year and summertime heat hasn't even arrived yet. Drought conditions worsened in the Southwest over the past week, the US Drought Monitor reported Thursday. Extreme and exceptional drought, the two worst designations, expanded across New Mexico, Arizona and Colorado — all states that are part of the Colorado River basin.
Upstream from Lake Mead, Lake Powell is faring even worse. It is at serious risk of reaching "dead pool" status, the point at which Glenn Canyon Dam can no longer safely produce hydroelectric power. So an energy shortage on top of a water crisis. In summer. In Arizona.
Joanna Allhands explains at the Arizona Republic, Lake Powell is tanking, and Interior's proposed response may only buy us time:
If Lake Powell isn't already doomed, it may soon be.
Insufficient runoff has put the reservoir on a quick and dangerous descent to 3,490 feet of elevation – a water level so low that Glen Canyon Dam's hydropower turbines can no longer operate. A key part of the Western power grid would be lost.
The city of Page and the LeChee Chapter of the Navajo Nation also would lose their drinking water because the infrastructure that supplies them could no longer function.
Not to mention that if Powell falls to 3,490 feet, the only way millions of acre-feet of Colorado River water can flow past the dam and downstream to sustain Lake Mead – the reservoir on which Arizona relies – is through four bypass tubes, which have never handled that kind of volume, particularly for an extended period.
Engineers are concerned whether this setup can move enough water, especially if one or more of the tubes were damaged by heavy flows over time. If the bypass tubes move significantly less water than what the eight turbines do now, that could all but guarantee the demise of Lake Mead.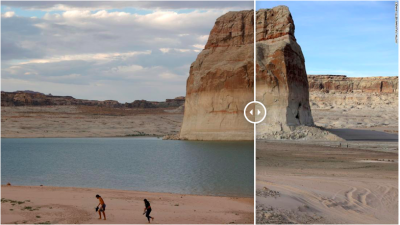 Lone Rock Beach at Lake Powell in Big Water, Utah. Left Frame: June 23,2021. Right Frame: March 27, 2022.
We must do more to buy Lake Powell time
This is serious.
The U.S. Department of the Interior, which operates the two reservoirs via the Bureau of Reclamation, said in a grimly worded letter last week that it must take more drastic actions to slow Powell's descent.
"We are approaching operating conditions for which we have only very limited actual operating experience – and which occurred nearly 60 years ago," the letter states. "We hope to be able to delay or avoid operational conditions below (3,490 feet) but we fully realize that absent a change in the recent hydrological conditions, we may not be able to avoid such operations."
Did you catch that? Interior is essentially saying that if we don't get more snow (and that snow doesn't produce more runoff), the best we may be able to do is delay the point at which Powell falls below 3,490 feet.
In other words, we are once again being asked to sacrifice – not to fix the problem, but simply to buy time.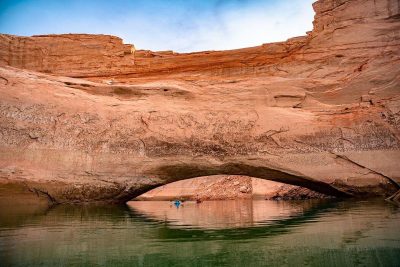 With Lake Powell water levels at historic lows, Gregory Natural Bridge recently resurfaced for the first time in almost 60 years.- Eric Hanson photos
We've been buying time on Lake Mead for years
If this feels like déjà vu, well, it is.
We haven't even fully implemented the 500-plus plan from December, in which the lower basin states of Arizona, California and Nevada agreed to store an additional 500,000 acre-feet of water in Lake Mead each year, simply to lower the risk of it tanking before 2026.
That deal, which is only funded for the next two years but must persist through 2026 if we want to protect Lake Mead, essentially pays people not to use water. It's not a solution. We're simply buying time.
And that's on top of the mandatory cuts in the Drought Contingency Plan, which the lower basin states signed in 2019 – again, not to fix Mead's problems, but to simply buy us time.
Reclamation has already delayed the release of 350,000 acre-feet from Powell to Mead though the end of this month – a move that makes Powell appear about 7 feet higher than it otherwise would be. Its current elevation is 3,522 feet.
It also is finalizing a Drought Response Operations Plan to protect Powell elevations – something the upper basin agreed to do in its version of the Drought Contingency Plan – potentially by moving more water from the smaller reservoirs upstream into Powell.
Will the basin states agree to this plan?
Now, Interior is asking the basin states to accept a release of just 7 million acre-feet from Powell to Mead this water year, which ends in September, instead of the 7.48 million acre-feet we were expecting. That's the smallest release since the river's operational guidelines were created in 2007 – and the first time its operational tiers would be adjusted down to provide less water mid-year.
Interior also says it wants to provide "additional certainty regarding annual release volumes and tier determinations for the 2023 water year."
How would that work? And how long would an extra 480,000 acre-feet last in Powell – without causing significant pain for Mead? The details have not been publicly discussed, but Interior has given states until April 22 to weigh in. [Deadline has passed.]
This is a tenuous moment. Annual releases from Powell to Mead have always been a point of contention among the upper and lower basins. This could easily devolve into finger pointing over how we got into this shape or who should have done more to prevent it.
Indeed, it's an open question whether the states will submit a joint response agreeing to what Interior has proposed, or whether some might branch off if they don't like the deal.
As tempting as it is to get indignant or self-righteous about how much we're already doing, it is in Arizona's best interest to do more – even if it hurts, and yes, even if it doesn't resolve anything.
It would buy time to install new pipes for Page and the adjacent LeChee community and delay the risky venture of moving water through Powell's bypass tubes. The consequences are probably far worse for Mead if we send water through those backup pipes and one of them fails than if we were to leave what might amount to about 8 feet of additional water in Powell.
Colorado River needs solutions, not time
No, that does not make it a good idea. We are buying time in increasingly shorter durations, with heavier costs and fewer decent alternatives.
This can't continue for much longer.
The guidelines for operating the river expire at the end of 2026. Yet state negotiators (and Reclamation) have spent most of their time and energy putting out these fires, not making headway on the issues that must drive a new set of rules, like how much water the Colorado River can realistically provide to states moving forward.
If 7.5 million acre-feet – the annual amount guaranteed to each basin in the Colorado River compact – is no longer realistic, what is?
If we don't answer questions like this soon, there won't be a Lake Powell (or a Lake Mead) to save.
The Colorado River Compact allotments were based upon an unusually wet period of history for the Colorado Basin and the desert Southwest. We are now in the worst megadrought in 1,200 years. There are more people living in the desert Southwest than a depleted Colorado River can sustain. And more people arrive every day.
What is the solution that Governor Ducey and his GQP-controlled legislature of climate change deniers doing about this looming water crisis? Gov. Ducey has proposed yet another layer of government bureaucracy over an already highly bureaucratized water resources managememt system, the Arizona Water Authority (AWA). Yeah, that shoud do it (sarcasm).
Karl Flessa, emeritus professor of geosciences at the University of Arizona, who has been studying the Colorado River since 1992, explains A proposed Arizona Water Authority is not enough to save us:
Will Gov. Doug Ducey's proposed Arizona Water Authority (AWA) save our water future? Can it compensate for the past lack of leadership?
No and no.
The AWA alone can't face up to our drier future, can't protect our groundwater, can't do enough to promote agricultural and urban efficiency, and relies too much on the dream of augmentation.
We need both short-term and long-term solutions for Arizona's people, farms and nature.
We can't rely on the Colorado or groundwater
We have already seen a significant and unprecedented drop in the Colorado River's flow in the last 20 years. The Drought Contingency Plan and the 500-plus Plan are short-term fixes. The river's agreed-upon allocations to the seven Basin states and Mexico may drop by one-third.
What does that mean for Arizona? Trouble.
Our other surface waters cannot make up the difference. Many of Arizona's rivers and stream have already suffered from overuse and climate change.
Groundwater can't rescue us: Our current use in not sustainable. We must enforce regulations in our existing Active Management Areas (AMAs) and establish even more. Outside AMAs, groundwater use is poorly monitored and largely unregulated.
Excess groundwater pumping harms streams and springs and causes subsidence cracks. Many rural residents, towns, small ranches and farms can't afford the expense of ever-deeper wells.
Farms, cities can find innovative ways to save water
Because farms still use about 74% of Arizona's water, reducing agricultural demand will have the greatest benefit.
Farms and cities can support each other. Ag-urban partnerships can fund innovations to improve agricultural efficiency while transferring some of the water-saving back to the cities. Let's think beyond the "buy and dry" that happens in other states. Prohibiting water transfers from farms adjacent to the Colorado River will stifle the innovation we need.
Cities and suburbs can save water, too. Up to 70% of Arizona's residential usehappens outdoors for landscaping, parks and pools. We need more incentives for xeriscaping, removing turf grass and for rainwater and stormwater harvesting. Limits on outdoor watering and pool size will save water without harming our quality of life.
Reuse, augmentation aren't silver bullets
Efficiency, reuse and augmentation are all part of how the governor's proposed Arizona Water Authority would boost the amount of available water.
Innovation for efficiency and reuse costs money. Growth brings new money. To support research and implementation of water-savings practices in both cities and farms, we need an impact fee for new water users.
Increases in efficiency and reuse create a paradox for environmental protection.
For example, current efforts at restoring the Santa Cruz and Salt rivers depend on the release of treated effluent. Yet increased efficiency and reuse could decrease such deliveries.
Nature delivers significant value to Arizona's residents, visitors and businesses. Therefore, we should set aside a fair share of water to protect our streams and maintain Arizona's amazing natural environment.
Augmenting our supply with desalinated water from Mexico's Sea of Cortez is worth a look. However, projected construction costs are too low, costs of future electric power are unknown, Mexico has not agreed to the project, sharing costs with U.S. and Mexican partners means sharing the water, and the projected amounts of water for Arizona are small.
That very first drop of desalinated water is 10 years – or more – away. And importing water from another basin in the U.S. faces even more difficulties.
Arizona must do more to counter a dry future
Although there may be a few wet years ahead, Arizona's long-term future is dry. The warming climate is decreasing supply. Scientists have estimated that about 20% of the recent decrease in Colorado River flow is the result of human-caused climate change.
The current megadrought is just the first phase of aridification – the long-term shift to more arid conditions. Only a decrease in greenhouse gas emissions can slow or stop this trend.
No, Arizona can't solve this problem by itself. But we can do a better job at getting to the solution. The Arizona Corporation Commission should revisit its vote against 100% carbon-free energy by 2050.
Climate change is water change. That's just one reason why [some] Arizona voters are extremely concerned about climate change.
The governor's proposed Arizona Water Authority does not do enough to secure our water future.
Maybe instead of working only two days a week to find new, creative ways in which to screw public education and teachers in the state budget, our legislature should be working seven days a week to find new, creative ways to solve Arizona's looming water crisis. Or at least to mitigate the damages equitably.
Without water, Arizona will go the way of the Anasazi – abandoning our cities as climate refugees in search of a more sustainable environment which has adequate water supplies.
UPDATE: