I mentioned in passing in a previous post that Arizona's lawless Tea-Publican Legislative leaders have a plan to get rid of school inflation funding (Arizona Capitol Times – subscription required) instead of paying the school inflation adjustment judgement that these deadbeat debtors owe to Arizona's school districts:
Republican legislative leaders want to repeal a voter-approved law requiring that lawmakers annually adjust K-12 education funding to account for inflation, arguing that keeping up with the inflation increases year after year is unsustainable.
Unhappy with recent court rulings in the longstanding education inflation funding suit Cave Creek v. Ducey (now DeWit), GOP leaders are shopping the idea of repealing the inflation funding requirement that got them into the lawsuit in the first place.
The state is facing the possibility of owing as much as $2 billion by 2017 to schools for violating the inflation provision in state law.
A document circulated to House Republicans at recent small-group meetings hints at the proposal to undo Proposition 301, a law voters approved in 2000. It increased taxes for education by six-tenths of a percent and required the Legislature to increase base funding for education each year to match inflation.
The pitch made to lawmakers by House Speaker David Gowan, R-Sierra Vista, and Senate President Andy Biggs, R-Gilbert, includes language that makes clear they feel continuing to adjust base school funding for inflation is unsustainable and needs to be reformed. The purpose of the inflation adjustment is to ensure the dollar's buying power in 2015 keeps up with the times and remains just as strong in 2016 and beyond.
Top Republicans, from Biggs to Gov. Doug Ducey, have repeatedly stated their staunch opposition to raising taxes, even for schools.
And there is the source of all of Arizona's ills: this religious devotion to the "no new taxes ever, for any reason" dogma of the modern day Tea-Publican Party, despite the fact that this in direct violation of the Arizona Constitution, Article XI, Section 6 and Article IX, Section 3. Our lawless Arizona legislature has for years been in violation of the Arizona Constitution because: (1) it is failing to provide for the cost of public education, and (2) it refuses to raise taxes sufficient "to defray the necessary ordinary expenses of the state for each fiscal year."
The Arizona Republic follows up on the report above today, Arizona GOP leaders: Reform K-12 education inflation funding:
The state's top Republican lawmakers are angling to change the law setting inflation-funding payments that funnel millions of dollars a year to K-12 education, and their proposal could become a sticking point in education-funding negotiations between the Legislature and Gov. Doug Ducey.
Senate President Andy Biggs and Speaker of the House David Gowan are proposing to "reform" the inflation provision connected to Proposition 301, according to records obtained by The Arizona Republic. The amount of money schools get from the provisions changes year to year; this year, it totaled about $75 million. [Substantially below the court ordered judgment amount of $331 million.]
The records, distributed to lawmakers during closed-door meetings earlier this month, paint a bleak picture of efforts to sustain those payments to schools. They say that without reforming the law, Arizona "lawmakers will be forced to cut essential services, such as public safety, healthcare, and child services."
Or to raise taxes.
The proposal, as Biggs described it to the Republic in August, would set yearly inflation increases in state aid at 1.6 percent — lower than the voter-approved funding plan that requires the state to match inflation up to 2 percent.
* * *
The proposal would require voter approval and is part of lawmakers' plan to resolve a long-running education-funding lawsuit. Their plan would also [steal] state land trust funds, and [steal] money from the voter-approved First Things First program for early childhood education, and add another $175 million in state aid . . . both of which were ballot measures previously rejected by Arizona voters.
* * *
Gov. Ducey has proposed boosting K-12 funding from the land trust's permanent fund from 2.5 percent to 10 percent each year for the next five years. It would then drop to 5 percent and expire at the end of 2026. The Republican leadership's proposal did not detail by what percentage it would increase funding from the trust.
Treasurer Jeff DeWit has warned Ducey's proposal is too aggressive and would deplete the fund; Ducey disagrees.
The education-funding ideas come amid a high-stakes battle that stems from a 2010 lawsuit alleging the state shorted district and charter K-12 schools by not fully funding the voter-approved inflation formula during the Great Recession. A judge ruled last year that the Legislature must pay schools about $331 million a year in unpaid inflation. Republican legislative leadership is appealing the ruling, and so far the two sides have failed to reach a settlement agreement.
School officials also have argued the state owes an additional $1.3 billion in back payments. The court has not yet ruled on that request.
Democrats, who have criticized parts of the GOP plan and Ducey's proposal, are expected to unveil a competing education funding proposal Tuesday.
The Arizona House Democrats have now released their plan. Legislative Democrats announce education funding plan:
Today Arizona Legislative Democrats released an education funding plan that will give public schools nearly $4 billion, without raiding funding from future generations and without increasing taxes.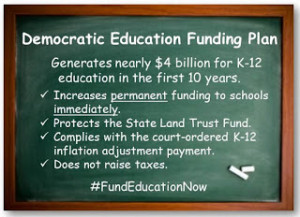 "Our plan will put nearly $4 billion into public schools over the next 10 years, protects the long-term health of the state land trust fund, and puts dollars in the classroom now," House Democratic Leader Eric Meyer, D-Paradise Valley (District 28), said.
The Democratic plan provides sustainable funding, unlike other proposals that would create a shortfall in funding for future generations.
This plan:
Supports the belief that education is a long-term investment and the foundation for Arizona's future economic success
Provides nearly $4 billion for public education during the first 10 years and protects funding levels after that
Does not rob future generations by harming the principal of the state land trust fund
Does not raise taxes and can be implemented immediately
Meyer added that concerns are mounting about the governor's idea to cut into the principal of the state land trust's permanent fund. Arizona State Treasurer Jeff DeWit recently criticized that proposal, in part because it creates a fiscal cliff in five years and hurts the principal of the fund.  The Joint Legislative Budget Committee estimates a loss of $3.2 billion in value under Ducey's proposal.
"The plans put forth by Arizona's Republican leaders are not much more than smoke and mirrors," said Senate Democratic Leader Katie Hobbs, D-Phoenix (District 24). "Our responsible plan puts desperately needed dollars immediately into classrooms without stealing from the state land trust or First Things First, without requiring uncertain voter approval, and without setting up our state to fall off another fiscal cliff. Our kids deserve a sound, sustainable plan to fund our schools."
The Legislative Democratic proposal maintains the existing distribution of funding from the state land trust proceeds, which is currently 2.5 percent, and the $74 million inflation increase approved in the 2015-2016 fiscal year budget. It will allocate new revenue from the $278 million in projected 2015-2016 fiscal year surplus to K-12 funding in the current fiscal year and $250 million in ongoing revenue to school funding in future years.
Additionally, the plan would freeze the expansion of the corporate school tuition organization tax credit program beginning the 2016-2017 fiscal year to produce an additional $10 million in revenue dedicated to the K-12 budget. This will ensure that funding levels can be maintained. Existing tax credit funds for STO scholarships would not be reduced under the plan.
"Under our plan, Arizona schools will immediately receive desperately needed money without having to wait for an unguaranteed approval by voters," said Hobbs. "And our plan leaves resources in the general fund to address the critical needs of child safety and higher education. It's a plan that protects our children and honors the state's commitment to their future."
Meyer agreed.
"Arizona has the resources to fund public education. Our plan shows that. It has always been a matter of making it a priority," Meyer said. "The Republican leaders in the state so far have offered ideas that jeopardize the future of education funding. We can't afford to waste time on gimmicks, Arizona needs a sustainable education funding plan now."
The Democratic plan is released on the same day that Laurie Roberts of The Republic reminds us why our lawless Tea-Publican legislature has been such a complete disaster for education and Arizona's children. Roberts: Arizona: 49th best state for teachers:
Yet another study was released today showing Arizona's rather astonishing commitment to public education.
Astonishingly poor, that is.
When it comes to a good place to be a teacher, turns out we're No. 49.  This, according to WalletHub, a financial services website that compared the 50 states and the District of Columbia, in 13 key areas to identify and best — and worst — places to be a teacher.
Only North Carolina and West Virginia fared worse than Arizona and isn't that a story the Arizona Chamber of Commerce and Industry can tout as it seeks to lure quality employers to our state.
This is no surprise in Arizona, where a record number of teachers are either leaving the profession or moving to states that actually value public education. About 20 percent of first-year teachers in Arizona and 24 percent of our second-year teachers quit, far above the national average. And schools are having trouble filling the classrooms.
Perhaps the WalletHub study gives a peek into why.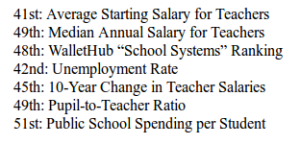 Arizona ranked dead last — 51st — in public school spending per student. Which likely explains some of the other rankings.
We ranked 49th in pupil-teacher ratio, meaning only two states (Utah and California) cram more kids into a classroom.
We came in at 41st in average starting salary for teachers, when adjusted for inflation, and 49th in median annual salary.
And the study says we're projected to have the second fewest number of teachers per thousand students by 2022.  Gee, I wonder why?
So, it's just another study, you say? Who cares?
Consider this today, from the International Business Times:
"If you're currently a teacher or want to be one in the future, make sure you're in the right state. Massachusetts, Virginia and Minnesota are all good options for educators — at least, that's according to personal finance site WalletHub's recently released 2015 list of the best and worst states for teachers. But you should avoid Arizona, North Carolina and West Virginia, which ranked as the bottom three."
Reputation matters.  Unfortunately, when it comes to public education, ours is lousy.
Put that in your next issue of AZAwesome, Governor. #Rebrand AZ Fail.