When both political parties broadly agree that something should happen yet serially fail to follow through, the nation's leaders look particularly inept. Congress's failure to re-up CHIP funding shows its striking ineptitude: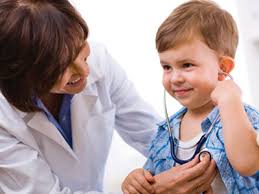 The example of the moment is the ongoing saga of the Children's Health Insurance Program (CHIP), a popular service that covers 9 million young Americans — and that is rapidly running out of cash, alarming families that rely on the federal aid to keep their children healthy.
Democrats and Republicans in Congress created CHIP in 1997 to assist families who make too much to qualify for Medicaid, the health-insurance program for the poor, yet who do not have reasonable alternative options for insuring their children. Given that decent health care in early years is crucial, lawmakers rightly decided to invest in the nation's future health. The program has been a remarkable success, driving children's uninsured rate down to about 4 percent.
But, unlike Medicaid, Congress did not make CHIP an entitlement program that automatically and perpetually draws as much money as it needs from the treasury. Rather, it required lawmakers to regularly re-up CHIP's funding, which they did in 2015, under the reasonable assumption that Congress would not want to be blamed for kicking children off their insurance.
The 2015 funding dried up in September, and lawmakers pumped in enough emergency funds to sustain the program for only a few months. States have begun planning for a funding shortage, with some warning families that their coverage might lapse. The disruption uselessly alarms parents, scrambles doctors' planning and eats up time state officials could use for more important things.
House Republicans might feel as though they already did their job; the chamber passed a CHIP funding bill back in November. But the proposal would have siphoned money from a preventive-care fund created under Obamacare. Unsurprisingly, given the fund's provenance, Republicans have criticized how the fund's money has been spent. In fact, agencies such as the Centers for Disease Control and Prevention have used the fund to invest in vaccinations, diabetes programs and anti-tobacco efforts. Reprogramming its money to fund CHIP would rob Peter to pay Paul. Democrats rightly objected, leading to the current impasse.
It is possible that CHIP will feature in a big compromise funding package that keeps the government open, raises unrelated federal spending caps and perhaps even determines the fate of the "dreamers," undocumented immigrants brought to the United States when they were children. The sooner Congress settles all of these issues, the better.

The funding deadline for a government shutdown is January 19.
The New York Times adds additional details. Republicans in Congress Are Failing America's Children:
Children from lower-income families could soon lose access to affordable health care because the Republican leaders in Congress have failed to renew the Children's Health Insurance Program. This is a travesty.
After passing a lavish tax cut for corporations and wealthy families, Congress hastily left town last month without reauthorizing the federal-state health insurance program, which benefits nearly nine million children. Authorization expired in September, and so far states have kept CHIP going with unspent funds carried over from previous appropriations. Before Christmas, Congress allocated $2.85 billion to the program, saying that the money would take care of the children's needs until the end of March. But that appears to have been a gross miscalculation, because the Trump administration said on Friday that some states would start running out of money after Friday, Jan. 19.
* * *
Republican leaders in Congress all but abandoned the program last fall and devoted their time to trying to pass an unpopular tax bill that will increase the federal debt by $1.8 trillion over the next decade, according to a Congressional Budget Office analysis released last week. By contrast, CHIP costs the federal government roughly $14.5 billion a year, or $145 billion over 10 years.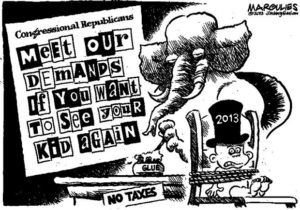 Republicans have held children's insurance hostage to force Democrats to accept cuts to other programs. [Some things never change.] Last year, House Republicans insisted that they would reauthorize CHIP only if Democrats agreed to offset spending on the program with cuts to Medicare and a public health program created by the Affordable Care Act. Democrats balked at those demands, given that Republicans did not bother to offset the loss of revenue from their boondoggle tax cuts.
A deal between the two sides should theoretically be easier to reach now. That's because the C.B.O. said last week that reauthorizing CHIP would add just $800 million to the federal deficit over 10 years, much less than the $8.2 billion it had projected earlier. The budget office updated its estimates after the adoption of the tax law. That law will significantly reduce federal spending on health care by eliminating the requirement that people buy insurance, which many people do with the help of government subsidies. The budget office says that provision and a separate change to insurance regulations by the Trump administration will reduce the cost of insuring children.
Yet funding for CHIP is still far from assured. Congress has a lot on its plate, chiefly passing a spending bill by the end of this week to avoid a government shutdown.
If Congress does not act on CHIP, state governments will be forced to freeze enrollment, cut benefits, end their programs or come up with another source of money. For some families, the program, which costs them nothing or very little, is essential. Losing it would be a big blow. Many cannot afford coverage in the private market.
After meeting with Mr. Trump during the weekend at Camp David, Republican leaders suggested they wanted to work with Democrats on bipartisan legislation this year. If they are serious, they can start with CHIP. America's children are counting on it.
Tick-tock. Time is running out in this do-nothing Congress.