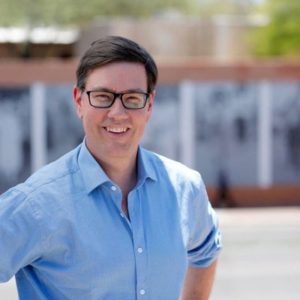 In his Phoenix campaign headquarters on 7th Street, state Senator Steve Farley detailed how he will serve the people as Arizona's next Governor in the areas of promoting quality and safe education, fighting Dark Money corruption, expanding democracy, bolstering social justice programs, modernizing our state infrastructure while protecting our environment and water supply, and helping to secure our borders.
Who is Senator Steve Farley?
He likes gardening, fantasy football, jigsaw puzzles, and independently-produced movies (he highly recommends the not-for-profit, independent Loft theater in Tucson).
Farley is the only Democratic candidate for Governor with actual leadership experience (as Assistant House and Assistant Senate Minority Leader) and governing know-how (12 years) who has won an election (winning six elections to the Arizona State House and later the State Senate). Senator Farley never forgets that the power loaned to elected officials comes from the people and that it is the job of those temporarily entrusted with such power to listen to the people they have sworn to serve.
He faults Governor Ducey and his allies for being beholden to Dark Money special interests in Arizona and Kansas and pledges to be a Governor who is a grown-up who "responds to the real needs of the people."
A pragmatic progressive with a passion for solving problems, he is willing to work across the aisle with Republicans, to appear on conservative talk shows to promote his ideas and to enact forward-looking legislation that improves the lives of the people of Arizona.
Senator Farley on promoting Quality and Safe Education
 The son of two public school teachers, Senator Farley's major goal is promoting a quality and safe education program for all children from preschool to post- secondary. Among the ideas the Senator champions and has fought for in the legislature are:
The state funding of full-day pre-Kindergarten and Kindergarten.
The state funding of JTED programs like those that exist at schools like E.V.I.T. and Metro Tech. The Senator was aghast that Governor Ducey eliminated such funding in his first year in office before blowback, led in part by Mr. Farley, helped restore the monies.
A 20-to-1 student to teacher classroom size in grades K-3 and no more than 30 in grades 4-12.
Greater investments in school counselors to reduce the ratio of 900 students for every counselor. This would better serve the students and also help with school safety, as counselors would spend more time with children and potentially identify problems that may arise.
Education learning standards that include real science as opposed to the attempts at eliminating topics like evolution, climate change, and the Big Bang Theory currently advocated by the current Superintendent of Public Instruction.
A Service Learning/Community Service requirement for high school students to enroll in.
Restoring a "properly-designed state assessment" as a graduation requirement that does not take away from an instructor's "autonomy" in the classroom and does not compromise the curriculum.
Protecting all students, including minority and LGBTQ children, from bullying. The Senator also calls for the members of the legislature to reform the guidelines associated with sex education so LGBTQ children do not feel ostracized.
Increased funding for university and community college programs after years of neglect by the last two Republican Governors and Republican state legislators (the Community Colleges in Pima and Maricopa currently get no state aid). This would lead to a reduced (and eventually free) tuition for all in-state students, including Dreamers ("they are Arizonans"). However, the Senator cautions that all aspects of the budget process must be considered before fully committing to the amount of reduced (or free) tuition.
Opposing school vouchers and all tax credits given to families who use them to put their children in private schools. He is a "No" vote on Proposition 305.
Greater accountability for charter schools and a commitment to halting the issuance of new charters until new accountability anti-fraud measures are in place. Farley wants to do away with charters where operators are "self-dealing" and enriching themselves. He also wants to revoke the charters of schools whose test scores are inflated because they steer poor test-takers away from their student body.
Compensating teachers with what they deserve and giving them the autonomy at the "local school level" to bring the best out of children in the classroom. The Senator was among the first supporters for a 20 percent pay raise for teachers and believes well-paid instructors are key to providing a quality education system, improving our economy, and luring commerce and industry to the state.
Fully Funding the K-12 education system at 2009 levels by supporting The Invest in Ed ballot initiative along with negotiating with Tea Party Republicans to reduce the 331 corporate tax loopholes currently on the books. The Senator has worked with the Republicans before on a study, which passed on a 28 to 2 vote that revealed where the loopholes were. He is confident that these Tea Party Republicans who are no friends to large corporations, will favor taking away these loopholes (which total $13 billion a year against a $10 billion state budget). The Senator also supports raising funds for education by taking away the tax credits for private school and the public funds that have been allocated to the Koch "Freedom Centers" at the University of Arizona and Arizona State University. He hopes that in fully funding education this way will result in reducing the state's regressive state sales tax by one percent which would provide a trickle-up effect where the people have more money to spend on products that will reinvigorate the state economy.
Fighting Dark Money Corruption
Farley has been a consistent opponent of Dark Money interests. The Outlaw Dirty Money Initiative bears some of the language he had written in legislation in 2013. He introduced the ALEC Accountability Act to regulate special interests but was rebuffed by the Republican-led legislature. He believes "money is not speech and corporations are not people."
Expanding Democracy
The Senator favors same-day voting registration on the day of elections. Furthermore, he advocates greater funding for primary elections so voting places do not have long lines. He favors all-mail voting and is for a repeal on the recent Republican law that restricts who can bring a mail-in ballot to a voting location. He also wants to make the ballot initiative process as easy as possible, stating that public servants should "never forget that their power comes from the people."
 Senator Farley on expanding Social Justice Programs
 Jobs that pay well:
He favors a trickle-up approach to the economy where higher wages for the middle and lower class will reinvigorate the state coffers as the people have more buying power. He is receptive to the idea of towns like Phoenix, Tucson, Yuma, Flagstaff, Apache Junction, or Eloy determining the minimum wage that fits the needs of that local community. He also believes that unions are one of the foundations of a strong middle class.
Healthcare
Senator Farley thinks everyone should have an opportunity to buy into the State Medicaid System (ACHSS). He also is supportive of an idea of health care pools where, if made available, residents in a locality can buy into a city or town health care plan that is offered to local public servants.
Reducing Poverty and Homelessness
He expressed support for a bill that went to the hearing phase that would have added escrow fees for out of state property owners that would have gone to assisting first time home buying.
Farley, like all the progressive legislative candidates, believes that education, infrastructure, a free breakfast, lunch, and dinner in school for students, and state aid for childcare are all necessary to help reduce poverty and homelessness along with people having a good paying job. He was aghast that the Republican Leadership left $50 million on the table that could have gone to helping poor children, saying there was no time to consider it at the end of the legislative session. Mr. Farley tried to call a special session to address this issue but the reactionary Republican leadership did not allow it.
Modernizing and Bolstering our State Infrastructure Programs while protecting our Environment and Water Supply.
Roads and Highways:
He favors ending the HURF (Highway User Resource Fund) shift to other non-road areas of the budget and worked to accomplish that starting next year. Road Maintenance had become so severe that Apache County was on a 67-year maintenance cycle.
Light and High-Speed Rail:
He supports a Tucson-to-Vegas rail line, adding that 19,000 jobs would be created with a billion dollars worth of investment. Citing the modern streetcar program he worked on in Tucson, he strongly supports light rail expansion in all major metro areas.
International Airports in Phoenix and Tucson
 He wants the airports connected with new light rail lines. Furthermore, he wants them maintained in great shape, because they are major ports for the state. He also warns that if temperatures keep rising (projected to be as high as 130 degrees in ten years), Sky Harbor in Phoenix may have extended shutdown periods when the temperature gets above 120 degrees — which will damage commerce and mobility.
Broadband Expansion
The Senator believes that this is a key economic expansion generator and is essential to helping develop rural and reservation areas and assists the residents there.
Community Banking
He favors depositing state revenues in community banks instead of the Bank of America for one percent interest. The funds could be used by local communities to loan funds to local businesses where "we would have our money in Arizona to work in Arizona instead of making money for Wall Street."
Biotech and Computer Industries
Farley feels Arizona should grow and expand its own biotech and computer industries by expanding research and other opportunities at our universities rather than recruit dubious out-of-state companies, as Governor Ducey did with Theranos and Uber.
Solar Power
Mr. Farley is a supporter of the Clean Energy Initiative. He backs the idea of having 50 % of our state's power coming from renewable energy sources. Arizona should be "running the country on Arizona Sunshine instead of coal," he says, adding, "we should not have to go to China to build solar panels." He wants the state to develop its own solar panel industry, get rid of obstacles with regards to fitting solar panels on roofs, and get the utility companies to redo their long-range development plans.
Water Storage and Supply
The senator wants to create a groundwater conservation plan like former Governor Bruce Babbit negotiated in the 1980's. He also believes we need to combat climate change and consider growing hemp, as opposed to cotton, as a fabric product that uses less water when growing. He also favors water harvesting from roofs for recycling purposes. He thinks desalination offers possibilities for both water supply and the development of the solar energy industry as the leftover molten salt ponds from the desalination process can help with energy storage. He believes a deal could be struck with California on this. He also wants our soil and water supply protected from poor mining operations.
 Senator Farley on Helping to secure our borders
Unlike the other two Democratic candidates in the race for the Gubernatorial Nomination, Senator Farley offers the most realistic appraisal of the situation on the states southern border. Recognizing that we need to have a secure border, he favors helping the local sheriffs and border patrol get the necessary funding to stop illegal immigration, human trafficking, drug and gun smuggling. He wants to reform I.C.E. and not abolish it. He condemns the Trump Administration's zero tolerance policy and separating children from their parents. He has been at "detention" centers to express those views. He is against building a wall and wants to maintain good economic relations with our number one trading partner Mexico.
 Moving Forward
Voters have an important decision to make in August when choosing their nominee for Governor. This is a state, which despite the current governor's views on reality, lags behind all the states in the region (even the blue ones) in most social justice and economic indicators. They should consider the following criteria:
• Does the candidate have a solid grasp of the issues?
• Does the candidate have a progressive track record in public service?
• Does the candidate have the wisdom to compromise and take the long view to accomplish the progressive goals of the party?
• Does the candidate have the temperament to lead?
• Has the candidate demonstrated an ability to work across the aisle with the opposition party?
• Does the candidate have a respected record of leadership and experience?
• Has the candidate demonstrated an ability to win an election campaign?
By any objective measure, Senate Assistant Minority Leader Steve Farley, more than the other two Gubernatorial Democratic candidates, has demonstrated through his 12 years of public service that he has the ideas and knowledge, the progressive track record, the wisdom to work towards the long term, the temperament to lead, the ability to work across the aisle, a respected record of leadership and experience and an ability to win multiple election campaigns.
In contrast with his distinguished primary opponents, Senator Farley will not need on the job training on the first day he succeeds Doug Ducey in the governor's office. He will always remember that he is a servant of the people.
For more information about Senator Farley, please visit the below sites.
https://www.facebook.com/FarleyforAZ/
https://twitter.com/stevefarleyaz
https://www.youtube.com/channel/UCPqsC91cMsf9RBwnr-_UdQg
https://www.youtube.com/watch?v=uI8s7qrCkYM
https://azdailysun.com/elections/democratic-debate-for-arizona-governor/collection_f805c35e-13e7-59f1-8b97-321f6dc9ab00.html#1
https://blogforarizona.net/democrat-steve-farleys-economic-recovery-plan/
https://blogforarizona.net/solid-support-educators-steve-farley-oust-ducey/
https://blogforarizona.net/farley-kicks-off-bid-governor-3-point-plan-education/
https://ballotpedia.org/Steve_Farley
https://votesmart.org/candidate/key-votes/68105/steve-farley#.W2twX2RKi34
https://twitter.com/dougducey/status/1025066563727024128
<hr>
<em>Support volunteer citizen journalism at the Blog for Arizona with a donation today. Your secure contribution keeps the Blog online and sustains a free press in Arizona.</em><hr>