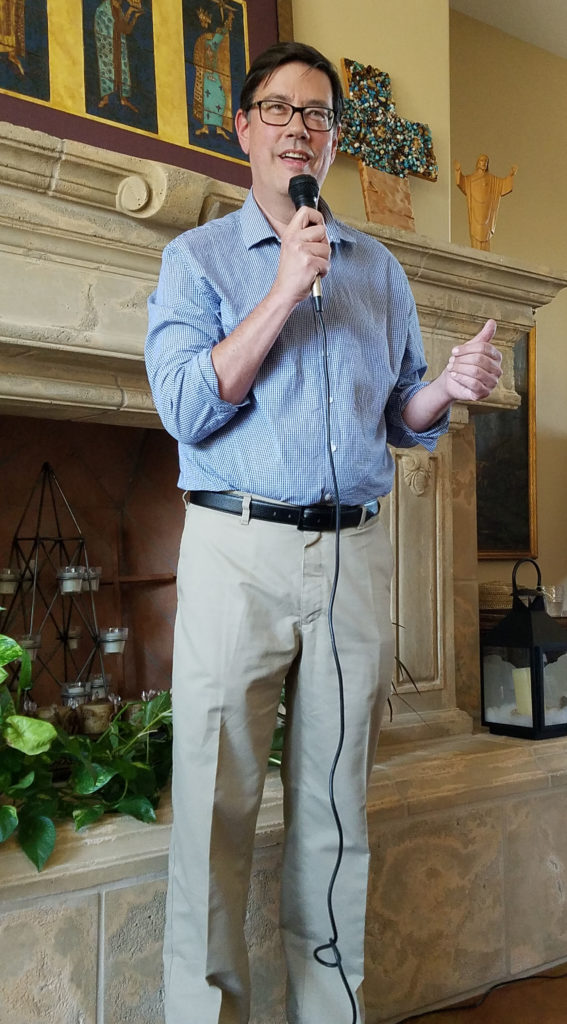 By Larry Bodine.
State Senator Steve Farley will announce a three-point plan to restore education funding in Arizona when he publicly kicks off his bid for Governor on Monday at the Arizona Inn.
Doors open at 5:30 p.m., at Arizona Inn, 2200 E. Elm  St. in Tucson. Event from 6 to 8:30 p.m. RSVP at https://goo.gl/2Q9rAe
At a jam-packed invitation-only fundraiser on Saturday, Farley said he was confident he could be incumbent, Goldwater Institute-backed Gov. Doug Ducey.
Introduced by former Congressman Ron Barber, Farley outlined a three-point plan to restore education funding in Arizona:
A K-12 system that is a foundation for opportunity system for all Arizonans, second to none.
"One if four children currently live in poverty. That's not tolerable," he said.
A university system that's strengthened, not cut.
"That's where the new industries will be coming from. And when people who go to university come up with new industries, they're going to stay in Arizona. You won't have to bribe them to come to Arizona. They'll be here."
A community college system that's a lifelong institution for training and retraining.
"We've cut our K through 12 system by 21% since 2008. We've cut our university system by $2.5 billion. And we've cut off community colleges in Pima County and Maricopa County entirely from state funding."
331 Corporate tax loopholes
Farley said the funding will come from closing 331 corporate tax loopholes that are in the sales tax code, which now bleed $13.7 billion a year from the state general fund.
"We've got to look at those and get rid of them. If we could get rid of $2 billion of them, we could lower the sales tax by a penny while increasing funding for education."
Farley, age 54, is the son of two public school teachers, and said:
"Teachers work hard not because they're getting paid well. Teachers work hard because they believe in their kids."

"There's absolutely no excuse that Governor Ducey and this legislature have cut our education system to the point where we have the lowest average teacher salaries in the country," Farley said.
A captivating speaker, Farley is also smart. He graduated Phi Beta Kappa from Williams College (Mass.) in 1985 with a bachelor's degree in Political Science. He has 11 years' experience in the Arizona statehouse.
$9 million campaign goal
Farley said he needs to raise $9 million to fund his campaign. "Remember we're fighting against the Koch brothers golden boy. He's going to have a lot of money. We're going to have a lot of money too. We may not match them. But we'll add the money we're going to be able to raise together with the face-to-cafe contact I'm going to try to have everyone in every town in this state," Farley said.
"People are ready for change," he said. "We can shine as an example for the country here in Arizona, where too often we've turned up as a joke on The Daily Show."
Where is Ducey vulnerable?
"Most people don't know Doug Ducey. And the people who know him don't like him that much. He doesn't feel like one of us. And the fact that he lies all the time. He says one thing but he does exactly the opposite. I'm going to remind people that he was the leader of the effort to kill $1 billion a year from education. He created the problem we're trying to solve."
Scuttlebutt:
Former Arizona state Representative Victoria Steele, who served for four years, will run for Farley's vacant Senate seat. She is NOT running again for Congress.
Arizona state Representative Randall "Randy" Friese is considering a run against US Senator Jeff Flake. He is a Democratic member representing District 9 in Tucson.
There are 9 Democrats vying to run against Martha McSally:
Matt Heinz – Ex-State Rep., Physician & '12/'16 Candidate 

Lou Jordan – Retired USAF Colonel

Ann Kirkpatrick – Ex-Congresswoman, Ex-State Rep., Ex-Sedona City Attorney & '16 US Sen. Nominee

Billy Kovacs – Hotel Manager & Marketing Consultant

Jeff Latas – Airline Pilot, Businessman, USAF Veteran, Democratic Activist & '06 Candidate

Mary Sally Matiella – Ex-US Asst. Army Secretary & Accountant

Joshua Polacheck – Ex-US Foreign Service Officer

Charlie Verdin – Businessman

Bruce Wheeler – Ex-State Rep.
---
Larry Bodine is a Precinct Committeeman, Precinct #238, in Tucson, AZ.