Back in July, I  posted about the 'disinformation' campaigns, from tobacco to climate science:
In 1994, Representative Henry Waxman (D-CA), Chairman of the House Committee on Energy and Commerce Subcommittee on Health and the Environment, subpoenaed the top executives of the seven largest U.S. tobacco companies and asked them to testify under oath whether they believed nicotine to be addictive.
All of the tobacco executives testified under oath that "I believe that nicotine is not addictive." Tobacco CEO's Statement to Congress.
The Waxman hearings represented the pinnacle of the tobacco industry's decades long campaign to collude together to mislead the public by promoting "controvery" about the harmful effects of smoking and the addictiveness of nicotine.
Just four years later, the four largest U.S. tobacco companies entered into a "global settlement agreement," i.e., the Tobacco Master Settlement Agreement, in which the attorneys general of 46 states settled their Medicaid lawsuits against the tobacco industry for recovery of their tobacco-related health-care costs — but also exempted the companies from private tort liability regarding harm caused by tobacco use. In exchange, the tobacco companies agreed to curtail or cease certain tobacco marketing practices, as well as to pay, in perpetuity, various annual payments to the states to compensate them for some of the medical costs of caring for persons with smoking-related illnesses.
History is repeating itself with the Carbon Monopoly's decades long campaign to collude together to mislead the public by promoting "controvery" about the harmful effects of global warming and climate change.
This week, the Attorney General of New York opened an investigation focuses on whether ExxonMobil lied to the public and investors over the risks of climate change for years. ExxonMobil Investigated for Possible Climate Change Lies by New York Attorney General:
The New York attorney general has begun an investigation of ExxonMobil to determine whether the company lied to the public about the risks of climate change or to investors about how such risks might hurt the oil business.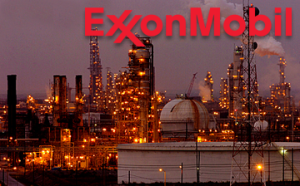 According to people with knowledge of the investigation, Attorney General Eric T. Schneiderman issued a subpoena Wednesday evening to ExxonMobil, demanding extensive financial records, emails and other documents.
The investigation focuses on whether statements the company made to investors about climate risks as recently as this year were consistent with the company's own long-running scientific research.
The people said the inquiry would include a period of at least a decade during which Exxon Mobil funded outside groups that sought to undermine climate science, even as its in-house scientists were outlining the potential consequences — and uncertainties — to company executives.
* * *
Mr. Schneiderman's decision to scrutinize the fossil fuel companies may well open a new legal front in the climate change battle.
The people with knowledge of the New York case also said on Thursday that, in a separate inquiry, Peabody Energy, the nation's largest coal producer, had been under investigation by the attorney general for two years over whether it properly disclosed financial risks related to climate change. That investigation was not previously reported, and has not resulted in any charges or other legal action against Peabody.
Vic Svec, a Peabody senior vice president, said in a statement, "Peabody continues to work with the New York attorney general's office regarding our disclosures, which have evolved over the years."
The Exxon inquiry might expand further to encompass other oil companies, according to the people with knowledge of the case, though no additional subpoenas have been issued to date.
The people spoke on the condition of anonymity, saying they were not authorized to speak publicly about investigations that could produce civil or criminal charges. The Martin Act, a New York state law, confers on the attorney general broad powers to investigate financial fraud.
To date, lawsuits trying to hold fuel companies accountable for damage they are causing to the climate have failed in the courts, but most of those have been pursued by private plaintiffs.
Attorneys general for other states could join in Mr. Schneiderman's efforts, bringing far greater investigative and legal resources to bear on the issue. Some experts see the potential for a legal assault on fossil fuel companies similar to the lawsuits against tobacco companies in recent decades, which cost those companies tens of billions of dollars in penalties.
"This could open up years of litigation and settlements in the same way that tobacco litigation did, also spearheaded by attorneys general," said Brandon L. Garrett, a professor at the University of Virginia School of Law. "In some ways, the theory is similar — that the public was misled about something dangerous to health. Whether the same smoking guns will emerge, we don't know yet."
The history at ExxonMobil appears to differ, in that the company published extensive research over decades that largely lined up with mainstream climatology. Thus, any potential fraud prosecution might depend on exactly how big a role company executives can be shown to have played in directing campaigns of climate denial, usually by libertarian-leaning political groups. [See Think Progress, Oil Company Exxon Knew About The Scientific Reality Of Climate Change In 1981.]
* * *
The people with knowledge of the case said the attorney general's investigation of Exxon Mobil began a year ago, focusing initially on what the company had told investors about the risks that climate change might pose to its business.
News reporting in the last eight months added impetus to the investigation, they said. In February, several news organizations, including The New York Times, reported that a Smithsonian researcher who had published papers questioning established climate science, Wei-Hock Soon, had received extensive funds from fossil fuel companies, including Exxon Mobil, without disclosing them. That struck some experts as similar to the activities of tobacco companies.
More recently, Inside Climate News and The Los Angeles Times have reported that ExxonMobil was well aware of the risks of climate change from its own scientific research, and used that research in its long-term planning for activities like drilling in the Arctic, even as it funded groups from the 1990s to the mid-2000s that denied serious climate risks.
Mr. Cohen, of Exxon, said on Thursday that the company had made common cause with such groups largely because it agreed with them on a policy goal of keeping the United States out of a global climate treaty called the Kyoto Protocol.
"We stopped funding them in the middle part of the past decade because a handful of them were making the uncertainty of the science their focal point," Mr. Cohen said. "Frankly, we made the call that we needed to back away from supporting the groups that were undercutting the actual risk" of climate change.
* * *
Whether ExxonMobil began disclosing the business risks of climate change as soon as it understood them is likely to be a major focus of the New York case. The people with knowledge of the case said the attorney general's investigators were poring through the company's disclosure filings made since the 1970s, but were focusing in particular on recent statements to investors.
ExxonMobil has been disclosing such risks in recent years, but whether those disclosures were sufficient has been a matter of public debate.
The New York Times further reports, More Oil Companies Could Join Exxon Mobil as Focus of Climate Investigations:
The opening of an investigation of ExxonMobil by the New York attorney general's office into the company's record on climate change may well spur legal inquiries into other oil companies, according to legal and climate experts, although successful prosecutions are far from assured.
Many oil companies have funded lobbying efforts and research on climate change, so prosecutors would most likely be able to search through vast amounts of material. The industry has also resisted pressure for years from environmental groups to warn investors of the risks that stricter limits on carbon emissions could have on their businesses, although that appears to be changing.
"ExxonMobil is not alone," said Stephen Zamora, a professor at the University of Houston Law Center. "This is not likely to be an isolated matter."
Energy experts said prosecutors may decide to investigate companies that chose to fund or join organizations that questioned climate science or policies designed to address the problem, such as the Global Climate Coalition and the American Legislative Exchange Council, to see if discrepancies exist between the companies' public and private statements.
British Petroleum (now BP), Shell Oil, Texaco (now part of Chevron) and Exxon, along with several manufacturing companies, were all members of the coalition, a group of companies and trade associations that started an advertising campaign in the 1990s opposing Washington's involvement in strong international efforts like the Kyoto Protocol initiative to reduce greenhouse gas emissions.
Energy experts said internal documents from member companies about climate change could contradict what the companies said as part of the coalition, which disbanded in 2002.
"There was a concerted effort by multiple American oil companies to obscure the emerging climate science consensus throughout the 1990s," said Paul Bledsoe, a former White House aide to President Bill Clinton on climate issues. "This group may be vulnerable to legal challenge."
British Petroleum and Shell Oil left the coalition early on, setting a pattern in which European oil companies took a very different course on climate and other environmental issues than most of their American competitors.
Shell announced this summer that it would not renew its membership in the American Legislative Exchange Council, or ALEC, a free-enterprise group that has opposed government mandates, subsidies and other efforts to force or encourage companies to develop and use more renewable energy sources.
Occidental Petroleum and several other companies have also left ALEC, but Chevron and Exxon Mobil still support the group.
* * *
But foreign oil and gas companies, including most recently Total of France and BHP Billiton of Australia, have been far more outspoken about the dangers of climate change than American ones.
Last month, 10 of the world's biggest oil companies, including BP, Royal Dutch Shell, Saudi Aramco, Repsol of Spain, Eni of Italy and Total, made a public declaration acknowledging that their industry must help address global climate change.
None of the big American companies joined the group, largely because they oppose carbon taxes and trading of carbon-emission permits — remedies that would raise the price of fossil fuels like oil and natural gas.
Last September, five major European, Asian and Latin American oil and gas companies signed on to a voluntary United Nations-backed program to monitor and disclose methane emissions, as well as invest in technologies to control greenhouse gases from their operations.
The only American company to join was Southwestern Energy, a midsize Houston-based company that mostly invests in natural gas.
* * *
Energy experts say it will be harder to make cases against the oil companies than it was against tobacco companies that deliberately hid research from their customers, since many oil company scientists, including those of Exxon Mobil, have presented papers on climate change publicly at conferences and contributed to the research of international groups concerned with the issue.
"Unless they directly lied in Congress, the legal case against them is kind of thin," said Hal Harvey, chief of Energy Innovation, an energy consultancy. But he added, the record shows that the companies "have walked away from being a credible spokesman on science."
Congressional Democrats have requested the U.S. Attorney General to open an investigation. House Democrats Press DOJ To Investigate If Exxon Broke The Law With A Climate Change Cover-up:
Two House Democrats are urging Attorney General Loretta Lynch to launch an investigation into allegations that oil giant ExxonMobil hid research, which verified that fossil fuels play a role in global warming.
In a letter to Lynch, Reps. Ted Lieu (D-Calif.) and Mark DeSaulnier (D-Calif.) argue a probe is needed, to determine whether ExxonMobil broke the law.
Lieu and DeSaulnier's request is based on two independent investigations published by Inside Climate News and the Los Angeles Times, which document research conducted by a number of Exxon's senior scientists. Their findings warned of increases in the global temperature as a result of burning fossil fuels.
"In this case, Exxon scientists knew about fossil fuels causing global warming and Exxon took internal actions based on its knowledge of climate change," Lieu and DeSaulnier wrote. "Yet Exxon funded and publicly engaged in a campaign to deceive the American people about the known risks of fossil fuels in causing climate change."
"If these allegations against Exxon are true then Exxon's actions were immoral," they added. "We request the DOJ to investigate whether ExxonMobil's actions were also illegal."
Four members of Congress have asked the Securities and Exchange Commission to investigate ExxonMobil's past federal filings to determine if the company violated securities laws by failing to adequately disclose material risks to its business posed by climate change. Congressmen Call on SEC to Investigate Exxon's Climate Disclosures:
The letter to the SEC from members of the House Oversight and Government Reform Committee, led by California Democrat Ted Lieu, cites recent separate investigative series by InsideClimate News and The Los Angeles Times regarding Exxon's early research into climate change. The articles revealed that Exxon's top management (NYSE: XOM) knew as far as back as the late 1970s of the threat of global warming from the burning of fossil fuels. A decade later, the company spearheaded industry efforts to derail regulation of greenhouse gas emissions and cloud public understanding of climate science.
The call for an SEC inquiry is the latest in a growing chorus of lawmakers, politicians and activists pressing for federal probes into Exxon's handling of climate change.  Members of the House and Senate have asked the Justice Department to investigate the company. Late last week, Democratic presidential frontrunner Hillary Clinton joined fellow candidates Bernie Sanders and Martin O'Malley in demanding a Justice Department inquiry. A coalition of nearly 50 environmental and other watchdog groups last Friday also mounted a campaign for an investigation.
"SEC spokeswoman Judith Burns declined to comment on the letter."