Back in December, the Gov. Ducey packed Republican Arizona Supreme Court ruled that the Arizona Legislature does not have to comply with the open meetings law that it enacted for every other governmental body in this state. Arizona Supreme Court rules Legislature not required to follow open meeting laws:
State lawmakers are free to ignore laws they approved requiring public access to their meetings and there's nothing that courts can do about it, the Arizona Supreme Court ruled Friday.
In a unanimous ruling, the justices acknowledged that legislators applied the state's Open Meeting Law to themselves. This law requires that all legislative committees conduct meetings publicly so "all persons so desiring shall be permitted to attend and listen to the deliberations and proceedings."
In fact, Justice Ann Scott Timmer said lawmakers also approved rules that are substantially similar.
But Timmer said the Arizona Constitution also gives the House and Senate the power to determine their own procedural rules. And that, she said, "necessarily means each house can interpret, amend, enforce or disregard those rules with almost limitless impunity."
And that, Timmer said, also means they are free to ignore the statute that they applied to themselves without fear that some individual or organization will sue to force them to follow it.
"It generally falls to them (the legislative houses) – not the courts – to enforce any violations by members," she wrote. "It makes no difference that the legislative rules substantially mirrored the Open Meeting Law."
And there's something else in the ruling,
"Our constitution neither expressly nor impliedly requires that legislative proceedings be open to the public," Timmer wrote. And that conclusion could give lawmakers, should they desire, the go-ahead to close off other proceedings that, until now, have been open to the public.
With this carte blanche ruling that the Arizona Legislature is above the law and is free to operate in the dark without any transparency or accountability, the Republican leadership of the legislature has taken the next logical step to a government which operates entirely in the dark without any transparency or accountability. This is GQP authoritarianism with the imprimatur of legality from the Gov. Ducey packed Republican Arizona Supreme Court. This is not what the Founding Fathers intended in establishing a democratic republic.
Bob Christie reports, Arizona legislators break free from the law and shred emails:
The Arizona Legislature will waive the state public records law and destroy all email correspondence sent or received by legislators or employees after 90 days under new rules passed by majority Republicans against vigorous opposition from minority Democrats became.
The Senate has also completely exempted text messages on its members' personal phones, which lawmakers often use for legislative business, from being published at all times. The house policy is not so expansionary.
Had these rules been in effect after the 2020 presidential election, they would have prevented the public from learning about many of the efforts to persuade Arizona lawmakers to throw out President Joe Biden's victory.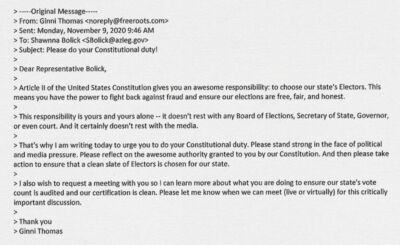 One of the most famous of these efforts was a series of emails sent by Virginia Thomas, wife of US Judge Clarence Thomas and a supporter of former President Donald Trump, to scores of members of the Republican House of Representatives and the state Senate just days later Biden won the election. She urged members to throw Biden's delegates into the Electoral College and replace them with a GOP panel.
BREAKING: 186 Legislators from 39 States Write a Letter to the American People Calling for a 50-State Audit, Decertification Where Appropriate, and Possible Convening of the US House of Representatives (1/2) pic.twitter.com/syGpDm5fN9

— Wendy Rogers (@WendyRogersAZ) November 23, 2021
In short, these insurrectionist co-conspirator Coup Plotters are covering their tracks, and are authorizing the destruction of evidence in an effort to obstruct justice and to avoid accountability for their criminal conspiracy to overthrow the 2020 election results, with a look ahead to stealing the 2024 election.
The House of Representatives changed its rules on Tuesday and the Senate on Wednesday. The changes create sweeping exemptions for lawmakers from the state Public Records Act, which requires records to be retained indefinitely and made available to the public upon request.
Senate Republicans have been forced to release thousands of emails and text messages related to their partisan review of the 2020 presidential election, despite challenging the release in court.
The state Supreme Court ruled last year that some of the emails and text messages could remain classified. The court referred to the need of the legislature to be able to discuss and debate matters privately and to the principle of the separation of powers.
Current Senate President Warren Peterson, R-Queen Creek, has been heavily involved in this effort as chairman of the Judiciary Committee.
The House package, passed despite unified opposition from minority Democrats, also makes significant changes to many of the chamber's other rules. These include limiting debate on controversial legislation to just 30 minutes and requiring the Republican speaker to approve future rule changes — even if a majority of members vote in favor. And it allows Speaker Ben Toma, R-Peoria or Senate President Peterson to sue for any perceived insult by incoming Democratic Gov. Katie Hobbs without holding a vote.
In other words, they are elevating the Speaker of the House and Senate President to an unconstitutional fourth branch of government with plenary powers over the legislative body elected by the voters. They are also authorizing these despots to engage in the performance politics of politically motivated lawsuits to obstruct Democratic policies which Republican attorneys general have engaged in for the past couple of decades, since they no longer have a Republican AG in Arizona.
The House passed pretty much the same rule changes yesterday.

Now there's artificially limited debate, much less transparency, minimal accountability and they all but guaranteed the speaker/president can't be rolled.

This won't end well. https://t.co/FUHeSCuJSP

— Jim Small (@JimSmall) January 26, 2023
Limiting debate in the House of Representatives eliminates one of the few procedural steps minority Democrats have to slow down bills pushed only by Republican members. The GOP has narrow one-vote majorities in both chambers. In the Senate, which has half as many members, no major changes were made to the debate rules.
Keep in mind that Republicans are the biggest defenders of the Senate filibuster rule in the U.S. Congress, which they abuse to obstruct Democratic policies. "Do as I say, not as I do."
The stipulation requiring the Speaker to vote for any future rule change blocks any bipartisan effort to circumvent it and calls for a vote on legislation it doesn't support.
"It's important to note that if the speaker's voice had been required … Arizona would not have seen the expansion of Medicaid or the (2022) ballot decree of state tuition for DACA recipients ("Dreamer") — which voters incidentally approved." Minority leader Andres Cano, D-Tucson, told fellow members Tuesday.
"And now it could potentially hamper a bipartisan budget if the speaker doesn't vote yes," he continued. "If a member wants veto power, run for governor."
Toma said that rules to limit debate had been applied – albeit occasionally – over the past two years, and he defended the changes to the public records retention policy.
"I don't think I have any intention of hiding anything," he told Capitol Media Services on Wednesday.
"The important part is, no matter what it looks like … we have applicable legislative privilege," Toma said. "And every rule that we have set up is procedural in nature. In other words, we have the right to do it – and we do it."
Thanks to the Gov. Ducey packed Republican Arizona Supreme Court.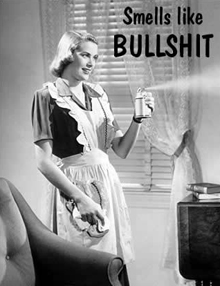 Rep. Travis Grantham, R-Gilbert, a member of the Republican leadership team, defended the new rules during the vote, saying limiting debate was necessary because Democrats "weaponized" long debates on the floor. He also said Republican leaders here viewed the rules passed by the US Congress as a template.
Republicans in the U.S. Congress routinely demand unlimited debate and floor amendments. Again, "Do as I say, not as I do."
"These rules are rules accepted and written by Democrats and Republicans," he said, although Democrats were not consulted in the Arizona House. "To portray this in a way that makes it appear that Republicans are restricting speech or preventing either side from doing business is just utterly disingenuous and unfair. And let's just be honest."
He didn't mention the new record-keeping policy, which has the biggest impact on the public's ability to know what lawmakers are doing and who is pushing them to act.
If it had been in effect in 2020, Thomas's emails would have been destroyed before reporters were able to locate them through public records requests.
The Washington Post first received the emails from Thomas in May 2021, more than six months after sending them. And American Oversight, a watchdog group whose lawsuit trying to obtain records of the Senate's "scrutiny" of the 2020 election that led to the state Supreme Court's decision would have gotten nothing.
The change only benefits lawmakers who want to hide the truth from the public, said Heather Sawyer, executive director of this Washington, DC-based group that focuses on preserving public records to increase government accountability.
"This rule change supports government secrecy by effectively mandating the destruction of records belonging to the people of Arizona," Sawyer said in a statement to Capitol Media Services. "An informed public is critical to a functioning democracy and this attempt to hide the facts and evade public accountability should be reversed."
The FBI subpoenaed the records of former Senate Speaker Karen Fann and those of another former Republican senator, Kelly Townsend, last year as it probed Trump's efforts to reverse his defeat. But Sawyer said it would have come up empty had the new policy been in place.
Democratic Sen. Mitzi Epstein, D-Tempe, condemned the new secrecy.
"We should be transparent," Epstein said on Wednesday. "And the emails where we discuss policies should be available to the public if they request it."
[QAnon] Senate Majority Leader Sonny Borrelli, R-Lake Havasu City, said no one should be able to get the contents of their personal text messages without a warrant. However, courts have ruled that text messages on private devices concerning government matters are public records.
Cano said the idea of ​​lawmakers exempting themselves from the law mandating email retention — House Rules say text messages can now be destroyed "after the benchmark has been served" — undermines transparency.
"To say the law doesn't apply to us is a terrible message to the public," he said.
These anti-democracy authoritarian MAGA/QAnon Republicans, many of them co-conspirators in the criminal conspiracy to overthrow the results of the 2020 election, are out of control. Voters need to remove them from office, while you still have a vote in the semblance of a democracy.