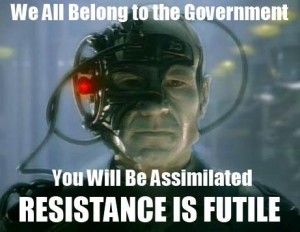 Governor Doug Ducey, the ice cream man hired by Koch Industries to run their Southwest subsidiary formerly known as the state of Arizona, got what he wanted from our lawless Tea-Publican legislature this week.
They are like the Borg on Star Trek: "Resistance to our authoritarian GOP rule is futile, you will be assimilated." Ducey gets bill penalizing cities for countering state policies:
State lawmakers late Wednesday sent Gov. Doug Ducey a bill that will allow him to enforce his demand that local governments fall into line with state policies.
SB 1487 (.pdf) allows any legislator to ask the attorney general's office to investigate whether a local ordinance or policy is contrary to state law. If the attorney general finds the state statute is being violated, the local government would be given 30 days to bring their local practices into compliance.
But what really gives the measure some teeth is that the failure of a city, town or county to comply would require the state treasurer to stop providing state aid and redistribute those dollars to every other community.
And if a local government disagreed, the case would go directly to the state Supreme Court for a final word.
Yeah, you see the problem with this bill is that it empowers the Attorney General, not a court of competent jurisdiction, to sit as judge and jury without a trial, and whoever heard of an Arizona Attorney General being an impartial arbiter of the evidence and not politicizing the AG office with an eye towards running for governor or another office? Have we so readily forgotten Tom Horne?
And mandating that the state Treasurer impose a punitive penalty of cutting off revenue sharing worth millions of dollars to the offending local government, which will cripple government services and thus inflict harm on the citizenry rather than the culpable elected officials who enacted the policy allegedly contrary to state law, is arbitrary and capricious and denies the citizenry of that local government due process of law under the Constitution. It is a punitive "You must obey or you will pay" decree from a modern-day Star Chamber, a political weapon for misuse and abuse of power.
Involving the state Supreme Court, an appellate court not a trier of fact, at the very end of this process does not cure the lack of due process — the harm will have already occurred. Under this bill revenue sharing withheld will be dispersed to other communities.  What happens if the state Supreme Court rules in favor of the penalized local government? Are these other communities going to be ordered to return the additional revenue that they received and have already spent?
Our lawless Tea-Publican legislature is presently disregarding an order of the state Supreme Court regarding Prop. 301 inflation adjustment funding for the state's school districts. What would give anyone reason to believe that our lawless Tea-Publican legislature would restore revenue sharing improperly withheld from a local government? It's not going to happen with these authoritarian Tea-Publicans. They will simply disregard the order of the court, as they are doing now, creating a series of constitutional crises.
[T]he legislation crafted by Senate President Andy Biggs is in line with a frustration the governor expressed in his State of the State address in January.
In that speech, the governor lashed out at communities which were looking to create "a patchwork of different wage and employment laws."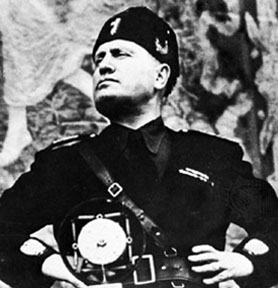 This is in reference to Proposition 202, the Arizona Minimum Wage Act, enacted by a citizens initiative in 2006. Proposition 202gave local governments the right to enact their own higher minimum wage and other benefits of employment. Last July, the Court ruled that Arizona cities can raise minimum wage. See earlier post, Action Alert: GOP war on the Arizona Minimum Wage Act is up for vote in the House today.
So Governor "Il Duce" plans to use this bill to vitiate a lawful citizens initiative enacted by you the voters in favor of the Plutocrats whom he serves. Welcome to the "Big Brother" corporatocracy.
"It's California-style chaos," he said, calling such local laws "trendy, feel-good policies that are stifling opportunities across the nation."
And just so the point was not lost, Ducey said he's not just asking local governments to fall into line.
"I will use every constitutional power of the executive branch and leverage every legislative relationship to protect small businesses and the working men and women they employ, up to and including changing the distribution of state-shared revenue," the governor said.
SB 1487 provides exactly that power.
"This is a critical bill if we want to be relevant," said Rep. Warren Petersen, R-Gilbert. "This is an enforcement mechanism so that the laws are followed."
If Ducey signs the measure, the likely first targets are Tucson and Bisbee.
In the case of Tucson, there already is a formal attorney general's opinion that two city ordinances are contrary to state law.
One requires people who lose a firearm to report it to police. The other allows police to request a breath sample from someone who has negligently discharged a firearm and appears intoxicated.
Tom Horne who was attorney general at the time said both laws run afoul of a state statute which preempts local gun laws.
City Attorney Mike Rankin disagrees. And the council has refused to back off.
Now Mark Brnovich, Horne's successor, could threaten the city with loss of its revenue sharing dollars, a figure in the $50 million range.
The City of Tucson is currently making budget cuts to close a $25.6 million deficit. Tucson City Council sees budget deficit fall to $25.6M. Add an arbitrary and capricious punitive penalty of withholding another $50 million in state revenue sharing, and public services — including public safety — would be crippled. It will be the citizens of Tucson who suffer, without redress.
Bisbee is in a somewhat similar position, with its council concluding a state law banning regulation of plastic bags does not apply to its ordinance.
The legislation also comes as other communities are looking at enacting local laws that could be seen in conflict with state policy, including higher minimum wages than state law and requiring private companies to offer things like paid sick and maternity leave.
Wednesday's 32-28 vote came over the opposition of several lawmakers who previously had been on city councils.
These dangerous authoritarian Tea-Publicans must be removed from office.
UPDATE: Governor Il Duce barely waited for the ink to dry before signing this bill. Governor OKs bill cutting funds to cities that cross state.
How they voted in the House:
How they voted in the Senate: