Over the weekend, Mike Allen at Axios.com had a Special report: How the robot revolution is changing our lives:
We're entering a new, robot-fueled tech boom that is already disrupting the world's balance of power, and is changing how we fight wars, stay alive, drive, work, shop and do chores.
The future is now: We keep talking about what's coming, but we're already on the leading edge of a profound global change that will create tremendous opportunity for new power and wealth.
In this new age of automation, businesses are frantically installing machines and algorithms that eventually will make them far more efficient — and wipe out jobs and sectors at blinding speed.
This has touched off a tech race between the U.S. and China. And the other major economies — the U.K., France and South Korea in particular — are also spending big to own a piece of this future.
The upsides:
Manual, back-breaking jobs will go away (this is good only if replaced by better gigs). Far less time will be spent doing menial tasks like driving or cleaning. And your ability to get more of what you want, when you want it, will be greatly enhanced.
Health care will be more precise and sophisticated: Medical robots could make surgery more precise, and micro-bots will target the delivery of drugs within the body. Empathetic ones could help care for us as we age. Soft, flexible ones could aid in search and rescue operations.
Robots and other autonomous devices will power apps on your phone that advocate for you with doctors; and could cut through government bureaucracy.
The next big wow to your house will be smart appliances, especially in your kitchen: Your refrigerator will know its contents and order refills, and will communicate with your oven and dishwasher — to make us even lazier and less essential than we already are.
Manuela Veloso of Carnegie Mellon University told Axios that ultimately humans will be in control of how robots operate and the role they play: "These robots did not come from Mars and fall on Earth. They were invented by us and they will continue to be invented by us."
The downsides:
The robot revolution will impose a temporary wave of hardship for some workers, just like machines did at the start of the Industrial Revolution.
In the 19th century, it took about six decades for U.S. wages to recover after the first industrial age automation of the 1810s. And the agriculture-to-industrial shift of the 20th century lasted four decades.
Among the first widespread casualties will be long-haul truckers and call center workers, according to Andrew Moore, head of computer science at Carnegie Mellon.
On the other hand … Robots may actually be super-slow at tasks like taking over Amazon warehouses, because no one still has figured out how to replicate the human hand in terms of dexterity.
The upshot: "Automation anxiety" is likely to trigger popular resistance to robotization, Carl Frey, a leading researcher on the future of work, tells Axios.
In a Pew Research study last year, 72% of those surveyed said they were worried about automation.
Be smart: The race for governments and employers will be to get in front of the disruption to come. Economists and academics differ on how to confront this coming emergency.
But all agree the robot revolution will upend jobs and sectors that will make the manufacturing crisis seem tiny in comparison. 
A good example of this "Automation anxiety" triggering popular resistance to robotization is discussed by Andres Oppenheimer in his column, The robots are coming and they want your job:
The most important news story in recent days is one that has gone practically unnoticed in the media: the threat by 50,000 Las Vegas hotel and casino workers to go on strike. They fear that they will be replaced by robots.
As kitchen workers, concierges and receptionists are increasingly replaced by robots — as will accountants, lawyers and journalists — you will see a growing wave of anti-tech, anti-automation protests around the world.
Already, we have seen protests by taxi drivers in Paris, Johannesburg and Buenos Aires against Uber and other technology firms that have disrupted the transportation world. And we have seen a public outcry against Facebook and other big tech firms following the scandal over Cambridge Analytica's access to private data of more than 50 million Facebook users, which has been linked to the Trump campaign.
The next wave of public discontent may be aimed at job-threatening robots. A 2013 Oxford University study by Carl B. Frey and Michael A. Osborne — whom, for full disclosure, I have interviewed extensively for a book I wrote on this issue that's due to be released this year — predicted that up to 47 percent of U.S. jobs are at risk of being replaced by automation in the next 15 years.
See, THE FUTURE OF EMPLOYMENT: HOW SUSCEPTIBLE ARE JOBS TO COMPUTERISATION? (.pdf).
In a May 23 vote, 99 percent of the 25,000 Las Vegas Culinary Workers Union members who cast their ballots voted to go on strike when their contract expired June 1. In addition to higher pay and job security against robots, they demanded that casinos take stronger measures against sexual harassment and immigration-related abuses.
"I voted yes to go on strike to ensure my job isn't outsourced to a robot," said Chad Neanover, a cook at the Margaritaville hotel, according to the union's web page. "We know technology is coming, but workers shouldn't be pushed out and left behind."
Culinary Workers Union secretary treasurer Geoconda Arguello-Kline said in a statement that, "We support innovations that improve jobs, but we oppose automation when it only destroys jobs. Our industry must innovate without losing the human touch."
A study by the University of Redlands says that 65.2 percent of jobs in Las Vegas have the potential of being automated over the next 10 to 20 years.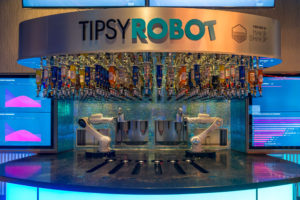 At the Tipsy Robot bar within the Planet Hollywood casino in Las Vegas, there already are robots making cocktails. According to the Tipsy Robot web page, its robots "have the capacity to produce 120 drinks per hour."
It adds that "our mechanical marvels use exact measurements, ensuring a perfectly crafted sip every time. They have killer dance moves, too."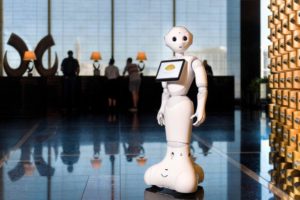 At the Mandarin Oriental Las Vegas hotel, a 4-foot-tall robotic concierge recently started offering assistance about hotel services and directions. At the Las Vegas Renaissance Hotel, meanwhile, two room delivery robots can take food or drinks to your room.
Culinary Union spokeswoman Bethany Khan told me, "We don't oppose technology, but we want to have a say in how technology is implemented in our workforce." Among other things, she told me, people displaced by technology should be retrained "so that workers have the opportunity to grow with technology, versus being laid off."
Most likely, the Las Vegas casino workers will not be able to stop the robotization of many of their jobs. Since English textile workers known as the Luddites in the 19th century destroyed weaving machines to protest the growing mechanization of their work, there have been many efforts by labor unions to stop automation. Most of them have failed.
The big question is whether the transition to a world of robots will be brutal, leaving millions of people jobless, or be gradual, providing training to allow displaced workers get better jobs. If it's the latter, the world may become a better place, and greater productivity may allow us to provide a universal basic income to everyone.
The robotization of work — and the growing rebellion against it — will be the big story of the 21st century. Even though most people still have not noticed, it's already happening — as the contention in Las Vegas makes clear.
The Culinary Workers Union strike may have been averted. The Las Vegas Sun reports, Culinary turns focus to smaller Las Vegas casinos in contract talks:
The Culinary Union is shifting its attention to negotiating contracts with smaller casino operators after reaching tentative labor agreements with two companies that employ most of the 50,000 employees threatening the first citywide strike in more than three decades.
The union said Monday that it was now focusing on 15 properties on the Las Vegas Strip and in downtown not covered by the deals with Caesars Entertainment and MGM Resorts International. The workers without new five-year contracts could walk out of properties including the Tropicana, Treasure Island, Golden Nugget, The D and Downtown Grand at any time after authorizing a strike last month.
"The agreements with MGM and Caesars have historic language regarding immigration, technology and automation, and safety, from sexual harassment language to safety buttons," said Bethany Khan, spokeswoman for the Culinary Workers Union Local 226. "We always have one standard for our contracts, and we are going to negotiate that one standard with other properties."
The largest labor organization in Nevada has declined to provide details of the tentative agreements with the two largest casino operators in Las Vegas because workers have not [yet] approved them. But generally, both sides agreed to wage increases and to equip housekeepers with "panic buttons" — wireless devices that workers can use to alert managers if they are in a threatening situation.
The contracts of 50,000 employees, including bartenders, housekeepers, bellmen and kitchen workers, at 34 casino-hotels expired at midnight Thursday. After talks began in February, the union reached deals with Caesars on Friday and MGM on Saturday.
* * *
No date has been set for a possible strike, but workers have started signing up for strike pay, financial assistance and picketing shifts. If there is a strike, visitors could see workers picketing outside casino-hotels still in negotiations.
The last citywide strike was in 1984, and it cost the city and workers millions of dollars.
The union said negotiators will focus first on casino-hotels on the Strip and then on those in downtown Las Vegas.
One would now expect to see similar provisions regarding technology and automation adopted in service employee union contracts for positions such as cashiers, waiters/waitresses and kitchen workers, for example.