Dangerous demagogue Donald Trump and his GOPropagandists at FAUX News aka Trump TV have decided that they need to rile up his Deplorable base before Election Day by scaring them.
Republicans are going back to the well of GOP campaigns of the past by fear mongering that Democrats are radical liberals /leftists / socialists / communists / Leninists / Maoists /fascists and even anti-fascists (Antifa).  Pick one. Republicans use these distinct terms interchangeably, unaware of and not in the least bit caring about the differences, because their only objective is to demonize their political opponent to gin up GOP tribalism.
It has been a regular Red Scare at Trump's Nuremberg-style rallies and in the conservative media entertainment complex over the past week or so.
The inanity of this desperate measure apparently inspired two yahoos in the Arizona Republican Party to pull a classic Roger Stone GOP ratfucking operation on Democratic Congressman Tom O'Halleran.
It appears it did not go well for them.
The Guardian reports, Republican pair apparently pose as communists to make Democratic donation:
Two young Arizona Republicans tried to make a donation to a congressman while posing as members of a university communist party, in an apparent attempt to tie the Democrat to the far left.
On Friday afternoon in Flagstaff, two men who called themselves Jose Rosales and Ahmahd Sadia walked into the campaign office of first-term Democrat Tom O'Halleran, with $39.68 and an urgent desire for the "Northern Arizona University Communist party" to be given a receipt for the donation.
The pair walked in to sign up to volunteer but they brought along a jar full of money that they said they wished to donate. After being directed to a finance staffer, they were told to fill out paperwork. In doing so, they identified themselves as members of the Northern Arizona University Communist party. They made clear they were not an official group but were holding meetings. But they also insisted on a receipt.
When told they would only get an emailed receipt, Rosales scratched out one email address and wrote down another. The process raised eyebrows among O'Halleran's staff.
Lindsay Coleman, finance director for the campaign, drove to the local Republican field office in order to return the money. Almost immediately, the man who identified himself as Rosales appeared and was identified as "Oscar." He accepted the money from Coleman.
UPDATE: A video of the exchange is on YouTube titled "Returning Illegal Campaign Contributions Made by AZ GOP Staff" posted by Tom O'Halleran for Congress.
Speaking to the Guardian, Coleman identified the second man as a field organizer for the Arizona Republican party and said Ahmahd Sadia was not his real name. The Guardian later learned that the man had been fired from his job with the party.
* * *
Making federal campaign contributions under a false identity is a crime. As a dirty trick, attempts to smear opponents by linking them to unsavory political groups has a long history.
In 1972, Roger Stone, then a young campaign staffer for Richard Nixon's re-election campaign, sent a donation to Nixon's anti-war primary opponent in the name of the Young Socialist Alliance. Stone went on to become a political adviser to Donald Trump, a role he left early in Trump's 2016 presidential campaign.
Yeah, they still talk on the phone. Don't be so naive.
Talking Points Memo adds:
"I am amazed at the lengths my opponent and her supporters will go to to undermine the credibility of our election this Fall. This stunt is just one more shameful chapter in Wendy Rogers' failed attempts to win a political office," said Rep. O'Halleran in a statement through a spokesperson.
"She has skipped debates, aired blatant lies in her advertising, and now her team is committing fraud in some bizarre, misguided effort to embarrass my campaign. Team O'Halleran demands answers about what Wendy Rogers knew and an apology for this deception," he added.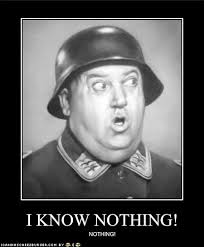 For her part, Wendy Rogers is using the classic Sergeant Schultz defense: "I know nothing!"
In a statement sent to The Guardian on Thursday morning, a spokesman for O'Halleran's Republican opponent, Wendy Rogers, said: "This is news to us. No one from our campaign was involved in this juvenile stunt.
"We are focused on defeating Tom O'Halleran and the Democrats this November and don't have time for juvenile pranks," said Spence Rogers.
I'm pretty sure they do. This is exactly the kind of thing that is in Wendy Rogers wheelhouse. She is a real piece of work.
UPDATE: TPM confirms that these two yahoos are fired. Fake Communists Booted From Arizona GOP After Donation Stunt:
An Arizona GOP spokesperson told TPM that one of the men was an employee and has been "terminated." The other was a volunteer and is "no longer affiliated" with the organization, according to the spokesperson.
---
Support volunteer citizen journalism at the Blog for Arizona with a donation today. Your secure contribution keeps the Blog online and sustains a free press in Arizona.
---