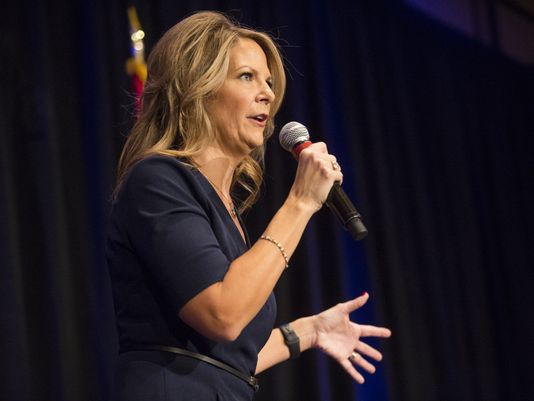 The political parties held their statutorily required reorganization meetings on Saturday, and what a stark contrast they produced.
Arizona GOP chairman Jonathan Lines, who oversaw unprecedented Republican losses in November, and who along with President Trump made baseless election fraud allegations to explain away those losses, AG suggests measured words when making allegations of fraud in election, ran for reelection as "the establishment syndicate [candidate] with longtime ties to John McCain," as the right-wing fringe Seeing Red AZ blog describes him.
Lines was backed by the state's GOP "establishment syndicate," including U.S. Senator Martha McSally, Governor Doug Ducey, former Senator Jon Kyl, and former Governor Jan Brewer.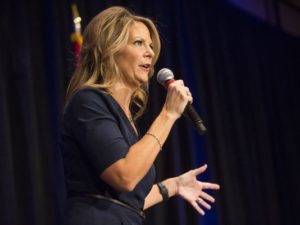 Lines was opposed by two-time senate GOP primary loser Dr. Kelli "Chemtrails" Ward, the favored candidate of the right-wing fringe.
Ahead of the reorganization meeting, Seeing Red AZ blog and the Gateway Pundit blog accused Jonathan Lines of corruption. McCain's corruption still haunts AZ GOP in advance of state meeting:
Dirty laundry, it is said, should be aired in private. But when it is downright filthy, sunlight is the best disinfectant.
Gateway Pundit, a nationally well-respected conservative site provides that sunlight as it exposes the internecine chaos via a shocking, leaked, Arizona Republican Party internal memo which raises serious concerns about unethical use of party resources and systematic failures that Deputy Communications Director Robert Maxwell fears will lead to a loss in 2020. The two-page memo to Executive Director Kyle Pierce can be read here.
The smear attack from fringe Ward supporters had the desired effect. The Arizona Capitol Times reports, In GOP upset, Kelli Ward to lead Arizona Republican Party:
Failed U.S. Senate candidate Kelli Ward, a conservative firebrand, will lead the Arizona Republican Party through the 2020 election.
In a contentious three-way race for AZ GOP chair, Ward came out on top Saturday, defeating incumbent chairman Jonathan Lines.
Ward defeated Lines 633-526, with a third candidate clinching 65 votes.
Upon her win, Ward issued a message of unity to the thinned out crowd at the AZ GOP state committee meeting Saturday at Phoenix's Church for the Nations.
"I hope that you will join with me because it is time to unite," she said. "It is time to put past problems, issues, disagreements behind us so that we win big in 2020."
Ward insisted she will be able to bring together the conservative and establishment factions of the state party by making re-electing President Donald Trump the top priority.
* * *
After her win, Ward brushed off any notion that she and McSally would be at odds with each other going forward.
"I look forward to working with Martha to make sure that when they talk about the female senator from Arizona, they're talking about Sen. Martha McSally. That will happen," she said.
In the past, many moderate Republicans have shied away from Ward, who has been seen as part of a more extreme faction of the party. Ward launched her bid for AZ GOP chair in late November, mere weeks after the November 6 election.
When she launched her bid for chair, some Republicans joked Ward would have no luck fundraising — a major part of the job as leader of the state party. Ward insisted Saturday backhanded comments like that from members of her own party were just jokes.
* * *
The contentious intraparty GOP election underscored the division within the state's Republican Party as Trump's election has created fissures within the party.
Republicans even got into a squabble about the method for selecting a new chair.  A portion of those in attendance pushed for a public, roll-call vote. Others, wanted to cast secret ballots, as is done in typical elections.
Former Apache County supervisor Doyel Shamley was a last-minute addition to the race for chair, turning it into a three-way race.
The response from the GOP "establishment syndicate" at the Arizona Republic was swift. E.J. Montini writes, AZ GOP died with John McCain – Kelli Ward just proved it:
The paper should print this on the obituary page because … the Arizona Republican Party is dead.
It died with the late Sen. John McCain. We may not have been 100 percent sure at the time, but the election of former legislator and two-time losing U.S. Senate candidate Kelli Ward as the chair of the state Republican Party proved it.
A while back former House Speaker John Boehner said, "There is no Republican Party; there's a Trump party. The Republican Party is kind of taking a nap somewhere."
The party may be snoozing in some places. It's dead here.
Laurie Roberts adds, Kelli Ward to lead Arizona's Republican Party. Commence the crazy:
As if the Republican Party didn't have enough troubles, the party faithful in Arizona on Saturday reached into its fringe and elected Kelli Ward to lead them for the next two years.
If put to a public vote, Ward couldn't get elected dog catcher in this state. She lost not one but tries for the U.S. Senate, never even making it out of the primary.
And she's going to lead the party into what will surely be a tough 2020 election?
Ward has a tin ear when it comes to messaging. Who can forget her public call for then Sen. John McCain to step down a day of learning he had a devastating form of cancer – suggesting, of course, that she take his place.
Or her fundraising plea attacking "Sanctuary Senator Jeff Flake," sent out just hours after a crazed gunman was shooting at Flake and other Republican senators on a Virginia baseball field.
Or Ward, referring to Martha McSally and others as "vultures" for considering a run in last year's Senate race after Flake announced he wasn't running for re-election.
Or her suspicion that Cindy McCain's announcement that her husband was discontinuing treatment was timed to sabotage her campaign.
Ward's response to any challenge is always attack, attack, attack – heavy on hashtags, light on facts.
And she's going to be the unifying force that brings the party together?
* * *
Saturday's vote by GOP committee members was a blow for the establishment wing of the party. Incumbent Jonathan Lines had the support of Gov. Doug Ducey, Sen. McSally and former Sens. Jeff Flake and Jon Kyl.
But state party workers were upset at last year's losses at the polls. Then came a last-minute hit piece – written by a former Ward campaign staffer – blaming Lines for those losses.
It was enough to hand Ward a decisive win.
* * *
So what now? Well, Ward is the reigning queen of the hard right, a purist who will purge the party of its last vestiges of moderation.
This, in a state that increasingly is turning shades of purple.
What the Republican Party in Arizona so desperately needs is someone who speak to moderate Republicans and independents turned off by the party of Donald Trump – the ones who sent Democrat Kyrsten Sinema to the Senate.
And it gets … Kelli Ward?
Democrats have got to be dancing in the streets tonight.
Why, yes actually, Democrats were celebrating. The Arizona Capitol Times continues:
While Arizona Republicans were divided on who should lead the party moving forward, Arizona Democrats overwhelming threw their support behind chairwoman Felecia Rotellini, who was unopposed in her re-election bid.
She was re-elected by acclamation Saturday.
The messaging within the parties couldn't be more different following the 2018 election where Arizona Democrats made historic gains and Republicans were left licking their wounds.
Arizona Democrats, after catapulting Democrats into four statewide offices and flipping just as many state house seats, are talking about building on those successes.
"It's a great contrast for the people of Arizona," Rotellini told the Arizona Capitol Times. "I feel very confident that the Democratic Party has never been more unified."
Democrats at the state party meeting, broke out into laughter, cheers and incredulous gasps when they heard the news Republicans had selected Ward as their chair.
Ward's victory, which could take the state Republican Party in a more extreme direction, could give Democrats a leg up in 2020.
After a "banner year" for Democrats, Rotellini plans to focus her efforts on reaching out to party leaders and precinct committee members across the state to take stock of what worked and what didn't in 2018.
But looking ahead to the 2020, Democrats will focus on rebuilding party infrastructure by recruiting and training candidates, registering more voters and reaching out to minority and tribal communities, Rotellini said. Democrats will also work to build on the ground game they beefed up last year.
"I feel that [what] we've done in the past is great, but we will be able to enhance that with the continued momentum that we have going into the 2020 election," Rotellini said.
While the fringe personality cult of Donald Trump hollows out the remains of the dead carcass of the GOP — the Party of Lincoln is dead and gone, it is now the Party of Trump, RNC pledges undivided support for Trump reelection, state leaders consider canceling caucuses: "The Republican National Committee passed an unprecedented pledge on Friday to give Trump their 'undivided support' before he is the party's official nominee" — the Democratic Party is expanding its "big tent" to become the most diverse and inclusive political party in history, a party that looks like America. The 2020 Democratic field is the most diverse ever.
It is long past time for traditional Republicans to abandon the Party of Trump and to establish a new political party which better reflects and represents your traditional views. Time is running short to do so if you want to field a candidate in 2020.
UPDATE: The lede paragraph in The Arizona Republic reads, Conservative Kelli Ward to lead Arizona Republican Party after upset:
Kelli Ward, the bomb-throwing conservative former state senator and loyalist to President Donald Trump, upended the race to lead the Arizona Republican Party by beating the establishment favorite and incumbent GOP chairman, Jonathan Lines.
Arizona's most embarrassing excuse for a congressman and kindred spirit of Kelli Ward (here they are together at the anti-government standoff at the Bundy Ranch several years ago) took exception to The Republic's characterization.
The far-right The Daily Caller reports, US CONGRESSMAN WANTS REPORTER SUED AFTER MISUNDERSTANDING FIGURE OF SPEECH:
Arizona Republican Rep. Paul Gosar called for a local reporter to get sued after appearing to take a figure of speech in her article literally.
The Arizona Republic published an article on Saturday detailing Kelli Ward's surprise victory over the weekend to become the Arizona GOP's next chairwoman.
In the opening paragraph of the article, author Yvette Sanchez described Ward as a "bomb-throwing conservative."
The phrase "bomb-throwing" is a widely used phrase in political media to describe harsh rhetoric or strongly-worded exchanges between individuals. Nowhere in the article did Sanchez appear to suggest Ward had thrown actual bombs.
However, Gosar, a representative of Arizona's 4th congressional district and a longtime Ward ally, accused Sanchez of defamation.
Gosar's office did not respond to The Daily Caller News Foundation's request for comment, nor could Gosar's office confirm to TheDCNF if the tweet was serious or made in jest.
The Republican lawmaker has attracted odd headlines in the past.
Six of his siblings openly endorsed Gosar's Democratic opponent in the last election cycle. The siblings went so far as to star in an attack ad against Gosar in September. The congressman, however, brushed off their criticism as "crazy" relatives who do not live Arizona, and he later tweeted that he would see them at "Mom and Dad's house!"
Remember, this is The Daily Caller trashing Paul Gosar. When a reliably right-wing echo chamber does not support Gosar, he's got serious issues.
_____
Arizona Democratic Party newly elected officers (via Deedra Abboud's Facebook post):
Chair: Felecia Rotellini (Maricopa)
1st Vice Chair: Pat Burns (Pima)
Sr. Vice Chair: Mary McCord (Mohave)
Vice Chairs (order of election results):
Deedra Hill Abboud (Maricopa)
Jevin D. Hodge (Maricopa)
Missa Foy-Jentoft (Navajo)
Damian Preciado (Maricopa)
Brianna Westbrook (Maricopa)
Bryan Downey Rasmussen (Yuma)
Education Coordinator: Janie Hydrick (Maricopa)
Affirmative Action Moderator: Lupe Conchas [aka Jose Guadalupe] (Maricopa)
DNC Member:Sierra Yamanaka (Pima) (succeeding the late Carolyn Warner)
Secretary: Anne Greenberg (Maricopa)
Treasurer: Rick McGuire (Maricopa)
---
Support volunteer citizen journalism at the Blog for Arizona with a donation today. Your secure contribution keeps the Blog online and sustains a free press in Arizona.
---