The Arizona Republican Party's attorneys and their clients should be sanctioned by the courts for filing frivolous lawsuits without merit solely for the purpose of delaying the certification of the vote in Arizona. This abuse of the court system cannot be tolerated by the courts.
Last Thursday, the Arizona Republic reported, Trump attorney tells Maricopa County judge that vote challenge is not about fraud or election theft:
Claims that "potentially thousands" of Arizona voters were disenfranchised dissolved during a six-hour court hearing on Thursday, as a lawyer representing the president's reelection team dialed back allegations of "systematic, improper" vote overrides.
Donald Trump's campaign, along with the Republican National Committee and the Arizona Republican Party, had filed a lawsuit on Saturday alleging Maricopa County poll workers routinely disregarded procedures designed to give voters a chance to correct ballot mistakes on Election Day.
At the start of proceedings on Thursday morning, attorney Kory Langhofer stressed the plaintiffs were "not alleging fraud" or "that anyone is stealing the election" — simply raising concerns about a "limited number of cases" involving "good faith errors."
Testimony from several witnesses failed to bear out anything more. And before Langhofer even made his opening statement, a controversy emerged over some of the declarations from supposedly misled voters that were submitted as evidence.
Attorneys representing Arizona Secretary of State Katie Hobbs, one of the election officials who was sued, moved to have declarations collected online tossed out, arguing they lacked "any guarantee of trustworthiness."
Langhofer acknowledged some of the online declarations were found to be false but noted those entries had been removed, saying his team had cross-referenced the remaining declarations to ensure voters were where they said they were on Election Day.
Judge Daniel Kiley was unconvinced, ultimately granting the motion to exclude the declarations collected online.
"The fact that your process for obtaining these affidavits yielded affidavits that you yourself found to be false does not support a finding that this process generates reliable evidence," Kiley said. "This is concerning."
The Trump team's original complaint had focused on poll workers overriding potentially "overvoted" ballots instead of allowing voters to make that choice. Overvotes happen when voters mark more options than allowed in a particular race.
The initial complaint contended voters who chose to proceed with their original ballots were entitled to a manual inspection to ensure all legitimate votes were counted by the machines, but claimed elections officials systematically disregarded that step.
And some witnesses brought forward by Langhofer indeed testified that poll workers had pushed through their ballots without an explanation after the machine initially recognized an error, even though they hadn't overvoted.
Claims of systemic problems seemed to fall apart under questioning, however. None of the witnesses indicated they had any real reason to believe their votes weren't counted — except for learning after the fact that poll workers shouldn't have pressed buttons for them.
The plaintiffs originally had asked election officials to go back and identify ballots with overvotes cast in partisan races in Maricopa County on Election Day, manually inspect those ballots and discard votes only in cases when "it is impossible to positively determine the voter's choice."
Electronic tabulators had registered a total of 11,676 apparent Election Day overvotes, with fewer than 1,000 affecting partisan races.
In his closing statement, Langhofer narrowed plaintiff's ask, saying they sought only a reinspection of overvoted ballots in cases where the number of overvotes was greater than the margin of the winning candidate's victory.
It's unclear which, if any, down-ballot races this request would affect. County officials have identified 191 overvotes in the most high-profile race, for president, where thousands of votes separate the candidates.
Langhofer himself noted there weren't "a tremendous number of votes" at stake, calling the suit a "narrow claim about a good-faith failure."
That represented a marked shift from his prehearing brief, in which he claimed the "haphazard differential treatment of similarly situated ballots cast within the same geographic jurisdiction in the same election encapsulates precisely the discriminatory disenfranchisement the Equal Privileges & Immunities Clause proscribes."
The judge seemed amenable to considering the request, saying he would take it under advisement, but attorneys for the defendants argued there was nothing in state law authorizing such an action.
An attorney for the county said the ballots in question already were tabulated, and "counting ballots that have already been counted is a recount."
Arizona does not allow recount requests and has strict criteria for automatic recounts. In races where more than 25,000 votes were cast, the margin has to be less than or equal to 200 votes or 0.1% of votes cast for the top two vote-getters, whichever is smaller.
Something the Arizona Republic left out of its reporting that Law&Crime picked up on, Trump Campaign Lawyer Caught Using His Business Partner as Witness in 'Sharpiegate' Case:
A campaign attorney for President Donald Trump was caught calling his own business partner as a witness during a Thursday hearing on alleged electoral irregularities in Arizona.
Kory Langhofer is leading the White House's increasingly impossible efforts to overturn election results in Maricopa County[.]
To that end, Langhofer called witness Zack Alcyone–who just so happens to be the co-founder of petition analysis company Signafide. The company's other co-founder? Kory Langhofer.
The company says Alcyone is an: "[e]xpert witness on ballot access calculations." But, notably, Alcyone was not called as an expert witness during Thursday's hearing.
Alcyone's biography is situated right next to Langhofer's biography on Signafide's "About" page–which says the attorney is also an "expert witness on ballot access issues."
Law&Crime Senior Investigative Reporter Adam Klasfeld was first to report on the issue via Twitter: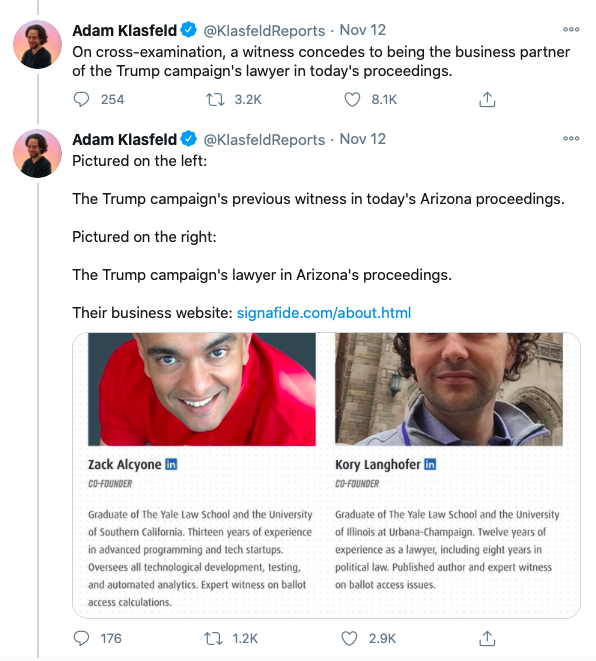 The admission came while Langhofer was being cross-examined by Arizona Democratic Party lawyer Daniel Arellano.
The underlying case is the once-called "Sharpiegate" controversy, a quickly-abandoned bit of nomenclature due to its substantial (identical) similarity to a 2019 White House contretemps wherein Trump used a Sharpie brand marker to enlarge the landfall zone of Hurricane Dorian.
As Law&Crime previously reported, the lawsuit is little more than repackaged claims that poll workers forced Trump voters to use the popular marker on their ballots–knowing full well that such markers would bleed through the ballot sheet and render their votes invalid. After the Trump campaign took the lead on the suit, the complaint started referring instead to "marking devices."
Those "Sharpiegate" claims, which one might call "Wrong Out Loud," have been serially debunked by Arizona State elections officials who have worked tirelessly in recent days against a torrent of unsubstantiated and otherwise false Republican Party slights against the integrity of their election efforts in and out of the courtroom.
Law&Crime reached out to Langhofer, himself a Yale Law graduate, for comment on this story but no response was forthcoming at the time of publication.
Earlier in the day, Langhofer acknowledged that the campaign's search for evidence of fraud produced a lot of sworn statements that turned out to be lies and "spam."
The afternoon session of Trump's Maricopa County Arizona election hearing is about to begin.

Follow the live feed here.

Previously: "Trump Campaign Lawyer Admits to Judge: Our Search for Evidence of Fraud Produced Obvious Lies and 'Spam'" https://t.co/iIy9SIIaxL @lawcrimenews

— Adam Klasfeld (@KlasfeldReports) November 12, 2020
"This is not a fraud case," Langhofer said later, instead styling the lawsuit as quest to expose voting irregularities. "It is not a stealing-the-election case."
Eventually, the several hours-long hearing was adjourned and Maricopa County Judge Daniel Kiley took the matter "under advisement."
On Friday, Maricopa County Superior Court Judge Daniel Kiley dismissed claims filed on behalf of Donald Trump's campaign, the Republican National Committee and the Arizona Republican Party as moot, meaning further legal proceedings are pointless. Trump lawsuit on Maricopa County votes dismissed by judge as outcome wouldn't affect races:
By Friday morning, Langhofer had filed a motion acknowledging the outcome of the lawsuit would have no impact on Arizona's presidential results. He noted a favorable ruling would, at most, be relevant in two down-ballot races.
Attorneys representing election officials also filed a notice Friday morning saying Maricopa County planned to finish counting ballots by 3 p.m. and requesting "the Court dismiss Plaintiffs' claims as moot."
During a brief afternoon hearing, the parties agreed the 432 ballots Maricopa County had left to record and upload were unlikely to change the outcomes of any results.
"The plaintiffs' claims are dismissed as moot," Kiley said.
Law&Crime adds, Bye, Bye, 'Sharpiegate': Trump Campaign Hastily Retreats from Conspiracy-Laden Lawsuit After Brutal Hearing:
The morning after a brutal hearing in which a lawyer for outgoing President Donald Trump's campaign distanced himself from voter fraud allegations, the legal team hastily declared its case moot.
"Since the close of yesterday's hearing, the tabulation of votes statewide has rendered unnecessary a judicial ruling as to the presidential electors," Trump campaign's lawyer Kory Langhofer wrote in a brief notice to Judge Daniel Kiley, from Arizona's Maricopa County, on Friday.
Law&Crime also points out that Trump Campaign's Arizona Lawyer Once Had to Pay Town of Snowflake After Filing 'Frivolous' Lawsuit:
In 2018, an Arizona appellate court's three-judge panel slapped Kory Langhofer with nearly $150,000 in sanctions for filing "frivolous" litigation in a you-can't-make-this-up case featuring medical cannabis cultivation and a town called Snowflake.
"There is no public interest in a frivolous lawsuit, and discouraging groundless litigation is what the legislature intended," Judge Jennifer B. Campbell, from the Arizona Court of Appeals, Division One and wife of the state's chief justice, wrote in a 10-page ruling two years ago.
Neither of her colleagues, Judges Paul J. McMurdie and Peter B. Swann, disagreed, nor did Arizona's Republican-majority Supreme Court, which declined to review the case in May 2019.
It's also a story about scandal that may have knocked Langhofer off of President Donald Trump's shortlist for federal judges. Langhofer is a longtime Republican political operative whose website boasts of his having represented the likes of Mitt Romney and Carly Fiorina.
* * *
When whispers that Trump eyed Langhofer for a federal judgeship circulated, Snowflake's former mayor sprang into action.
"I sent materials to our local representatives to inform them that basically he had been found by a judge to have instigated a frivolous action," Poscharsky said.
Langhofer never did get that federal judgeship, but he did get to lead the Trump campaign's efforts in contesting the results of Arizona's presidential election[.] He took over the case once Arizona's largest law firm Snell & Wilmer called it quits.
The Arizona Republican Party announced it filed a new lawsuit in Maricopa County Superior Court seeking to force a hand count of votes separated by precinct instead of counting them by voting center.
The Arizona Mirror reports,AZGOP sues over use of vote centers for county election audit:
The Arizona Republican Party is going to court to challenge a nearly decade-old provision in the secretary of state's election procedures manual, which by statute has the force of law. Central to the complaint is that Maricopa County used the wrong method to determine which ballots to hand count for a post-election audit.
State law requires counties to perform a hand count of ballots from 2% of precincts after every election to compare the results to those from the tabulation machines that the counties use to tally ballots. But the legislature in 2011 passed a law permitting counties to switch from precinct-based voting to vote centers where voters could go to cast a ballot, regardless of where they lived. The election procedures manual remedied the conflict between the two laws by allowing counties to substitute voting centers instead.
The 2019 election procedures manual drafted by the office of Secretary of State Katie Hobbs, a Democrat, and approved by Gov. Doug Ducey and Attorney General Mark Brnovich, both Republicans, states, "In counties that utilize vote centers, each vote center is considered to be a precinct/polling location and the officer in charge of elections must conduct a hand count of regular ballots from at least 2% of the vote centers, or 2 vote centers, whichever is greater."
The AZGOP's lawsuit, which it filed on Thursday, alleges that the manual violates state law. The law expressly requires counties to hand count the ballots from at least 2% of precincts, wrote attorney Jack Wilenchik, who represents the state Republican Party.
Jack Wilenchik is better known for being former Maricopa County Sheriff Joe Arpaio's attorney in his criminal contempt case, for which President Trump issued a pardon.
"The legislature could have chosen to use the language 'two percent of the polling places,'" Wilenchik wrote.
Wilenchik asked the court to order Maricopa County Recorder Adrian Fontes, whose office jointly oversaw the hand count with a director of election day voting appointed by the county Board of Supervisors, to conduct a hand count using precincts.
Maricopa County has already conducted its hand count of nearly 3,000 ballots cast at voting centers, along with nearly 5,200 early ballots. The election audit found a perfect match between the machine count and hand counts.
State law mandates that counties conduct their hand counts in accordance with the election procedures manual, which the lawsuit notes.
* * *
[What the] lawsuit and the AZGOP don't note that the legislature has given the election procedures manual the force of law, and has for decades. The manual provides guidance on how county elections officials should conduct elections and execute election-related statutes. Under state law, a violation of any rule adopted in the manual is a class two misdemeanor.
The Arizona Republic adds, Arizona GOP sues to force a new vote audit; attorney general rips the party's legal claims:
[T]he Attorney General's Office, led by Republican Mark Brnovich, says the party has no legal basis for its claim.
County election officials must perform hand count audits using a random sampling of ballots to ensure the accuracy of electronic counts. The Maricopa County Elections Department already has completed one for the general election, officials said Monday, and it matched electronic counts exactly.
State law indicates officials should audit ballots from two county precincts or 2% of county precincts, whichever is greater, but that assumes a precinct-based model, where voters are assigned specific polling places they must use to cast their votes. For the 2020 general election, Maricopa County instead used vote centers, which were open to any voter throughout the county.
For vote center audits, the secretary of state's election manual indicates officials should consider each center to be a precinct for hand count purposes. "The officer in charge of elections must conduct a hand count of regular ballots from at least 2% of the vote centers, or 2 vote centers, whichever is greater," the manual states.
AG: 'This is not a new procedure'
The attorney general addressed the claims in a letter to Republican legislative leadership on Thursday, saying his office had "received a number of inquiries regarding the scope and nature of the manual hand count audit required under" state law.
Brnovich noted the Legislature authorized the use of voting centers nearly a decade ago, in 2011, and that it "correctly recognized" at the time "that it could not predict all of the variations between voting centers and precincts that counties might adopt."
"Instead, the Legislature directed the Secretary of State to do so through the Election Procedures Manual, which is approved by the Governor and Attorney General," he wrote. "This is not a new procedure."
Brnovich also took aim at the idea that officials should only conduct hand count audits using polling precincts because state statute explicitly references them.
The law "is silent on how the hand count audit should be conducted when voting centers are used," he wrote. "Instead, the statute directs the Secretary of State to fill in that gap and establish additional hand count procedures with the approval of the Governor and Attorney General, which was done in 2019."
Brnovich noted that, "in those counties that use voting centers, the practical effect of a hand count audit based only on precincts could result in no ballots being counted because no ballots would have been cast using tabulating machines at precincts."
"We do not believe the Legislature intended this result," he wrote.
Even non-lawyers with no familiarity with the law can see how the court is going to rule in this latest frivolous lawsuit without merit and no basis at law.
Republican lawyers and their clients need to be sanctioned by the courts for bringing these frivolous claims solely for the purpose of delaying the certification of the vote in Arizona.