Outgoing Rep. Denver Riggleman (R-VA) has some advice for Arizona's QAnon cult member Republican legislators searching for the elusive "massive" voter fraud that Donald Trump falsely claims to exist. What hunting Bigfoot taught a Republican congressman about politics:
There was a time in Denver Riggleman's life when he sat on the banks of a creek that reeked of dead fish and peered through night-vision goggles into the thick of the Olympic National Forest.
He was looking for Bigfoot.
Or at least, others in his group were. Riggleman, a nonbeliever who was then a National Security Agency defense contractor, had come along for the ride, paying thousands of dollars in 2004 to indulge a lifelong fascination: Why do people — what kind of people — believe in Bigfoot?
Now in one of his last acts as a Republican congressman from Virginia, Riggleman is asking the same questions of supporters of QAnon and deniers of President-elect Joe Biden's victory.
Riggleman has become one of the loudest voices in Congress warning of the infiltration of conspiracy theories into political discourse.
And he is surely the only voice to have made the point after self-publishing a book about Bigfoot beliefs.
To Riggleman, the book, "Bigfoot . . . It's Complicated," mirrors the way pockets of the country are falling into conspiracy wormholes — everything from extremist fringe groups such as QAnon and the "boogaloo" movement to President Trump's claims of widespread voter fraud.
Like the Bigfoot hunters in the Olympic National Forest, they see what they want to see.
"I always say the [Bigfoot] expedition leader and Rudy Giuliani are very similar people," Riggleman said of Trump's conspiracy-theory-spinning lawyer, during a recent interview at his distillery in Afton, Va.
Bigfoot believers have plenty in common with political extremists on both the far right and the far left, Riggleman said, lambasting a political ecosystem where, oftentimes, "facts don't matter."
"They're all bat—- crazy. Right?" he said, not really joking. "All of them ascribe to a team mythology that might or might not be true. And they stay on that team regardless. And that is what's so dangerous about politics today. That's what I've been trying to say."
* * *
As he recalls the [trip] expense today, Riggleman said it doesn't feel much different from Trump's allies seeking donations from fervent Trump voters to help his campaign's legal challenge of the election results.
"If you look at the Giulianis or the Sidney Powells of the world, they're making money off the grift because they're asking for donations to help in a mythological quest of things that can't be proven," he said, referring to a former member of Trump's legal team. "I saw it with Bigfoot. I'm seeing it with QAnon. It's about money. And sometimes crazy and money live in the same space."
* * *
Since the election, he has blasted the president's unfounded claims of widespread voter fraud — saying there is probably "more proof of alien abductions" than of fantastical theories about rigged voting machines, Venezuelan influence or plotting by Democratic operatives to fix mail-in voting for Biden.
Which brings me to this latest bit of insanity from Arizona's QAnon cult member Republican legislators.
Last week, Trump's "D List" of campaign attorneys announced that Arizona had scheduled legislative hearings to look into allegations surrounding the 2020 general election, which came as a surprise to leaders in both chambers, neither of whom had approved any such hearing. Legislative leaders say hearing announced by Trump campaign is news to them:
In Arizona, neither House Speaker Rusty Bowers, R-Mesa, nor Senate President Karen Fann, R-Prescott, have scheduled or approved any such hearing.
"News to me at this time," Fann said in a text message to the Arizona Mirror, while Andrew Wilder, a spokesman for Bowers, said, "Speaker Bowers has not authorized any such hearing in the Arizona House of Representatives."
So the usual suspects got together and decided to host a bigfoot convention, not a formal legislative hearing.
The Arizona Republic reports, Arizona legislators, Trump lawyers plan public meeting on election:
Arizona legislators and lawyers for President Donald Trump will hold a meeting at a downtown Phoenix hotel on Monday to discuss the election as they continue to dispute his defeat earlier this month.
The gathering may rally Trump supporters and provide counter-programming on the same morning the secretary of state is scheduled to certify President-elect Joe Biden's victory in Arizona, but it is unclear how legislators could do much of anything about the outcome of the race.
While the Trump campaign and the state Republican Party have filed election lawsuits in Maricopa County, they have not put forward evidence of fraud and judges have so far tossed out the cases.
"Bigfoot is real I tell ya!"
Republic Gov. Doug Ducey said earlier this week that he trusts the state's election system after he had held off acknowledging Biden had won the state, citing the court cases that were ongoing.
"I've said several times: Arizona is a good government state," Ducey said Tuesday. "I trust our election system. There's integrity in our election system. Joe Biden did win Arizona."
Doug Ducey is done with the QAnon cult members of the Arizona GOP.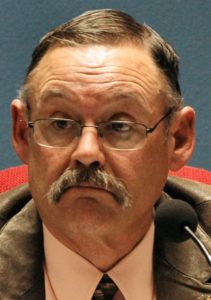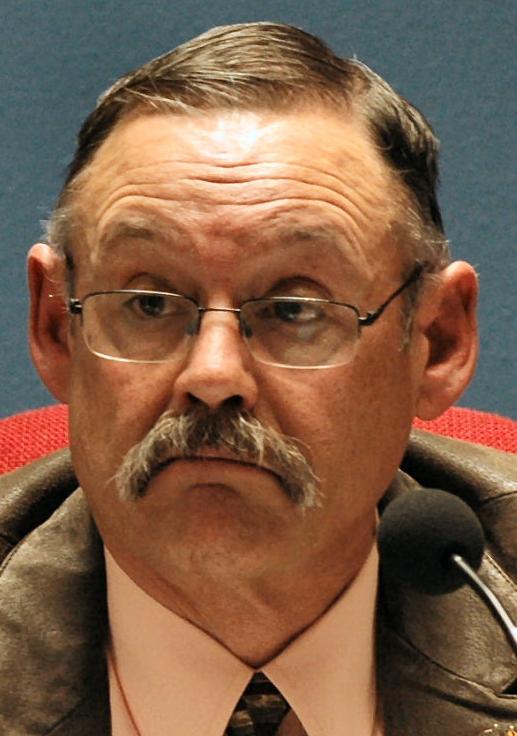 Nevertheless, in announcing he would chair Monday's meeting, Rep. Mark Finchem, R-Oro Valley (right), said his "worst fears have come to light" after "examining potential fraud pathways and illegal actions through which our 2020 election could have been tainted."
This fool reminds me of Gen. Jack D. Ripper in Dr. Stragelove: "I can no longer sit back and allow communist infiltration, communist indoctrination, communist subversion, and the international communist conspiracy to sap and impurify all of our precious bodily fluids."
Not a legislative hearing
The meeting at the Hyatt Regency in downtown Phoenix is not a hearing of the Legislature as Finchem and Trump campaign's legal team has cast it.
The state Legislature is not in session. The speaker of the House of Representatives and the president of the Senate president can call for committee meetings in between sessions but have not authorized the event.
We have not been called back for a special session. This is not a meeting of the State Legislature. This is a glorified townhall by a select few members. Let's call it what it is. #AZLeg https://t.co/3VKCKdbIPq

— Jennifer Jermaine (@JennJermaine) November 28, 2020
Finchem said he requested approval a few weeks ago for a meeting of the House Federal Relations Committee, which he chairs, but has not received authorization from House leadership.
"After a review of the statistical anomalies, and there are to numbers to count [sic], affidavits of improper actions and community outrage that has grown out of what appears to voters to be an attempt to throw the election through a number of fraudulent efforts, we decided as Members of the Legislature, and not as members of any specific committee, that we should move forward with a public hearing," Finchem wrote in a press release.
Jenna Ellis, a lawyer for the president, wrote Friday that she would be present along with Rudy Giuliani, the most prominent figure in the Trump campaign's legal efforts. But the invitation said the president's legal team would be "present from DC," suggesting at least some of the participants may appear via videoconference.
The event is scheduled to last from 9 a.m. to 2 p.m., with an hour-long break for lunch at noon. Attendance has been limited due to COVID-19 and tickets for the public were entirely booked as of Friday afternoon. Finchem's press release said the event would be streamed online.
Oh great, yet another Trump coronavirus superspreader circus in Arizona when we are heading for a disaster in the coming weeks. University researchers recommend 3-week shutdown, mask order in Arizona: The coronavirus outbreak's current surge will present Arizona with a hospital crisis that could become a disaster unless the state takes steps such as ordering a three-week stay-home shutdown and implementing a statewide mask mandate, members of the COVID Modeling Team at the University of Arizona said in a letter Friday to the state Department of Health Services. Arizona State University researchers on Nov. 19 projected that hospitals in the state will exceed their capacities unless steps are taken.
Aim is to convene special legislative session, but what then?
A public invitation for the Phoenix event said the "goal will be to gather the evidence that justifies calling a special session to contemplate what happened and take immediate action accordingly."
Just a reminder: Republicans have failed to present any credible evidence in court, the appropriate venue to weigh such evidence.
It remains unclear what legislators could do about the presidential election. It's also unclear that they could convince Ducey to call a special session or somehow bring on board Democrats to muster the supermajority needed to call a special session without the governor's approval.
The U.S. Constitution gives the Legislature the job of deciding how the state's presidential electors will be chosen. But the Arizona Legislature has tasked voters with choosing those electors on Election Day.
A "faithless elector" provision in state law, and backed by Republicans, requires the electors to cast their votes for the presidential candidate who wins the most votes in the state.
Senate Republicans asked lawyers at the Legislature this month to issue an opinion on the issue. The response: The Legislature would have to change these laws to change how presidential electors are appointed.
Even then, the opinion said, the changes could not apply to this election because voters have already chosen the electors at the ballot box.
Some choice mockery of this tinfoil hat QAnon cult member quest to finding bigfoot, er, "massive" voter fraud in arizona.
Might as well have a boat parade and call it a legislative hearing. This unsanctioned unofficial circus sideshow will have no bearing or impact on @JoeBiden's victory in Arizona. https://t.co/7KGVBx3JPq

— Arizona House Democrats (@AZHouseDems) November 28, 2020
It's not THE legislature, it is A legislator holding a meeting at a hotel. Same net effect as a legislator holding a hearing on unicorn ranching. https://t.co/T4HNBIiBAW

— Rep. Jennifer Longdon (@JenLongdon) November 28, 2020
An unsanctioned meeting that will deal in wild conspiracy theories.

It is dangerous for elected officials to engage in these games that undermine our Democracy.

I would hope the media not give this more attention than it deserves. https://t.co/CmkWQCUmAO

— Representative Daniel Hernandez Jr (@danielforaz) November 28, 2020
Donald Trump's FAKE legislative hearing in Phoenix on Monday is a sham— just like his FAKE claims of voter fraud in our state. To my GOP colleagues participating in this nonsense: grow up, and stop undermining the sanctity of our elections just because your boy lost.👇🏽👇🏽👇🏽 https://t.co/j4Px02AVhl

— Andrés Cano (@AndresCanoAZ) November 28, 2020
While this shitshow is going on, Arizona will be certifying its vote today. Arizona GOP Chair Kelli "Chemtrails" Ward will also be trying to invalidate Arizona's election results in court. The case will be dismissed for being without merit, as has every other frivolous lawsuit brought by the Arizona GOP. The court should impose sanctions again.
UPDATE: Arizona Secretary of State Katie Hobbs certifies general election results:
The Arizona 2020 general election results were certified Monday morning by Secretary of State Katie Hobbs.
Hobbs certified results at the official canvass for federal, state, legislative offices, and statewide ballot measures with Chief Justice Robert Brutinel also in attendance and signing.
Governor Doug Ducey also signed off on the canvass, which will lead to the selection of the state's electoral college voters.
Attorney General Mark Brnovich was also present for the certification.
So is Donald Trump going to trash-talk Ducey and Brnovich and call for them to be primaried like he has for Georgia Governor Brian Kemp and Georgia Secretary of State Brad Raffensperger?
Trump lashed out at Georgia Secretary of State Brad Raffensperger (R) on Thanksgiving, calling him "an enemy of the people." On Sunday, Trump also targeted Georgia Gov. Brian Kemp (R), telling Fox News' Maria Bartiromo, "The governor's done nothing. He's done absolutely nothing. I'm ashamed that I endorsed him."