I posted on the background of this case last year. Authoritarian Tea-Publicans impose 'Big Brother' control over local governments: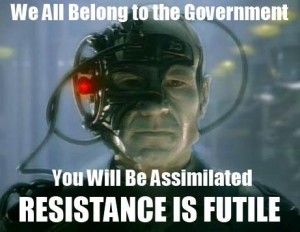 Governor Doug Ducey, the ice cream man hired by Koch Industries to run their Southwest subsidiary formerly known as the state of Arizona, got what he wanted from our lawless Tea-Publican legislature this week.
They are like the Borg on Star Trek: "Resistance to our authoritarian GOP rule is futile, you will be assimilated." Ducey gets bill penalizing cities for countering state policies:
State lawmakers late Wednesday sent Gov. Doug Ducey a bill that will allow him to enforce his demand that local governments fall into line with state policies.
SB 1487 (.pdf) allows any legislator to ask the attorney general's office to investigate whether a local ordinance or policy is contrary to state law. If the attorney general finds the state statute is being violated, the local government would be given 30 days to bring their local practices into compliance.
But what really gives the measure some teeth is that the failure of a city, town or county to comply would require the state treasurer to stop providing state aid and redistribute those dollars to every other community.
And if a local government disagreed, the case would go directly to the state Supreme Court for a final word.
Yeah, you see the problem with this bill is that it empowers the Attorney General, not a court of competent jurisdiction, to sit as judge and jury without a trial, and whoever heard of an Arizona Attorney General being an impartial arbiter of the evidence and not politicizing the AG office with an eye towards running for governor or another office? Have we so readily forgotten Tom Horne?
And mandating that the state Treasurer impose a punitive penalty of cutting off revenue sharing worth millions of dollars to the offending local government, which will cripple government services and thus inflict harm on the citizenry rather than the culpable elected officials who enacted the policy allegedly contrary to state law, is arbitrary and capricious and denies the citizenry of that local government due process of law under the Constitution. It is a punitive "You must obey or you will pay" decree from a modern-day Star Chamber, a political weapon for misuse and abuse of power.
Involving the state Supreme Court, an appellate court not a trier of fact, at the very end of this process does not cure the lack of due process — the harm will have already occurred. Under this bill revenue sharing withheld will be dispersed to other communities.  What happens if the state Supreme Court rules in favor of the penalized local government? Are these other communities going to be ordered to return the additional revenue that they received and have already spent?
The City of Tucson, and others, filed a lawsuit to challenge this punitive law. The Arizona Supreme Court heard oral arguments today. The Arizona Republic reports, Can state withhold money from cities over local laws? Arizona Supreme Court hears case on Tucson gun rules:
The Arizona Supreme Court could decide whether the state can punish cities by withholding millions of dollars in aid if local officials enact policies that contradict state law.
Or, the high court may tackle a narrower question of whether Tucson's city charter gives it the right to destroy confiscated weapons and ignore a state law that says the guns must be sold.
The court examined both possibilities Tuesday as it heard arguments in a case that raises questions about the extent to which the state can pre-empt local laws enacted by charter cities. The state Constitution gives charter cities independence from state laws on matters of "strictly local concerns."
In this case, the state and Tucson have conflicting opinions on what is local.
The case was prompted by a 2016 state law that requires counties, cities and towns to keep their ordinances and other official actions in line with state law. A violation would trigger withdrawal of the tax revenue the state shares with local jurisdictions, money that is vital to most local governments' operations.
Rep. Mark Finchem, R-Oro Valley, made quick use of the law, using its provisions last fall to ask Attorney General Mark Brnovich to investigate Tucson's 12-year-old gun ordinance.
Brnovich found a violation may have occurred, which triggers the issue going to the Supreme Court for a decision.
Tucson sued in response, citing the Arizona Constitution's protection for charter cities to enact strictly local laws. Cities such as Tucson and Phoenix, as well as 17 others, are governed by charters adopted by their citizens.
On Tuesday, Associate Justice Ann Timmer questioned whether the guns Tucson confiscates and destroys are only a local issue. After all, a gun is a piece of property that can move across city boundaries, she said.
Chief Justice Scott Bales wondered how a city decides what is local.
"How do you identify what is truly a municipal affair?" Bales asked.
Rick Rollman, representing the city of Tucson, said court guidance on that issue would be helpful. Ultimately, it comes down to a balance between state law and local interests, he argued. But, Rollman said, the city maintains that once a weapon is seized, it becomes city property and therefore only of local interest.
The court, Rollman said, should not narrow its interpretation of city-charter authority to apply only to something as local as council elections. When the Constitution was created, the intent was to keep as much government at the local level as possible, he said.
On the broader issue of whether the law is constitutional, some justices questioned if they should be involved.
"Why do you need us here?" Timmer asked Paul Watkins, who represented the Attorney General's Office. It appears the state already determined Tucson violated the law, she said, which would allow the penalties to proceed without a court ruling. She pointed to Watkins' opening assertion that Tucson's ordinance violates the law.
However, Brnovich relied on a portion of the law that throws the issue to the court.
The apparent conflict between those two provisions is best resolved by a definitive ruling from the high court, Watkins told the seven-judge panel.
Watkins also defended the state's intention to have the court strike down the Tucson ordinance. Bales questioned if such an "extreme" move was needed, since the city temporarily suspended its ordinance.
Striking down the ordinance would be the "cleanest" way to resolve the conflict, Watkins said.
Also at issue before the court is whether any part of the 2016 state law could be severed, specifically the requirement that a city believed to be in violation post a bond equivalent to six months' worth of state-shared revenue.
Tucson did not post such a bond, and local officials have said they didn't have enough money in their reserves for the tens of millions of dollars that would require.
The justices questioned why a bond is needed, since in this case Tucson suspended its gun-destruction policy.
Watkins, while not directly answering the question, said the bond provision was "optional" and could be dropped from the case.
The court took the case under advisement and said an opinion will be issued in "due course."
UPDATE: The Arizona Capitol Times notes that "Tucson already has filed a separate lawsuit in Pima County Superior Court asking a judge there to declare unconstitutional the 2016 law giving Brnovich the power to order that state aid be withheld. And whatever the judge there rules would likely be appealed by whoever loses, putting the issue back before the high court."